ATTO 532 NHS ester
Ordering information
| | |
| --- | --- |
| Price | |
| Catalog Number | |
| Unit Size | |
| Quantity | |
Additional ordering information
| | |
| --- | --- |
| Telephone | 1-800-990-8053 |
| Fax | 1-800-609-2943 |
| Email | sales@aatbio.com |
| Quotation | Request |
| International | See distributors |
| Shipping | Standard overnight for United States, inquire for international |
Physical properties
| | |
| --- | --- |
| Molecular weight | 843.96 |
| Solvent | DMSO |
Spectral properties
| | |
| --- | --- |
| Excitation (nm) | 532 |
| Emission (nm) | 552 |
Storage, safety and handling
| | |
| --- | --- |
| Certificate of Origin | Download PDF |
| H-phrase | H303, H313, H333 |
| Hazard symbol | XN |
| Intended use | Research Use Only (RUO) |
| R-phrase | R20, R21, R22 |
| Storage | Freeze (< -15 °C); Minimize light exposure |
| UNSPSC | 12352200 |
ATTO 532 is a rhodamine-based fluorescent labeling dye with high molecular high extinction coefficient and fluorescence quantum yield (0.90) as well as sufficient Stoke's shift (excitation maximum 532 nm, emission maximum 553 nm). The dye also has relatively good photostability. It is optimized for excitation with frequency doubled Nd:YAG-Laser. ATTO 532 NHS ester is used for labeling amino-containing molecules such as proteins, peptides and amino-modified oligonucleotides.
Calculators
Common stock solution preparation
Table 1.
Volume of DMSO needed to reconstitute specific mass of ATTO 532 NHS ester to given concentration. Note that volume is
only
for preparing stock solution. Refer to sample experimental protocol for appropriate experimental/physiological buffers.
| | | | | | |
| --- | --- | --- | --- | --- | --- |
| | 0.1 mg | 0.5 mg | 1 mg | 5 mg | 10 mg |
| 1 mM | 118.489 µL | 592.445 µL | 1.185 mL | 5.924 mL | 11.849 mL |
| 5 mM | 23.698 µL | 118.489 µL | 236.978 µL | 1.185 mL | 2.37 mL |
| 10 mM | 11.849 µL | 59.245 µL | 118.489 µL | 592.445 µL | 1.185 mL |
Molarity calculator
Enter any two values (mass, volume, concentration) to calculate the third.
Mass (

Calculate

)
Molecular weight
Volume (

Calculate

)
Concentration (

Calculate

)
Moles
/
=
x
=
Spectrum
Open in Advanced Spectrum Viewer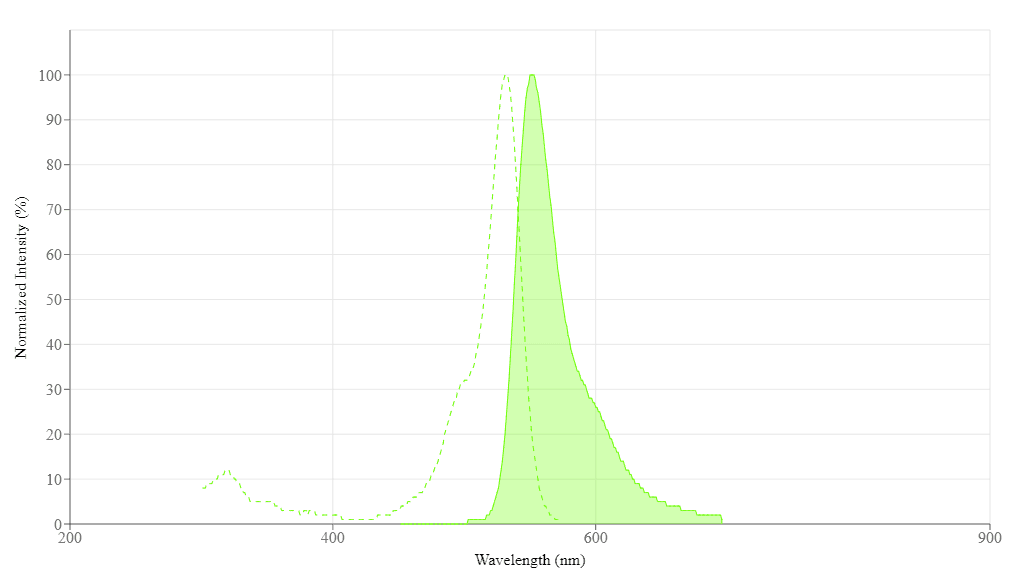 Spectral properties
| | |
| --- | --- |
| Excitation (nm) | 532 |
| Emission (nm) | 552 |
Images

Figure 1.
Fluorescent ATTO dye NHS esters (or succinimidyl esters) are the most popular tool for conjugating ATTO dyes to a peptide, protein, antibody, amino-modified oligonucleotide or nucleic acid. NHS esters react readily with the primary amines (R-NH2) of proteins, amine-modified oligonucleotides, and other amine-containing molecules. The resulting dye conjugates are quite stable.
Citations
A novel nanocomposite based on fluorescent turn-on gold nanostars for near-infrared photothermal therapy and self-theranostic caspase-3 imaging of glioblastoma tumor cell
Authors:
Wang, J., Zhou, Z., Zhang, F., Xu, H., Chen, W., Jiang, T.
Journal:
Colloids Surf B Biointerfaces
(2018)
: 303-311
Cell-permeable organic fluorescent probes for live-cell long-term super-resolution imaging reveal lysosome-mitochondrion interactions
Authors:
Han, Y., Li, M., Qiu, F., Zhang, M., Zhang, Y. H.
Journal:
Nat Commun
(2017)
: 1307
Field-Controlled Charge Separation in a Conductive Matrix at the Single-Molecule Level: Toward Controlling Single-Molecule Fluorescence Intermittency
Authors:
Kennes, K., Dedecker, P., Hutchison, J. A., Fron, E., Uji, I. H., Hofkens, J., Van der Auweraer, M.
Journal:
ACS Omega
(2016)
: 1383-1392
Determination of equilibrium and rate constants for complex formation by fluorescence correlation spectroscopy supplemented by dynamic light scattering and Taylor dispersion analysis
Authors:
Zhang, X., Poniewierski, A., Jelinska, A., Zagozdzon, A., Wisniewska, A., Hou, S., Holyst, R.
Journal:
Soft Matter
(2016)
: 8186-8194
A Cystine Knot Peptide Targeting Integrin alphavbeta6 for Photoacoustic and Fluorescence Imaging of Tumors in Living Subjects
Authors:
Zhang, C., Kimura, R., Abou-Elkacem, L., Levi, J., Xu, L., Gambhir, S. S.
Journal:
J Nucl Med
(2016)
: 1629-1634
Tracking structural transitions of bovine serum albumin in surfactant solutions by fluorescence correlation spectroscopy and fluorescence lifetime analysis
Authors:
Zhang, X., Poniewierski, A., Hou, S., Sozanski, K., Wisniewska, A., Wieczorek, S. A., Kalwarczyk, T., Sun, L., Holyst, R.
Journal:
Soft Matter
(2015)
: 2512-8
The effect of local dynamics of Atto 390-labeled lysozyme on fluorescence anisotropy modeling
Authors:
Babcock, J. J., Brancaleon, L.
Journal:
Biopolymers
(2015)
: 285-95
Application of single molecule fluorescence microscopy to characterize the penetration of a large amphiphilic molecule in the stratum corneum of human skin
Authors:
Volz, P., Boreham, A., Wolf, A., Kim, T. Y., Balke, J., Frombach, J., Hadam, S., Afraz, Z., Rancan, F., Blume-Peytavi, U., Vogt, A., Alexiev, U.
Journal:
Int J Mol Sci
(2015)
: 6960-77
AMBER-DYES: Characterization of Charge Fluctuations and Force Field Parameterization of Fluorescent Dyes for Molecular Dynamics Simulations
Authors:
Graen, T., Hoefling, M., Grubmuller, H.
Journal:
J Chem Theory Comput
(2014)
: 5505-12
The key role of geminate electron-hole pair recombination in the delayed fluorescence in rhodamine 6G and ATTO-532
Authors:
Aydemir, M., Jankus, V., Dias, F. B., Monkman, A.
Journal:
Phys Chem Chem Phys
(2014)
: 21543-9
References
Quantitative comparison of long-wavelength Alexa Fluor dyes to Cy dyes: fluorescence of the dyes and their bioconjugates
Authors:
Berlier JE, Rothe A, Buller G, Bradford J, Gray DR, Filanoski BJ, Telford WG, Yue S, Liu J, Cheung CY, Chang W, Hirsch JD, Beechem JM, Haugl and RP., undefined
Journal:
J Histochem Cytochem
(2003)
: 1699