Cell Meter™ Fluorimetric Intracellular Nitric Oxide (NO) Activity Assay Kit *Orange Fluorescence Optimized for Flow Cytometry*
Nitric oxide (NO) is an important biological regulator involved in numbers of physiological and pathological processes. Altered NO production is implicated in various immunological, cardiovascular, neurodegenerative and inflammatory diseases. As a free radical, NO is rapidly oxidized and there is relatively low concentrations of NO existing in vivo. It has been challenging to detect and understand the role of NO in biological systems. Cell Meter™ Fluorimetric Intracellular Nitric Oxide Assay Kit provides a sensitive tool to monitor intracellular NO level in live cells. Nitrixyte™ probes are developed and used in our kit as an excellent replacement for DAF-2 for the detection and imaging of free NO in cells. Compared to the commonly used DAF-2 probe, Nitrixyte™ probes have better photostability and enhanced cell permeability. This particular kit uses Nitrixyte™ Orange that can react with NO to generate a bright orange fluorescent product that has spectral properties similar to Cy3® and TRITC. Nitrixyte™ Orange can be readily loaded into live cells, and its fluorescence signal can be conveniently monitored using the filter set of Cy3® or TRITC. This kit is optimized for flow cytometry applications.
Platform
Flow cytometer
| | |
| --- | --- |
| Excitation | 488 nm laser |
| Emission | 575/26 nm filter |
| Instrument specification(s) | PE channel |
Example protocol
AT A GLANCE
Protocol summary
Prepare cells (0.5 - 1 × 106 cells/mL)
Add 1 µL 500X Nitrixyte™ Orange into 0.5 mL cell suspension
Incubate cells with test compounds and Nitrixyte™ Orange at 37°C
Analyze with a flow cytometer
Important notes
Thaw all the components at room temperature before use.
PREPARATION OF STOCK SOLUTION
Unless otherwise noted, all unused stock solutions should be divided into single-use aliquots and stored at -20 °C after preparation. Avoid repeated freeze-thaw cycles.
1. NONOate Positive Control stock solution (50 mM):
Add 200 µL of ddH2O into the vial of NONOate Positive Control (Component B) to make 50 mM stock solution.
PREPARATION OF WORKING SOLUTION
SAMPLE EXPERIMENTAL PROTOCOL
Add 1 µL of 500X Nitrixyte™ Orange (Component A) into 0.5 mL cell suspension. Note: For adherent cells, gently lift the cells with 0.5 mM EDTA to keep the cells intact, and wash the cells once with serum-containing media prior to incubation with Nitrixyte™ Orange.


Incubate cells with test compounds and Nitrixyte™ Orange at 37°C for a desired period of time to generate endogenous or exogenous NO. Note: The appropriate incubation time depends on the individual cell type and test compound used. Optimize the incubation time for each experiment. Note: We have used Raw 264.7 cells incubated with 1X Nitrixyte™ Orange, 20 µg/mL of lipopolysaccharide (LPS) and 1 mM L-Arginine (L-Arg) in cell culture medium at 37°C for 16 hours.


Spin down cells that have pre-incubated with Nitrixyte™ Orange for 30 minutes. Resuspend cells with 1 mM DEA NONOate positive control working solution, and incubate at 37°C for another 30 minutes. See Figure 1 for details.


Monitor the fluorescence intensity at the FL2 channel (Ex/Em = 488/590 nm) using a flow cytometer. Gate on the cells of interest, excluding debris.
Spectrum
Open in Advanced Spectrum Viewer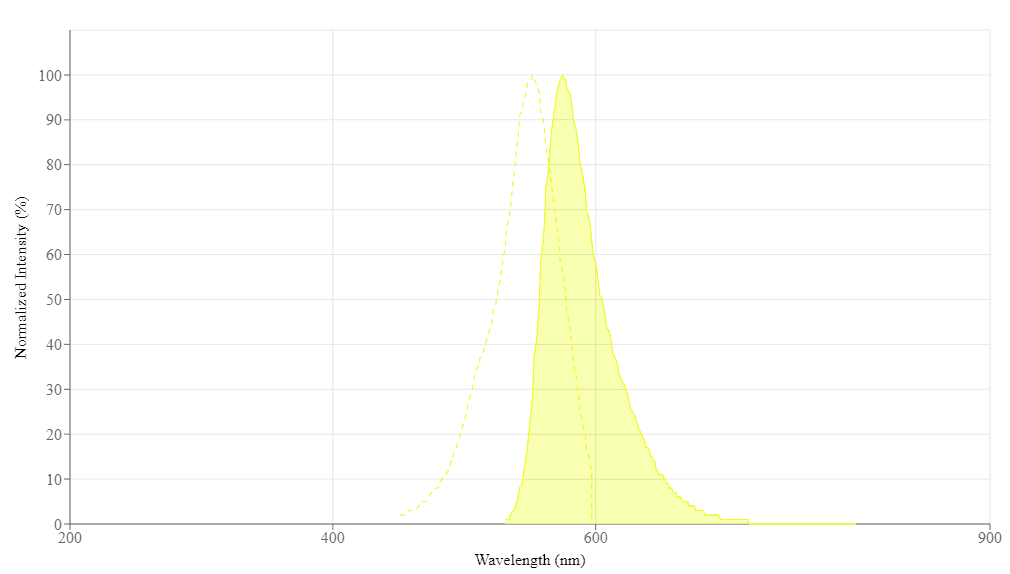 Spectral properties
| | |
| --- | --- |
| Excitation (nm) | 552 |
| Emission (nm) | 575 |
Images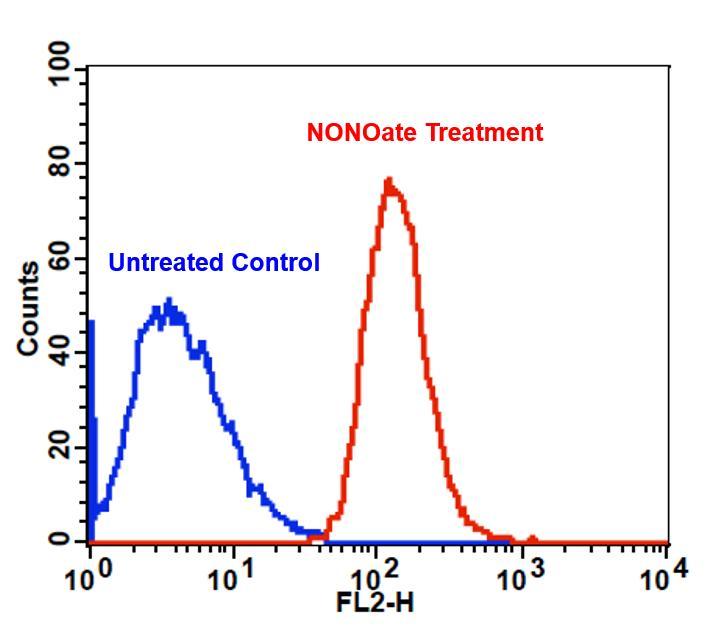 Figure 1.
Detection of exogenous nitric oxide (NO) in Jurkat cells upon DEA NONOate treatment (NO donor) using Cell Meter™ Fluorimetric Intracellular Nitric Oxide Assay Kit (Cat#16351). Cells were incubated with Nitrixyte™ Orange at 37 °C for 30 minutes. Cells were further treated with (Red line) or without (Blue line) 1 mM DEA NONOate in Assay Buffer (Component C) at 37 °C for an additional 30 minutes. The fluorescence signal was monitored at FL2 channel using a flow cytometer (BD FACSCalibur).
References
Pitfalls and limitations in using 4,5-diaminofluorescein for evaluating the influence of polyphenols on nitric oxide release from endothelial cells
Authors:
Uhlenhut K, Hogger P.
Journal:
Free Radic Biol Med
(2012)
: 2266
Effects of moderate electrical stimulation on reactive species production by primary rat skeletal muscle cells: cross talk between superoxide and nitric oxide production
Authors:
Lambertucci RH, Silveira Ldos R, Hirabara SM, Curi R, Sweeney G, Pithon-Curi TC.
Journal:
J Cell Physiol
(2012)
: 2511
Improved measurements of intracellular nitric oxide in intact microvessels using 4,5-diaminofluorescein diacetate
Authors:
Zhou X, He P.
Journal:
Am J Physiol Heart Circ Physiol
(2011)
: H108
Aging negatively affects estrogens-mediated effects on nitric oxide bioavailability by shifting ERalpha/ERbeta balance in female mice
Authors:
Novensa L, Novella S, Medina P, Segarra G, Castillo N, Heras M, Hermenegildo C, Dantas AP.
Journal:
PLoS One
(2011)
: e25335
Temporal and spatial correlation of platelet-activating factor-induced increases in endothelial [Ca(2)(+)]i, nitric oxide, and gap formation in intact venules
Authors:
Zhou X, He P.
Journal:
Am J Physiol Heart Circ Physiol
(2011)
: H1788
Polyamines, polyamine oxidases and nitric oxide in development, abiotic and biotic stresses
Authors:
Wimalasekera R, Tebartz F, Scherer GF.
Journal:
Plant Sci
(2011)
: 593
Rapid upregulation of cytoprotective nitric oxide in breast tumor cells subjected to a photodynamic therapy-like oxidative challenge
Authors:
Bhowmick R, Girotti AW.
Journal:
Photochem Photobiol
(2011)
: 378
Sleep deprivation triggers inducible nitric oxide-dependent nitric oxide production in wake-active basal forebrain neurons
Authors:
Kalinchuk AV, McCarley RW, Porkka-Heiskanen T, Basheer R.
Journal:
J Neurosci
(2010)
: 13254
Production and scavenging of nitric oxide by barley root mitochondria
Authors:
Gupta KJ, Kaiser WM.
Journal:
Plant Cell Physiol
(2010)
: 576
Production of Nitric Oxide within the Aplysia Californica Nervous System
Authors:
Ye X, Xie F, Romanova EV, Rubakhin SS, Sweedler JV.
Journal:
ACS Chem Neurosci
(2010)
: 182