FCB [Fluorescein di-beta-D-cellobioside]
Ordering information
| | |
| --- | --- |
| Price | |
| Catalog Number | |
| Unit Size | |
| Quantity | |
Additional ordering information
| | |
| --- | --- |
| Telephone | 1-800-990-8053 |
| Fax | 1-800-609-2943 |
| Email | sales@aatbio.com |
| International | See distributors |
| Bulk request | Inquire |
| Custom size | Inquire |
| Shipping | Standard overnight for United States, inquire for international |
Physical properties
| | |
| --- | --- |
| Molecular weight | 980.87 |
| Solvent | DMSO |
Spectral properties
| | |
| --- | --- |
| Absorbance (nm) | 487 |
| Correction Factor (260 nm) | 0.32 |
| Correction Factor (280 nm) | 0.35 |
| Extinction coefficient (cm -1 M -1) | 800001 |
| Excitation (nm) | 498 |
| Emission (nm) | 517 |
| Quantum yield | 0.79001, 0.952 |
Storage, safety and handling
| | |
| --- | --- |
| Certificate of Origin | Download PDF |
| H-phrase | H303, H313, H333 |
| Hazard symbol | XN |
| Intended use | Research Use Only (RUO) |
| R-phrase | R20, R21, R22 |
| Storage | Freeze (< -15 °C); Minimize light exposure |
| UNSPSC | 12352200 |
| | | | | | | | |
| --- | --- | --- | --- | --- | --- | --- | --- |
| | | Correction Factor (260 nm) | Correction Factor (280 nm) | Extinction coefficient (cm -1 M -1) | | | |
This non-fluorescent fluorescein substrate generates the bright fluorescein product that has Ex/Em = 492/514 nm, and can be easily detected with a FITC filter set. In general, fluorescein substrates are much more sensitive than coumarin or nitrophenol-based substrates. This fluorescein substrate is used for monitoring cellulase activities. Cellulases are a family of enzymes that include β-glucosidases, endoglucanases and exoglucanases. These enzymes cleave the β-1,4-D-glycosidic bonds that link the glucose units comprising cellulose. In addition to being produced by plants, cellulase activity is found in many fungi and bacteria, including some plant pathogens. Most animal cells are not known to produce cellulase, in which the cellulolytic activity is often carried out by symbionts. The study of cellulase activity has many applications in plant molecular biology, agriculture, and manufacturing. Cellulase is becoming important in the development of alternative fuel sources, as glucose obtained from cellulose hydrolysis is easily fermented into ethanol. Activity of most cellulases can be conveniently monitored using this sensitive fluorescein cellobioside. Upon cleavage, the fluorescent compound, fluorescein, is released and activity measurements are easily obtained in a microtiter plate based assay format.
Calculators
Common stock solution preparation
Table 1.
Volume of DMSO needed to reconstitute specific mass of FCB [Fluorescein di-beta-D-cellobioside] to given concentration. Note that volume is
only
for preparing stock solution. Refer to sample experimental protocol for appropriate experimental/physiological buffers.
| | | | | | |
| --- | --- | --- | --- | --- | --- |
| | 0.1 mg | 0.5 mg | 1 mg | 5 mg | 10 mg |
| 1 mM | 101.95 µL | 509.752 µL | 1.02 mL | 5.098 mL | 10.195 mL |
| 5 mM | 20.39 µL | 101.95 µL | 203.901 µL | 1.02 mL | 2.039 mL |
| 10 mM | 10.195 µL | 50.975 µL | 101.95 µL | 509.752 µL | 1.02 mL |
Molarity calculator
Enter any two values (mass, volume, concentration) to calculate the third.
Mass (

Calculate

)
Molecular weight
Volume (

Calculate

)
Concentration (

Calculate

)
Moles
/
=
x
=
Spectrum
Open in Advanced Spectrum Viewer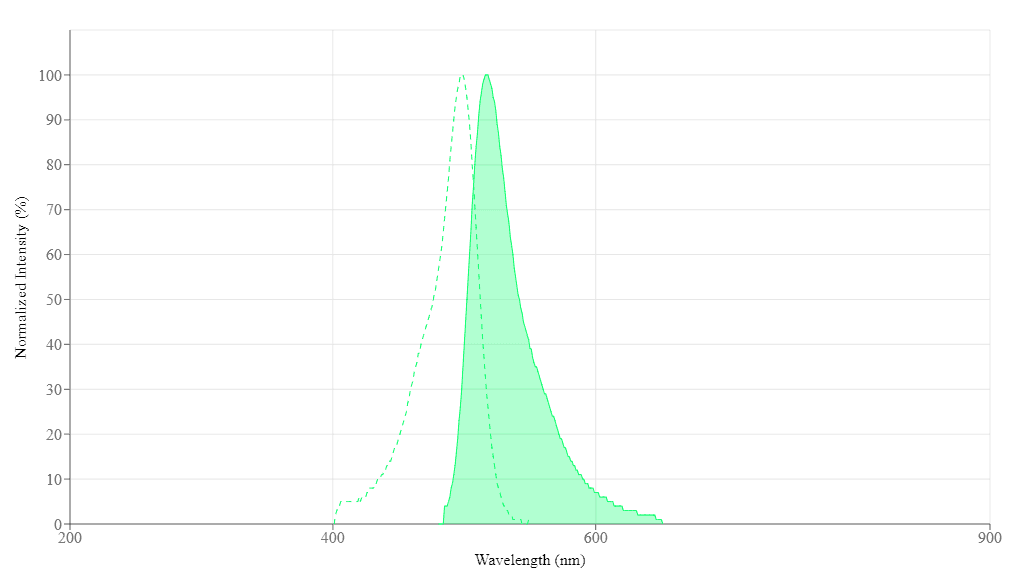 Spectral properties
| | |
| --- | --- |
| Absorbance (nm) | 487 |
| Correction Factor (260 nm) | 0.32 |
| Correction Factor (280 nm) | 0.35 |
| Extinction coefficient (cm -1 M -1) | 800001 |
| Excitation (nm) | 498 |
| Emission (nm) | 517 |
| Quantum yield | 0.79001, 0.952 |
Images
Figure 1.
Principle of InVitroFlow comprising 7 steps. (1) Mutant library generation using a linear DNA template (approx. 6 h), (2) entrapment of mutant cellulase library in (w/o) single emulsions within 0.5 h, (3) cell-free expression of mutant library and generation of (w/o/w) emulsions within 4 h, (4) sorting of active variants within (w/o/w) emulsions using flow cytometer within 2 h, and (5) DNA recovery from (w/o/w) emulsions and PCR gene amplification in 3.5 h. A whole round of InVitroFlow (diversity generation, screening by flow cytometry, amplification) can be completed within 16 h. (6) Cloning and transformation into expression host (2 days), and (7) screening of up to 2,000 beneficial clones in MTP format and characterization of a few variants (7–12 days). Source: In vitro flow cytometry-based screening platform for cellulase engineering by Körfer et al., Scientific Reports, May 2016.
References
Interaction of cellulase with cationic surfactants: using surfactant membrane selective electrodes and fluorescence spectroscopy
Authors:
Rastegari AA, Bordbar AK, Taheri-Kafrani A.
Journal:
Colloids Surf B Biointerfaces
(2009)
: 132
Immobilization of cellulose fibrils on solid substrates for cellulase-binding studies through quantitative fluorescence microscopy
Authors:
Moran-Mirabal JM, Santhanam N, Corgie SC, Craighead HG, Walker LP.
Journal:
Biotechnol Bioeng
(2008)
: 1129
Analysis of cellulase synthesis mechanism in Trichoderma reesei using red fluorescent protein
Authors:
Liu G, Zhang Y, Li Y, Yu SW, Xing M.
Journal:
Wei Sheng Wu Xue Bao
(2007)
: 69
The linker region plays a key role in the adaptation to cold of the cellulase from an Antarctic bacterium
Authors:
Sonan GK, Receveur-Brechot V, Duez C, Aghajari N, Czjzek M, Haser R, Gerday C.
Journal:
Biochem J
(2007)
: 293
Use of an enhanced green fluorescence protein linked to a single chain fragment variable antibody to localize Bursaphelenchus xylophilus cellulase
Authors:
Zhang Q, Bai G, Cheng J, Yu Y, Tian W, Yang W.
Journal:
Biosci Biotechnol Biochem
(2007)
: 1514
Cellulase digestibility of pretreated biomass is limited by cellulose accessibility
Authors:
Jeoh T, Ishizawa CI, Davis MF, Himmel ME, Adney WS, Johnson DK.
Journal:
Biotechnol Bioeng
(2007)
: 112
A long-wavelength fluorescent substrate for continuous fluorometric determination of cellulase activity: resorufin-beta-D-cellobioside
Authors:
Coleman DJ, Studler MJ, Naleway JJ.
Journal:
Anal Biochem
(2007)
: 146
Pathogenic cellulase assay of pine wilt disease and immunological localization
Authors:
Zhang Q, Bai G, Yang W, Li H, Xiong H.
Journal:
Biosci Biotechnol Biochem
(2006)
: 2727
Interaction of cellulase with sodium dodecyl sulfate at critical micelle concentration level
Authors:
Xiang J, Fan JB, Chen N, Chen J, Liang Y.
Journal:
Colloids Surf B Biointerfaces
(2006)
: 175
pH-dependent stability of EGX, a multi-functional cellulase from mollusca, Ampullaria crossean
Authors:
Li WY, Wang J, Li YH, Ding M, Xu GJ, Liu LY, Zhao FK.
Journal:
Acta Biochim Biophys Sin (Shanghai)
(2004)
: 603