Fluo-5N, AM *Cell permeant*
Ordering information
| | |
| --- | --- |
| Price | |
| Catalog Number | |
| Unit Size | |
| Quantity | |
Additional ordering information
| | |
| --- | --- |
| Telephone | 1-800-990-8053 |
| Fax | 1-800-609-2943 |
| Email | sales@aatbio.com |
| International | See distributors |
| Bulk request | Inquire |
| Custom size | Inquire |
| Shipping | Standard overnight for United States, inquire for international |
Physical properties
| | |
| --- | --- |
| Dissociation constant (Kd, nM) | 90000 |
| Molecular weight | 1127.92 |
| Solvent | DMSO |
Spectral properties
| | |
| --- | --- |
| Excitation (nm) | 494 |
| Emission (nm) | 516 |
Storage, safety and handling
| | |
| --- | --- |
| H-phrase | H303, H313, H333 |
| Hazard symbol | XN |
| Intended use | Research Use Only (RUO) |
| R-phrase | R20, R21, R22 |
| Storage | Freeze (< -15 °C); Minimize light exposure |
| UNSPSC | 12352200 |
| | | | |
| --- | --- | --- | --- |
| | Dissociation constant (Kd, nM) | | |
Fluo-5N is an analog of Fluo-4 with lower calcium-binding affinity (Kd = ~90 uM), making it suitable for detecting intracellular calcium levels in the range of 1 µM to 1 mM that would saturate the response of Fluo-4. Fluo-5N AM ester may be directly loaded into live cells by adding the dissolved indicator directly to dishes containing the cultured cells. It is compatible with excitation at 488 nm by argon-ion laser sources, making Fluo-5N useful for confocal microscopy, flow cytometry, and microplate screening applications. It has excitation and emission wavelengths at 494 and 516 nm respectively. Upon calcium binding, its fluorescence intensity increases by >100 fold.
Platform
Flow cytometer
| | |
| --- | --- |
| Excitation | 488 nm laser |
| Emission | 530/30 nm filter |
| Instrument specification(s) | FITC channel |
Fluorescence microscope
| | |
| --- | --- |
| Excitation | FITC |
| Emission | FITC |
| Recommended plate | Black wall/clear bottom |
Fluorescence microplate reader
| | |
| --- | --- |
| Excitation | 490 |
| Emission | 525 |
| Cutoff | 515 |
| Recommended plate | Black wall/clear bottom |
| Instrument specification(s) | Bottom read mode/Programmable liquid handling |
Example protocol
PREPARATION OF STOCK SOLUTIONS
Unless otherwise noted, all unused stock solutions should be divided into single-use aliquots and stored at -20 °C after preparation. Avoid repeated freeze-thaw cycles
Fluo-5N AM Stock Solution
Prepare a 2 to 5 mM stock solution of Fluo-5N AM in high-quality, anhydrous DMSO.
PREPARATION OF WORKING SOLUTION
Fluo-5N AM Working Solution
On the day of the experiment, either dissolve Fluo-5N AM in DMSO or thaw an aliquot of the indicator stock solution to room temperature.

Prepare a 2 to 20 µM Fluo-5N AM working solution in a buffer of your choice (e.g., Hanks and Hepes buffer) with 0.04% Pluronic® F-127. For most cell lines, Fluo-5N AM at a final concentration of 4-5 μM is recommended. The exact concentration of indicators required for cell loading must be determined empirically.

Note: The nonionic detergent Pluronic® F-127 is sometimes used to increase the aqueous solubility of Fluo-5N AM. A variety of Pluronic® F-127 solutions can be purchased from AAT Bioquest.

Note: If your cells contain organic anion-transporters, probenecid (1-2 mM) may be added to the dye working solution (final in well concentration will be 0.5-1 mM) to reduce leakage of the de-esterified indicators. A variety of ReadiUse™ Probenecid products, including water-soluble, sodium salt, and stabilized solutions, can be purchased from AAT Bioquest.
SAMPLE EXPERIMENTAL PROTOCOL
Following is our recommended protocol for loading AM esters into live cells. This protocol only provides a guideline and should be modified according to your specific needs.
Prepare cells in growth medium overnight.

On the next day, add 1X Fluo-5N AM working solution to your cell plate.

Note: If your compound(s) interfere with the serum, replace the growth medium with fresh HHBS buffer before dye-loading.

Incubate the dye-loaded plate in a cell incubator at 37 °C for 30 to 60 minutes.

Note: Incubating the dye for longer than 2 hours can improve signal intensities in certain cell lines.

Replace the dye working solution with HHBS or buffer of your choice (containing an anion transporter inhibitor, such as 1 mM probenecid, if applicable) to remove any excess probes.
Add the stimulant as desired and simultaneously measure fluorescence using either a fluorescence microscope equipped with a FITC filter set or a fluorescence plate reader containing a programmable liquid handling system such as an FDSS, FLIPR, or FlexStation, at 490/525 nm cutoff 515 nm.
Calculators
Common stock solution preparation
Table 1.
Volume of DMSO needed to reconstitute specific mass of Fluo-5N, AM *Cell permeant* to given concentration. Note that volume is
only
for preparing stock solution. Refer to sample experimental protocol for appropriate experimental/physiological buffers.
| | | | | | |
| --- | --- | --- | --- | --- | --- |
| | 0.1 mg | 0.5 mg | 1 mg | 5 mg | 10 mg |
| 1 mM | 88.659 µL | 443.294 µL | 886.588 µL | 4.433 mL | 8.866 mL |
| 5 mM | 17.732 µL | 88.659 µL | 177.318 µL | 886.588 µL | 1.773 mL |
| 10 mM | 8.866 µL | 44.329 µL | 88.659 µL | 443.294 µL | 886.588 µL |
Molarity calculator
Enter any two values (mass, volume, concentration) to calculate the third.
Mass (

Calculate

)
Molecular weight
Volume (

Calculate

)
Concentration (

Calculate

)
Moles
/
=
x
=
Spectrum
Open in Advanced Spectrum Viewer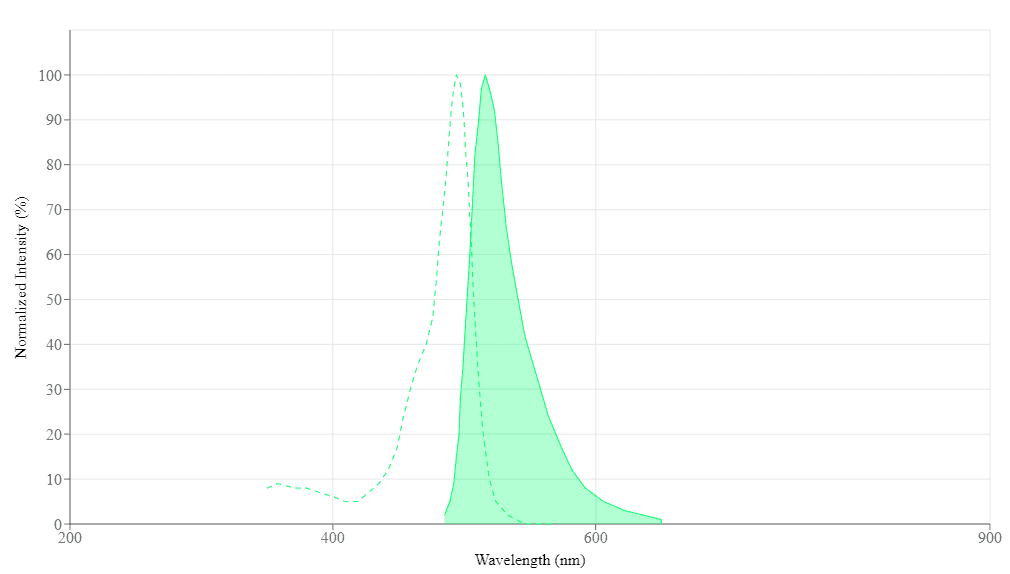 Spectral properties
| | |
| --- | --- |
| Excitation (nm) | 494 |
| Emission (nm) | 516 |
Product Family
Name
Excitation (nm)
Emission (nm)
Extinction coefficient (cm -1 M -1)
Quantum yield
Fluo-4 AM *Ultrapure Grade* *CAS 273221-67-3*
495
528

82000

0.161
Fluo-3, AM *CAS 121714-22-5*
506
515
86,0001
0.151
Fluo-3, AM *UltraPure grade* *CAS 121714-22-5*
506
515
86,0001
0.151
Fluo-3, AM *Bulk package* *CAS 121714-22-5*
506
515
86,0001
0.151
Fluo-3FF, AM *UltraPure grade* *Cell permeant*
506
515
86,0001
0.151
Fluo-8®, AM
495
516

23430

0.161
Fluo-8H™, AM
495
516

23430

0.161
Fluo-8L™, AM
495
516

23430

0.161
Fluo-8FF™, AM
495
516

23430

0.161

Show More (2)
Citations
Cryo-EM structure of SARS-CoV-2 ORF3a in lipid nanodiscs
Authors:
Kern, David M and Sorum, Ben and Mali, Sonali S and Hoel, Christopher M and Sridharan, Savitha and Remis, Jonathan P and Toso, Daniel B and Kotecha, Abhay and Bautista, Diana M and Brohawn, Stephen G
Journal:
Nature Structural \& Molecular Biology
(2021)
: 1--10
Monosialoganglioside 1 may alleviate neurotoxicity induced by propofol combined with remifentanil in neural stem cells
Authors:
Lu, Jiang and Yao, Xue-qin and Luo, Xin and Wang, Yu and Chung, Sookja Kim and Tang, He-xin and Cheung, Chi Wai and Wang, Xian-yu and Meng, Chen and Li, Qing and others, undefined
Journal:
Neural Regeneration Research
(2017)
: 945
Di (2-ethylhexyl) phthalate-induced apoptosis in rat INS-1 cells is dependent on activation of endoplasmic reticulum stress and suppression of antioxidant protection
Authors:
Sun, Xia and Lin, Yi and Huang, Qiansheng and Shi, Junpeng and Qiu, Ling and Kang, Mei and Chen, Yajie and Fang, Chao and Ye, Ting and Dong, Sijun
Journal:
Journal of cellular and molecular medicine
(2015)
: 581--594
References
Role of the calcium-sensing receptor in cardiomyocyte apoptosis via the sarcoplasmic reticulum and mitochondrial death pathway in cardiac hypertrophy and heart failure
Authors:
Lu FH, Fu SB, Leng X, Zhang X, Dong S, Zhao YJ, Ren H, Li H, Zhong X, Xu CQ, Zhang WH.
Journal:
Cell Physiol Biochem
(2013)
: 728
Dynamic measurement of the calcium buffering properties of the sarcoplasmic reticulum in mouse skeletal muscle
Authors:
Manno C, Sztretye M, Figueroa L, Allen PD, Rios E.
Journal:
J Physiol
(2013)
: 423
Minocycline and doxycycline, but not other tetracycline-derived compounds, protect liver cells from chemical hypoxia and ischemia/reperfusion injury by inhibition of the mitochondrial calcium uniporter
Authors:
Schwartz J, Holmuhamedov E, Zhang X, Lovelace GL, Smith CD, Lemasters JJ.
Journal:
Toxicol Appl Pharmacol
(2013)
: 172
Facilitation of cytosolic calcium wave propagation by local calcium uptake into the sarcoplasmic reticulum in cardiac myocytes
Authors:
Maxwell JT, Blatter LA.
Journal:
J Physiol
(2012)
: 6037
Permeation of calcium through purified connexin 26 hemichannels
Authors:
Fiori MC, Figueroa V, Zoghbi ME, Saez JC, Reuss L, Altenberg GA.
Journal:
J Biol Chem
(2012)
: 40826
Post-conditioning protecting rat cardiomyocytes from apoptosis via attenuating calcium-sensing receptor-induced endo(sarco)plasmic reticulum stress
Authors:
Gan R, Hu G, Zhao Y, Li H, Jin Z, Ren H, Dong S, Zhong X, Yang B, Xu C, Lu F, Zhang W.
Journal:
Mol Cell Biochem
(2012)
: 123
Fluorescence-based measurement of store-operated calcium entry in live cells: from cultured cancer cell to skeletal muscle fiber
Authors:
Pan Z, Zhao X, Brotto M.
Journal:
J Vis Exp.
(2012)
Calcium-sensing receptors regulate cardiomyocyte Ca2+ signaling via the sarcoplasmic reticulum-mitochondrion interface during hypoxia/reoxygenation
Authors:
Lu FH, Tian Z, Zhang WH, Zhao YJ, Li HL, Ren H, Zheng HS, Liu C, Hu GX, Tian Y, Yang BF, Wang R, Xu CQ.
Journal:
J Biomed Sci
(2010)
: 50
Ionic calcium determination in skim milk with molecular probes and front-face fluorescence spectroscopy: simple linear regression
Authors:
Gangidi RR, Metzger LE.
Journal:
J Dairy Sci
(2006)
: 4105
A flow cytometric comparison of Indo-1 to fluo-3 and Fura Red excited with low power lasers for detecting Ca(2+) flux
Authors:
Bailey S, Macardle PJ.
Journal:
J Immunol Methods
(2006)
: 220