Gelite™ Safe DNA Gel Stain *10,000X DMSO Solution*
Ordering information
| | |
| --- | --- |
| Price | |
| Catalog Number | |
| Unit Size | |
| Quantity | |
Additional ordering information
| | |
| --- | --- |
| Telephone | 1-800-990-8053 |
| Fax | 1-800-609-2943 |
| Email | sales@aatbio.com |
| International | See distributors |
| Bulk request | Inquire |
| Custom size | Inquire |
| Shipping | Standard overnight for United States, inquire for international |
Physical properties
| | |
| --- | --- |
| Molecular weight | N/A |
| Solvent | Water |
Spectral properties
| | |
| --- | --- |
| Absorbance (nm) | 509 |
| Excitation (nm) | 513 |
| Emission (nm) | 552 |
Storage, safety and handling
| | |
| --- | --- |
| H-phrase | H303, H313, H333 |
| Hazard symbol | XN |
| Intended use | Research Use Only (RUO) |
| R-phrase | R20, R21, R22 |
| Storage | Room temperature (10-25 °C); Minimize light exposure |
| UNSPSC | 12171501 |
See also:
Cloning
, DNA Fragmentation
, DNA & RNA Markers and Ladders
, Gel Electrophoresis
, Gelite™ Safe DNA Gel Stain, the Best and Most Robust DNA Gel Stain
, Loop-Mediated Isothermal Amplification (LAMP)
, Polymerase Chain Reaction (PCR)
, Reverse Transcription PCR (RT-PCR)
, RNA Purification & Analysis
, PCR Detection of Viral DNA/RNA
AAT Bioquest is committed to designing our products to be environment-friendly. It is part of how we enable our customers to make the world healthier, cleaner, and safer. Ethidium bromide (EtBr) has been commonly used as a DNA stain for many years. However, EtBr is harmful if swallowed and is very toxic if inhaled. EtBr has been shown to be mutagenic in various tests and is an aquatic toxin. SYBR® Safe was introduced as a safer alternative to EtBr and SYBR® Green, but unfortunately, it is much less sensitive than SYBR® Green. It only has sensitivity comparable to EtBr. Gelite™ Safe has been developed specifically to be less hazardous than EtBr for staining DNA in agarose and acrylamide gels with much higher sensitivity. Gelite™ Safe has greatly improved safety and uncompromised sensitivity. The exceptional sensitivity and strong DNA binding affinity of Gelite™ Safe allows DNA to be stained prior to or post electrophoresis without destaining. In addition to its superior binding properties, Gelite™ Safe is essentially non-fluorescent in the absence of nucleic acids showing very low background fluorescence. Upon binding to nucleic acids, Gelite™ Safe exhibits a considerable fluorescence enhancement by several orders of magnitude greater than that of EtBr. Gelite™ Safe was optimized to be compatible with various instruments, including UV and blue-light transiluminators, gel documentation systems, and laser scanners. It is the first single formulation that can be used in either the green or red channel at your preference. Unlike the membrane-permeant SYBR® Green, which is highly toxic to cells and the environment, the membrane-impermeant properties of Gelite™ Safe make it a much safer and noncytotoxic alternative. Furthermore, Ames testing has confirmed Gelite™ Safe to be significantly less mutagenic than EtBr and SYBR® Green, even at concentrations well above the working concentration used for gel staining. Ames mutagenicity test was performed in a dose-dependent manner for all test dyes pretreated with an S9 fraction from rat liver (SYBR® is a trademark of ThermoFisher).
Platform
Gel Imager
| | |
| --- | --- |
| Excitation | UV Transilluminator/Blue laser |
| Emission | SYBR® filter, GelStar® filter, GelGreen® filter, or GelRed® filter |
Example protocol
PREPARATION OF WORKING SOLUTION
Gelite™ Safe working solution
Make 1X Gelite™ Safe working solution by diluting the 10,000X stock reagent with a buffer of your choice in a pH range of 7.5-8.5 (e.g., TAE, TBE, or TE, preferably pH 8.2).
Note: Staining solutions prepared in water are less stable than those prepared in buffer and must be used within 24 hours to ensure maximal staining sensitivity.
SAMPLE EXPERIMENTAL PROTOCOL
The following protocols are recommended. However, some comparisons might be made to determine which one better meets your needs.
Post-staining protocol
Run gels according to your standard protocol.

Place the gel in a suitable polypropylene container. Gently add a sufficient amount of the 1X staining solution to submerge the gel.

Note: Do not use a glass container, as it will adsorb much of the dye in the staining solution.

Agitate the gel gently at room temperature for ~30 to 60 minutes. Protect the staining container from light.

Note: Destaining is not required. Image can be acquired without any wash steps.

Image the gel with a 300 nm/254 nm ultraviolet transilluminator, or a laser-based gel scanner using a long path green filter such as a SYBR® filter, GelStar® filter, GelGreen® filter, or GelRed® filter.
Pre-staining protocol
Prepare agarose gel solution using your standard protocol.
Dilute the 10,000X Gelite™ Safe stock reagent into the gel solution at 1:10,000 just prior to pouring the gel and mix thoroughly.
Run gels according to your standard protocol.
Image the gel with a 300 nm/254 nm ultraviolet transilluminator, or a laser-based gel scanner using a long path green filter such as a SYBR® filter, GelStar® filter, GelGreen® filter, or GelRed® filter.
Spectrum
Open in Advanced Spectrum Viewer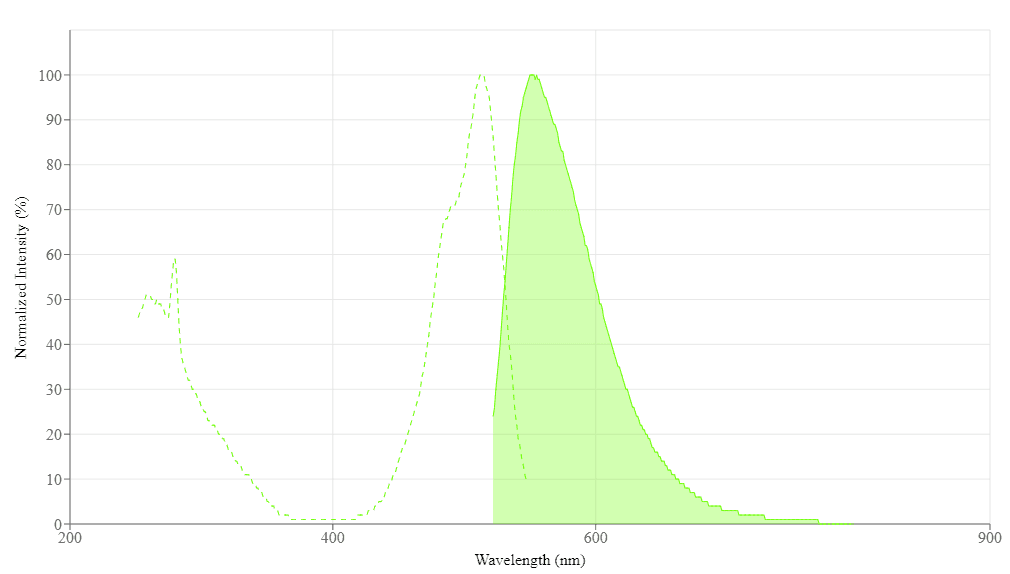 Spectral properties
| | |
| --- | --- |
| Absorbance (nm) | 509 |
| Excitation (nm) | 513 |
| Emission (nm) | 552 |
References
In Vitro Antimalarial and Toxicological Activities of Quercus infectoria (Olivier) Gall Extracts.
Authors:
Zin, Nik Nor Imam Nik Mat and Mohamad, Mira Nabila and Roslan, Keusar and Abdul Wafi, Sazeli and Abdul Moin, Nurul I'zaaz and Alias, Azamuddin and Zakaria, Yusmazura and Abu-Bakar, Nurhidanatasha
Journal:
The Malaysian journal of medical sciences : MJMS
(2020)
: 36-50
Design, synthesis and biological evaluation of several aromatic substituted chalcones as antimalarial agents.
Authors:
Gopinathan, Adarsh and Moidu, Mahreen and Mukundan, Minil and Ellickal Narayanan, Siju and Narayanan, Hariraj and Adhikari, Navin
Journal:
Drug development research
(2020)
Development of a Laboratory-safe and Low-cost Detection Protocol for SARS-CoV-2 of the Coronavirus Disease 2019 (COVID-19).
Authors:
Won, Joungha and Lee, Solji and Park, Myungsun and Kim, Tai Young and Park, Mingu Gordon and Choi, Byung Yoon and Kim, Dongwan and Chang, Hyeshik and Kim, V Narry and Lee, C Justin
Journal:
Experimental neurobiology
(2020)
: 107-119
Elucidation of the molecular mechanism underlying the anti-inflammatory activity of an effective and safe bipyrazole-based compound.
Authors:
Domiati, S and Mehanna, M and Ragab, H and El Galil, K H Abd and Nakkash-Chmaisse, H and El Mallah, A
Journal:
Inflammation research : official journal of the European Histamine Research Society ... [et al.]
(2019)
: 379-386
Reliable interpretation and long-term stability using SYBRTM safe fluorescent assay for loop-mediated isothermal amplification (LAMP) detection of Leishmania spp.
Authors:
Thita, T and Manomat, J and Leelayoova, S and Mungthin, M and Ruang-Areerate, T
Journal:
Tropical biomedicine
(2019)
: 495-504
Development of highly sensitive and low-cost DNA agarose gel electrophoresis detection systems, and evaluation of non-mutagenic and loading dye-type DNA-staining reagents.
Authors:
Motohashi, Ken
Journal:
PloS one
(2019)
: e0222209
Anti-Plasmodium falciparum Activity of Extracts from 10 Cameroonian Medicinal Plants.
Authors:
Rufin Marie, Toghueo Kouipou and Mbetyoumoun Mfouapon, Heroine and Madiesse Kemgne, Eugenie Aimée and Jiatsa Mbouna, Cedric Derick and Tsouh Fokou, Patrick Valere and Sahal, Dinkar and Fekam Boyom, Fabrice
Journal:
Medicines (Basel, Switzerland)
(2018)
Performance comparison of two androgen receptor splice variant 7 (AR-V7) detection methods.
Authors:
Bernemann, Christof and Steinestel, Julie and Humberg, Verena and Bögemann, Martin and Schrader, Andres Jan and Lennerz, Jochen K
Journal:
BJU international
(2018)
: 219-226
Construction of Lactobacillus casei ghosts by Holin-mediated inactivation and the potential as a safe and effective vehicle for the delivery of DNA vaccines.
Authors:
Hou, Rui and Li, Muzi and Tang, Tingting and Wang, Ruichong and Li, Yijing and Xu, Yigang and Tang, Lijie and Wang, Li and Liu, Min and Jiang, Yanping and Cui, Wen and Qiao, Xinyuan
Journal:
BMC microbiology
(2018)
: 80
Comparison of Single Nucleotide Polymorphism genotyping of CYP2C19 by Loop-mediated isothermal amplification and real-time PCR melting curve analysis.
Authors:
Kwong, K M and Tam, C C and Chan, Raymond and Lee, Stephen W L and Ip, P and Kwok, Janette
Journal:
Clinica chimica acta; international journal of clinical chemistry
(2018)
: 45-50