Gelite™ Safe DNA Gel Stain *10,000X Water Solution*
Ordering information
| | |
| --- | --- |
| Price | |
| Catalog Number | |
| Unit Size | |
| Quantity | |
Additional ordering information
| | |
| --- | --- |
| Telephone | 1-800-990-8053 |
| Fax | 1-800-609-2943 |
| Email | sales@aatbio.com |
| Quotation | Request |
| International | See distributors |
| Shipping | Standard overnight for United States, inquire for international |
Physical properties
| | |
| --- | --- |
| Molecular weight | N/A |
| Solvent | Water |
Spectral properties
| | |
| --- | --- |
| Absorbance (nm) | 509 |
| Excitation (nm) | 513 |
| Emission (nm) | 552 |
Storage, safety and handling
| | |
| --- | --- |
| H-phrase | H303, H313, H333 |
| Hazard symbol | XN |
| Intended use | Research Use Only (RUO) |
| R-phrase | R20, R21, R22 |
| Storage | Room temperature (10-25 °C); Minimize light exposure |
| UNSPSC | 12171501 |
See also:
Cell Structures and Organelles
, Nucleus
, DNA and RNA Quantitation
, DNA Fragmentation
, DNA & RNA Markers and Ladders
, Gel Electrophoresis
, Gelite™ Safe DNA Gel Stain, the Best and Most Robust DNA Gel Stain
, Physiological Probes
, Polymerase Chain Reaction (PCR)
, Reverse Transcription PCR (RT-PCR)
, RNA Purification & Analysis
, PCR Detection of Viral DNA/RNA
AAT Bioquest is committed to designing our products to be environment-friendly. It is part of how we enable our customers to make the world healthier, cleaner, and safer. Ethidium bromide (EtBr) has been commonly used as a DNA stain for many years. However, EtBr is harmful if swallowed and is very toxic if inhaled. EtBr has been shown to be mutagenic in various tests and is an aquatic toxin. SYBR® Safe was introduced as a safer alternative to EtBr and SYBR® Green, but unfortunately, it is much less sensitive than SYBR® Green. It only has sensitivity comparable to EtBr. Gelite™ Safe has been developed specifically to be less hazardous than EtBr for staining DNA in agarose and acrylamide gels with much higher sensitivity. Gelite™ Safe has greatly improved safety and uncompromised sensitivity. The exceptional sensitivity and strong DNA binding affinity of Gelite™ Safe allows DNA to be stained prior to or post electrophoresis without destaining. In addition to its superior binding properties, Gelite™ Safe is essentially non-fluorescent in the absence of nucleic acids showing very low background fluorescence. Upon binding to nucleic acids, Gelite™ Safe exhibits a considerable fluorescence enhancement by several orders of magnitude greater than that of EtBr. Gelite™ Safe was optimized to be compatible with various instruments, including UV and blue-light transiluminators, gel documentation systems, and laser scanners. It is the first single formulation that can be used in either the green or red channel at your preference. Unlike the membrane-permeant SYBR® Green, which is highly toxic to cells and the environment, the membrane-impermeant properties of Gelite™ Safe make it a much safer and noncytotoxic alternative. Furthermore, Ames testing has confirmed Gelite™ Safe to be significantly less mutagenic than EtBr and SYBR® Green, even at concentrations well above the working concentration used for gel staining. Ames mutagenicity test was performed in a dose-dependent manner for all test dyes pretreated with an S9 fraction from rat liver (SYBR® is a trademark of ThermoFisher).
Platform
Gel Imager
| | |
| --- | --- |
| Excitation | UV Transilluminator/Blue laser |
| Emission | SYBR® filter, GelStar® filter, GelGreen® filter, or GelRed® filter |
Example protocol
PREPARATION OF WORKING SOLUTION
Gelite™ Safe working solution
Make 1X Gelite™ Safe working solution by diluting the 10,000X stock reagent with a buffer of your choice in a pH range of 7.5-8.5 (e.g., TAE, TBE, or TE, preferably pH 8.2).
Note: Staining solutions prepared in water are less stable than those prepared in buffer and must be used within 24 hours to ensure maximal staining sensitivity.
SAMPLE EXPERIMENTAL PROTOCOL
The following protocols are recommended. However, some comparisons might be made to determine which one better meets your needs.
Post-staining protocol
Run gels according to your standard protocol.

Place the gel in a suitable polypropylene container. Gently add a sufficient amount of the 1X staining solution to submerge the gel.

Note: Do not use a glass container, as it will adsorb much of the dye in the staining solution.

Agitate the gel gently at room temperature for ~30 to 60 minutes. Protect the staining container from light.

Note: Destaining is not required. Image can be acquired without any wash steps.

Image the gel with a 300 nm/254 nm ultraviolet transilluminator or a laser-based gel scanner using a long path green filter such as a SYBR® filter, GelStar® filter, GelGreen® filter, or GelRed® filter.
Pre-staining protocol
Prepare agarose gel solution using your standard protocol.

Dilute the 10,000X Gelite™ Safe stock reagent into the gel solution at 1:10,000 just prior to pouring the gel and mix thoroughly.

Run gels according to your standard protocol.

Image the gel with a 300 nm/254 nm ultraviolet transilluminator or a laser-based gel scanner using a long path green filter such as a SYBR® filter, GelStar® filter, GelGreen® filter, or GelRed® filter.
Spectrum
Open in Advanced Spectrum Viewer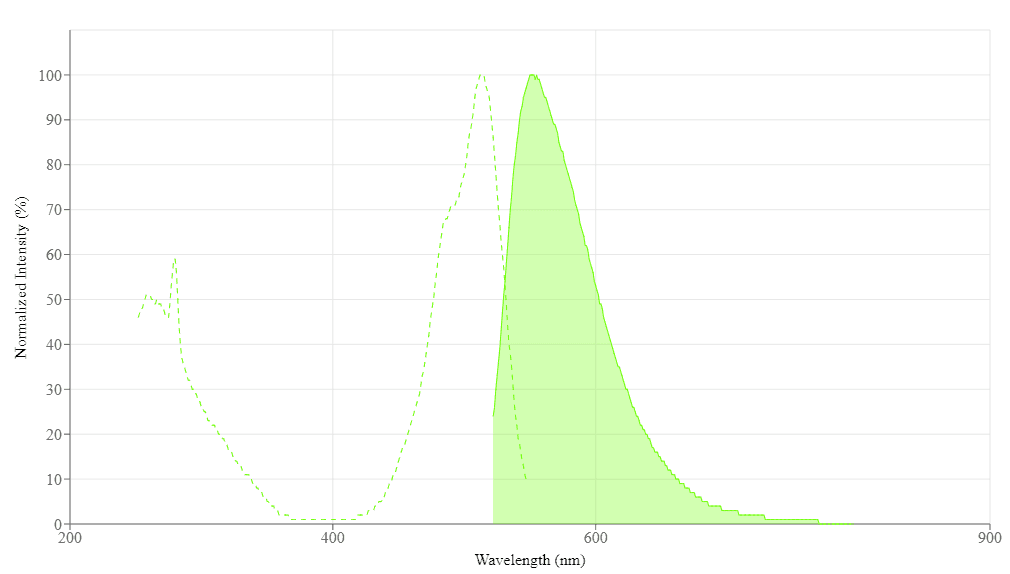 Spectral properties
| | |
| --- | --- |
| Absorbance (nm) | 509 |
| Excitation (nm) | 513 |
| Emission (nm) | 552 |
References
Limited Proteolysis and Gel Electrophoresis in the Presence of Metal Cations: Au(III)-binding Luminescent Domain in Serum Albumins.
Authors:
Dixon, Jacob M and Egusa, Shunji
Journal:
Journal of visualized experiments : JoVE
(2021)
High affinity of AS1411 toward copper; its application in a sensitive aptasensor for copper detection.
Authors:
Bahreyni, Amirhossein and Ramezani, Mohammad and Alibolandi, Mona and Hassanzadeh, Pirooz and Abnous, Khalil and Taghdisi, Seyed Mohammad
Journal:
Analytical biochemistry
(2019)
: 1-9
Transfection Studies with Colloidal Systems Containing Highly Purified Bipolar Tetraether Lipids from Sulfolobus acidocaldarius.
Authors:
Engelhardt, Konrad H and Pinnapireddy, Shashank Reddy and Baghdan, Elias and Jedelská, Jarmila and Bakowsky, Udo
Journal:
Archaea (Vancouver, B.C.)
(2017)
: 8047149
Metallo-supramolecular gels based on a multitopic cyclam bis-terpyridine platform.
Authors:
Gasnier, Aurélien and Royal, Guy and Terech, Pierre
Journal:
Langmuir : the ACS journal of surfaces and colloids
(2009)
: 8751-62
[Cloning of group A streptococcal pyrogenic exotoxin-B gene and its recombinant protein expression in culture supernatant].
Authors:
Watanabe, Y
Journal:
Journal of Nippon Medical School = Nippon Ika Daigaku zasshi
(2001)
: 222-32
Characterization of hepatic L-threonine dehydrogenase of chicken.
Authors:
Yuan, J H and Austic, R E
Journal:
Comparative biochemistry and physiology. Part B, Biochemistry & molecular biology
(2001)
: 65-73
Purification and characterization of chondroitin 4-sulfotransferase from the culture medium of a rat chondrosarcoma cell line.
Authors:
Yamauchi, S and Hirahara, Y and Usui, H and Takeda, Y and Hoshino, M and Fukuta, M and Kimura, J H and Habuchi, O
Journal:
The Journal of biological chemistry
(1999)
: 2456-63
Comparison of tube and gel red blood cell agglutination techniques in detecting chimeras after major ABO-mismatched allogeneic hematopoietic stem cell transplantation.
Authors:
Kupferman, M J and Cipolone, K M and Procter, J L and Stroncek, D F
Journal:
Immunohematology
(1998)
: 63-7
Expression of pig heart mitochondrial NADP-dependent isocitrate dehydrogenase in Escherichia coli.
Authors:
Soundar, S and Jennings, G T and McAlister-Henn, L and Colman, R F
Journal:
Protein expression and purification
(1996)
: 305-12
Purification of acid sphingomyelinase from human placenta: characterization and N-terminal sequence.
Authors:
Lansmann, S and Ferlinz, K and Hurwitz, R and Bartelsen, O and Glombitza, G and Sandhoff, K
Journal:
FEBS letters
(1996)
: 227-31