iFluor® 820 acid
Ordering information
| | |
| --- | --- |
| Price | |
| Catalog Number | |
| Unit Size | |
| Quantity | |
Additional ordering information
| | |
| --- | --- |
| Telephone | 1-800-990-8053 |
| Fax | 1-800-609-2943 |
| Email | sales@aatbio.com |
| International | See distributors |
| Bulk request | Inquire |
| Custom size | Inquire |
| Shipping | Standard overnight for United States, inquire for international |
Physical properties
| | |
| --- | --- |
| Molecular weight | 1417.44 |
| Solvent | DMSO |
Spectral properties
| | |
| --- | --- |
| Correction Factor (260 nm) | 0.11 |
| Correction Factor (280 nm) | 0.16 |
| Extinction coefficient (cm -1 M -1) | 2500001 |
| Excitation (nm) | 822 |
| Emission (nm) | 850 |
Storage, safety and handling
| | |
| --- | --- |
| H-phrase | H303, H313, H333 |
| Hazard symbol | XN |
| Intended use | Research Use Only (RUO) |
| R-phrase | R20, R21, R22 |
| Storage | Freeze (< -15 °C); Minimize light exposure |
| UNSPSC | 12171501 |
| | | | | | |
| --- | --- | --- | --- | --- | --- |
| | Correction Factor (260 nm) | Correction Factor (280 nm) | Extinction coefficient (cm -1 M -1) | | |
In vivo fluorescence imaging uses a sensitive camera to detect the fluorescence emission from fluorophores in whole-body living small animals. To overcome the photon attenuation in living tissue, fluorophores with long emission at the infrared (IR) region are generally preferred. Recent advances in imaging strategies and reporter techniques for in vivo fluorescence imaging include novel approaches to improve the specificity and affinity of the probes and to modulate and amplify the signal at target sites for enhanced sensitivity. Further emerging developments aim to achieve high-resolution, multimodality, and lifetime-based in vivo fluorescence imaging. Our iFluor® 820 is designed to label proteins and other biomolecules with infrared fluorescence. Conjugates prepared with iFluor® 820 have excitation and emission in the IR range. iFluor® 820 dye emission is well separated from commonly used far-red fluorophores such as Cy5, Cy7, or allophycocyanin (APC), facilitating multicolor analysis. This fluorophore is also useful for small animal in vivo imaging applications or other imaging applications requiring IR detections.
Calculators
Common stock solution preparation
Table 1.
Volume of DMSO needed to reconstitute specific mass of iFluor® 820 acid to given concentration. Note that volume is
only
for preparing stock solution. Refer to sample experimental protocol for appropriate experimental/physiological buffers.
| | | | | | |
| --- | --- | --- | --- | --- | --- |
| | 0.1 mg | 0.5 mg | 1 mg | 5 mg | 10 mg |
| 1 mM | 70.55 µL | 352.749 µL | 705.497 µL | 3.527 mL | 7.055 mL |
| 5 mM | 14.11 µL | 70.55 µL | 141.099 µL | 705.497 µL | 1.411 mL |
| 10 mM | 7.055 µL | 35.275 µL | 70.55 µL | 352.749 µL | 705.497 µL |
Molarity calculator
Enter any two values (mass, volume, concentration) to calculate the third.
Mass (

Calculate

)
Molecular weight
Volume (

Calculate

)
Concentration (

Calculate

)
Moles
/
=
x
=
Spectrum
Open in Advanced Spectrum Viewer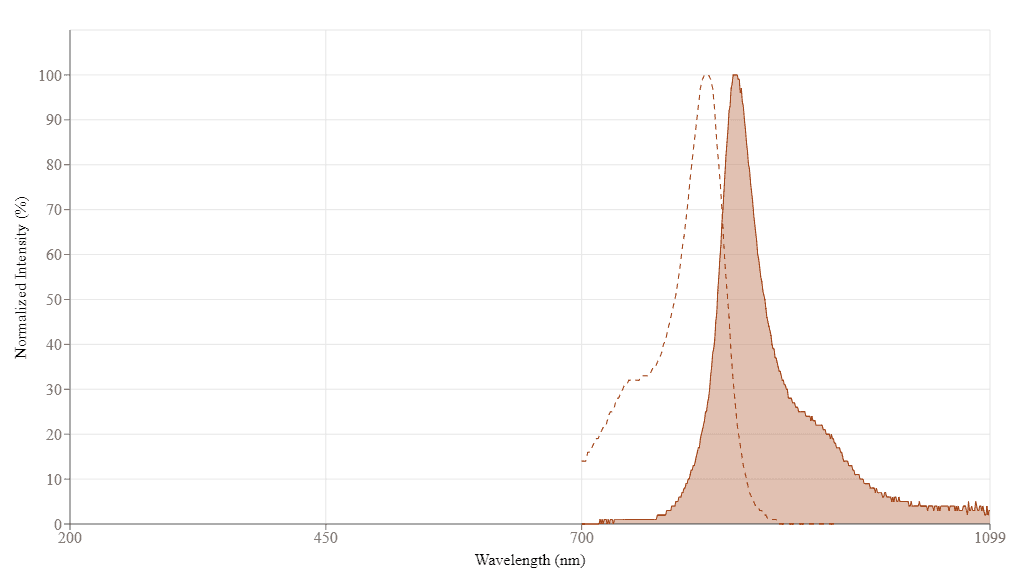 Spectral properties
| | |
| --- | --- |
| Correction Factor (260 nm) | 0.11 |
| Correction Factor (280 nm) | 0.16 |
| Extinction coefficient (cm -1 M -1) | 2500001 |
| Excitation (nm) | 822 |
| Emission (nm) | 850 |
Images
References
A target cell-specific activatable fluorescence probe for in vivo molecular imaging of cancer based on a self-quenched avidin-rhodamine conjugate
Authors:
Hama Y, Urano Y, Koyama Y, Kamiya M, Bernardo M, Paik RS, Shin IS, Paik CH, Choyke PL, Kobayashi H.
Journal:
Cancer Res
(2007)
: 2791
Fluorescence imaging in vivo: recent advances
Authors:
Rao J, Dragulescu-Andrasi A, Yao H.
Journal:
Curr Opin Biotechnol
(2007)
: 17
Ex vivo fluorescence imaging of normal and malignant urothelial cells to enhance early diagnosis
Authors:
Steenkeste K, Lecart S, Deniset A, Pernot P, Eschwege P, Ferlicot S, Leveque-Fort S, Bri and et R, Fontaine-Aupart MP.
Journal:
Photochem Photobiol
(2007)
: 1157
In vivo monitoring the fate of Cy5.5-Tat labeled T lymphocytes by quantitative near-infrared fluorescence imaging during acute brain inflammation in a rat model of experimental autoimmune encephalomyelitis
Authors:
Berger C, Gremlich HU, Schmidt P, Cannet C, Kneuer R, Hiest and P, Rausch M, Rudin M.
Journal:
J Immunol Methods
(2007)
: 65
A protocol for imaging alternative splicing regulation in vivo using fluorescence reporters in transgenic mice
Authors:
Bonano VI, Oltean S, Garcia-Blanco MA.
Journal:
Nat Protoc
(2007)
: 2166
In vivo imaging of the bronchial wall microstructure using fibered confocal fluorescence microscopy
Authors:
Thiberville L, Moreno-Swirc S, Vercauteren T, Peltier E, Cave C, Bourg Heckly G.
Journal:
Am J Respir Crit Care Med
(2007)
: 22
In Vivo Fluorescence Microscopic Imaging for Dynamic Quantitative Assessment of Intestinal Mucosa Permeability in Mice
Authors:
Szabo A, Vollmar B, Boros M, Menger MD.
Journal:
J Surg Res.
(2007)
In vivo spectral fluorescence imaging of submillimeter peritoneal cancer implants using a lectin-targeted optical agent
Authors:
Hama Y, Urano Y, Koyama Y, Kamiya M, Bernardo M, Paik RS, Krishna MC, Choyke PL, Kobayashi H.
Journal:
Neoplasia
(2006)
: 607
In vivo imaging of green fluorescent protein-expressing cells in transgenic animals using fibred confocal fluorescence microscopy
Authors:
Al-Gubory KH, Houdebine LM.
Journal:
Eur J Cell Biol
(2006)
: 837
In vivo near-infrared fluorescence imaging of integrin alphavbeta3 in an orthotopic glioblastoma model
Authors:
Hsu AR, Hou LC, Veeravagu A, Greve JM, Vogel H, Tse V, Chen X.
Journal:
Mol Imaging Biol
(2006)
: 315