Amplite® Fluorimetric Xanthine Oxidase Assay Kit *Red Fluorescence*
Ordering information
| | |
| --- | --- |
| Price | |
| Catalog Number | |
| Unit Size | |
| Quantity | |
Additional ordering information
| | |
| --- | --- |
| Telephone | 1-800-990-8053 |
| Fax | 1-800-609-2943 |
| Email | sales@aatbio.com |
| International | See distributors |
| Bulk request | Inquire |
| Custom size | Inquire |
| Shipping | Standard overnight for United States, inquire for international |
Spectral properties
| | |
| --- | --- |
| Excitation (nm) | 571 |
| Emission (nm) | 584 |
Storage, safety and handling
| | |
| --- | --- |
| H-phrase | H303, H313, H333 |
| Hazard symbol | XN |
| Intended use | Research Use Only (RUO) |
| R-phrase | R20, R21, R22 |
| UNSPSC | 12171501 |
Xanthine oxidase (XO) is an enzyme that catalyzes the oxidation of hypoxanthine to xanthine and can further catalyze the oxidation of xanthine to uric acid. It plays an important role in the catabolism of purines. Xanthine oxidase is normally found in liver and jejunum. During severe liver damage, xanthine oxidase is released into blood, so a blood assay for XO is a way to determine if liver damage has happened. Xanthinuria is a rare genetic disorder where the lack of xanthine oxidase leads to high concentration of xanthine in blood and can cause health problems such as renal failure. The Amplite® Fluorimetric Xanthine Oxidase Assay Kit provides a quick and ultrasensitive method for the measurement of xanthine oxidase activities. It can be performed in a convenient 96-well or 384-well microtiter-plate format and easily adapted to automation without a separation step. In the assay, xanthine oxidase catalyzes the oxidation of purine bases, hypoxanthine or xanthine to uric acid and superoxide , which spontaneously degrades to hydrogen peroxide (H2O2). The kit uses our Amplite® Red substrate which enables a dual recordable mode. The fluorescent signal can be easily read by either a fluorescence microplate reader or an absorbance microplate reader. With the Amplite® Xanthine Oxidase Assay Kit, we have detected as little as 0.15 mU/mL xanthine oxidase in a 100 µL reaction volume.
Platform
Fluorescence microplate reader
| | |
| --- | --- |
| Excitation | 540nm |
| Emission | 590nm |
| Cutoff | 570nm |
| Recommended plate | Solid black |
Example protocol
AT A GLANCE
Protocol summary
XO standards or test samples (50 µL)
Add XO working solution (50 µL)
Incubate at room temperature for 15 - 30 minutes
Read fluorescence intensity at Ex/Em = 540/590 nm (cut off 570 nm)
Important notes
Thaw all the kit components to room temperature before starting the experiment.
PREPARATION OF STOCK SOLUTION
Unless otherwise noted, all unused stock solutions should be divided into single-use aliquots and stored at -20 °C after preparation. Avoid repeated freeze-thaw cycles.
1. Amplite™ Red stock solution (250X):
Add 40 µL of DMSO (Component F) into the vial of Amplite™ Red substrate (Component A). The stock solution should be used promptly. Note: The Amplite™ Red substrate is unstable in the presence of thiols such as dithiothreitol (DTT) and 2-mercaptoethanol. The final concentration of DTT or 2-mercaptoethanol in the reaction should be no higher than 10 µM. The Amplite™ Red substrate is also unstable at high pH (>8.5). Therefore, the reaction should be performed at pH = 7 – 8. The provided assay buffer, pH = 7.4, is recommended.
2. HRP stock solution (500X):
Add 100 µL of Assay Buffer (Component B) into the vial of Horseradish Peroxidase (Component C).
3. Xanthine Oxidase (XO) standard solution (1 U/mL)
Add 200 µL of Assay Buffer (Component B) into the vial of Xanthine Oxidase Standard (Component E).
PREPARATION OF STANDARD SOLUTION
XO standard
For convenience, use the Serial Dilution Planner: https://www.aatbio.com/tools/serial-dilution/11304
Add 10 µL of 1 U/mL XO stanndard solution into 990 µL of Assay Buffer (Component B) to make 10 mU/mL XO standard solution (XO7). Perform 1:3 serial dilutions to get remaining serially diluted XO standards (XO6-XO1).
PREPARATION OF WORKING SOLUTION
Add 20 μL of Amplite™ Red stock solution (250X), 10 μL of HRP stock solution (500X), and 50 μL of Xanthine (100X, Component D) into 5 mL of Assay Buffer (Component B) to make a total volume of 5.08 mL Xanthine Oxidase (XO) working solution. Protect from light.
SAMPLE EXPERIMENTAL PROTOCOL
Table 1. Layout of XO standards and test samples in a solid black 96-well microplate.
| | | | |
| --- | --- | --- | --- |
| BL | BL | TS | TS |
| XO1 | XO1 | ... | ... |
| XO2 | XO2 | ... | ... |
| XO3 | XO3 |   |   |
| XO4 | XO4 |   |   |
| XO5 | XO5 |   |   |
| XO6 | XO6 |   |   |
| XO7 | XO7 |   |   |
Table 2. Reagent composition for each well.
| | | |
| --- | --- | --- |
| Well | Volume | Reagent |
| XO1 - XO7 | 50 µL | serial dilution (0.01 to 10 mU/mL) |
| BL | 50 µL | Assay Buffer (Component B) |
| TS | 50 µL | sample |
Prepare XO standards (XO), blank controls (BL), and test samples (TS) into a solid black 96-well microplate according to the layout provided in Table 1 and Table 2. For a 384-well plate, use 25 µL of reagent per well instead of 50 µL.


Add 50 µL of XO working solution into each well of the XO standards, blank control, and test samples to make the total XO assay volume of 100 µL/well. For a 384-well plate, add 25 µL of XO working solution into each well instead, for a total volume of 50 µL/well.


Incubate the reaction for 15 to 30 minutes at room temperature, protected from light.


Monitor the fluorescence intensity with a fluorescence plate reader at Excitation = 530 - 570 nm, Emission = 590 - 600 nm (optimal Ex/Em = 540/590 nm), cut off = 570 nm.
Spectrum
Open in Advanced Spectrum Viewer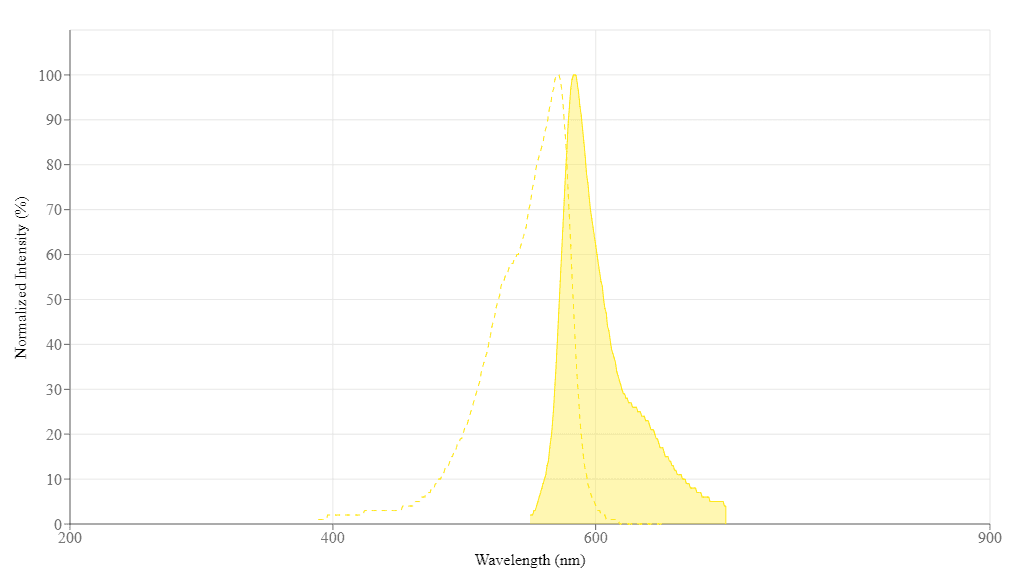 Spectral properties
| | |
| --- | --- |
| Excitation (nm) | 571 |
| Emission (nm) | 584 |
Images
Citations
Xanthine oxidoreductase regulates macrophage IL1β secretion upon NLRP3 inflammasome activation
Authors:
Ives, Annette and Nomura, Johji and Martinon, Fabio and Roger, Thierry and LeRoy, Didier and Miner, Jeffrey N and Simon, Gregoire and Busso, Nathalie and So, Alex and er, undefined
Journal:
Nature communications
(2015)
References
Comparison of xanthine oxidase levels in synovial fluid from patients with rheumatoid arthritis and other joint inflammations
Authors:
Hanachi N, Charef N, Baghiani A, Khennouf S, Derradji Y, Boumerfeg S, Harzallah D, Arrar L.
Journal:
Saudi Med J
(2009)
: 1422
Simultaneous electrochemical monitoring of metabolites related to the xanthine oxidase pathway using a grinded carbon electrode
Authors:
Hason S, Stepankova S, Kourilova A, Vetterl V, Lata J, Fojta M, Jelen F.
Journal:
Anal Chem
(2009)
: 4302
A combined QM/MM study on the reductive half-reaction of xanthine oxidase: substrate orientation and mechanism
Authors:
Metz S, Thiel W.
Journal:
J Am Chem Soc
(2009)
: 14885
Pieris brassicae inhibits xanthine oxidase
Authors:
Sousa C, Pereira DM, Valentao P, Ferreres F, Pereira JA, Seabra RM, Andrade PB.
Journal:
J Agric Food Chem
(2009)
: 2288
Quinone-enhanced reduction of nitric oxide by xanthine/xanthine oxidase
Authors:
Sanchez-Cruz P, Alegria AE.
Journal:
Chem Res Toxicol
(2009)
: 818
Anti-nociceptive properties of the xanthine oxidase inhibitor allopurinol in mice: role of A1 adenosine receptors
Authors:
Schmidt AP, Bohmer AE, Antunes C, Schallenberger C, Porciuncula LO, Elisabetsky E, Lara DR, Souza DO.
Journal:
Br J Pharmacol
(2009)
: 163
Protective effects of free radical scavenger edaravone against xanthine oxidase-mediated permeability increases in human intestinal epithelial cell monolayer
Authors:
Mukojima K, Mishima S, Oda J, Homma H, Sasaki H, Ohta S, Yukioka T.
Journal:
J Burn Care Res
(2009)
: 335
Febuxostat: a selective xanthine-oxidase/xanthine-dehydrogenase inhibitor for the management of hyperuricemia in adults with gout
Authors:
Ernst ME, Fravel MA.
Journal:
Clin Ther
(2009)
: 2503
Bioactive compounds of inhibiting xanthine oxidase from Selaginella labordei
Authors:
Tan WJ, Xu JC, Li L, Chen KL.
Journal:
Nat Prod Res
(2009)
: 393
Elevated serum xanthine oxidase activities in patients with Henoch-Schonlein purpura
Authors:
Chen T, Guo ZP, Zhang YH, Gao Y.
Journal:
Clin Rheumatol
(2009)
: 1355