Calbryte™-520L, potassium salt
Ordering information
| | |
| --- | --- |
| Price | |
| Catalog Number | |
| Unit Size | |
| Quantity | |
Additional ordering information
| | |
| --- | --- |
| Telephone | 1-800-990-8053 |
| Fax | 1-800-609-2943 |
| Email | sales@aatbio.com |
| International | See distributors |
| Bulk request | Inquire |
| Custom size | Inquire |
| Shipping | Standard overnight for United States, inquire for international |
Physical properties
| | |
| --- | --- |
| Dissociation constant (Kd, nM) | 91000 |
| Molecular weight | 794.88 |
| Solvent | Water |
Spectral properties
| | |
| --- | --- |
| Excitation (nm) | 493 |
| Emission (nm) | 515 |
| Quantum yield | 0.751 |
Storage, safety and handling
| | |
| --- | --- |
| H-phrase | H303, H313, H333 |
| Hazard symbol | XN |
| Intended use | Research Use Only (RUO) |
| R-phrase | R20, R21, R22 |
| Storage | Freeze (< -15 °C); Minimize light exposure |
| UNSPSC | 12352200 |
| | | | | |
| --- | --- | --- | --- | --- |
| | Dissociation constant (Kd, nM) | | | |
The intracellular calcium flux assay is a widely used method for monitoring signal transduction pathways and high throughput screening of G protein-coupled receptors (GPCRs) and calcium channel targets. Following the introduction of Fluo-3 in 1989, Fluo-4, Fluo-8, and Cal-520 were later developed with enhanced signal-to-background ratios and soon became the Ca2+ indicators of choice for confocal microscopy, flow cytometry, and high throughput screening applications. Calbryte 520L has a low affinity to calcium ions with a Kd ∼91 µM. Calbryte 520L produces a bright fluorescence signal in the presence of calcium at a high concentration. It has an identical excitation and emission wavelength as Fluo-4; thus, the same Fluo-4 assay settings can be readily applied to Calbryte 520L-based calcium assays.
Calculators
Common stock solution preparation
Table 1.
Volume of Water needed to reconstitute specific mass of Calbryte™-520L, potassium salt to given concentration. Note that volume is
only
for preparing stock solution. Refer to sample experimental protocol for appropriate experimental/physiological buffers.
| | | | | | |
| --- | --- | --- | --- | --- | --- |
| | 0.1 mg | 0.5 mg | 1 mg | 5 mg | 10 mg |
| 1 mM | 125.805 µL | 629.026 µL | 1.258 mL | 6.29 mL | 12.581 mL |
| 5 mM | 25.161 µL | 125.805 µL | 251.61 µL | 1.258 mL | 2.516 mL |
| 10 mM | 12.581 µL | 62.903 µL | 125.805 µL | 629.026 µL | 1.258 mL |
Molarity calculator
Enter any two values (mass, volume, concentration) to calculate the third.
Mass (

Calculate

)
Molecular weight
Volume (

Calculate

)
Concentration (

Calculate

)
Moles
/
=
x
=
Spectrum
Open in Advanced Spectrum Viewer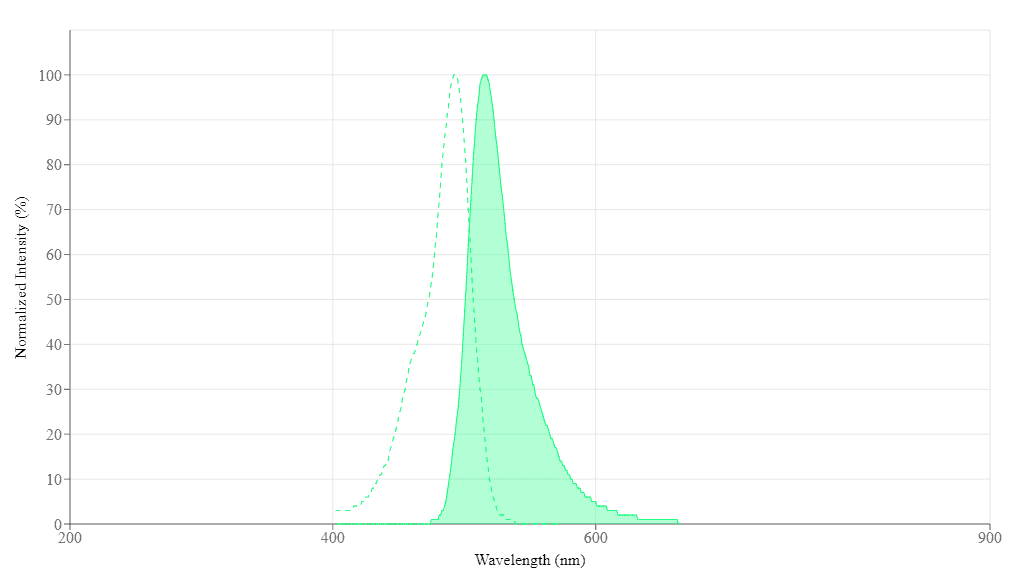 Spectral properties
| | |
| --- | --- |
| Excitation (nm) | 493 |
| Emission (nm) | 515 |
| Quantum yield | 0.751 |
Citations
Monosialoganglioside 1 may alleviate neurotoxicity induced by propofol combined with remifentanil in neural stem cells
Authors:
Lu, Jiang and Yao, Xue-qin and Luo, Xin and Wang, Yu and Chung, Sookja Kim and Tang, He-xin and Cheung, Chi Wai and Wang, Xian-yu and Meng, Chen and Li, Qing and others, undefined
Journal:
Neural Regeneration Research
(2017)
: 945
Di (2-ethylhexyl) phthalate-induced apoptosis in rat INS-1 cells is dependent on activation of endoplasmic reticulum stress and suppression of antioxidant protection
Authors:
Sun, Xia and Lin, Yi and Huang, Qiansheng and Shi, Junpeng and Qiu, Ling and Kang, Mei and Chen, Yajie and Fang, Chao and Ye, Ting and Dong, Sijun
Journal:
Journal of cellular and molecular medicine
(2015)
: 581--594
Fungus induces the release of IL-8 in human corneal epithelial cells, via Dectin-1-mediated protein kinase C pathways.
Authors:
Peng, Xu-Dong and Zhao, Gui-Qiu and Lin, Jing and Jiang, Nan and Xu, Qiang and Zhu, Cheng-Cheng and Qu, Jain-Qiu and Cong, Lin and Li, Hui
Journal:
International journal of ophthalmology
(2014)
: 441--447
References
A flow cytometric comparison of Indo-1 to fluo-3 and Fura Red excited with low power lasers for detecting Ca(2+) flux
Authors:
Bailey S, Macardle PJ.
Journal:
J Immunol Methods
(2006)
: 220
Functional fluo-3/AM assay on P-glycoprotein transport activity in L1210/VCR cells by confocal microscopy
Authors:
Orlicky J, Sulova Z, Dovinova I, Fiala R, Zahradnikova A, Jr., Breier A.
Journal:
Gen Physiol Biophys
(2004)
: 357
Comparison of human recombinant adenosine A2B receptor function assessed by Fluo-3-AM fluorometry and microphysiometry
Authors:
Patel H, Porter RH, Palmer AM, Croucher MJ.
Journal:
Br J Pharmacol
(2003)
: 671
Measurement of the dissociation constant of Fluo-3 for Ca2+ in isolated rabbit cardiomyocytes using Ca2+ wave characteristics
Authors:
Loughrey CM, MacEachern KE, Cooper J, Smith GL.
Journal:
Cell Calcium
(2003)
: 1
A sensitive method for the detection of foot and mouth disease virus by in situ hybridisation using biotin-labelled oligodeoxynucleotides and tyramide signal amplification
Authors:
Zhang Z, Kitching P.
Journal:
J Virol Methods
(2000)
: 187
Kinetics of onset of mouse sperm acrosome reaction induced by solubilized zona pellucida: fluorimetric determination of loss of pH gradient between acrosomal lumen and medium monitored by dapoxyl (2-aminoethyl) sulfonamide and of intracellular Ca(2+) chang
Authors:
Rockwell PL, Storey BT.
Journal:
Mol Reprod Dev
(2000)
: 335
MRP2, a human conjugate export pump, is present and transports fluo 3 into apical vacuoles of Hep G2 cells
Authors:
Cantz T, Nies AT, Brom M, Hofmann AF, Keppler D.
Journal:
Am J Physiol Gastrointest Liver Physiol
(2000)
: G522
Use of co-loaded Fluo-3 and Fura Red fluorescent indicators for studying the cytosolic Ca(2+)concentrations distribution in living plant tissue
Authors:
Walczysko P, Wagner E, Albrechtova JT.
Journal:
Cell Calcium
(2000)
: 23
[Ca2+]i following extrasystoles in guinea-pig trabeculae microinjected with fluo-3 - a comparison with frog skeletal muscle fibres
Authors:
Wohlfart B., undefined
Journal:
Acta Physiol Scand
(2000)
: 1
Determination of the intracellular dissociation constant, K(D), of the fluo-3. Ca(2+) complex in mouse sperm for use in estimating intracellular Ca(2+) concentrations
Authors:
Rockwell PL, Storey BT.
Journal:
Mol Reprod Dev
(1999)
: 418