Calcein Blue, AM *CAS 168482-84-6*
Ordering information
| | |
| --- | --- |
| Price | |
| Catalog Number | |
| Unit Size | |
| Quantity | |
Additional ordering information
| | |
| --- | --- |
| Telephone | 1-800-990-8053 |
| Fax | 1-800-609-2943 |
| Email | sales@aatbio.com |
| Quotation | Request |
| International | See distributors |
| Shipping | Standard overnight for United States, inquire for international |
Physical properties
| | |
| --- | --- |
| Molecular weight | 465.41 |
| Solvent | DMSO |
Spectral properties
| | |
| --- | --- |
| Excitation (nm) | 354 |
| Emission (nm) | 441 |
Storage, safety and handling
| | |
| --- | --- |
| H-phrase | H303, H313, H333 |
| Hazard symbol | XN |
| Intended use | Research Use Only (RUO) |
| R-phrase | R20, R21, R22 |
| Storage | Freeze (< -15 °C); Minimize light exposure |
| UNSPSC | 12352200 |
It is a cell-permeable version of calcein blue. Upon getting into live cells the weakly fluorescent calcein blue AM is hydrolyzed into calcein blue that has the excitation/emission maxima similar to those of DAPI, Hoechst and AMCA. This exceptional spectral separation from the typical green and red fluorophores (such as FITC, TMR and Texas Red) provides additional options for multiplexing experiments. Because calcein blue AM is intrinsically fluorescent, a proper filter set and additional wash step may be necessary to minimize background fluorescence. Our calcium assay buffers may be used to effectively wash extracellular calcein blue.
Platform
Flow cytometer
| | |
| --- | --- |
| Excitation | 350 nm or 405 nm laser |
| Emission | 450/40 nm filter |
| Instrument specification(s) | Pacific Blue channel |
Fluorescence microscope
| | |
| --- | --- |
| Excitation | DAPI filter set |
| Emission | DAPI filter set |
| Recommended plate | Black wall/clear bottom |
Fluorescence microplate reader
| | |
| --- | --- |
| Excitation | 360 |
| Emission | 450 |
| Cutoff | 420 |
| Recommended plate | Black wall/clear bottom |
| Instrument specification(s) | Bottom read mode |
Example protocol
PREPARATION OF STOCK SOLUTIONS
Unless otherwise noted, all unused stock solutions should be divided into single-use aliquots and stored at -20 °C after preparation. Avoid repeated freeze-thaw cycles.
Calcein Blue, AM Stock Solution
Prepare a 2 to 5 mM stock solution of Calcein Blue AM in high-quality, anhydrous DMSO.


Note

     The nonionic detergent Pluronic® F-127 can be used to increase the aqueous solubility of AM esters. In the staining buffer, the final Pluronic® F-127 concentration should be approximately 0.02%. A variety of Pluronic® F-127 products can be purchased from AAT Bioquest. Avoid long-term storage of AM esters in the presence of Pluronic® F-127.
PREPARATION OF WORKING SOLUTION
Calcein Blue, AM Working Solution
Prepare a Calcein Blue AM working solution of 1 to 10 µM in the buffer of your choice (e.g., Hanks and Hepes buffer). For most cell lines, Calcein Blue AM at the final concentration of 4 to 5 µM is recommended. The exact concentration of indicators required for cell loading must be determined empirically.


Note

     If your cells contain organic anion-transporters, probenecid (1–2.5 mM) or sulfinpyrazone (0.1–0.25 mM) may be added to the working solution to reduce leakage of the de-esterified indicators.
SAMPLE EXPERIMENTAL PROTOCOL
Prepare cells for imaging.

Remove the cell culture medium and wash cells once with serum-free buffer to remove any remaining media.


Note

     Serum in cell culture media may contain esterase activity, which can increase background interference.

Add Calcein Blue AM working solution to the culture.

Incubate cells at 37 °C for 30 to 60 minutes.

Replace the dye working solution with HHBS or buffer of your choice (containing an anion transporter inhibitor, such as 1 mM probenecid, if applicable) to remove any excess probes.

Measure the fluorescence intensity using either a fluorescence microscope equipped with a DAPI filter set, a flow cytometer equipped with a 450/40 nm filter (Pacific Blue channel), or a fluorescence plate reader at Ex/Em = 360/450 nm cutoff 420 nm. 
Calculators
Common stock solution preparation
Table 1.
Volume of DMSO needed to reconstitute specific mass of Calcein Blue, AM *CAS 168482-84-6* to given concentration. Note that volume is
only
for preparing stock solution. Refer to sample experimental protocol for appropriate experimental/physiological buffers.
| | | | | | |
| --- | --- | --- | --- | --- | --- |
| | 0.1 mg | 0.5 mg | 1 mg | 5 mg | 10 mg |
| 1 mM | 214.864 µL | 1.074 mL | 2.149 mL | 10.743 mL | 21.486 mL |
| 5 mM | 42.973 µL | 214.864 µL | 429.729 µL | 2.149 mL | 4.297 mL |
| 10 mM | 21.486 µL | 107.432 µL | 214.864 µL | 1.074 mL | 2.149 mL |
Molarity calculator
Enter any two values (mass, volume, concentration) to calculate the third.
Mass (

Calculate

)
Molecular weight
Volume (

Calculate

)
Concentration (

Calculate

)
Moles
/
=
x
=
Spectrum
Open in Advanced Spectrum Viewer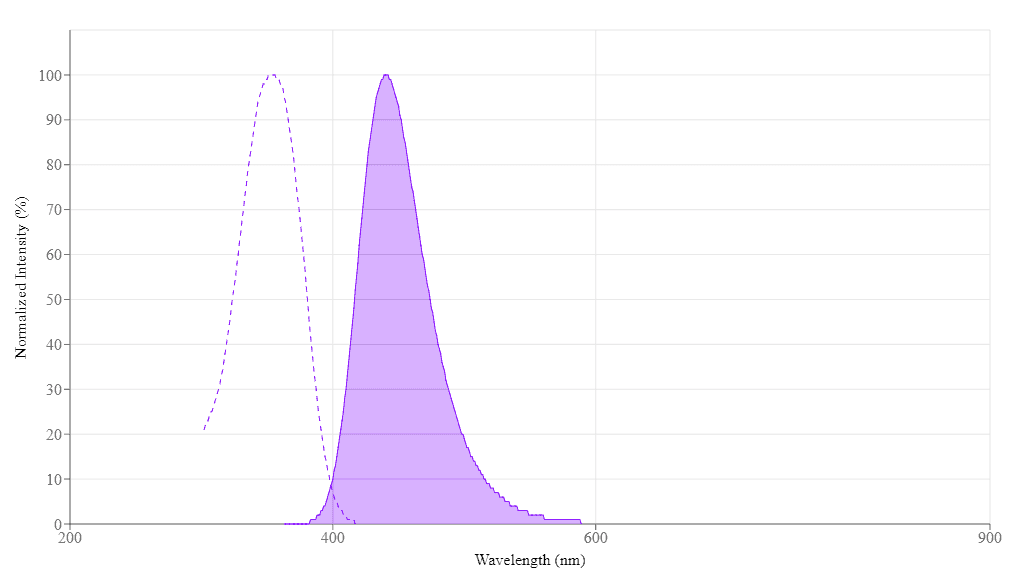 Spectral properties
| | |
| --- | --- |
| Excitation (nm) | 354 |
| Emission (nm) | 441 |
Images
Citations
NINJ2--A novel regulator of endothelial inflammation and activation
Authors:
Wang, Jingjing and Fa, Jingjing and Wang, Pengyun and Jia, Xinzhen and Peng, Huixin and Chen, Jing and Wang, Yifan and Wang, Chenhui and Chen, Qiuyun and Tu, Xin and others, undefined
Journal:
Cellular Signalling
(2017)
References
Localized functional chemical stimulation of TE 671 cells cultured on nanoporous membrane by calcein and acetylcholine
Authors:
Zibek S, Stett A, Koltay P, Hu M, Zengerle R, Nisch W, Stelzle M.
Journal:
Biophys J.
(2006)
A vaccination and challenge model using calcein marked fish
Authors:
Klesius PH, Evans JJ, Shoemaker CA, Pasnik DJ.
Journal:
Fish Shellfish Immunol
(2006)
: 20
Novel fluorescence assay using calcein-AM for the determination of human erythrocyte viability and aging
Authors:
Bratosin D, Mitrofan L, Palii C, Estaquier J, Montreuil J.
Journal:
Cytometry A
(2005)
: 78
Cytotoxic effects of 100 reference compounds on Hep G2 and HeLa cells and of 60 compounds on ECC-1 and CHO cells. I mechanistic assays on ROS, glutathione depletion and calcein uptake
Authors:
Schoonen WG, Westerink WM, de Roos JA, Debiton E.
Journal:
Toxicol In Vitro
(2005)
: 505
Calcein AM release-based cytotoxic cell assay for fish leucocytes
Authors:
Iwanowicz LR, Densmore CL, Ottinger CA.
Journal:
Fish Shellfish Immunol
(2004)
: 127
Calcein-AM is a detector of intracellular oxidative activity
Authors:
Uggeri J, Gatti R, Belletti S, Sc and roglio R, Corradini R, Rotoli BM, Orl and ini G., undefined
Journal:
Histochem Cell Biol
(2004)
: 499
Comparison of the usefulness of the MTT, ATP, and calcein assays to predict the potency of cytotoxic agents in various human cancer cell lines
Authors:
Mueller H, Kassack MU, Wiese M.
Journal:
J Biomol Screen
(2004)
: 506
In vitro assay of mineralized-tissue formation on titanium using fluorescent staining with calcein blue
Authors:
Goto T, Kajiwara H, Yoshinari M, Fukuhara E, Kobayashi S, Tanaka T.
Journal:
Biomaterials
(2003)
: 3885
The effects of calcium chloride and sodium chloride on the electroporation-mediated skin permeation of fluorescein isothiocyanate (FITC)-dextrans in vitro
Authors:
Tokudome Y, Sugibayashi K.
Journal:
Biol Pharm Bull
(2003)
: 1508