Calcein Deep Red™ acetate
Ordering information
| | |
| --- | --- |
| Price | |
| Catalog Number | |
| Unit Size | |
| Quantity | |
Additional ordering information
| | |
| --- | --- |
| Telephone | 1-800-990-8053 |
| Fax | 1-800-609-2943 |
| Email | sales@aatbio.com |
| International | See distributors |
| Bulk request | Inquire |
| Custom size | Inquire |
| Shipping | Standard overnight for United States, inquire for international |
Physical properties
| | |
| --- | --- |
| Molecular weight | 530.36 |
| Solvent | DMSO |
Spectral properties
| | |
| --- | --- |
| Excitation (nm) | 643 |
| Emission (nm) | 663 |
Storage, safety and handling
| | |
| --- | --- |
| H-phrase | H303, H313, H333 |
| Hazard symbol | XN |
| Intended use | Research Use Only (RUO) |
| R-phrase | R20, R21, R22 |
| Storage | Freeze (< -15 °C); Minimize light exposure |
| UNSPSC | 12352200 |
This product is now replaced by #22011. Calcein AM is one the most popular fluorescent probes used for labeling and monitoring cellular functions of live cells. However, the single color of Calcein AM makes it impossible to use this valuable reagent in the multicolor applications. For example, it is impossible to use Calcein AM in combination of GFP-tranfacted cells due to the same color to GFP. To address this color limitation of Calcein AM, we have developed Calcein Orange™, Calcein Red™ and Calcein Deep Red™. These new Calcein AM analogs enable the multicolor labeling and functional analysis of live cells in combination with Calcein AM. Non-fluorescent Calcein Deep Red™ acetate can easily get into live cells and hydrolyzes to generate strongly fluorescent Calcein Deep Red™ (Cat#: 21902) dye. Calcein Deep Red™ dye can be monitored with the common Cy5 filter set.
Platform
Flow cytometer
| | |
| --- | --- |
| Excitation | 640 nm laser |
| Emission | 660/20 nm filter |
| Instrument specification(s) | APC channel |
Fluorescence microscope
| | |
| --- | --- |
| Excitation | Cy5 filter set |
| Emission | Cy5 filter set |
| Recommended plate | Black wall/clear bottom |
Fluorescence microplate reader
| | |
| --- | --- |
| Excitation | 620 |
| Emission | 660 |
| Cutoff | 630 |
| Recommended plate | Solid black |
Example protocol
PREPARATION OF STOCK SOLUTIONS
Unless otherwise noted, all unused stock solutions should be divided into single-use aliquots and stored at -20 °C after preparation. Avoid repeated freeze-thaw cycles.
Calcein Deep Red™ Acetate Stock Solution
Prepare a 2 to 5 mM stock solution of Calcein Deep Red™ acetate in high-quality, anhydrous DMSO.


Note

     The nonionic detergent Pluronic® F-127 can be used to increase the aqueous solubility of AM esters. In the staining buffer, the final Pluronic® F-127 concentration should be approximately 0.02%. A variety of Pluronic® F-127 products can be purchased from AAT Bioquest. Avoid long-term storage of AM esters in the presence of Pluronic® F-127.
PREPARATION OF WORKING SOLUTION
Calcein Deep Red™ Acetate Working Solution
Prepare a Calcein Deep Red™ acetate working solution of 1 to 10 µM in the buffer of your choice (e.g., Hanks and Hepes buffer). For most cell lines, Calcein Deep Red™ acetate at the final concentration of 4 to 5 µM is recommended. The exact concentration of indicators required for cell loading must be determined empirically.


Note

     If your cells contain organic anion-transporters, probenecid (1–2.5 mM) or sulfinpyrazone (0.1–0.25 mM) may be added to the working solution to reduce leakage of the de-esterified indicators.
SAMPLE EXPERIMENTAL PROTOCOL
Prepare cells for imaging.

Remove the cell culture medium and wash cells once with serum-free buffer to remove any remaining media.


Note

     Serum in cell culture media may contain esterase activity, which can increase background interference.

Add Calcein Deep Red™ acetate working solution to the culture.

Incubate cells at 37 °C for 30 to 60 minutes.

Replace the dye working solution with HHBS or buffer of your choice (containing an anion transporter inhibitor, such as 1 mM probenecid, if applicable) to remove any excess probes.

Measure the fluorescence intensity using either a fluorescence microscope equipped with a Cy5 filter set, a flow cytometer equipped with a 660/20 nm filter (APC channel), or a fluorescence plate reader at Ex/Em = 620/660 nm cutoff 630 nm. 
Calculators
Common stock solution preparation
Table 1.
Volume of DMSO needed to reconstitute specific mass of Calcein Deep Red™ acetate to given concentration. Note that volume is
only
for preparing stock solution. Refer to sample experimental protocol for appropriate experimental/physiological buffers.
| | | | | | |
| --- | --- | --- | --- | --- | --- |
| | 0.1 mg | 0.5 mg | 1 mg | 5 mg | 10 mg |
| 1 mM | 188.551 µL | 942.756 µL | 1.886 mL | 9.428 mL | 18.855 mL |
| 5 mM | 37.71 µL | 188.551 µL | 377.102 µL | 1.886 mL | 3.771 mL |
| 10 mM | 18.855 µL | 94.276 µL | 188.551 µL | 942.756 µL | 1.886 mL |
Molarity calculator
Enter any two values (mass, volume, concentration) to calculate the third.
Mass (

Calculate

)
Molecular weight
Volume (

Calculate

)
Concentration (

Calculate

)
Moles
/
=
x
=
Spectrum
Open in Advanced Spectrum Viewer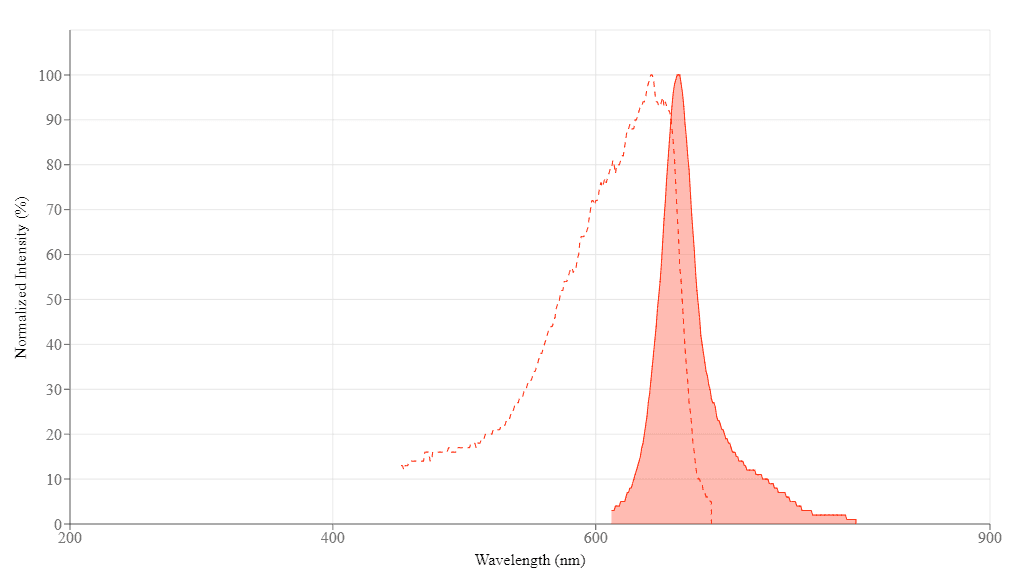 Spectral properties
| | |
| --- | --- |
| Excitation (nm) | 643 |
| Emission (nm) | 663 |
Images
Citations
Isoastragaloside I suppresses LPS-induced tight junction disruption and monocyte adhesion on bEnd. 3 cells via an activating Nrf2 antioxidant defense system
Authors:
Li, Hong-Li and Jin, Jin-Mei and Yang, Chun and Wang, Ping and Huang, Fei and Wu, Hui and Zhang, Bei-Bei and Shi, Hai-Lian and Wu, Xiao-Jun
Journal:
RSC advances
(2018)
: 464--471
NINJ2--A novel regulator of endothelial inflammation and activation
Authors:
Wang, Jingjing and Fa, Jingjing and Wang, Pengyun and Jia, Xinzhen and Peng, Huixin and Chen, Jing and Wang, Yifan and Wang, Chenhui and Chen, Qiuyun and Tu, Xin and others, undefined
Journal:
Cellular Signalling
(2017)
References
Localized functional chemical stimulation of TE 671 cells cultured on nanoporous membrane by calcein and acetylcholine
Authors:
Zibek S, Stett A, Koltay P, Hu M, Zengerle R, Nisch W, Stelzle M.
Journal:
Biophys J.
(2006)
A vaccination and challenge model using calcein marked fish
Authors:
Klesius PH, Evans JJ, Shoemaker CA, Pasnik DJ.
Journal:
Fish Shellfish Immunol
(2006)
: 20
Novel fluorescence assay using calcein-AM for the determination of human erythrocyte viability and aging
Authors:
Bratosin D, Mitrofan L, Palii C, Estaquier J, Montreuil J.
Journal:
Cytometry A
(2005)
: 78
Cytotoxic effects of 100 reference compounds on Hep G2 and HeLa cells and of 60 compounds on ECC-1 and CHO cells. I mechanistic assays on ROS, glutathione depletion and calcein uptake
Authors:
Schoonen WG, Westerink WM, de Roos JA, Debiton E.
Journal:
Toxicol In Vitro
(2005)
: 505
Calcein AM release-based cytotoxic cell assay for fish leucocytes
Authors:
Iwanowicz LR, Densmore CL, Ottinger CA.
Journal:
Fish Shellfish Immunol
(2004)
: 127
Calcein-AM is a detector of intracellular oxidative activity
Authors:
Uggeri J, Gatti R, Belletti S, Sc and roglio R, Corradini R, Rotoli BM, Orl and ini G., undefined
Journal:
Histochem Cell Biol
(2004)
: 499
Comparison of the usefulness of the MTT, ATP, and calcein assays to predict the potency of cytotoxic agents in various human cancer cell lines
Authors:
Mueller H, Kassack MU, Wiese M.
Journal:
J Biomol Screen
(2004)
: 506
In vitro assay of mineralized-tissue formation on titanium using fluorescent staining with calcein blue
Authors:
Goto T, Kajiwara H, Yoshinari M, Fukuhara E, Kobayashi S, Tanaka T.
Journal:
Biomaterials
(2003)
: 3885
The effects of calcium chloride and sodium chloride on the electroporation-mediated skin permeation of fluorescein isothiocyanate (FITC)-dextrans in vitro
Authors:
Tokudome Y, Sugibayashi K.
Journal:
Biol Pharm Bull
(2003)
: 1508