Calcein Red™ sodium salt
Ordering information
| | |
| --- | --- |
| Price | |
| Catalog Number | |
| Unit Size | |
| Quantity | |
Additional ordering information
| | |
| --- | --- |
| Telephone | 1-800-990-8053 |
| Fax | 1-800-609-2943 |
| Email | sales@aatbio.com |
| International | See distributors |
| Bulk request | Inquire |
| Custom size | Inquire |
| Shipping | Standard overnight for United States, inquire for international |
Physical properties
| | |
| --- | --- |
| Molecular weight | 825.44 |
| Solvent | Water |
Spectral properties
| | |
| --- | --- |
| Excitation (nm) | 562 |
| Emission (nm) | 576 |
Storage, safety and handling
| | |
| --- | --- |
| H-phrase | H303, H313, H333 |
| Hazard symbol | XN |
| Intended use | Research Use Only (RUO) |
| R-phrase | R20, R21, R22 |
| Storage | Freeze (< -15 °C); Minimize light exposure |
| UNSPSC | 12352200 |
Calcein AM is one of the most popular fluorescent probes used for labeling and monitoring cellular functions of live cells. However, the single color of Calcein AM makes it impossible to use this valuable reagent in the multicolor applications. For example, it is impossible to use Calcein AM in combination of GFP-tranfacted cells due to the same color to GFP. To address this color limitation of Calcein AM, we have developed Calcein Orange™, Calcein Red™ and Calcein Red™. These new Calcein AM analogs enable the multicolor labeling and functional analysis of live cells in combination with Calcein AM. Non-fluorescent Calcein Red™ AM can easily get into live cells and hydrolyzes to generate strongly fluorescent Calcein Red™ dye. Calcein Red™ dye can be monitored with the common TRITC/Cy3 filter set. AAT Bioquest also offers Calcein Red™ as a reference dye to Calcein Red™ AM.
Calculators
Common stock solution preparation
Table 1.
Volume of Water needed to reconstitute specific mass of Calcein Red™ sodium salt to given concentration. Note that volume is
only
for preparing stock solution. Refer to sample experimental protocol for appropriate experimental/physiological buffers.
| | | | | | |
| --- | --- | --- | --- | --- | --- |
| | 0.1 mg | 0.5 mg | 1 mg | 5 mg | 10 mg |
| 1 mM | 121.148 µL | 605.738 µL | 1.211 mL | 6.057 mL | 12.115 mL |
| 5 mM | 24.23 µL | 121.148 µL | 242.295 µL | 1.211 mL | 2.423 mL |
| 10 mM | 12.115 µL | 60.574 µL | 121.148 µL | 605.738 µL | 1.211 mL |
Molarity calculator
Enter any two values (mass, volume, concentration) to calculate the third.
Mass (

Calculate

)
Molecular weight
Volume (

Calculate

)
Concentration (

Calculate

)
Moles
/
=
x
=
Spectrum
Open in Advanced Spectrum Viewer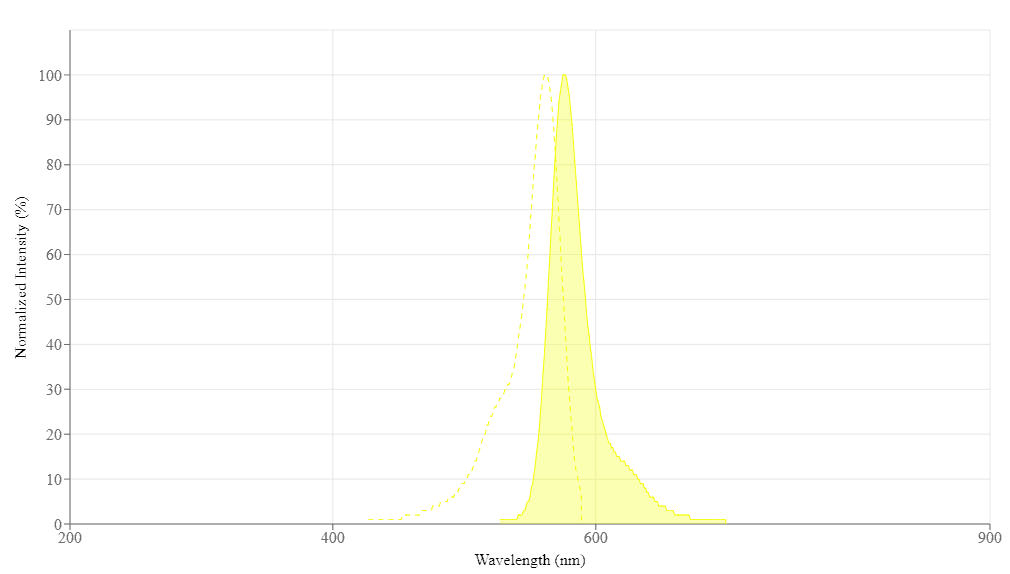 Spectral properties
| | |
| --- | --- |
| Excitation (nm) | 562 |
| Emission (nm) | 576 |
Citations
NINJ2--A novel regulator of endothelial inflammation and activation
Authors:
Wang, Jingjing and Fa, Jingjing and Wang, Pengyun and Jia, Xinzhen and Peng, Huixin and Chen, Jing and Wang, Yifan and Wang, Chenhui and Chen, Qiuyun and Tu, Xin and others, undefined
Journal:
Cellular Signalling
(2017)
References
Localized functional chemical stimulation of TE 671 cells cultured on nanoporous membrane by calcein and acetylcholine
Authors:
Zibek S, Stett A, Koltay P, Hu M, Zengerle R, Nisch W, Stelzle M.
Journal:
Biophys J.
(2006)
A vaccination and challenge model using calcein marked fish
Authors:
Klesius PH, Evans JJ, Shoemaker CA, Pasnik DJ.
Journal:
Fish Shellfish Immunol
(2006)
: 20
Novel fluorescence assay using calcein-AM for the determination of human erythrocyte viability and aging
Authors:
Bratosin D, Mitrofan L, Palii C, Estaquier J, Montreuil J.
Journal:
Cytometry A
(2005)
: 78
Cytotoxic effects of 100 reference compounds on Hep G2 and HeLa cells and of 60 compounds on ECC-1 and CHO cells. I mechanistic assays on ROS, glutathione depletion and calcein uptake
Authors:
Schoonen WG, Westerink WM, de Roos JA, Debiton E.
Journal:
Toxicol In Vitro
(2005)
: 505
Calcein AM release-based cytotoxic cell assay for fish leucocytes
Authors:
Iwanowicz LR, Densmore CL, Ottinger CA.
Journal:
Fish Shellfish Immunol
(2004)
: 127
Calcein-AM is a detector of intracellular oxidative activity
Authors:
Uggeri J, Gatti R, Belletti S, Sc and roglio R, Corradini R, Rotoli BM, Orl and ini G., undefined
Journal:
Histochem Cell Biol
(2004)
: 499
Comparison of the usefulness of the MTT, ATP, and calcein assays to predict the potency of cytotoxic agents in various human cancer cell lines
Authors:
Mueller H, Kassack MU, Wiese M.
Journal:
J Biomol Screen
(2004)
: 506
In vitro assay of mineralized-tissue formation on titanium using fluorescent staining with calcein blue
Authors:
Goto T, Kajiwara H, Yoshinari M, Fukuhara E, Kobayashi S, Tanaka T.
Journal:
Biomaterials
(2003)
: 3885
The effects of calcium chloride and sodium chloride on the electroporation-mediated skin permeation of fluorescein isothiocyanate (FITC)-dextrans in vitro
Authors:
Tokudome Y, Sugibayashi K.
Journal:
Biol Pharm Bull
(2003)
: 1508