Cell Meter™ Colorimetric Cell Cytotoxicity Assay Kit
Ordering information
| | |
| --- | --- |
| Price | |
| Catalog Number | |
| Unit Size | |
| Quantity | |
Additional ordering information
| | |
| --- | --- |
| Telephone | 1-800-990-8053 |
| Fax | 1-800-609-2943 |
| Email | sales@aatbio.com |
| International | See distributors |
| Bulk request | Inquire |
| Custom size | Inquire |
| Shipping | Standard overnight for United States, inquire for international |
Storage, safety and handling
| | |
| --- | --- |
| H-phrase | H303, H313, H333 |
| Hazard symbol | XN |
| Intended use | Research Use Only (RUO) |
| R-phrase | R20, R21, R22 |
| Storage | Freeze (< -15 °C); Minimize light exposure |
| UNSPSC | 12352200 |
Monitoring cell cytotoxicity is one of the most essential tasks for studying cellular functions. Our Cell Meter™ assay kits are a set of tools for monitoring cell viability. There are a variety of parameters that can be used. This kit uses a proprietary water-soluble and cell-permeable dye that changes its absorption spectra upon cellular reduction. The absorption ratio change is directly proportional to the number of living cells. The characteristics of its high sensitivity, non-radioactivity and no-wash method make the kit suitable for high throughput screening of cell proliferation or cytotoxicity against a variety of compounds. This kit does not require pre-mixing of components and has higher sensitivity compared to the traditional tetrazolium-based colorimetric assays (such as WST-8, MTT and XTT). The kit provides the reagents sufficient to run 1000 assays (regular size) or 5000 assays (bulk package). All the kit components are quite stable with minimal cytotoxicity, thus a longer incubation time (such as 24 to 48 hours) is possible if required. Our Cell Meter™ Colorimetric Cell Cytoxicity Assay Kit is robust and convenient to use. It can be readily adapted for a wide variety of instrument platforms. The assay can be performed in a convenient 96-well or 384-well microtiter-plate format.
Platform
Absorbance microplate reader
| | |
| --- | --- |
| Absorbance | 570/605 nm |
| Recommended plate | Black wall/clear bottom |
Example protocol
AT A GLANCE
Protocol summary
Prepare cells with test compounds (100 µL/well/96-well plate or 50 µL/well/384-well plate)
Add 1/5 volume of Assay Solution (Component A)
Incubate the cells in a 37°C, 5% CO2 incubator for 1 - 24 hours
Monitor absorbance ratio at A570nm/A605nm 
Important notes
Thaw the component at room temperature before starting the experiment.

SAMPLE EXPERIMENTAL PROTOCOL
Plate 100 to 10,000 cells per well in a tissue culture microplate with black wall and clear bottom. Add test compounds into the cells, and incubate for a desired period of time (such as 24, 48 or 96 hours) in a 37°C, 5% CO2 incubator. For blank wells (medium without the cells), add the corresponding amount of compound buffer. The suggested total volume is 100 µL for a 96-well plate and 50 µL for a 384-well plate.


Set up the following controls at the same time.


Positive control: contains cells and known proliferation or cytotoxicity inducer.


Negative control: contains cells but no test compounds.


Vehicle control: contains cells and the vehicle used to deliver test compounds.


Non-cell control: contains growth medium without cells.


Test compound control: contains the vehicle control used to deliver test compounds [Hank's balance salt solution (HBSS) or phosphate-buffered saline (PBS)] and test compound. Some test compounds have strong autofluorescence and may give false positive results. Note: Match the total volume of all the controls to 100 µL for a 96-well plate or 50 µL for a 384-well plate with growth medium.



Warm up the Assay Solution (Component A) to 37°C. Mix it thoroughly before starting the experiments.


Add 20 µL (96-well plate) or 10 µL (384-well plate) of Assay Solution (Component A) into each well. Mix the reagents by shaking the plate gently for 30 seconds.


Incubate the cells in a 37°C, 5% CO2 incubator for 1 - 24 hours, protected from light. Note: The appropriate incubation time depends on the metabolism rate of the individual cell type and cell concentration used. Optimize the incubation time for each experiment. Extremely prolonged incubation time is not recommended since the indicator could be converted to colorless compound.


Monitor the absorbance increase with an absorbance plate reader at OD ratio A570nm/A605nm. The ratio of OD570 to OD605 is used to determine the cell viability in each well. Note: The cell viability is proportional to increased OD570 and decreased OD605.
Images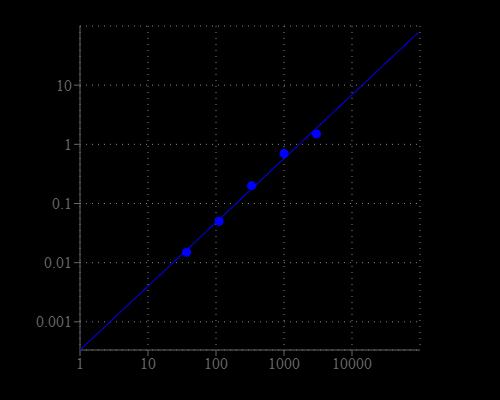 Figure 1.
CHO-K1 cell number response was measured with Cell Meter™ Colorimetric Cell Cytotoxicity Assay Kit. CHO-K1 cells at 0 to 10,000 cells/well/100 µL were seeded overnight in a Costar black wall/clear bottom 96- well plate. The cells were incubated with 20 µL/well of Assay Solution (Component A) for 3 hours at 37 °C. The absorbance intensity was measured at 570 nm and 605 nm with SpectraMax plus (Molecular Devices). The ratio of OD570/OD605 is proportional to the number of cells as indicated.
Citations
Bioactivating silicon (100) surfaces with novel uv grafting of cyclopropylamine for promotion of cell adhesion
Authors:
Ching, Jing Yuan and Lee, Chieh-Hua and Khung, Yit Lung
Journal:
Materials
(2018)
: 713
References
In vitro micronucleus assay scored by flow cytometry provides a comprehensive evaluation of cytogenetic damage and cytotoxicity
Authors:
Bryce SM, Bemis JC, Avlasevich SL, Dertinger SD.
Journal:
Mutat Res
(2007)
: 78
In vitro cytotoxicity assays: comparison of LDH, neutral red, MTT and protein assay in hepatoma cell lines following exposure to cadmium chloride
Authors:
Fotakis G, Timbrell JA.
Journal:
Toxicol Lett
(2006)
: 171
Technical note: assay of cell quantity in the fibroblast-populated collagen matrix with a tetrazolium reagent
Authors:
Carlson MA., undefined
Journal:
Eur Cell Mater
(2006)
: 44
Evaluation of MTT assay for measurement of emodin-induced cytotoxicity
Authors:
Wang X, Ge J, Wang K, Qian J, Zou Y.
Journal:
Assay Drug Dev Technol
(2006)
: 203
Sulforhodamine B colorimetric assay for cytotoxicity screening
Authors:
Vichai V, Kirtikara K.
Journal:
Nat Protoc
(2006)
: 1112
Improved localization of glucose-6-phosphate dehydrogenase activity in cells with 5-cyano-2,3-ditolyl-tetrazolium chloride as fluorescent redox dye reveals its cell cycle-dependent regulation
Authors:
Frederiks WM, van Marle J, van Oven C, Comin-Anduix B, Cascante M.
Journal:
J Histochem Cytochem
(2006)
: 47
A novel four-colour flow cytometric assay to determine natural killer cell or T-cell-mediated cellular cytotoxicity against leukaemic cells in peripheral or bone marrow specimens containing greater than 20% of normal cells
Authors:
Zimmermann SY, Esser R, Rohrbach E, Klingebiel T, Koehl U.
Journal:
J Immunol Methods
(2005)
: 63
Tetrazolium dyes as tools in cell biology: new insights into their cellular reduction
Authors:
Berridge MV, Herst PM, Tan AS.
Journal:
Biotechnol Annu Rev
(2005)
: 127
A differential assay of NK-cell-mediated cytotoxicity in K562 cells revealing three sequential membrane impairment steps using three-color flow-cytometry
Authors:
Kasatori N, Ishikawa F, Ueyama M, Urayama T.
Journal:
J Immunol Methods
(2005)
: 41
The use of tetrazolium salt-based methods for determination of islet cell viability in response to cytokines: a cautionary note
Authors:
Barbu A, Welsh N.
Journal:
Diabetologia
(2004)
: 2042