Cell Meter™ Generic Fluorimetric Caspase Activity Assay Kit *Green Fluorescence Optimized for Flow Cytometry*
Ordering information
| | |
| --- | --- |
| Price | |
| Catalog Number | |
| Unit Size | |
| Quantity | |
Additional ordering information
| | |
| --- | --- |
| Telephone | 1-800-990-8053 |
| Fax | 1-800-609-2943 |
| Email | sales@aatbio.com |
| International | See distributors |
| Bulk request | Inquire |
| Custom size | Inquire |
| Shipping | Standard overnight for United States, inquire for international |
Spectral properties
| | |
| --- | --- |
| Correction Factor (280 nm) | 0.09 |
| Extinction coefficient (cm -1 M -1) | 75000 |
| Excitation (nm) | 503 |
| Emission (nm) | 525 |
| Quantum yield | 0.9 |
Storage, safety and handling
| | |
| --- | --- |
| H-phrase | H303, H313, H333 |
| Hazard symbol | XN |
| Intended use | Research Use Only (RUO) |
| R-phrase | R20, R21, R22 |
| UNSPSC | 12352200 |
| | | | | |
| --- | --- | --- | --- | --- |
| Correction Factor (280 nm) | Extinction coefficient (cm -1 M -1) | | | |
Our Cell Meter™ assay kits are a set of tools for monitoring cell viability. There are a variety of parameters that can be used for monitoring cell viability. This particular kit is designed to monitor cell apoptosis through measuring generic caspases (caspase-1, -3, -4, -5, -6, -7, -8 and -9) activation in living cells. Caspases activation is widely accepted as a reliable indicator for cell apoptosis. Most caspases have substrate selectivity for the peptide sequence Val-Ala-Asp (VAD). This kit uses TF2-VAD-FMK as a fluorogenic indicator for most caspase activity. TF2-VAD-FMK is cell permeable, nontoxic, and irreversibly binds to activated casepase-1, -3, -4, -5, -6, -7, -8 and -9 in apoptotic cells. Once bound to caspases, the green fluorescent reagent is retained within the cell. The binding event prevents the caspases from further catalysis but will not stop apoptosis from proceeding. The reagent will start to react with active caspase enzymes within 15 minutes of addition to the media. The kit provides all the essential components with an optimized assay protocol. It is used for the quantification of most activated caspases activities in apoptotic cells, or for screening caspases inhibitors. The green label allows for direct detection of activated caspases in apoptotic cells by flow cytometry.
Platform
Flow cytometer
| | |
| --- | --- |
| Excitation | 488 nm laser |
| Emission | 530/30 nm filter |
| Instrument specification(s) | FITC channel |
Example protocol
AT A GLANCE
Protocol summary
Prepare cells with test compounds at a density of 5 × 105 to 1 × 106 cells/mL
Add 1 µL of 500X TF2-VAD-FMK into 0.5 mL of cell solution
Incubate the cells in a 37°C, 5% CO2 incubator for 1 - 4 hours
Pellet the cells and resuspend the cells in 0.5 mL of assay buffer or growth medium
Analyze cells using flow cytometer with 530/30 nm filter (FITC channel)
Important notes
Thaw all the kit components at room temperature before starting the experiment.
SAMPLE EXPERIMENTAL PROTOCOL
For each sample, prepare cells in 0.5 mL warm medium or buffer of your choice at a density of 5 × 105 to 1 × 106 cells/mL. Note: Each cell line should be evaluated on an individual basis to determine the optimal cell density for apoptosis induction.


Treat cells with test compounds for a desired period of time to induce apoptosis, and create positive and negative controls.


Add 1 µL of 500X TF2-VAD-FMK (Component A) into the treated cells.


Incubate the cells in a 37°C, 5% CO2 incubator for 1 - 4 hours. Note: For adherent cells, gently lift the cells with 0.5 mM EDTA to keep the cells intact, and wash the cells once with serum-containing media prior to incubation with TF2-VAD-FMK. The appropriate incubation time depends on the individual cell type and cell concentration used. Optimize the incubation time for each experiment.


Wash and spin the cells twice. Resuspend the cells in 0.5 mL of Assay Buffer (Component B) or growth medium. Note: TF2-VAD-FMK is fluorescent; therefore it is important to wash out any unbound reagent to remove the background.


If desired, label the cells with a DNA stain (such as propidium iodide or 7-AAD for dead cells).


If desired, fix cells.


Monitor the fluorescence intensity using a flow cytometer wih 530/30 nm filter (FITC channel). Gate on the cells of interest, excluding debris.
Spectrum
Open in Advanced Spectrum Viewer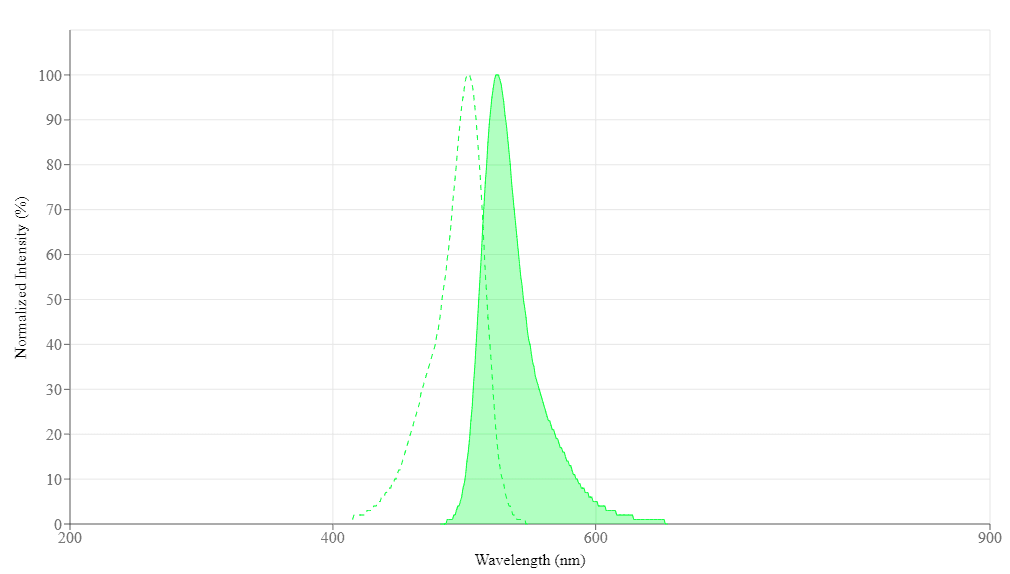 Spectral properties
| | |
| --- | --- |
| Correction Factor (280 nm) | 0.09 |
| Extinction coefficient (cm -1 M -1) | 75000 |
| Excitation (nm) | 503 |
| Emission (nm) | 525 |
| Quantum yield | 0.9 |
Images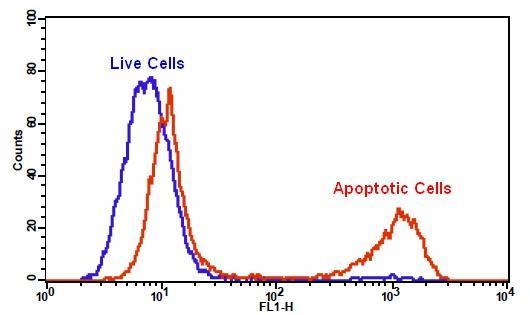 Figure 1.
Detection of caspase activity using Cell Meter™ Generic Fluorometric Caspase Activity Assay Kit in Jurkat cells. TF2-VAD-FMK fluorescence intensity was induced with the addition of camptothecin in Jurkat cells. Jurkat cells were treated without (Blue) or with 20 µM camptothecin (Red) in a 37 °C, 5% CO2 incubator for 4-5 hours, and then dye loaded with TF2-VAD-FMK for 1 hour. Response was recorded using BD FACSCalibur flow cytomter using FL-1 channel.
Citations
Insulin improves osteogenesis of titanium implants under diabetic conditions by inhibiting reactive oxygen species overproduction via the PI3K-Akt pathway
Authors:
Wang, Lin and Zhao, Xiong and Wei, Bo-yuan and Liu, Yi and Ma, Xiang-yu and Wang, Jian and Cao, Peng-chong and Zhang, Yang and Yan, Ya-bo and Lei, Wei and others, undefined
Journal:
Biochimie
(2015)
: 85--93
Glucose promotes cell proliferation, glucose uptake and invasion in endometrial cancer cells via AMPK/mTOR/S6 and MAPK signaling
Authors:
Han, Jianjun and Zhang, Lu and Guo, Hui and Wysham, Weiya Z and Roque, Dario R and Willson, Adam K and Sheng, Xiugui and Zhou, Chunxiao and Bae-Jump, Victoria L
Journal:
Gynecologic oncology
(2015)
: 668--675
References
Evidence for programmed cell death and activation of specific caspase-like enzymes in the tomato fruit heat stress response
Authors:
Qu GQ, Liu X, Zhang YL, Yao D, Ma QM, Yang MY, Zhu WH, Yu S, Luo YB.
Journal:
Planta
(2009)
: 1269
Gamma-linolenic acid induces apoptosis and lipid peroxidation in human chronic myelogenous leukemia K562 cells
Authors:
Ge H, Kong X, Shi L, Hou L, Liu Z, Li P.
Journal:
Cell Biol Int
(2009)
: 402
Apoptosis induced by enniatins H and MK1688 isolated from Fusarium oxysporum FB1501
Authors:
Hyun U, Lee DH, Lee C, Shin CG.
Journal:
Toxicon
(2009)
: 723
Suppression of autophagy enhances the cytotoxicity of the DNA-damaging aromatic amine p-anilinoaniline
Authors:
Elliott A, Reiners JJ, Jr.
Journal:
Toxicol Appl Pharmacol
(2008)
: 169
Beta-sitosterol sensitizes MDA-MB-231 cells to TRAIL-induced apoptosis
Authors:
Park C, Moon DO, Ryu CH, Choi B, Lee W, Kim GY, Choi Y.
Journal:
Acta Pharmacol Sin
(2008)
: 341
2,4-dinitrophenol induces G1 phase arrest and apoptosis in human pulmonary adenocarcinoma Calu-6 cells
Authors:
Han YH, Kim SW, Kim SH, Kim SZ, Park WH.
Journal:
Toxicol In Vitro
(2008)
: 659
Mechanism of mitomycin-induced apoptosis in cultured corneal endothelial cells
Authors:
Wu KY, Wang HZ, Hong SJ.
Journal:
Mol Vis
(2008)
: 1705
Towards an understanding of apoptosis detection by SYTO dyes
Authors:
Wlodkowic D, Skommer J, Pelkonen J.
Journal:
Cytometry A
(2007)
: 61
Viral activation and recruitment of metacaspases in the unicellular coccolithophore, Emiliania huxleyi
Authors:
Bidle KD, Haramaty L, Barcelos ERJ, Falkowski P.
Journal:
Proc Natl Acad Sci U S A
(2007)
: 6049
Effects of caspase inhibitors (z-VAD-fmk, z-VDVAD-fmk) on Nile Red fluorescence pattern in 7-ketocholesterol-treated cells: investigation by flow cytometry and spectral imaging microscopy
Authors:
Vejux A, Lizard G, Tourneur Y, Riedinger JM, Frouin F, Kahn E.
Journal:
Cytometry A
(2007)
: 550