Cell Meter™ Multiplexing Live, Apoptotic and Necrotic Cell Detection Kit III *Triple Fluorescence Colors*
Ordering information
| | |
| --- | --- |
| Price | |
| Catalog Number | |
| Unit Size | |
| Quantity | |
Additional ordering information
| | |
| --- | --- |
| Telephone | 1-800-990-8053 |
| Fax | 1-800-609-2943 |
| Email | sales@aatbio.com |
| Quotation | Request |
| International | See distributors |
| Shipping | Standard overnight for United States, inquire for international |
Storage, safety and handling
| | |
| --- | --- |
| H-phrase | H303, H313, H333 |
| Hazard symbol | XN |
| Intended use | Research Use Only (RUO) |
| R-phrase | R20, R21, R22 |
| UNSPSC | 12352200 |
Our Cell Meter™ assay kits are a set of tools for monitoring cell viability. There are a variety of parameters that can be used. This particular kit is designed to simultaneously monitor apoptotic, necrotic and healthy cells. Apoptosis is an active, programmed process of autonomous cellular dismantling that avoids eliciting inflammation. In apoptosis, phosphatidylserine (PS) is transferred to the outer leaflet of the plasma membrane. As a universal indicator of the initial/intermediate stages of cell apoptosis, the appearance of phosphatidylserine on the cell surface can be detected before morphological changes are observed. The PS sensor Annexin V-iFluor® 488 conjugate has green fluorescence upon binding to membrane PS. Necrosis has been characterized as passive, accidental cell death resulting from environmental perturbations with uncontrolled release of inflammatory cellular contents. Loss of plasma membrane integrity, as demonstrated by the ability of a membrane-impermeable Nuclear Blue™ DCS1 (Ex/Em = 350/461 nm) to label the nucleus, represents a straightforward approach to demonstrate late stage of apoptosis and necrosis. In addition, this kit also provides a live cell labeling dye, Cellbrite™ Red (Ex/Em = 613/631 nm), for labeling non-apoptotic healthy cells. This kit is optimized to simultaneously detect cell apoptosis (green), necrosis (blue and/or green) and healthy cells (red) with a fluorescence microscope.
Platform
Fluorescence microscope
| | |
| --- | --- |
| Excitation | 494 nm (apoptosis) / 350 nm (necrosis) / 613 nm (live) |
| Emission | 520 nm (apoptosis) / 461 nm (necrosis) / 631 nm (live) |
| Recommended plate | Black wall/clear bottom |
| Instrument specification(s) | FITC filter (apoptosis) / DAPI filter (necrosis) / Cy5 filter (live) |
Example protocol
AT A GLANCE
Protocol summary
Prepare cells with test compounds
Add triple fluorescence working solution (100 µL/sample)
Incubate at room temperature or 37oC for 30 - 60 minutes
Analyze with a fluorescence microscope at FITC channel (apoptosis), DAPI channel (necrosis) or Texas Red/Cy5 channel (healthy cells)
Important notes
We treated HeLa cells with staurosporine (SS) for 4 hours at 37oC to induce cell apoptosis. See Figure 1 for details.
Thaw all components to room temperature before beginning protocol.
PREPARATION OF WORKING SOLUTION
Add 10 µL of 100X Annexin V-iFluor™ 488 conjugate (Component A), 5 µL of 200X Nuclear Blue™ DCS1 (Component C) and 5 µL of 200X Cellbrite™ Red (Component D) to 1 mL of Assay Buffer (Component B). The triple fluorescence assay solution is stable for at least 1 hour at room temperature. Note: As the optimal staining conditions may vary depending on different cell types, it's recommended to determine the appropriate concentration of Component A, C and D individually.
For guidelines on cell sample preparation, please visit
https://www.aatbio.com/resources/guides/cell-sample-preparation.html
SAMPLE EXPERIMENTAL PROTOCOL
Remove cell culture medium and test compounds after treatment.


Add 100 µL/well (96-well plate) or 50 µL/well (384-well plate) of triple fluorescence assay solution. Incubate at 37oC for 30 to 60 minutes, protected from light.


Wash cells with HBSS, PBS or buffer of your choice twice.


Analyze the apoptotic cells with Annexin V-iFluor™ 488 conjugate under fluorescence microscope with a FITC filter. The green staining (Ex/Em = 494/520 nm) on the plasma membrane indicates the Annexin V-iFluor™ 488 conjugate binding to PS on cell surface. Monitor the fluorescence intensity with a DAPI filter (Ex/Em = 350/461 nm) for necrosis, Texas Red or Cy5 filter (Ex/Em = 613/631 nm) for live cells using a fluorescence microscope (See Figure 1 for details).
Images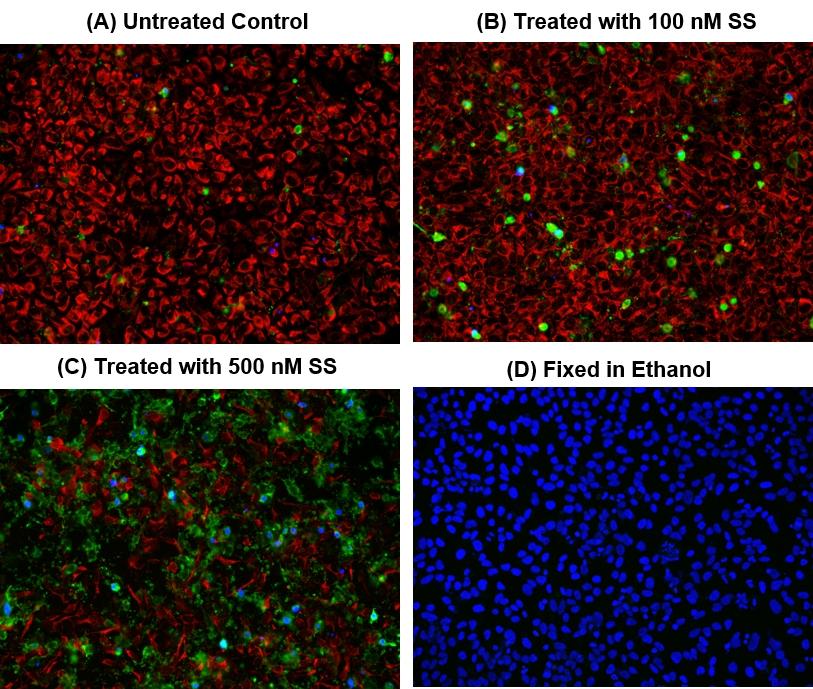 Figure 1.
Fluorescence images of HeLa cells labeled with Cell Meter™ Multiplexing Live, Apoptotic and Necrotic Detection Kit *Triple Fluorescence* (Cat#22846). HeLa cells at 100,000 cells/well/100 µL were seeded overnight in a 96-well black wall/clear bottom plate. Cells were treated with 0-500 nM staurosporine (SS) at 37oC for 4 hours (A-C), or fixed in ethanol (D), then incubated with triple fluorescence assay solution for 1 hour. The fluorescence signal was measured using a fluorescence microscope with a Cy5 filter for healthy cells (Red), FITC filter for apoptotic (Green) and DAPI filter for necrotic cells (Blue), respectively.
Citations
Transcriptional coregulator Ess2 controls survival of post-thymic CD4+ T cells through the Myc and IL-7 signaling pathways
Authors:
Takada, Ichiro and Hidano, Shinya and Takahashi, Sayuri and Yanaka, Kaori and Ogawa, Hidesato and Tsuchiya, Megumi and Yokoyama, Atsushi and Sato, Shingo and Ochi, Hiroki and Nakagawa, Tohru and others,
Journal:
Journal of Biological Chemistry
(2022)
References
Synergistic effects and mechanisms of combined tumor necrosis factor-related apoptosis-inducing ligand and chemotherapeutic drugs or radiotherapy in killing laryngeal squamous carcinoma cells in vitro
Authors:
Zhang M, Zhou L.
Journal:
Zhonghua Er Bi Yan Hou Tou Jing Wai Ke Za Zhi
(2009)
: 565
Down-regulation of myeloid cell leukemia 1 by epigallocatechin-3-gallate sensitizes rheumatoid arthritis synovial fibroblasts to tumor necrosis factor alpha-induced apoptosis
Authors:
Ahmed S, Silverman MD, Marotte H, Kwan K, Matuszczak N, Koch AE.
Journal:
Arthritis Rheum
(2009)
: 1282
Agmatine protects cultured retinal ganglion cells from tumor necrosis factor-alpha-induced apoptosis
Authors:
Hong S, Kim CY, Lee JE, Seong GJ.
Journal:
Life Sci
(2009)
: 28
Exaggerated up-regulation of tumor necrosis factor alpha-dependent apoptosis in the older mouse liver following reperfusion injury: targeting liver protective strategies to patient age
Authors:
Selzner M, Selzner N, Chen L, Borozan I, Sun J, Xue-Zhong M, Zhang J, McGilvray ID.
Journal:
Liver Transpl
(2009)
: 1594
Oxidant stress-induced liver injury in vivo: role of apoptosis, oncotic necrosis, and c-Jun NH2-terminal kinase activation
Authors:
Hong JY, Lebofsky M, Farhood A, Jaeschke H.
Journal:
Am J Physiol Gastrointest Liver Physiol
(2009)
: G572
A pharmaceutical preparation of Salvia miltiorrhiza protects cardiac myocytes from tumor necrosis factor-induced apoptosis and reduces angiotensin II-stimulated collagen synthesis in fibroblasts
Authors:
Ling S, Luo R, Dai A, Guo Z, Guo R, Komesaroff PA.
Journal:
Phytomedicine
(2009)
: 56
Increased apoptosis in HepG2.2.15 cells with hepatitis B virus expression by synergistic induction of interferon-gamma and tumour necrosis factor-alpha
Authors:
Shi H, Guan SH.
Journal:
Liver Int
(2009)
: 349
Outside-to-inside signaling through transmembrane tumor necrosis factor reverses pathologic interleukin-1beta production and deficient apoptosis of rheumatoid arthritis monocytes
Authors:
Meusch U, Rossol M, Baerwald C, Hauschildt S, Wagner U.
Journal:
Arthritis Rheum
(2009)
: 2612
Tumor necrosis factor inhibitors block apoptosis of human epithelial cells of the salivary glands
Authors:
Sisto M, D'Amore M, Caprio S, Mitolo V, Scagliusi P, Lisi S.
Journal:
Ann N Y Acad Sci
(2009)
: 407
Susceptibility of the C2 canine mastocytoma cell line to the effects of tumor necrosis factor-related apoptosis-inducing ligand (TRAIL)
Authors:
Elders RC, Baines SJ, Catchpole B.
Journal:
Vet Immunol Immunopathol
(2009)
: 11