Cell Meter™ No-Wash Live Cell Caspase 3/7 Activity Assay Kit *Blue Fluorescence*
Ordering information
| | |
| --- | --- |
| Price | |
| Catalog Number | |
| Unit Size | |
| Quantity | |
Additional ordering information
| | |
| --- | --- |
| Telephone | 1-800-990-8053 |
| Fax | 1-800-609-2943 |
| Email | sales@aatbio.com |
| International | See distributors |
| Bulk request | Inquire |
| Custom size | Inquire |
| Shipping | Standard overnight for United States, inquire for international |
Storage, safety and handling
| | |
| --- | --- |
| H-phrase | H303, H313, H333 |
| Hazard symbol | XN |
| Intended use | Research Use Only (RUO) |
| R-phrase | R20, R21, R22 |
| Storage | Freeze (< -15 °C); Minimize light exposure |
| UNSPSC | 12352200 |
The activation of caspase 3/7 is important for the initiation of apoptosis. Our Cell Meter™ No-Wash Live Cell Caspase Activity Assay Kits are based on ApoBrite™ U470, our recently developed cell-permeable fluorogenic caspase substrate, the first fluorogenic probe for the direct detection of caspase activities in live cells. ApoBrite U470 consists of three moieties including a). masked fluorophore, b). caspase-selective peptide fragment (DEVD), and c). cell-penetrating moiety. The cell-penetrating moiety carries the probe into live cells. Upon entering live cells the caspase-selective peptide fragment is cleaved by a caspase to release the masked fluorophore. The intensity of recovered fluorescence is directly related to the activity of caspase to be measured. Compared to the existing caspase assays in live cells, ApoBrite™ U470 is much more robust, convenient and accurate. It does not need a DNA interaction to be fluorescent as reported for NucView reagents. It does not inhibit caspase activity as reported for the FMK peptide probes. Although fluorescent FMK peptide inhibitors of caspases are widely used for detecting caspase activities in live cells, this technology has a few severe limitations: a). FMK caspase inhibitors have high cytotoxicity since FMK peptides bind covalently to active caspases; b). The irreversibly covalent binding of FMK peptides to caspases inhibits caspase activities, causing false positive apoptosis; c). FMK assays have extremely high background, and require intensive washings, resulting in very low through put; d). FMK peptides are not stable in aqueous solutions, and have to be used immediately.
Platform
Flow cytometer
| | |
| --- | --- |
| Excitation | 320 nm |
| Emission | 380 nm |
Fluorescence microscope
| | |
| --- | --- |
| Excitation | 320 nm |
| Emission | 380 nm |
| Recommended plate | Black wall/clear bottom |
| Instrument specification(s) | DAPI channel |
Fluorescence microplate reader
| | |
| --- | --- |
| Excitation | 320 nm |
| Emission | 380 nm |
| Cutoff | 360 nm |
| Recommended plate | Solid black |
Images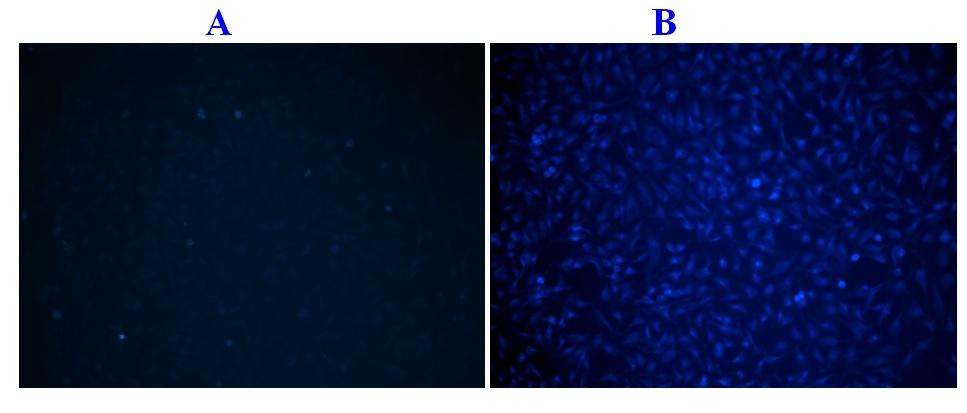 Figure 1.
The fluorescence microscope images of normal Hela cells (A) and apoptotic Hela cells (B). Hela cells were cultured in a 96-well plate, and washed twice with HHBS buffer.  ApoBrite™ U470 caspase 3/7 dye loading solution was then added to the well. After incubation for 2 h at 37 °C, the cells were washed once with HHBS buffer and treated with staurosporine (1 μM) apoptosis inducer for 1 hr. The images were acquired using a fluorescence microscope equipped with DAPI filter set.
References
Structure of human caspase-6 in complex with Z-VAD-FMK: New peptide binding mode observed for the non-canonical caspase conformation
Authors:
Muller I, Lamers MB, Ritchie AJ, Dominguez C, Munoz-Sanjuan I, Kiselyov A.
Journal:
Bioorg Med Chem Lett
(2011)
: 5244
Intracochlear perfusion of leupeptin and z-VAD-FMK: influence of antiapoptotic agents on gunshot-induced hearing loss
Authors:
Abaamrane L, Raffin F, Schmerber S, Sendowski I.
Journal:
Eur Arch Otorhinolaryngol
(2011)
: 987
In vitro effect of different mediators of apoptosis on canine cranial and caudal cruciate ligament fibroblasts and its reversibility by pancaspase inhibitor zVAD.fmk
Authors:
Forterre S, Zurbriggen A, Spreng D.
Journal:
Vet Immunol Immunopathol
(2011)
: 264
Experimental study on treatment of rabbits optic nerve injury with Caspase-3 inhibitor z-DEVD-fmk
Authors:
Zhang W, Yu JG, Wang X, Shen ZS, Zhang JK, Yan H.
Journal:
Zhonghua Yan Ke Za Zhi
(2010)
: 1084
Caspase inhibitor ZVAD-fmk facilitates engraftment of donor hematopoietic stem cells in intra-bone marrow-bone marrow transplantation
Authors:
Imai Y, Adachi Y, Shi M, Shima C, Yanai S, Okigaki M, Yamashima T, Kaneko K, Ikehara S.
Journal:
Stem Cells Dev
(2010)
: 461
Caspase-10-dependent cell death in Fas/CD95 signalling is not abrogated by caspase inhibitor zVAD-fmk
Authors:
Lafont E, Milhas D, Teissie J, Therville N, Andrieu-Abadie N, Levade T, Benoist H, Segui B.
Journal:
PLoS One
(2010)
: e13638
Pretreatment with pancaspase inhibitor (Z-VAD-FMK) delays but does not prevent intraperitoneal heat-killed group B Streptococcus-induced preterm delivery in a pregnant mouse model
Authors:
Equils O, Moffatt-Blue C, Ishikawa TO, Simmons CF, Ilievski V, Hirsch E.
Journal:
Infect Dis Obstet Gynecol
(2009)
: 749432
Attenuation of allergic contact dermatitis by Z-VAD-FMK, a broad caspase inhibitor: experiment with mice
Authors:
Li YY, Yan CL, Xu W.
Journal:
Zhonghua Yi Xue Za Zhi
(2008)
: 3153
Effects of Z-FA.FMK on D-galactosamine/tumor necrosis factor-alpha-induced kidney injury and oxidative stress in mice : effects of Z-FA.FMK on TNF-alpha-mediated kidney injury
Authors:
Gezginci-Oktayoglu S, Tunali S, Yanardag R, Bolkent S.
Journal:
Mol Cell Biochem
(2008)
: 9
Effect of Boc-D-Fmk on hepatocyte apoptosis after bile duct ligation in rat and survival rate after endotoxin challenge
Authors:
Sheen-Chen SM, Hung KS, Eng HL.
Journal:
J Gastroenterol Hepatol
(2008)
: 1276