Cell Meter™ Phosphatidylserine Apoptosis Assay Kit *Green Fluorescence Optimized for Flow Cytometry*
Our Cell Meter™ assay kits are a set of tools for monitoring cell viability. There are a variety of parameters that can be used for monitoring cell viability. This particular kit is designed to monitor cell apoptosis through measuring the translocation of phosphatidylserine (PS). In apoptosis, PS is transferred to the outer leaflet of the plasma membrane. The appearance of phosphatidylserine on the cell surface is a universal indicator of the initial/intermediate stages of cell apoptosis and can be detected before morphological changes can be observed. Our proprietary Apopxin™ PS sensor used in this kit is small molecule-based PS sensor. It has green fluorescence upon binding to membrane PS. This particular assay kit is optimized to monitor cell apoptosis using a flow cytometer at FITC channel (green fluorescence).
Platform
Flow cytometer
| | |
| --- | --- |
| Excitation | 488 nm laser |
| Emission | 530/30 nm filter |
| Instrument specification(s) | FITC channel |
Example protocol
AT A GLANCE
Protocol summary
Prepare cells with test compounds (200 µL/sample) 
Add Apopxin™ Green assay solution
Incubate at room temperature for 20 - 60 minutes
Analyze cells using flow cytometer with FL1 channel (Ex/Em = 490/525 nm)
Important notes
Thaw 100X Propidium Iodide (Component C) at room temperature before starting the experiment.
SAMPLE EXPERIMENTAL PROTOCOL
Treat cells with test compounds for a desired period of time (4-6 hours for Jurkat cells treated with camptothecin) to induce apoptosis. Note: Apopxin™ binding flow cytometric analysis on adherent cells is not routinely tested since specific membrane damage may occur during cell detachment or harvesting. However, methods for utilizing Annexin V for flow cytometry on adherent cell types have been previously reported by Casiola-Rosen et al. and van Engelend et al.


Centrifuge the cells to get 1-5 × 105 cells/tube.


Resuspend cells in 200 µL of Assay Buffer (Component B).


Add 2 µL of Apopxin™ Green (Component A) into the cells.


Optional: Add 2 µL of 100X Propidium Iodide (Component C) into the cells for necrosis cells.


Incubate at room temperature for 20 to 60 minutes, protected from light.


Optional: Add 200 to 300 µL of Assay Buffer (Component B) to increase volume before analyzing the cells with a flow cytometer.


Monitor the fluorescence intensity using a flow cytometer with FL1 channel (Ex/Em = 490/525 nm). Measure the cell viability using FL2 channel when propidium iodide is added into the cells.
Images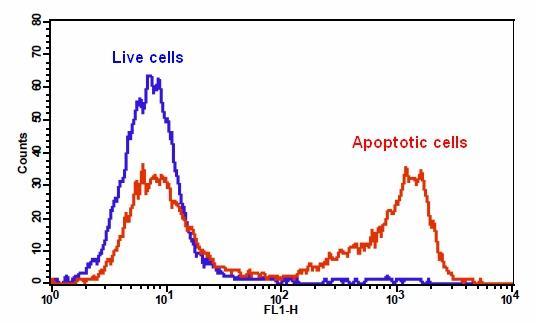 Figure 1.
The detection of binding activity of Apopxin™ Green and phosphatidylserine in Jurkat cells. Jurkat cells were treated without (Blue) or with 20 µM camptothecin (Red) in a 37 °C, 5% CO2 incubator for 5 hours, and then dye loaded with Apopxin™ Green for 15 minutes. The fluorescence intensity of Apopxin™ Green was measured with a FACSCalibur (Becton Dickinson) flow cytometer using the FL1 channel.
References
Suicidal membrane repair regulates phosphatidylserine externalization during apoptosis
Authors:
Mirnikjoo B, Balasubramanian K, Schroit AJ.
Journal:
J Biol Chem
(2009)
: 22512
Peptidic targeting of phosphatidylserine for the MRI detection of apoptosis in atherosclerotic plaques
Authors:
Burtea C, Laurent S, Lancelot E, Ballet S, Murariu O, Rousseaux O, Port M, V and er Elst L, Corot C, Muller RN.
Journal:
Mol Pharm
(2009)
: 1903
Apoptosis of human Burkitt's lymphoma cells induced by 2-N,N-diethylaminocarbonyloxymethyl-1-diphenylmethyl-4-(3,4,5-trimethoxybe nzoyl) piperazine hydrochloride (PMS-1077)
Authors:
Wang WD, Xu XM, Chen Y, Jiang P, Dong CZ, Wang Q.
Journal:
Arch Pharm Res
(2009)
: 1727
Induction of apoptosis in sonoporation and ultrasonic gene transfer
Authors:
Miller DL, Dou C.
Journal:
Ultrasound Med Biol
(2009)
: 144
Detection of apoptosis based on the interaction between annexin V and phosphatidylserine
Authors:
Liu T, Zhu W, Yang X, Chen L, Yang R, Hua Z, Li G.
Journal:
Anal Chem
(2009)
: 2410
Evaluation of cell surface expression of phosphatidylserine in ovarian carcinoma effusions using the annexin-V/7-AAD assay: clinical relevance and comparison with other apoptosis parameters
Authors:
Dong HP, Holth A, Kleinberg L, Ruud MG, Elstr and MB, Trope CG, Davidson B, Risberg B.
Journal:
Am J Clin Pathol
(2009)
: 756
Gold fluorescent annexin A5 as a novel apoptosis detection tool
Authors:
Kurschus FC, Pal PP, Baumler P, Jenne DE, Wiltschi B, Budisa N.
Journal:
Cytometry A
(2009)
: 626
Mobilization of lysosomal calcium regulates the externalization of phosphatidylserine during apoptosis
Authors:
Mirnikjoo B, Balasubramanian K, Schroit AJ.
Journal:
J Biol Chem
(2009)
: 6918
Eurycomanone induce apoptosis in HepG2 cells via up-regulation of p53
Authors:
Zakaria Y, Rahmat A, Pihie AH, Abdullah NR, Houghton PJ.
Journal:
Cancer Cell Int
(2009)
: 16
Dynamic analysis of apoptosis using cyanine SYTO probes: from classical to microfluidic cytometry
Authors:
Wlodkowic D, Skommer J, Faley S, Darzynkiewicz Z, Cooper JM.
Journal:
Exp Cell Res
(2009)
: 1706