Cell Navigator® F-Actin Labeling Kit *Blue Fluorescence*
Ordering information
| | |
| --- | --- |
| Price | |
| Catalog Number | |
| Unit Size | |
| Quantity | |
Additional ordering information
| | |
| --- | --- |
| Telephone | 1-800-990-8053 |
| Fax | 1-800-609-2943 |
| Email | sales@aatbio.com |
| International | See distributors |
| Bulk request | Inquire |
| Custom size | Inquire |
| Shipping | Standard overnight for United States, inquire for international |
Spectral properties
| | |
| --- | --- |
| Correction Factor (260 nm) | 0.83 |
| Correction Factor (280 nm) | 0.23 |
| Extinction coefficient (cm -1 M -1) | 200001 |
| Excitation (nm) | 345 |
| Emission (nm) | 450 |
| Quantum yield | 0.951 |
Storage, safety and handling
| | |
| --- | --- |
| H-phrase | H303, H313, H333 |
| Hazard symbol | XN |
| Intended use | Research Use Only (RUO) |
| R-phrase | R20, R21, R22 |
| UNSPSC | 12352200 |
| | | | | | |
| --- | --- | --- | --- | --- | --- |
| Correction Factor (260 nm) | Correction Factor (280 nm) | Extinction coefficient (cm -1 M -1) | | | |
Our Cell Navigator® fluorescence imaging kits are a set of fluorescence imaging tools for labeling sub-cellular organelles such as membranes, lysosomes, mitochondria and nuclei etc. The selective labeling of live cell compartments provides a powerful method for studying cellular events in a spatial and temporal context. This particular kit is designed to label F-actins of fixed cells in blue fluorescence. The kit uses a blue fluorescent phalloidin conjugate that is selectively bound to F-actins. This blue fluorescent phalloidin conjugate is a high-affinity probe for F-actins. Used at nanomolar concentrations, phallotoxins are convenient probes for labeling, identifying and quantitating F-actins in formaldehyde-fixed and permeabilized tissue sections, cell cultures or cell-free experiments. The labeling protocol is robust, requiring minimal hands-on time. The kit provides all the essential components with an optimized staining protocol.
Platform
Fluorescence microscope
| | |
| --- | --- |
| Excitation | 350 nm |
| Emission | 450 nm |
| Recommended plate | Black wall/clear bottom |
| Instrument specification(s) | DAPI channel |
Example protocol
AT A GLANCE
Protocol summary
Prepare samples (microplate wells)
Remove the liquid from the plate
Add 100 µL/well of iFluor™ 350-Phalloidin working solution
Stain cells at RT for 15 to 60 minutes
Wash cells
Examine the specimen under microscope at Ex/Em = 350/450 nm
Important notes
Warm all the components to room temperature before opening.
PREPARATION OF WORKING SOLUTION
Add 10 µL of iFluor™ 350-Phalloidin (Component A) to 10 mL of Labeling Buffer (Component B). Note: Different cell types might be stained differently. The concentration of iFluor™ 350-Phalloidin working solution should be prepared accordingly. Protect from light.
For guidelines on cell sample preparation, please visit
https://www.aatbio.com/resources/guides/cell-sample-preparation.html
SAMPLE EXPERIMENTAL PROTOCOL
Perform formaldehyde fixation. Incubate the cells with 3.0% – 4.0% formaldehyde in PBS at room temperature for 10 - 30 minutes. Note: Avoid any methanol containing fixatives since methanol can disrupt actin during the fixation process. The preferred fixative is methanol-free formaldehyde.


Rinse the fixed cells 2 - 3 times in PBS.


Optional: Add 0.1% Triton X-100 in PBS into fixed cells for 3 to 5 minutes to increase permeability. Rinse the cells 2 - 3 times in PBS.


Add 100 µL/well (96-well plate) of 1X iFluor™ 350-Phalloidin working solution into the fixed cells, and stain the cells at room temperature for 15 to 60 minutes.


Rinse cells gently with PBS 2 to 3 times to remove excess dye before plate sealing. Image by using the DAPI channel.
Spectrum
Open in Advanced Spectrum Viewer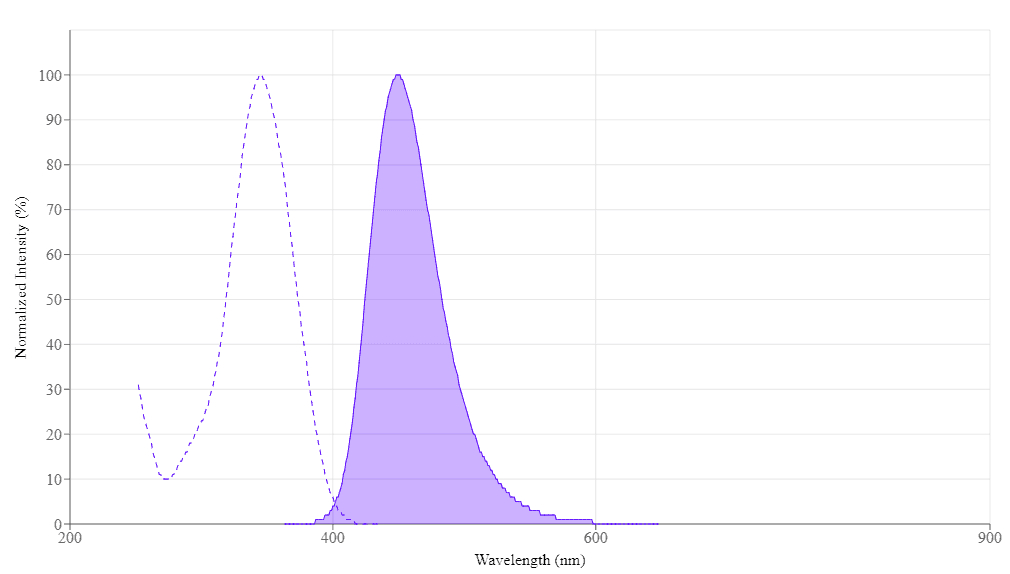 Spectral properties
| | |
| --- | --- |
| Correction Factor (260 nm) | 0.83 |
| Correction Factor (280 nm) | 0.23 |
| Extinction coefficient (cm -1 M -1) | 200001 |
| Excitation (nm) | 345 |
| Emission (nm) | 450 |
| Quantum yield | 0.951 |
Images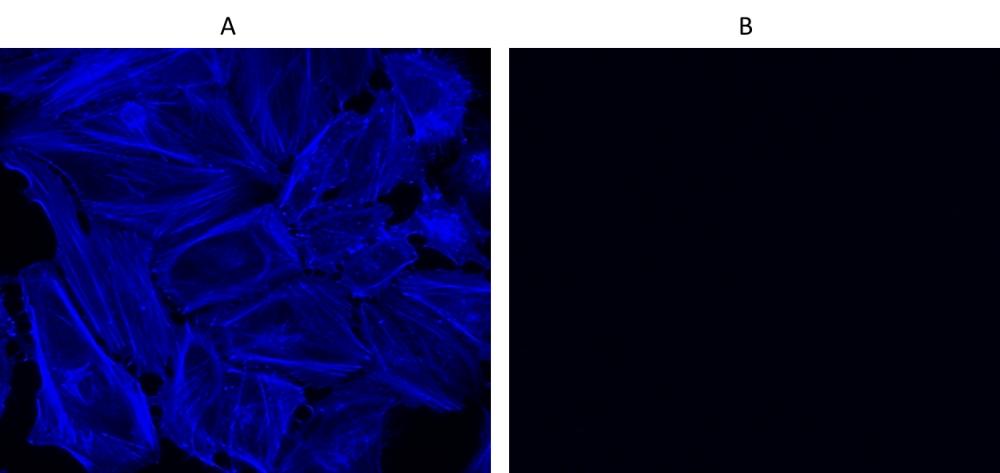 Figure 1.
Fluorescence images of HeLa cells fixed with 4% formaldehyde then stained with Cell Navigator® F-Actin Labeling Kit *Blue Fluorescence* in a Costar black 96-well plate. Cells were labeled with iFluor® 350-Phalloidin (Cat#22660) without (A) or with (B) pre-treatment of phalloidin for 10 minutes.
Citations
A targetable pathway in neutrophils mitigates both arterial and venous thrombosis
Authors:
Nayak, Lalitha and Sweet, David R and Thomas, Asha and Lapping, Stephanie D and Kalikasingh, Kenneth and Madera, Annmarie and Vinayachandran, Vinesh and Padmanabhan, Roshan and Vasudevan, Neelakantan T and Myers, Jay T and others,
Journal:
Science Translational Medicine
(2022)
: eabj7465
References
Velocity distributions of single F-actin trajectories from a fluorescence image series using trajectory reconstruction and optical flow mapping
Authors:
von Wegner F, Ober T, Weber C, Schurmann S, Winter R, Friedrich O, Fink RH, Vogel M.
Journal:
J Biomed Opt
(2008)
: 54018
Visualization of F-actin and G-actin equilibrium using fluorescence resonance energy transfer (FRET) in cultured cells and neurons in slices
Authors:
Okamoto K, Hayashi Y.
Journal:
Nat Protoc
(2006)
: 911
The effect of F-actin on the relay helix position of myosin II, as revealed by tryptophan fluorescence, and its implications for mechanochemical coupling
Authors:
Conibear PB, Malnasi-Csizmadia A, Bagshaw CR.
Journal:
Biochemistry
(2004)
: 15404
Analysis of models of F-actin using fluorescence resonance energy transfer spectroscopy
Authors:
Moens PD, dos Remedios CG.
Journal:
Results Probl Cell Differ
(2001)
: 59
Fluorescence studies of the carboxyl-terminal domain of smooth muscle calponin effects of F-actin and salts
Authors:
Bartegi A, Roustan C, Kassab R, Fattoum A.
Journal:
Eur J Biochem
(1999)
: 335
Microquantification of cellular and in vitro F-actin by rhodamine phalloidin fluorescence enhancement
Authors:
Katanaev VL, Wymann MP.
Journal:
Anal Biochem
(1998)
: 185
A conformational change in F-actin when myosin binds: fluorescence resonance energy transfer detects an increase in the radial coordinate of Cys-374
Authors:
Moens PD, dos Remedios CG.
Journal:
Biochemistry
(1997)
: 7353
Interhead distances in myosin attached to F-actin estimated by fluorescence energy transfer spectroscopy
Authors:
Ishiwata S, Miki M, Shin I, Funatsu T, Yasuda K, dos Remedios CG.
Journal:
Biophys J
(1997)
: 895
Myosin-induced changes in F-actin: fluorescence probing of subdomain 2 by dansyl ethylenediamine attached to Gln-41
Authors:
Kim E, Miller CJ, Motoki M, Seguro K, Muhlrad A, Reisler E.
Journal:
Biophys J
(1996)
: 1439
Changes in the distribution of F-actin in the fission yeast Schizosaccharomyces pombe by arresting growth in distilled water: correlative studies with fluorescence and electron microscopy
Authors:
Kanbe T, Akashi T, Tanaka K.
Journal:
J Electron Microsc (Tokyo)
(1994)
: 20