Cell Navigator® F-Actin Labeling Kit *Green Fluorescence*
Ordering information
| | |
| --- | --- |
| Price | |
| Catalog Number | |
| Unit Size | |
| Quantity | |
Additional ordering information
| | |
| --- | --- |
| Telephone | 1-800-990-8053 |
| Fax | 1-800-609-2943 |
| Email | sales@aatbio.com |
| Quotation | Request |
| International | See distributors |
| Shipping | Standard overnight for United States, inquire for international |
Spectral properties
| | |
| --- | --- |
| Correction Factor (260 nm) | 0.21 |
| Correction Factor (280 nm) | 0.11 |
| Extinction coefficient (cm -1 M -1) | 750001 |
| Excitation (nm) | 491 |
| Emission (nm) | 516 |
| Quantum yield | 0.91 |
Storage, safety and handling
| | |
| --- | --- |
| H-phrase | H303, H313, H333 |
| Hazard symbol | XN |
| Intended use | Research Use Only (RUO) |
| R-phrase | R20, R21, R22 |
| UNSPSC | 12352200 |
| | | | | | |
| --- | --- | --- | --- | --- | --- |
| Correction Factor (260 nm) | Correction Factor (280 nm) | Extinction coefficient (cm -1 M -1) | | | |
Our Cell Navigator® fluorescence imaging kits are a set of fluorescence imaging tools for labeling sub-cellular organelles such as membranes, lysosomes, mitochondria and nuclei etc. The selective labeling of live cell compartments provides a powerful method for studying cellular events in a spatial and temporal context. This particular kit is designed to label F-actins of fixed cells in green fluorescence. The kit uses a green fluorescent phalloidin conjugate that is selectively bound to F-actins. This green fluorescent phalloidin conjugate is a high-affinity probe for F-actins with much higher photostability than the fluorescein-phalloidin conjugates. Used at nanomolar concentrations, phallotoxins are convenient probes for labeling, identifying and quantitating F-actins in formaldehyde-fixed and permeabilized tissue sections, cell cultures or cell-free experiments. The labeling protocol is robust, requiring minimal hands-on time. The kit provides all the essential components with an optimized staining protocol.
Platform
Fluorescence microscope
| | |
| --- | --- |
| Excitation | FITC filter |
| Emission | FITC filter |
| Recommended plate | Black wall/clear bottom |
Example protocol
AT A GLANCE
Protocol summary
Prepare samples (microplate wells)
Remove the liquid from the plate
Add 100 µL/well of iFluor™ 488-Phalloidin working solution
Stain the cells at RT for 15 to 60 minutes
Wash the cells
Examine the specimen under fluorescence microscope at Ex/Em = 490/520 nm (FITC filter set)
Important notes
Thaw all the components at room temperature before starting the experiment.
PREPARATION OF WORKING SOLUTION
Add 10 μL of iFluor™ 488-Phalloidin (Component A) to 10 mL of Labeling Buffer (Component B) to make 1X iFluor™ 488-Phalloidin working solution. Protect from light. Note: Different cell types might be stained differently. The concentration of iFluor™ 488-Phalloidin working solution should be prepared accordingly.
For guidelines on cell sample preparation, please visit
https://www.aatbio.com/resources/guides/cell-sample-preparation.html
SAMPLE EXPERIMENTAL PROTOCOL
Perform formaldehyde fixation. Incubate the cells with 3.0% – 4.0% formaldehyde in PBS at room temperature for 10 – 30 minutes. Note: Avoid any methanol containing fixatives since methanol can disrupt actin during the fixation process. The preferred fixative is methanol-free formaldehyde.


Rinse the fixed cells 2 – 3 times in PBS.


Optional: Add 0.1% Triton X-100 in PBS into fixed cells for 3 to 5 minutes to increase permeability. Rinse the cells 2 – 3 times in PBS.


Add 100 µL/well (96-well plate) of iFluor™ 488-Phalloidin working solution into the fixed cells.


Stain the cells at room temperature for 15 to 60 minutes.


Rinse cells gently with PBS 2 to 3 times to remove excess dye before plate sealing.


Image cells using a fluorescence microscope with FITC filter set (Ex/Em = 490/520 nm).
Spectrum
Open in Advanced Spectrum Viewer
Spectral properties
| | |
| --- | --- |
| Correction Factor (260 nm) | 0.21 |
| Correction Factor (280 nm) | 0.11 |
| Extinction coefficient (cm -1 M -1) | 750001 |
| Excitation (nm) | 491 |
| Emission (nm) | 516 |
| Quantum yield | 0.91 |
Images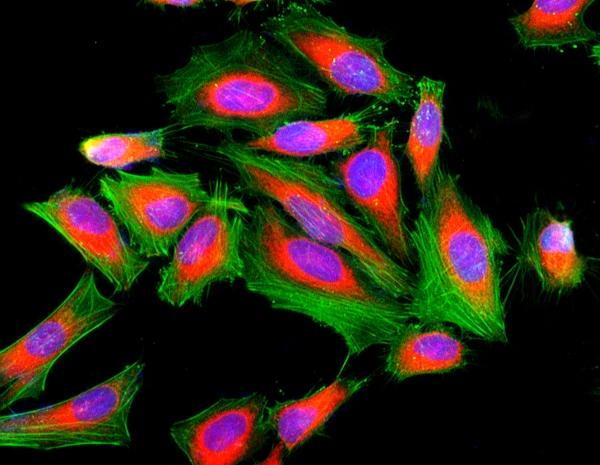 Figure 1.
Fluorescence image of HeLa cells fixed with 4% formaldehyde then stained with Cell Navigator® F-Actin Labeling Kit *Green Fluorescence* in a Costar black 96-well plate. Cell were labeled with iFluor® 488-Phalloidin (Cat#22261, Green) and nuclei stain DAPI (Cat#17507, Blue), respectively. Cell endoplasmic reticulum (ER) was stained with ER Red™ (Cat#22636, Red) before fixation.
Citations
A targetable pathway in neutrophils mitigates both arterial and venous thrombosis
Authors:
Nayak, Lalitha and Sweet, David R and Thomas, Asha and Lapping, Stephanie D and Kalikasingh, Kenneth and Madera, Annmarie and Vinayachandran, Vinesh and Padmanabhan, Roshan and Vasudevan, Neelakantan T and Myers, Jay T and others,
Journal:
Science Translational Medicine
(2022)
: eabj7465
Conjugated linoleic acid prompts bone formation in ovariectomized osteoporotic rats and weakens osteoclast formation after treatment with ultraviolet B
Authors:
Shan, Zhongshu and Zhao, Yanyan and Qiu, Zhixue and Angxiu, Suonan and Gu, Yong and Luo, Junming and Bi, Hongtao and Luo, Wei and Xiong, Rui and Ma, Siqing and others,
Journal:
Annals of Translational Medicine
(2021)
References
Velocity distributions of single F-actin trajectories from a fluorescence image series using trajectory reconstruction and optical flow mapping
Authors:
von Wegner F, Ober T, Weber C, Schurmann S, Winter R, Friedrich O, Fink RH, Vogel M.
Journal:
J Biomed Opt
(2008)
: 54018
Visualization of F-actin and G-actin equilibrium using fluorescence resonance energy transfer (FRET) in cultured cells and neurons in slices
Authors:
Okamoto K, Hayashi Y.
Journal:
Nat Protoc
(2006)
: 911
The effect of F-actin on the relay helix position of myosin II, as revealed by tryptophan fluorescence, and its implications for mechanochemical coupling
Authors:
Conibear PB, Malnasi-Csizmadia A, Bagshaw CR.
Journal:
Biochemistry
(2004)
: 15404
Analysis of models of F-actin using fluorescence resonance energy transfer spectroscopy
Authors:
Moens PD, dos Remedios CG.
Journal:
Results Probl Cell Differ
(2001)
: 59
Fluorescence studies of the carboxyl-terminal domain of smooth muscle calponin effects of F-actin and salts
Authors:
Bartegi A, Roustan C, Kassab R, Fattoum A.
Journal:
Eur J Biochem
(1999)
: 335
Microquantification of cellular and in vitro F-actin by rhodamine phalloidin fluorescence enhancement
Authors:
Katanaev VL, Wymann MP.
Journal:
Anal Biochem
(1998)
: 185
A conformational change in F-actin when myosin binds: fluorescence resonance energy transfer detects an increase in the radial coordinate of Cys-374
Authors:
Moens PD, dos Remedios CG.
Journal:
Biochemistry
(1997)
: 7353
Interhead distances in myosin attached to F-actin estimated by fluorescence energy transfer spectroscopy
Authors:
Ishiwata S, Miki M, Shin I, Funatsu T, Yasuda K, dos Remedios CG.
Journal:
Biophys J
(1997)
: 895
Myosin-induced changes in F-actin: fluorescence probing of subdomain 2 by dansyl ethylenediamine attached to Gln-41
Authors:
Kim E, Miller CJ, Motoki M, Seguro K, Muhlrad A, Reisler E.
Journal:
Biophys J
(1996)
: 1439
Changes in the distribution of F-actin in the fission yeast Schizosaccharomyces pombe by arresting growth in distilled water: correlative studies with fluorescence and electron microscopy
Authors:
Kanbe T, Akashi T, Tanaka K.
Journal:
J Electron Microsc (Tokyo)
(1994)
: 20