Cyanine 3 bisacid [equivalent to Cy3® bisacid]
Ordering information
| | |
| --- | --- |
| Price | |
| Catalog Number | |
| Unit Size | |
| Quantity | |
Additional ordering information
| | |
| --- | --- |
| Telephone | 1-800-990-8053 |
| Fax | 1-800-609-2943 |
| Email | sales@aatbio.com |
| International | See distributors |
| Bulk request | Inquire |
| Custom size | Inquire |
| Shipping | Standard overnight for United States, inquire for international |
Physical properties
| | |
| --- | --- |
| Molecular weight | 830.88 |
| Solvent | DMSO |
Spectral properties
| | |
| --- | --- |
| Correction Factor (260 nm) | 0.07 |
| Correction Factor (280 nm) | 0.073 |
| Extinction coefficient (cm -1 M -1) | 1500001 |
| Excitation (nm) | 555 |
| Emission (nm) | 569 |
| Quantum yield | 0.151 |
Storage, safety and handling
| | |
| --- | --- |
| H-phrase | H303, H313, H333 |
| Hazard symbol | XN |
| Intended use | Research Use Only (RUO) |
| R-phrase | R20, R21, R22 |
| Storage | Freeze (< -15 °C); Minimize light exposure |
| UNSPSC | 12171501 |
| | | | | | | |
| --- | --- | --- | --- | --- | --- | --- |
| | Correction Factor (260 nm) | Correction Factor (280 nm) | Extinction coefficient (cm -1 M -1) | | | |
A variety of cyanine 3 (Cy3®) dyes has been used to label biological molecules for fluorescence imaging and other fluorescence-based biochemical analysis. They are widely used for labeling peptides, proteins and oligos etc. Cy3® dyes have enhanced fluorescence upon binding to proteins.This Cy3® dye has two carboxy groups that might be used as a crosslinker. Cy3® is the trademark of GE Healthcare.
Calculators
Common stock solution preparation
Table 1.
Volume of DMSO needed to reconstitute specific mass of Cyanine 3 bisacid [equivalent to Cy3® bisacid] to given concentration. Note that volume is
only
for preparing stock solution. Refer to sample experimental protocol for appropriate experimental/physiological buffers.
| | | | | | |
| --- | --- | --- | --- | --- | --- |
| | 0.1 mg | 0.5 mg | 1 mg | 5 mg | 10 mg |
| 1 mM | 120.354 µL | 601.772 µL | 1.204 mL | 6.018 mL | 12.035 mL |
| 5 mM | 24.071 µL | 120.354 µL | 240.709 µL | 1.204 mL | 2.407 mL |
| 10 mM | 12.035 µL | 60.177 µL | 120.354 µL | 601.772 µL | 1.204 mL |
Molarity calculator
Enter any two values (mass, volume, concentration) to calculate the third.
Mass (

Calculate

)
Molecular weight
Volume (

Calculate

)
Concentration (

Calculate

)
Moles
/
=
x
=
Spectrum
Open in Advanced Spectrum Viewer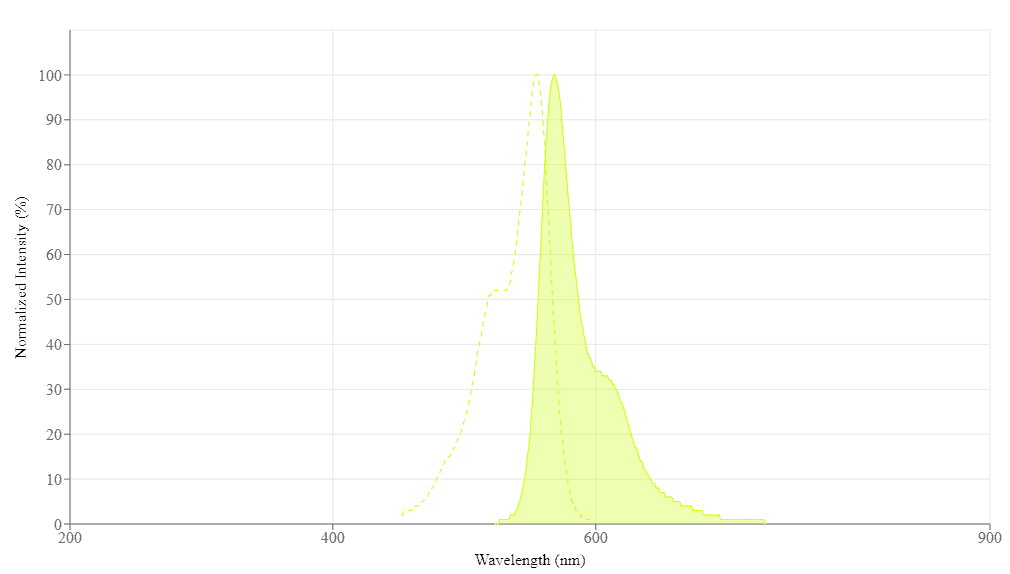 Spectral properties
| | |
| --- | --- |
| Correction Factor (260 nm) | 0.07 |
| Correction Factor (280 nm) | 0.073 |
| Extinction coefficient (cm -1 M -1) | 1500001 |
| Excitation (nm) | 555 |
| Emission (nm) | 569 |
| Quantum yield | 0.151 |
Citations
Light/magnetic hyperthermia triggered drug released from multi-functional thermo-sensitive magnetoliposomes for precise cancer synergetic theranostics
Authors:
Guo, Yuxin and Zhang, Yang and Ma, Jinyuan and Li, Qi and Li, Yang and Zhou, Xinyi and Zhao, Dan and Song, Hua and Chen, Qing and Zhu, Xuan
Journal:
Journal of Controlled Release
(2017)
Affinity-Controlled Protein Encapsulation into Sub-30 nm Telodendrimer Nanocarriers by Multivalent and Synergistic Interactions
Authors:
Wang, Xu and Shi, Changying and Zhang, Li and Bodman, Alexa and Guo, D and an , undefined and Wang, Lili and Hall, Walter A and Wilkens, Stephan and Luo, Juntao
Journal:
Biomaterials
(2016)
Carboxymethyl Dextran-Stabilized Polyethylenimine-Poly (epsilon-caprolactone) Nanoparticles-Mediated Modulation of MicroRNA-34a Expression via Small-Molecule Modulator for Hepatocellular Carcinoma Therapy
Authors:
Deng, Xiongwei and Yin, Zhaoxia and Zhou, Zhixiang and Wang, Yihui and Zhang, Fang and Hu, Qin and Yang, Yishu and Lu, Jianqing and Wu, Yan and Sheng, Wang and others, undefined
Journal:
ACS applied materials & interfaces
(2016)
: 17068--17079
References
Excitation of Cy5 in self-assembled lipid bilayers using optical microresonators
Authors:
Freeman LM, Li S, Dayani Y, Choi HS, Malmstadt N, Armani AM.
Journal:
Appl Phys Lett
(2011)
: 143703
Theranostic cRGD-BioShuttle Constructs Containing Temozolomide- and Cy7 For NIR-Imaging and Therapy
Authors:
Wiessler M, Hennrich U, Pipkorn R, Waldeck W, Cao L, Peter J, Ehemann V, Semmler W, Lammers T, Braun K.
Journal:
Theranostics
(2011)
: 381
Rational approach to select small peptide molecular probes labeled with fluorescent cyanine dyes for in vivo optical imaging
Authors:
Berezin MY, Guo K, Akers W, Livingston J, Solomon M, Lee H, Liang K, Agee A, Achilefu S.
Journal:
Biochemistry
(2011)
: 2691
In vivo detection of embryonic stem cell-derived cardiovascular progenitor cells using Cy3-labeled Gadofluorine M in murine myocardium
Authors:
Adler ED, Bystrup A, Briley-Saebo KC, Mani V, Young W, Giovanonne S, Altman P, Kattman SJ, Frank JA, Weinmann HJ, Keller GM, Fayad ZA.
Journal:
JACC Cardiovasc Imaging
(2009)
: 1114
Quantitative proteomics by fluorescent labeling of cysteine residues using a set of two cyanine-based or three rhodamine-based dyes
Authors:
Volke D, Hoffmann R.
Journal:
Electrophoresis
(2008)
: 4516
Surface plasmon resonance-enhanced fluorescence implementation of a single-step competition assay: demonstration of fatty acid measurement using an anti-fatty acid monoclonal antibody and a Cy5-labeled fatty acid
Authors:
Vareiro MM, Tranchant I, Maplin S, Zak K, Gani MM, Slevin CJ, Hailes HC, Tabor AB, Cameron PJ, Jenkins AT, Williams DE.
Journal:
Anal Biochem
(2008)
: 243
Thiazole orange and Cy3: improvement of fluorescent DNA probes with use of short range electron transfer
Authors:
Menacher F, Rubner M, Berndl S, Wagenknecht HA.
Journal:
J Org Chem
(2008)
: 4263
Near-infrared fluorescence imaging of tumor integrin alpha v beta 3 expression with Cy7-labeled RGD multimers
Authors:
Wu Y, Cai W, Chen X.
Journal:
Mol Imaging Biol
(2006)
: 226
Cy7-Bis-dipicolylamine-zinc
Authors:
Leung K., undefined
Journal:
In: Molecular Imaging and Contrast Agent Database (MICAD), Bethesda (MD).
(2004)
Cy7-Tetrameric arginine-glycine-aspartic acid peptide
Authors:
Cheng KT., undefined
Journal:
In: Molecular Imaging and Contrast Agent Database (MICAD), Bethesda (MD).
(2004)