DABCYL succinimidyl ester [4-((4-(Dimethylamino)phenyl)azo)benzoic acid, succinimidyl ester] *CAS 146998-31-4*
Ordering information
| | |
| --- | --- |
| Price | |
| Catalog Number | |
| Unit Size | |
| Quantity | |
Additional ordering information
| | |
| --- | --- |
| Telephone | 1-800-990-8053 |
| Fax | 1-800-609-2943 |
| Email | sales@aatbio.com |
| International | See distributors |
| Bulk request | Inquire |
| Custom size | Inquire |
| Shipping | Standard overnight for United States, inquire for international |
Physical properties
| | |
| --- | --- |
| Molecular weight | 366.37 |
| Solvent | DMSO |
Spectral properties
| | |
| --- | --- |
| Absorbance (nm) | 454 |
| Correction Factor (280 nm) | 0.516 |
Storage, safety and handling
| | |
| --- | --- |
| H-phrase | H303, H313, H333 |
| Hazard symbol | XN |
| Intended use | Research Use Only (RUO) |
| R-phrase | R20, R21, R22 |
| Storage | Freeze (< -15 °C); Minimize light exposure |
| UNSPSC | 12352200 |
See also:
Amine Reactive Dyes and Probes for Conjugation
, Förster Resonance Energy Transfer (FRET)
, Digital PCR
, Kinases
, Fluorescence Lifetime Imaging Microscopy (FLIM)
, Intracellular Zinc
, Polymerase Chain Reaction (PCR)
, Real-Time PCR (qPCR)
, Reverse Transcription PCR (RT-PCR)
, Tide Quencher Dyes
, PCR Detection of Viral DNA/RNA
| | | | |
| --- | --- | --- | --- |
| | | | Correction Factor (280 nm) |
DABCYL, SE is the amino-reactive form of DABCYL, and widely used to prepare a variety of FRET-based probes that contain DABCYL. DABCYL is one of the most popular acceptors for developing FRET-based nucleic acid probes and protease substrates.
Calculators
Common stock solution preparation
Table 1.
Volume of DMSO needed to reconstitute specific mass of DABCYL succinimidyl ester [4-((4-(Dimethylamino)phenyl)azo)benzoic acid, succinimidyl ester] *CAS 146998-31-4* to given concentration. Note that volume is
only
for preparing stock solution. Refer to sample experimental protocol for appropriate experimental/physiological buffers.
| | | | | | |
| --- | --- | --- | --- | --- | --- |
| | 0.1 mg | 0.5 mg | 1 mg | 5 mg | 10 mg |
| 1 mM | 272.948 µL | 1.365 mL | 2.729 mL | 13.647 mL | 27.295 mL |
| 5 mM | 54.59 µL | 272.948 µL | 545.896 µL | 2.729 mL | 5.459 mL |
| 10 mM | 27.295 µL | 136.474 µL | 272.948 µL | 1.365 mL | 2.729 mL |
Molarity calculator
Enter any two values (mass, volume, concentration) to calculate the third.
Mass (

Calculate

)
Molecular weight
Volume (

Calculate

)
Concentration (

Calculate

)
Moles
/
=
x
=
Spectrum
Open in Advanced Spectrum Viewer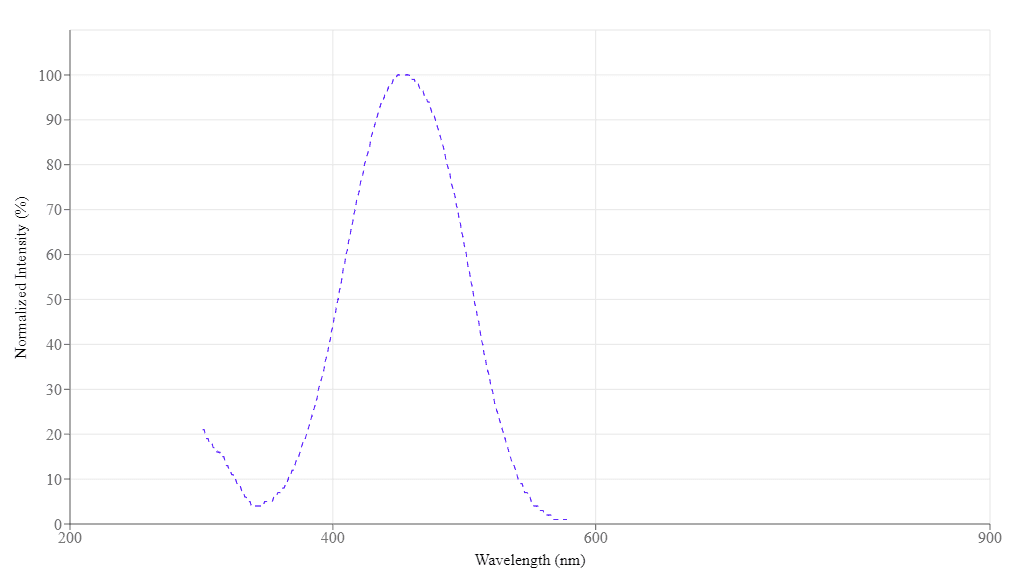 Spectral properties
| | |
| --- | --- |
| Absorbance (nm) | 454 |
| Correction Factor (280 nm) | 0.516 |
Images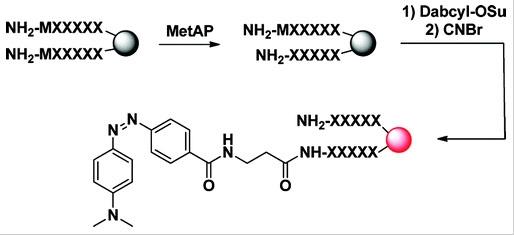 Figure 1.
Methionine aminopeptidase (MetAP) catalyzes the hydrolytic cleavage of the N-terminal methionine from newly synthesized polypeptides. The extent of removal of methionyl from a protein is dictated by its N-terminal peptide sequence. Earlier studies revealed that MetAPs require amino acids containing small side chains (e.g., Gly, Ala, Ser, Cys, Pro, Thr, and Val) as the P1′ residue, but their specificity at positions P2′ and beyond remains incompletely defined. In this work, the substrate specificities of Escherichia coli MetAP1, human MetAP1, and human MetAP2 were systematically profiled by screening against a combinatorial peptide library and kinetic analysis of individually synthesized peptide substrates. Our results show that although all three enzymes require small residues at the P1′ position, they have differential tolerance for Val and Thr at this position. The catalytic activity of human MetAP2 toward Met-Val peptides is consistently 2 orders of magnitude higher than that of MetAP1, suggesting that MetAP2 is responsible for processing proteins containing N-terminal Met-Val and Met-Thr sequences in vivo. At positions P2′−P5′, all three MetAPs have broad specificity but are poorly active toward peptides containing a proline at the P2′ position. In addition, the human MetAPs disfavor acidic residues at the P2′−P5′ positions. The specificity data have allowed us to formulate a simple set of rules that can reliably predict the N-terminal processing of E. coli and human proteins. Source: Protein N-Terminal Processing: Substrate Specificity of Escherichia coli and Human Methionine Aminopeptidases by Xiao et al., ACS Publications, June 2010.
References
Recombinant expression and partial characterization of an active soluble histo-aspartic protease from Plasmodium falciparum
Authors:
Xiao H, Sinkovits AF, Bryksa BC, Ogawa M, Yada RY.
Journal:
Protein Expr Purif
(2006)
: 88
Internally quenched peptides for the study of lysostaphin: An antimicrobial protease that kills Staphylococcus aureus
Authors:
Warfield R, Bardelang P, Saunders H, Chan WC, Penfold C, James R, Thomas NR.
Journal:
Org Biomol Chem
(2006)
: 3626
A quenched fluorescent dipeptide for assaying dispase- and thermolysin-like proteases
Authors:
Weimer S, Oertel K, Fuchsbauer HL.
Journal:
Anal Biochem
(2006)
: 110
Characterization and inhibition of SARS-coronavirus main protease
Authors:
Liang PH., undefined
Journal:
Curr Top Med Chem
(2006)
: 361
Fluorogenic peptide substrates containing benzoxazol-5-yl-alanine derivatives for kinetic assay of cysteine proteases
Authors:
Szabelski M, Rogiewicz M, Wiczk W.
Journal:
Anal Biochem
(2005)
: 20
ADAM33 enzyme properties and substrate specificity
Authors:
Zou J, Zhang R, Zhu F, Liu J, Madison V, Uml and SP., undefined
Journal:
Biochemistry
(2005)
: 4247
Enzymatic activity characterization of SARS coronavirus 3C-like protease by fluorescence resonance energy transfer technique
Authors:
Chen S, Chen LL, Luo HB, Sun T, Chen J, Ye F, Cai JH, Shen JK, Shen X, Jiang HL.
Journal:
Acta Pharmacol Sin
(2005)
: 99
Fluorogenic peptide substrates for carboxydipeptidase activity of cathepsin B
Authors:
Stachowiak K, Tokmina M, Karpinska A, Sosnowska R, Wiczk W.
Journal:
Acta Biochim Pol
(2004)
: 81
Synthesis of poly(ethylene glycol)-based saquinavir prodrug conjugates and assessment of release and anti-HIV-1 bioactivity using a novel protease inhibition assay
Authors:
Gunaseelan S, Debrah O, Wan L, Leibowitz MJ, Rabson AB, Stein S, Sinko PJ.
Journal:
Bioconjug Chem
(2004)
: 1322
Highly sensitive intramolecularly quenched fluorogenic substrates for renin based on the combination of L-2-amino-3-(7-methoxy-4-coumaryl)propionic acid with 2,4-dinitrophenyl groups at various positions
Authors:
Paschalidou K, Neumann U, Gerhartz B, Tzougraki C.
Journal:
Biochem J
(2004)
: 1031