Fluo-5F, AM *Cell permeant*
Ordering information
| | |
| --- | --- |
| Price | |
| Catalog Number | |
| Unit Size | |
| Quantity | |
Additional ordering information
| | |
| --- | --- |
| Telephone | 1-800-990-8053 |
| Fax | 1-800-609-2943 |
| Email | sales@aatbio.com |
| International | See distributors |
| Bulk request | Inquire |
| Custom size | Inquire |
| Shipping | Standard overnight for United States, inquire for international |
Physical properties
| | |
| --- | --- |
| Dissociation constant (Kd, nM) | 2300 |
| Molecular weight | 1100.91 |
| Solvent | DMSO |
Spectral properties
| | |
| --- | --- |
| Excitation (nm) | 494 |
| Emission (nm) | 516 |
Storage, safety and handling
| | |
| --- | --- |
| H-phrase | H303, H313, H333 |
| Hazard symbol | XN |
| Intended use | Research Use Only (RUO) |
| R-phrase | R20, R21, R22 |
| Storage | Freeze (< -15 °C); Minimize light exposure |
| UNSPSC | 12352200 |
| | | | |
| --- | --- | --- | --- |
| | Dissociation constant (Kd, nM) | | |
Fluo-5F is an analog of Fluo-4 with lower calcium-binding affinity (Kd = ~2.3 uM), making it suitable for detecting intracellular calcium levels in the range of 1 µM to 1 mM that would saturate the response of Fluo-4. Cells may be loaded with Fluo-5F AM ester by adding the dissolved indicator directly to dishes containing cultured cells. It is compatible with excitation at 488 nm by argon-ion laser sources, making Fluo-5F useful for confocal microscopy, flow cytometry, and microplate screening applications. It has excitation and emission wavelengths at 494 and 516 nm respectively. Upon calcium binding, its fluorescence intensity increases by >100 fold.
Platform
Flow cytometer
| | |
| --- | --- |
| Excitation | 488 nm laser |
| Emission | 530/30 nm filter |
| Instrument specification(s) | FITC channel |
Fluorescence microscope
| | |
| --- | --- |
| Excitation | FITC |
| Emission | FITC |
| Recommended plate | Black wall/clear bottom |
Fluorescence microplate reader
| | |
| --- | --- |
| Excitation | 490 |
| Emission | 525 |
| Cutoff | 515 |
| Recommended plate | Black wall/clear bottom |
| Instrument specification(s) | Bottom read mode/Programmable liquid handling |
Example protocol
PREPARATION OF STOCK SOLUTIONS
Unless otherwise noted, all unused stock solutions should be divided into single-use aliquots and stored at -20 °C after preparation. Avoid repeated freeze-thaw cycles
Fluo-5F AM Stock Solution
Prepare a 2 to 5 mM stock solution of Fluo-5F AM in high-quality, anhydrous DMSO.
PREPARATION OF WORKING SOLUTION
Fluo-5F AM Working Solution
On the day of the experiment, either dissolve Fluo-5F AM in DMSO or thaw an aliquot of the indicator stock solution to room temperature.

Prepare a 2 to 20 µM Fluo-5F AM working solution in a buffer of your choice (e.g., Hanks and Hepes buffer) with 0.04% Pluronic® F-127. For most cell lines, Fluo-5F AM at a final concentration of 4-5 μM is recommended. The exact concentration of indicators required for cell loading must be determined empirically.

Note: The nonionic detergent Pluronic® F-127 is sometimes used to increase the aqueous solubility of Fluo-5F AM. A variety of Pluronic® F-127 solutions can be purchased from AAT Bioquest.

Note: If your cells contain organic anion-transporters, probenecid (1-2 mM) may be added to the dye working solution (final in well concentration will be 0.5-1 mM) to reduce leakage of the de-esterified indicators. A variety of ReadiUse™ Probenecid products, including water-soluble, sodium salt, and stabilized solutions, can be purchased from AAT Bioquest.
SAMPLE EXPERIMENTAL PROTOCOL
Following is our recommended protocol for loading AM esters into live cells. This protocol only provides a guideline and should be modified according to your specific needs.
Prepare cells in growth medium overnight.

On the next day, add 1X Fluo-5F AM working solution to your cell plate.

Note: If your compound(s) interfere with the serum, replace the growth medium with fresh HHBS buffer before dye-loading.

Incubate the dye-loaded plate in a cell incubator at 37 °C for 30 to 60 minutes.

Note: Incubating the dye for longer than 2 hours can improve signal intensities in certain cell lines.

Replace the dye working solution with HHBS or buffer of your choice (containing an anion transporter inhibitor, such as 1 mM probenecid, if applicable) to remove any excess probes.
Add the stimulant as desired and simultaneously measure fluorescence using either a fluorescence microscope equipped with a FITC filter set or a fluorescence plate reader containing a programmable liquid handling system such as an FDSS, FLIPR, or FlexStation, at 490/525 nm cutoff 515 nm.
Calculators
Common stock solution preparation
Table 1.
Volume of DMSO needed to reconstitute specific mass of Fluo-5F, AM *Cell permeant* to given concentration. Note that volume is
only
for preparing stock solution. Refer to sample experimental protocol for appropriate experimental/physiological buffers.
| | | | | | |
| --- | --- | --- | --- | --- | --- |
| | 0.1 mg | 0.5 mg | 1 mg | 5 mg | 10 mg |
| 1 mM | 90.834 µL | 454.17 µL | 908.339 µL | 4.542 mL | 9.083 mL |
| 5 mM | 18.167 µL | 90.834 µL | 181.668 µL | 908.339 µL | 1.817 mL |
| 10 mM | 9.083 µL | 45.417 µL | 90.834 µL | 454.17 µL | 908.339 µL |
Molarity calculator
Enter any two values (mass, volume, concentration) to calculate the third.
Mass (

Calculate

)
Molecular weight
Volume (

Calculate

)
Concentration (

Calculate

)
Moles
/
=
x
=
Spectrum
Open in Advanced Spectrum Viewer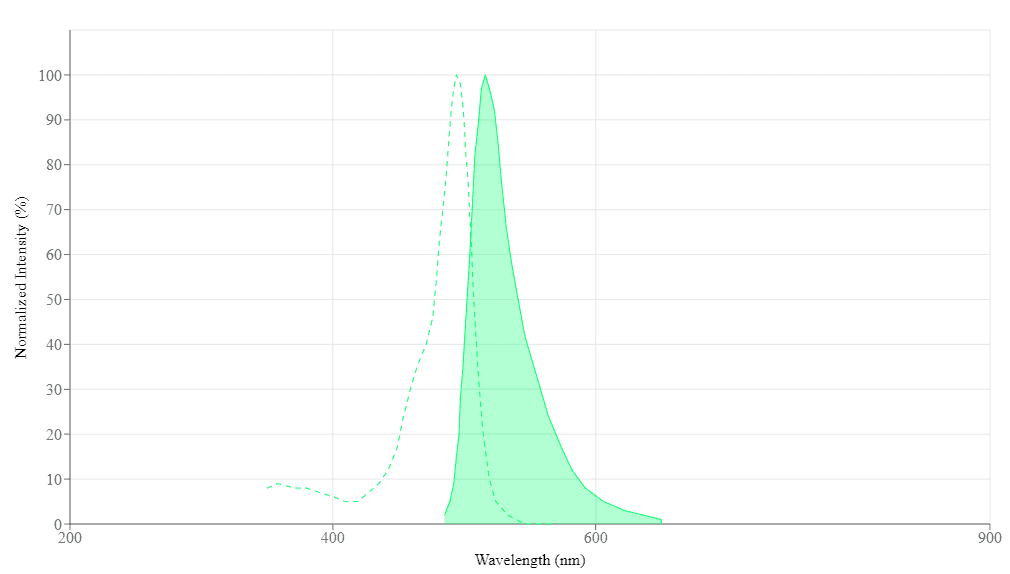 Spectral properties
| | |
| --- | --- |
| Excitation (nm) | 494 |
| Emission (nm) | 516 |
Product Family
Name
Excitation (nm)
Emission (nm)
Extinction coefficient (cm -1 M -1)
Quantum yield
Fluo-4 AM *Ultrapure Grade* *CAS 273221-67-3*
495
528

82000

0.161
Fluo-3, AM *CAS 121714-22-5*
506
515
86,0001
0.151
Fluo-3, AM *UltraPure grade* *CAS 121714-22-5*
506
515
86,0001
0.151
Fluo-3, AM *Bulk package* *CAS 121714-22-5*
506
515
86,0001
0.151
Fluo-3FF, AM *UltraPure grade* *Cell permeant*
506
515
86,0001
0.151
Fluo-8®, AM
495
516

23430

0.161
Fluo-8H™, AM
495
516

23430

0.161
Fluo-8L™, AM
495
516

23430

0.161
Fluo-8FF™, AM
495
516

23430

0.161

Show More (1)
Citations
Vitamin D is an endogenous partial agonist of the transient receptor potential vanilloid 1 channel
Authors:
Long, Wentong and Fatehi, Mohammad and Soni, Shubham and Panigrahi, Rashmi and Philippaert, Koenraad and Yu, Yi and Kelly, Rees and Boonen, Brett and Barr, Amy and Golec, Dominic and others,
Journal:
The Journal of Physiology
(2020)
: 4321--4338
Monosialoganglioside 1 may alleviate neurotoxicity induced by propofol combined with remifentanil in neural stem cells
Authors:
Lu, Jiang and Yao, Xue-qin and Luo, Xin and Wang, Yu and Chung, Sookja Kim and Tang, He-xin and Cheung, Chi Wai and Wang, Xian-yu and Meng, Chen and Li, Qing and others, undefined
Journal:
Neural Regeneration Research
(2017)
: 945
Di (2-ethylhexyl) phthalate-induced apoptosis in rat INS-1 cells is dependent on activation of endoplasmic reticulum stress and suppression of antioxidant protection
Authors:
Sun, Xia and Lin, Yi and Huang, Qiansheng and Shi, Junpeng and Qiu, Ling and Kang, Mei and Chen, Yajie and Fang, Chao and Ye, Ting and Dong, Sijun
Journal:
Journal of cellular and molecular medicine
(2015)
: 581--594
Fungus induces the release of IL-8 in human corneal epithelial cells, via Dectin-1-mediated protein kinase C pathways.
Authors:
Peng, Xu-Dong and Zhao, Gui-Qiu and Lin, Jing and Jiang, Nan and Xu, Qiang and Zhu, Cheng-Cheng and Qu, Jain-Qiu and Cong, Lin and Li, Hui
Journal:
International journal of ophthalmology
(2014)
: 441--447
References
Direct detection of SERCA calcium transport and small-molecule inhibition in giant unilamellar vesicles
Authors:
Bian T, Autry JM, Casemore D, Li J, Thomas DD, He G, Xing C.
Journal:
Biochem Biophys Res Commun
(2016)
: 206
Single cell and subcellular measurements of intracellular Ca(2)(+) concentration
Authors:
McCarron JG, Olson ML, Chalmers S, Girkin JM.
Journal:
Methods Mol Biol
(2013)
: 239
Astrocyte calcium signals at Schaffer collateral to CA1 pyramidal cell synapses correlate with the number of activated synapses but not with synaptic strength
Authors:
Honsek SD, Walz C, Kafitz KW, Rose CR.
Journal:
Hippocampus
(2012)
: 29
Preferential loading of bergmann glia with synthetic acetoxymethyl calcium dyes
Authors:
Hoogl, undefined and TM, Kuhn B, Wang SS.
Journal:
Cold Spring Harb Protoc
(2011)
: 1228
Visualization and quantification of endoplasmic reticulum Ca2+ in renal cells using confocal microscopy and Fluo5F
Authors:
Eaddy AC, Schnellmann RG.
Journal:
Biochem Biophys Res Commun
(2011)
: 424
Differential sensitivity of Ca(2)+ wave and Ca(2)+ spark events to ruthenium red in isolated permeabilised rabbit cardiomyocytes
Authors:
MacQuaide N, Ramay HR, Sobie EA, Smith GL.
Journal:
J Physiol
(2010)
: 4731
Reduced SERCA2 abundance decreases the propensity for Ca2+ wave development in ventricular myocytes
Authors:
Stokke MK, Hougen K, Sjaastad I, Louch WE, Briston SJ, Enger UH, Andersson KB, Christensen G, Eisner DA, Sejersted OM, Trafford AW.
Journal:
Cardiovasc Res
(2010)
: 63
Regulation of postsynaptic Ca2+ influx in hippocampal CA1 pyramidal neurons via extracellular carbonic anhydrase
Authors:
Fedirko N, Avshalumov M, Rice ME, Chesler M.
Journal:
J Neurosci
(2007)
: 1167
Measurement and modeling of Ca2+ waves in isolated rabbit ventricular cardiomyocytes
Authors:
MacQuaide N, Dempster J, Smith GL.
Journal:
Biophys J
(2007)
: 2581
Caerulein-induced intracellular pancreatic zymogen activation is dependent on calcineurin
Authors:
Husain SZ, Grant WM, Gorelick FS, Nathanson MH, Shah AU.
Journal:
Am J Physiol Gastrointest Liver Physiol
(2007)
: G1594