Fluo-8®, AM
Ordering information
| | |
| --- | --- |
| Price | |
| Catalog Number | |
| Unit Size | |
| Quantity | |
Additional ordering information
| | |
| --- | --- |
| Telephone | 1-800-990-8053 |
| Fax | 1-800-609-2943 |
| Email | sales@aatbio.com |
| International | See distributors |
| Shipping | Standard overnight for United States, inquire for international |
Physical properties
| | |
| --- | --- |
| Dissociation constant (Kd, nM) | 389 |
| Molecular weight | 1046.93 |
| Solvent | DMSO |
Spectral properties
| | |
| --- | --- |
| Correction Factor (260 nm) | 1.076 |
| Correction Factor (280 nm) | 0.769 |
| Extinction coefficient (cm -1 M -1) | 23430 |
| Excitation (nm) | 495 |
| Emission (nm) | 516 |
| Quantum yield | 0.161 |
Storage, safety and handling
| | |
| --- | --- |
| Certificate of Origin | Download PDF |
| H-phrase | H303, H313, H333 |
| Hazard symbol | XN |
| Intended use | Research Use Only (RUO) |
| R-phrase | R20, R21, R22 |
| Storage | Freeze (< -15 °C); Minimize light exposure |
| UNSPSC | 12352200 |
| | | | | | | | | |
| --- | --- | --- | --- | --- | --- | --- | --- | --- |
| | | Dissociation constant (Kd, nM) | Correction Factor (260 nm) | Correction Factor (280 nm) | Extinction coefficient (cm -1 M -1) | | | |
Calcium measurements are critical for numerous biological investigations. Fluorescent probes that show spectral responses upon binding Ca2+ have enabled researchers to investigate changes in intracellular free Ca2+ concentrations by using fluorescence microscopy, flow cytometry, fluorescence spectroscopy, and fluorescence microplate readers. Fluo-3 AM and Fluo-4 AM are most commonly used among the visible light-excitable calcium indicators for live-cell calcium imaging. However, Fluo-3 AM and Fluo-4 AM are only moderately fluorescent in live cells upon esterase hydrolysis and require harsh cell loading conditions to maximize their cellular calcium responses. Fluo-8® dyes are developed to improve cell loading and calcium response while maintaining the convenient Fluo-3 and Fluo-4 spectral wavelengths of Ex/Em = ∼490/∼520 nm. Fluo-8® AM can be loaded into cells at room temperature, while Fluo-3 AM and Fluo-4 AM require 37°C for cell loading. In addition, Fluo-8® AM is two times brighter than Fluo-4 AM and four times brighter than Fluo-3 AM. AAT Bioquest offers a set of our outstanding Fluo-8® reagents with different calcium-binding affinities (Fluo-8® Kd = 389 nM; Fluo-8H™ Kd = 232 nM; Fluo-8L™ Kd = 1.86 µM; Fluo-8FF™ Kd = 10 µM). We also offer versatile packing sizes to meet your special needs (e.g., 1 mg, 10x50 µg, 20x50 µg, and HTS packages) with no additional packaging charge.
Platform
Fluorescence microscope
| | |
| --- | --- |
| Excitation | FITC |
| Emission | FITC |
| Recommended plate | Black wall/clear bottom |
Fluorescence microplate reader
| | |
| --- | --- |
| Excitation | 490 |
| Emission | 525 |
| Cutoff | 515 |
| Recommended plate | Black wall/clear bottom |
| Instrument specification(s) | Bottom read mode/Programmable liquid handling |
Example protocol
PREPARATION OF STOCK SOLUTIONS
Unless otherwise noted, all unused stock solutions should be divided into single-use aliquots and stored at -20 °C after preparation. Avoid repeated freeze-thaw cycles.
Fluo-8® AM Stock Solution
Prepare a 2 to 5 mM stock solution of Fluo-8® AM in high-quality, anhydrous DMSO.
PREPARATION OF WORKING SOLUTION
Fluo-8® AM Working Solution
On the day of the experiment, either dissolve Fluo-8® AM in DMSO or thaw an aliquot of the indicator stock solution to room temperature. Prepare a dye working solution of 2 to 20 µM in a buffer of your choice (e.g., Hanks and Hepes buffer) with 0.04% Pluronic® F-127. For most cell lines, Fluo-8® AM at a final concentration of 4-5 μM is recommended. The exact concentration of indicators required for cell loading must be determined empirically.


Note

     The nonionic detergent Pluronic® F-127 is sometimes used to increase the aqueous solubility of Fluo-8® AM. A variety of Pluronic® F-127 solutions can be purchased from AAT Bioquest.


Note

     If your cells contain organic anion-transporters, probenecid (1-2 mM) may be added to the dye working solution (final in well concentration will be 0.5-1 mM) to reduce leakage of the de-esterified indicators. A variety of ReadiUse™ probenecid products, including water-soluble, sodium salt, and stabilized solution, can be purchased from AAT Bioquest.
SAMPLE EXPERIMENTAL PROTOCOL
Following is our recommended protocol for loading AM esters into live cells. This protocol only provides a guideline and should be modified according to your specific needs.
Prepare cells in growth medium overnight.

On the next day, add 1X Fluo-8® AM working solution into your cell plate.


Note

     If your compound(s) interfere with the serum, replace the growth medium with fresh HHBS buffer before dye-loading.

Incubate the dye-loaded plate in a cell incubator at 37 °C for 30 to 60 minutes.


Note

     Incubating the dye for longer than 2 hours can improve signal intensities in certain cell lines.

Replace the dye working solution with HHBS or buffer of your choice (containing an anion transporter inhibitor, such as 1 mM probenecid, if applicable) to remove any excess probes.

Add the stimulant as desired and simultaneously measure fluorescence using either a fluorescence microscope equipped with a FITC filter set or a fluorescence plate reader containing a programmable liquid handling system such as an FDSS, FLIPR, or FlexStation, at 490/525 nm cutoff 515 nm. 
Calculators
Common stock solution preparation
Table 1.
Volume of DMSO needed to reconstitute specific mass of Fluo-8®, AM to given concentration. Note that volume is
only
for preparing stock solution. Refer to sample experimental protocol for appropriate experimental/physiological buffers.
| | | | | | |
| --- | --- | --- | --- | --- | --- |
| | 0.1 mg | 0.5 mg | 1 mg | 5 mg | 10 mg |
| 1 mM | 95.517 µL | 477.587 µL | 955.174 µL | 4.776 mL | 9.552 mL |
| 5 mM | 19.103 µL | 95.517 µL | 191.035 µL | 955.174 µL | 1.91 mL |
| 10 mM | 9.552 µL | 47.759 µL | 95.517 µL | 477.587 µL | 955.174 µL |
Molarity calculator
Enter any two values (mass, volume, concentration) to calculate the third.
Mass (

Calculate

)
Molecular weight
Volume (

Calculate

)
Concentration (

Calculate

)
Moles
/
=
x
=
Spectrum
Open in Advanced Spectrum Viewer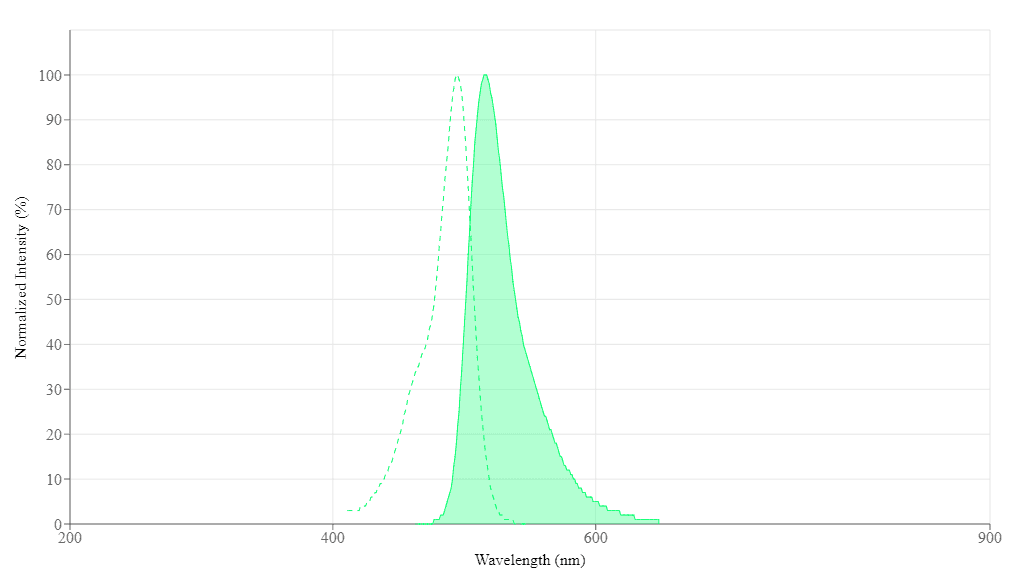 Spectral properties
| | |
| --- | --- |
| Correction Factor (260 nm) | 1.076 |
| Correction Factor (280 nm) | 0.769 |
| Extinction coefficient (cm -1 M -1) | 23430 |
| Excitation (nm) | 495 |
| Emission (nm) | 516 |
| Quantum yield | 0.161 |
Citations
Smooth muscle AKG/OXGR1 signaling regulates epididymal fluid acid-base balance and sperm maturation
Authors:
Xu, Chang and Yuan, Yexian and Zhang, Cha and Zhou, Yuchuan and Yang, Jinping and Yi, Huadong and Gyawali, Ishwari and Lu, Jingyi and Guo, Sile and Ji, Yunru and others,
Journal:
Life Metabolism
(2022)
Neuronal hyperexcitability drives central and peripheral nervous system tumor progression in models of neurofibromatosis-1
Authors:
Anastasaki, Corina and Mo, Juan and Chen, Ji-Kang and Chatterjee, Jit and Pan, Yuan and Scheaffer, Suzanne M and Cobb, Olivia and Monje, Michelle and Le, Lu Q and Gutmann, David H
Journal:
Nature Communications
(2022)
: 1--17
Bioinspired two-in-one nanotransistor sensor for the simultaneous measurements of electrical and mechanical cellular responses
Authors:
Gao, Hongyan and Yang, Feiyu and Sattari, Kianoosh and Du, Xian and Fu, Tianda and Fu, Shuai and Liu, Xiaomeng and Lin, Jian and Sun, Yubing and Yao, Jun
Journal:
Science advances
(2022)
: eabn2485
Hypothermia evoked by stimulation of medial preoptic nucleus protects the brain in a mouse model of ischaemia
Authors:
Zhang, Shuai and Zhang, Xinpei and Zhong, Haolin and Li, Xuanyi and Wu, Yujie and Ju, Jun and Liu, Bo and Zhang, Zhenyu and Yan, Hai and Wang, Yizheng and others,
Journal:
Nature Communications
(2022)
: 1--15
References
Novel fluo-4 analogs for fluorescent calcium measurements
Authors:
Martin VV, Beierlein M, Morgan JL, Rothe A, Gee KR.
Journal:
Cell Calcium
(2004)
: 509
Kinetic characterization of novel NR2B antagonists using fluorescence detection of calcium flux
Authors:
Bednar B, Cunningham ME, Kiss L, Cheng G, McCauley JA, Liverton NJ, Koblan KS.
Journal:
J Neurosci Methods
(2004)
: 247
Flow cytometric kinetic assay of calcium mobilization in whole blood platelets using Fluo-3 and CD41
Authors:
do Ceu Monteiro M, Sansonetty F, Goncalves MJ, O'Connor JE.
Journal:
Cytometry
(1999)
: 302
Amplitude distribution of calcium sparks in confocal images: theory and studies with an automatic detection method
Authors:
Cheng H, Song LS, Shirokova N, Gonzalez A, Lakatta EG, Rios E, Stern MD.
Journal:
Biophys J
(1999)
: 606
A simple numerical model of calcium spark formation and detection in cardiac myocytes
Authors:
Smith GD, Keizer JE, Stern MD, Lederer WJ, Cheng H.
Journal:
Biophys J
(1998)
: 15
Monitoring calcium in outer hair cells with confocal microscopy and fluorescence ratios of fluo-3 and fura-red
Authors:
Su ZL, Li N, Sun YR, Yang J, Wang IM, Jiang SC.
Journal:
Shi Yan Sheng Wu Xue Bao
(1998)
: 323
Loading and localization of Fluo-3 and Fluo-3/AM calcium indicators in sinapis alba root tissue
Authors:
Tretyn A, Kado RT, Kendrick RE.
Journal:
Folia Histochem Cytobiol
(1997)
: 41
Nucleoplasmic and cytoplasmic differences in the fluorescence properties of the calcium indicator Fluo-3
Authors:
Perez-Terzic C, Stehno-Bittel L, Clapham DE.
Journal:
Cell Calcium
(1997)
: 275
Detection of a trigger zone of bradykinin-induced fast calcium waves in PC12 neurites
Authors:
Reber BF, Schindelholz B.
Journal:
Pflugers Arch
(1996)
: 893
Improved four-color flow cytometry method using fluo-3 and triple immunofluorescence for analysis of intracellular calcium ion ([Ca2+]i) fluxes among mouse lymph node B- and T-lymphocyte subsets
Authors:
Greimers R, Trebak M, Moutschen M, Jacobs N, Boniver J.
Journal:
Cytometry
(1996)
: 205