FluoroQuest™ Anti-fading Kit II *Optimized for Plate Imaging*
Ordering information
| | |
| --- | --- |
| Price | |
| Catalog Number | |
| Unit Size | |
| Quantity | |
Additional ordering information
| | |
| --- | --- |
| Telephone | 1-800-990-8053 |
| Fax | 1-800-609-2943 |
| Email | sales@aatbio.com |
| International | See distributors |
| Bulk request | Inquire |
| Custom size | Inquire |
| Shipping | Standard overnight for United States, inquire for international |
Storage, safety and handling
| | |
| --- | --- |
| H-phrase | H303, H313, H333 |
| Hazard symbol | XN |
| Intended use | Research Use Only (RUO) |
| R-phrase | R20, R21, R22 |
| UNSPSC | 12352200 |
When exposed to excitation light, fluorescence intensity of dyes decreases due to their photooxidation or other photoreactions. There are very few fluorescent dyes that completely resist photobleaching. Frequently, when a section has been scanned repeatedly under strong excitation light, dyes could lose significant fluorescence signal before visual evaluation or photography can be accomplished. For examples, the photobleaching of fluoresceins (such as FITC-labeled antibodies) has become a major problem in fluorescence microscopy. In severe cases (such as phycoprotein-labeled bioconjugates), a fluorescence image of high resolution can not even be taken due to the extremely high photobleaching rate. Fluoroquest™ Anti-Fading Kit is to reduce the dye photobleaching rate, giving researchers longer observation time. The kit contains all the essential components that can be readily applied to imaging experiments. They are all premixed and ready-to-use solutions. This kit is designed for microplate format while #20001 is designed for slide format.
Platform
Fluorescence microscope
| | |
| --- | --- |
| Excitation | Varies |
| Emission | Varies |
| Recommended plate | Black wall/clear bottom |
Example protocol
AT A GLANCE
Protocol summary
Prepare samples (microplate wells)
Remove the liquid from the plate
Add 100 µL/well of antifading solution
Examine the specimen under microscope
PREPARATION OF STOCK SOLUTION
Unless otherwise noted, all unused stock solutions should be divided into single-use aliquots and stored at -20 °C after preparation. Avoid repeated freeze-thaw cycles.
1. Anti-fading stock solution:
Add the entire vial of Assay buffer (Component B) to the vial of Anti-fading Reagent (Component A). Note: It is still OK to use when the solution goes brown, but discard when the solution is black.
For guidelines on cell sample preparation, please visit
https://www.aatbio.com/resources/guides/cell-sample-preparation.html
SAMPLE EXPERIMENTAL PROTOCOL
Remove any excess liquid from your 96-well plate.


Add 100 µL of Anti-fading solution to each selected wells.


Samples can be imaged immediately after apply the Anti-fading solution. A typical image is shown in Figure 1.


Store the plate at 4°C in the dark for optimum sample longevity.
Images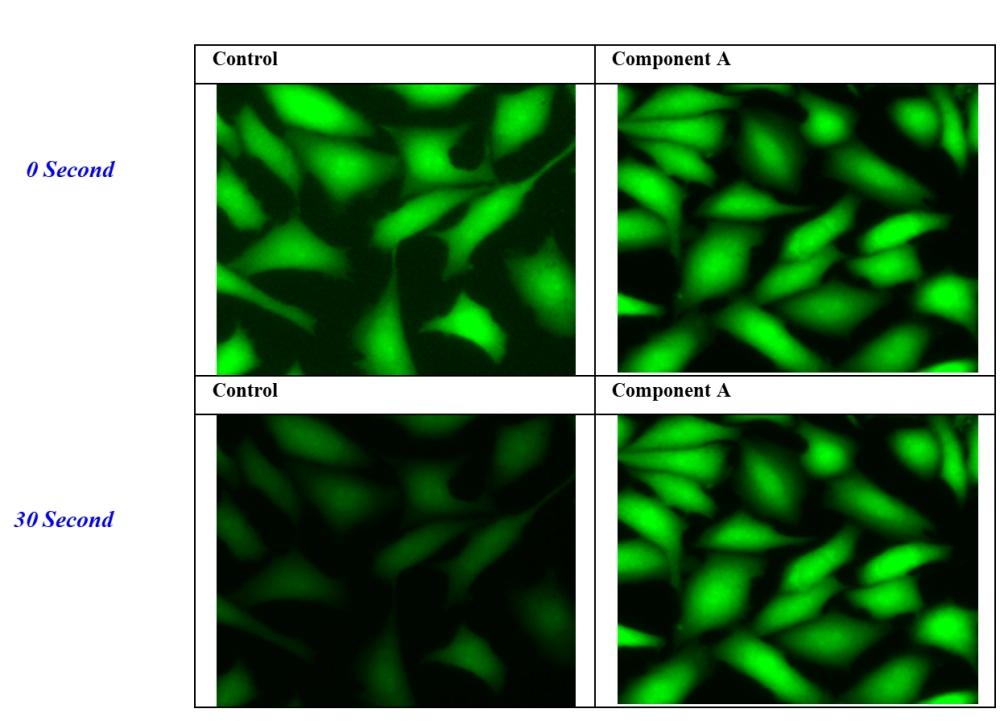 Figure 1.
U2OS cells were loaded with 1 µM Calcein AM for 1 hour, fixing with 2% formaldehyde for 30 minutes in a 96-well Costar black plate. Anti-fading reagent (100 µL/well) was added into the samples after removing all the media. The FITC signals were compared at 0 and 30 seconds exposure time by using Olympus fluorescence microscopy. The same exposure settings were used for all the images.
References
On the mechanism of Trolox as antiblinking and antibleaching reagent
Authors:
Cordes T, Vogelsang J, Tinnefeld P.
Journal:
J Am Chem Soc
(2009)
: 5018
Relationship between DAPI-fluorescence fading and nuclear DNA content: An alternative method to DNA quantification
Authors:
Gallardo-Escarate C, Alvarez-Borrego J, Von Br and E, Dupre E, Del Rio-Portilla MA.
Journal:
Biol Res
(2007)
: 29
Strategies to improve photostabilities in ultrasensitive fluorescence spectroscopy
Authors:
Widengren J, Chmyrov A, Eggeling C, Lofdahl PA, Seidel CA.
Journal:
J Phys Chem A
(2007)
: 429
The reliability of long-term storage of direct immunofluorescent staining slides at room temperature
Authors:
Dikicioglu E, Meteoglu I, Okyay P, Culhaci N, Kacar F.
Journal:
J Cutan Pathol
(2003)
: 430
Comparative genomic hybridization technique
Authors:
El-Rifai WE, Knuutila S.
Journal:
Methods Mol Med
(2001)
: 25
Fast-in situ hybridization and immunoenzymatic color pigment detection of mouse bone marrow micronucleus
Authors:
Kolanko CJ, Pyle MD, Loats H, Parton J, Blakely WF, Nath J.
Journal:
Biotech Histochem
(1999)
: 111
Comparison of fixation protocols for adherent cultured cells applied to a GFP fusion protein of the epidermal growth factor receptor
Authors:
Brock R, Hamelers IH, Jovin TM.
Journal:
Cytometry
(1999)
: 353
Antifading agents for confocal fluorescence microscopy
Authors:
Berrios M, Conlon KA, Colflesh DE.
Journal:
Methods Enzymol
(1999)
: 55
Evaluation of five green fluorescence-emitting streptavidin-conjugated fluorochromes for use in immunofluorescence microscopy
Authors:
Benchaib M, Delorme R, Pluvinage M, Bryon PA, Souchier C.
Journal:
Histochem Cell Biol
(1996)
: 253
Immunofluorescent artifacts due to the pH of antifading mounting media
Authors:
Swartz DJ, Santi PA.
Journal:
Biotechniques
(1996)
: 398