FluoroQuest™ Fluorescence Signal Enhancing Solution
Ordering information
| | |
| --- | --- |
| Price | |
| Catalog Number | |
| Unit Size | |
| Quantity | |
Additional ordering information
| | |
| --- | --- |
| Telephone | 1-800-990-8053 |
| Fax | 1-800-609-2943 |
| Email | sales@aatbio.com |
| International | See distributors |
| Bulk request | Inquire |
| Custom size | Inquire |
| Shipping | Standard overnight for United States, inquire for international |
Storage, safety and handling
| | |
| --- | --- |
| H-phrase | H303, H313, H340 |
| Hazard symbol | T |
| Intended use | Research Use Only (RUO) |
| R-phrase | R20, R21, R68 |
| Storage | Freeze (< -15 °C) |
| UNSPSC | 12352200 |
When proteins are conjugated to fluorescent organic dyes, fluorescence emission of the dye molecules is usually decreased, sometimes up to 50-70%. This quenching phenomenon has been acknowledged for decades, but as yet, there are no simple, practical methods to control the fluorescence of dyes conjugated to proteins, especially for dyes conjugated to immunoglobulins. We offer this FluoroQuest™ fluorescence signal enhancing solution that might increase fluorescence up to 2.5-fold in cell imaging and flow analysis. This ready-to-use solution provides an effective way to increase the sensitivity of detection of fluorescent organic labels used in immunology, histochemistry, and cell biology.
Platform
Fluorescence microscope
| | |
| --- | --- |
| Recommended plate | Black wall/clear bottom |
Images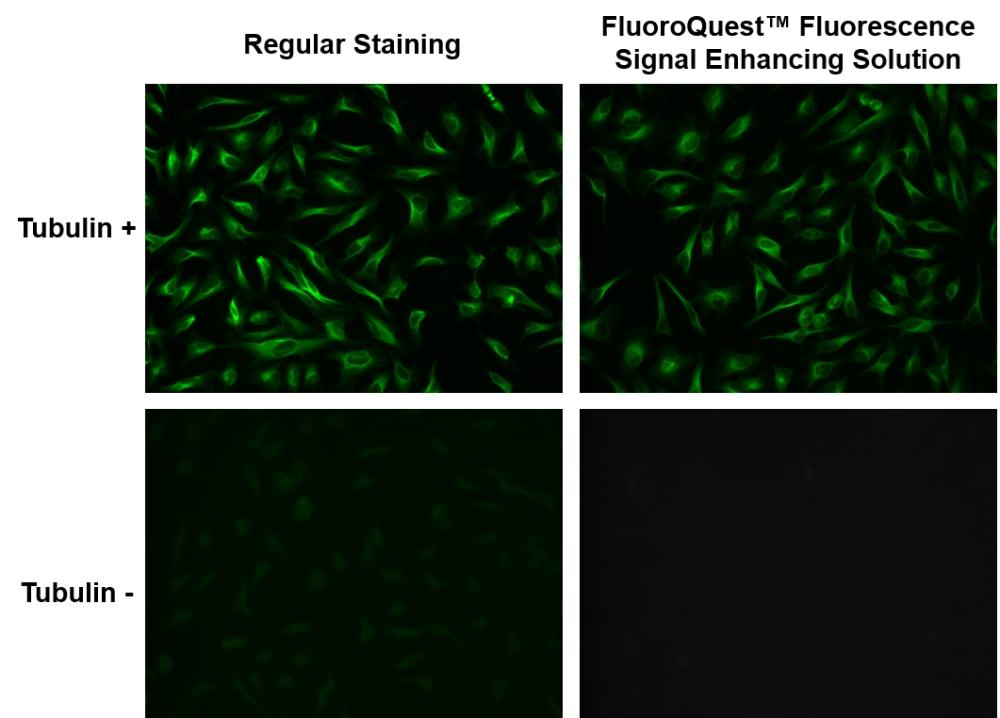 Figure 1.
HeLa cells were incubated with (Tubulin+, Upper) or without (Tubulin-, Bottom) mouse tubulin antibody for 30 minutes at room temperature. After 3 times wash in PBS, cells were stained using iFluor® 488 goat anti-mouse IgG conjugate (Cat#16528) diluted without (Left) or with FluoroQuest™ fluorescence signal enhancing solution (Right), respectively.
References
On the mechanism of Trolox as antiblinking and antibleaching reagent
Authors:
Cordes T, Vogelsang J, Tinnefeld P.
Journal:
J Am Chem Soc
(2009)
: 5018
Relationship between DAPI-fluorescence fading and nuclear DNA content: An alternative method to DNA quantification
Authors:
Gallardo-Escarate C, Alvarez-Borrego J, Von Br and E, Dupre E, Del Rio-Portilla MA.
Journal:
Biol Res
(2007)
: 29
Strategies to improve photostabilities in ultrasensitive fluorescence spectroscopy
Authors:
Widengren J, Chmyrov A, Eggeling C, Lofdahl PA, Seidel CA.
Journal:
J Phys Chem A
(2007)
: 429
The reliability of long-term storage of direct immunofluorescent staining slides at room temperature
Authors:
Dikicioglu E, Meteoglu I, Okyay P, Culhaci N, Kacar F.
Journal:
J Cutan Pathol
(2003)
: 430
Comparative genomic hybridization technique
Authors:
El-Rifai WE, Knuutila S.
Journal:
Methods Mol Med
(2001)
: 25
Fast-in situ hybridization and immunoenzymatic color pigment detection of mouse bone marrow micronucleus
Authors:
Kolanko CJ, Pyle MD, Loats H, Parton J, Blakely WF, Nath J.
Journal:
Biotech Histochem
(1999)
: 111
Comparison of fixation protocols for adherent cultured cells applied to a GFP fusion protein of the epidermal growth factor receptor
Authors:
Brock R, Hamelers IH, Jovin TM.
Journal:
Cytometry
(1999)
: 353
Antifading agents for confocal fluorescence microscopy
Authors:
Berrios M, Conlon KA, Colflesh DE.
Journal:
Methods Enzymol
(1999)
: 55
Evaluation of five green fluorescence-emitting streptavidin-conjugated fluorochromes for use in immunofluorescence microscopy
Authors:
Benchaib M, Delorme R, Pluvinage M, Bryon PA, Souchier C.
Journal:
Histochem Cell Biol
(1996)
: 253
Immunofluorescent artifacts due to the pH of antifading mounting media
Authors:
Swartz DJ, Santi PA.
Journal:
Biotechniques
(1996)
: 398