Fura-10™, AM
Ordering information
| | |
| --- | --- |
| Price | |
| Catalog Number | |
| Unit Size | |
| Quantity | |
Additional ordering information
| | |
| --- | --- |
| Telephone | 1-800-990-8053 |
| Fax | 1-800-609-2943 |
| Email | sales@aatbio.com |
| Quotation | Request |
| International | See distributors |
| Shipping | Standard overnight for United States, inquire for international |
Physical properties
| | |
| --- | --- |
| Dissociation constant (Kd, nM) | 260 |
| Molecular weight | 1194.14 |
| Solvent | DMSO |
Spectral properties
| | |
| --- | --- |
| Excitation (nm) | 354 |
| Emission (nm) | 524 |
Storage, safety and handling
| | |
| --- | --- |
| H-phrase | H303, H313, H333 |
| Hazard symbol | XN |
| Intended use | Research Use Only (RUO) |
| R-phrase | R20, R21, R22 |
| Storage | Freeze (< -15 °C); Minimize light exposure |
| UNSPSC | 12171501 |
| | | | |
| --- | --- | --- | --- |
| | Dissociation constant (Kd, nM) | | |
Among ratiometric calcium ion indicators, Fura-2 and Indo-1 are the two most popular ones. However, there are still a few challenges for using these two calcium ion indicators, in particular, for live cells. UV-excitation of Fura 2 caused fast photobleaching. Fura-8™ was introduced a few years ago to shift the excitation closer to visible light. Although Fura-8 demonstrated significant improvement in the ratio of signal/background, it is not well retained in live cells just like Fura-2. Fura-10 have recently been introduced to address this cellular retention issue. Fura 10 demonstrated dramatic improvement in the ratio of signal/background in the absence of probenecid.
Platform
Fluorescence microplate reader
| | |
| --- | --- |
| Excitation | 354 nm and 415 nm |
| Emission | 524 nm |
| Cutoff | 475 nm |
| Recommended plate | Black wall/Clear bottom |
| Instrument specification(s) | Bottom read mode/Programmable liquid handling |
Example protocol
PREPARATION OF STOCK SOLUTIONS
Unless otherwise noted, all unused stock solutions should be divided into single-use aliquots and stored at -20 °C after preparation. Avoid repeated freeze-thaw cycles.
Fura-10™ AM stock solution
Prepare a 2 to 5 mM Fura-10™ AM stock solution in high-quality, anhydrous DMSO.
PREPARATION OF WORKING SOLUTION
Fura-10™ AM working solution
On the day of the experiment, either dissolve Fura-10™ AM in DMSO or thaw an aliquot of the indicator stock solution to room temperature. Prepare a dye working solution of 2 to 20 µM in a buffer of your choice (e.g., Hanks and Hepes buffer) with 0.04% Pluronic® F-127. For most cell lines, Fura-10™ AM at a final concentration of 4-5 μM is recommended. The exact concentration of indicators required for cell loading must be determined empirically.


Note

     The nonionic detergent Pluronic® F-127 is sometimes used to increase the aqueous solubility of Fura-10™ AM. A variety of Pluronic® F-127 solutions can be purchased from AAT Bioquest.


Note

     If your cells contain organic anion-transporters, probenecid (1-2 mM) may be added to the dye working solution (final in well concentration will be 0.5-1 mM) to reduce leakage of the de-esterified indicators. A variety of ReadiUse™ probenecid products, including water-soluble, sodium salt, and stabilized solution, can be purchased from AAT Bioquest.
SAMPLE EXPERIMENTAL PROTOCOL
Following is our recommended protocol for loading AM esters into live cells. This protocol only provides a guideline and should be modified according to your specific needs.
Prepare cells in growth medium overnight.

On the next day, add 1X Fura-10™ AM working solution into your cell plate.


Note

     If your compound(s) interfere with the serum, replace the growth medium with fresh HHBS buffer before dye-loading.

Incubate the dye-loaded plate in a cell incubator at 37 °C for 30 to 60 minutes.


Note

     Incubating the dye for longer than 1 hour can improve signal intensities in certain cell lines.

Replace the dye working solution with HHBS or buffer of your choice (containing an anion transporter inhibitor, such as 1 mM probenecid, if applicable) to remove any excess probes.

Add the stimulant as desired and simultaneously monitor fluorescence intensity using a fluorescence plate reader containing a programmable liquid handling system such as a FlexStation, at Ex/Em1 = 354/524 nm cutoff 475 nm and Ex/Em2 = 415/524 nm cutoff 475 nm. 
Calculators
Common stock solution preparation
Table 1.
Volume of DMSO needed to reconstitute specific mass of Fura-10™, AM to given concentration. Note that volume is
only
for preparing stock solution. Refer to sample experimental protocol for appropriate experimental/physiological buffers.
| | | | | | |
| --- | --- | --- | --- | --- | --- |
| | 0.1 mg | 0.5 mg | 1 mg | 5 mg | 10 mg |
| 1 mM | 83.742 µL | 418.711 µL | 837.423 µL | 4.187 mL | 8.374 mL |
| 5 mM | 16.748 µL | 83.742 µL | 167.485 µL | 837.423 µL | 1.675 mL |
| 10 mM | 8.374 µL | 41.871 µL | 83.742 µL | 418.711 µL | 837.423 µL |
Molarity calculator
Enter any two values (mass, volume, concentration) to calculate the third.
Mass (

Calculate

)
Molecular weight
Volume (

Calculate

)
Concentration (

Calculate

)
Moles
/
=
x
=
Spectrum
Open in Advanced Spectrum Viewer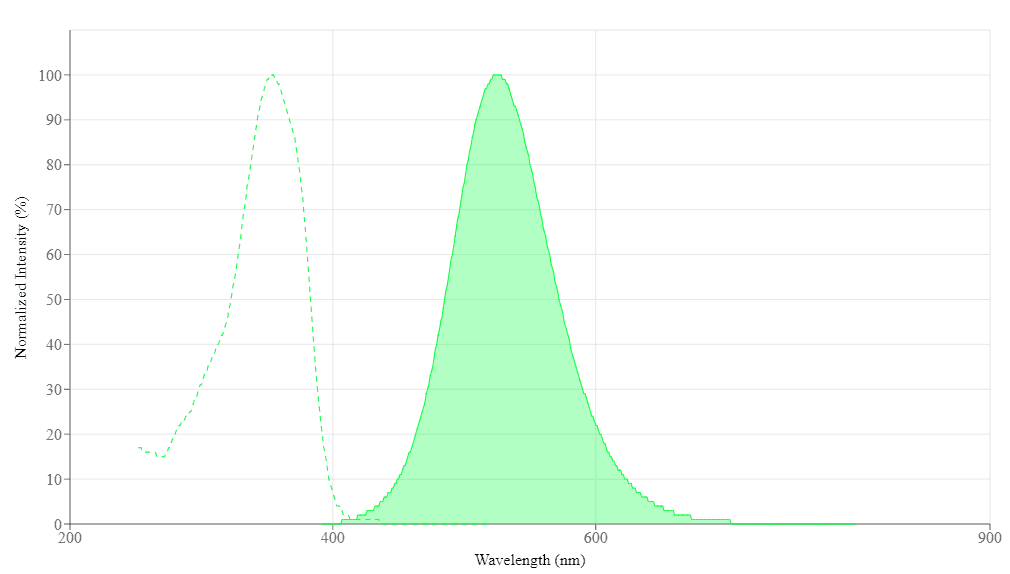 Spectral properties
| | |
| --- | --- |
| Excitation (nm) | 354 |
| Emission (nm) | 524 |
Images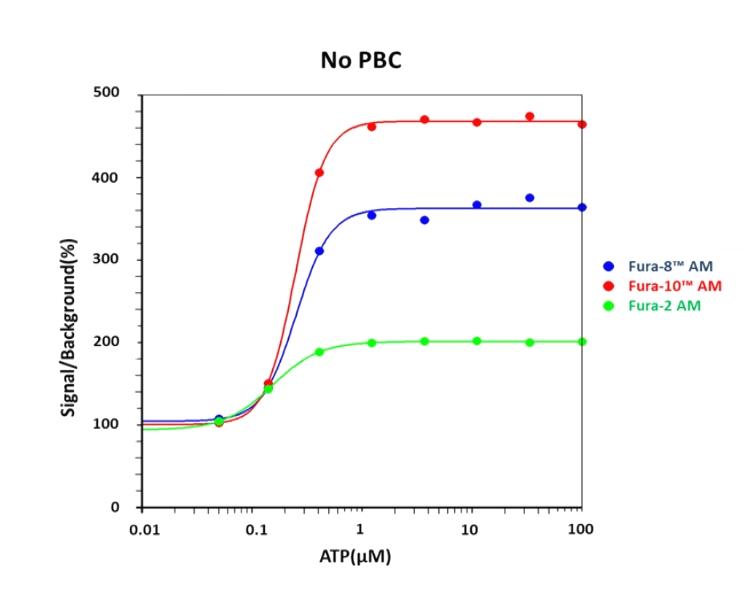 Figure 1.
ATP-stimulated calcium response of endogenous P2Y receptor in CHO-K1 cells measured with Fura-2 AM, Fura-8™ AM and Fura-10™ AM in the absence of Probenecid. CHO-K1cells were seeded overnight in 50,000 cells per 100 µL per well in a 96-well black wall/clear bottom costar plate. 100 µL of 5 uM Fura-2 AM or Fura-8™ AM or Fura-10™ AM without probenecid was added into the cells, and the cells were incubated at 37 oC for 45 minutes and RT for 30 minutes.  ATP (50µL/well) was added by FlexStation (Molecular Devices) to achieve the final indicated concentrations.
References
Rumex acetosa modulates platelet function and inhibits thrombus formation in rats.
Authors:
Jeong, Dahye and Irfan, Muhammad and Lee, Dong-Ha and Hong, Seung-Bok and Oh, Jae-Wook and Rhee, Man Hee
Journal:
BMC complementary medicine and therapies
(2020)
: 98
High-salt intake increases TRPC3 expression and enhances TRPC3-mediated calcium influx and systolic blood pressure in hypertensive patients.
Authors:
Hu, Yingru and Xia, Weijie and Li, Yingsha and Wang, Qianran and Lin, Shaoyang and Wang, Bin and Zhou, Cui and Cui, Yuanting and Jiang, Yanli and Pu, Xiaona and Wei, Xiao and Wu, Hao and Zhang, Hengshu and Zhu, Zhiming and Liu, Daoyan and Li, Zhiyong
Journal:
Hypertension research : official journal of the Japanese Society of Hypertension
(2020)
Reduced store-operated Ca2+ entry impairs mesenteric artery function in response to high external glucose in type 2 diabetic ZDF rats.
Authors:
Schach, Christian and Wester, Michael and Leibl, Florian and Redel, Andreas and Gruber, Michael and Maier, Lars S and Endemann, Dierk and Wagner, Stefan
Journal:
Clinical and experimental pharmacology & physiology
(2020)
Acupotomy Alleviates Energy Crisis at Rat Myofascial Trigger Points.
Authors:
Zhang, Yi and Du, Ning-Yu and Chen, Chen and Wang, Tong and Wang, Li-Juan and Shi, Xiao-Lu and Li, Shu-Ming and Guo, Chang-Qing
Journal:
Evidence-based complementary and alternative medicine : eCAM
(2020)
: 5129562
Pharmacological and genetic characterisation of the canine P2X4 receptor.
Authors:
Sophocleous, Reece A and Berg, Tracey and Finol-Urdaneta, Rocio K and Sluyter, Vanessa and Keshiya, Shikara and Bell, Lachlan and Curtis, Stephen J and Curtis, Belinda L and Seavers, Aine and Bartlett, Rachael and Dowton, Mark and Stokes, Leanne and Ooi, Lezanne and Sluyter, Ronald
Journal:
British journal of pharmacology
(2020)
Histamine induces intracellular Ca2+ oscillations and nitric oxide release in endothelial cells from brain microvascular circulation.
Authors:
Berra-Romani, Roberto and Faris, Pawan and Pellavio, Giorgia and Orgiu, Matteo and Negri, Sharon and Forcaia, Greta and Var-Gaz-Guadarrama, Verónica and Garcia-Carrasco, Mario and Botta, Laura and Sancini, Giulio and Laforenza, Umberto and Moccia, Francesco
Journal:
Journal of cellular physiology
(2020)
: 1515-1530
Low concentration of morphine protects against cell death, oxidative stress and calcium accumulation by nicotine in PC12 cells.
Authors:
Amini, K and Zhaleh, H and Tahvilian, R and Farnia, V
Journal:
Bratislavske lekarske listy
(2019)
: 256-262
NHE8 attenuates Ca2+ influx into NRK cells and the proximal tubule epithelium.
Authors:
Wiebe, Shane A and Plain, Allein and Pan, Wanling and O'Neill, Debbie and Braam, Branko and Alexander, R Todd
Journal:
American journal of physiology. Renal physiology
(2019)
: F240-F253
A3 receptor agonist, Cl-IBMECA, potentiate glucose-induced insulin secretion from MIN6 insulinoma cells possibly through transient Ca2+ entry.
Authors:
Keyvanloo Shahrestanaki, Mohammad and Aghaei, Mahmoud
Journal:
Research in pharmaceutical sciences
(2019)
: 107-114
TRPV4 plays an important role in rat prefrontal cortex changes induced by acute hypoxic exercise.
Authors:
Huang, Xing and Hu, Yanxin and Zhao, Li and Gu, Boya and Zhu, Rongxin and Li, Yan and Yang, Yun and Han, Tianyu and Yu, Jiabei and Mu, Lianwei and Han, Peng and Li, Cui and Zhang, Weijia and Hu, Yang
Journal:
Saudi journal of biological sciences
(2019)
: 1194-1206