ICG amine
Ordering information
| | |
| --- | --- |
| Price | |
| Catalog Number | |
| Unit Size | |
| Quantity | |
Additional ordering information
| | |
| --- | --- |
| Telephone | 1-800-990-8053 |
| Fax | 1-800-609-2943 |
| Email | sales@aatbio.com |
| International | See distributors |
| Bulk request | Inquire |
| Custom size | Inquire |
| Shipping | Standard overnight for United States, inquire for international |
Physical properties
| | |
| --- | --- |
| Molecular weight | 1001.08 |
| Solvent | DMSO |
Spectral properties
| | |
| --- | --- |
| Correction Factor (280 nm) | 0.076 |
| Excitation (nm) | 789 |
| Emission (nm) | 814 |
Storage, safety and handling
| | |
| --- | --- |
| H-phrase | H303, H313, H333 |
| Hazard symbol | XN |
| Intended use | Research Use Only (RUO) |
| R-phrase | R20, R21, R22 |
| Storage | Freeze (< -15 °C); Minimize light exposure |
| UNSPSC | 12171501 |
| | | | |
| --- | --- | --- | --- |
| | Correction Factor (280 nm) | | |
Indocyanine green (ICG) is a cyanine dye used in medical diagnostics. It is used for determining cardiac output, hepatic function, and liver blood flow, and for ophthalmic angiography. It has a peak spectral absorption close to 800 nm. These infrared frequencies penetrate retinal layers, allowing ICG angiography to image deeper patterns of circulation than fluorescein angiography. This ICG amine can be used to modify the molecules that contain a carbonyl group (such as an aldehyde or a carboxy group).
Calculators
Common stock solution preparation
Table 1.
Volume of DMSO needed to reconstitute specific mass of ICG amine to given concentration. Note that volume is
only
for preparing stock solution. Refer to sample experimental protocol for appropriate experimental/physiological buffers.
| | | | | | |
| --- | --- | --- | --- | --- | --- |
| | 0.1 mg | 0.5 mg | 1 mg | 5 mg | 10 mg |
| 1 mM | 99.892 µL | 499.461 µL | 998.921 µL | 4.995 mL | 9.989 mL |
| 5 mM | 19.978 µL | 99.892 µL | 199.784 µL | 998.921 µL | 1.998 mL |
| 10 mM | 9.989 µL | 49.946 µL | 99.892 µL | 499.461 µL | 998.921 µL |
Molarity calculator
Enter any two values (mass, volume, concentration) to calculate the third.
Mass (

Calculate

)
Molecular weight
Volume (

Calculate

)
Concentration (

Calculate

)
Moles
/
=
x
=
Spectrum
Open in Advanced Spectrum Viewer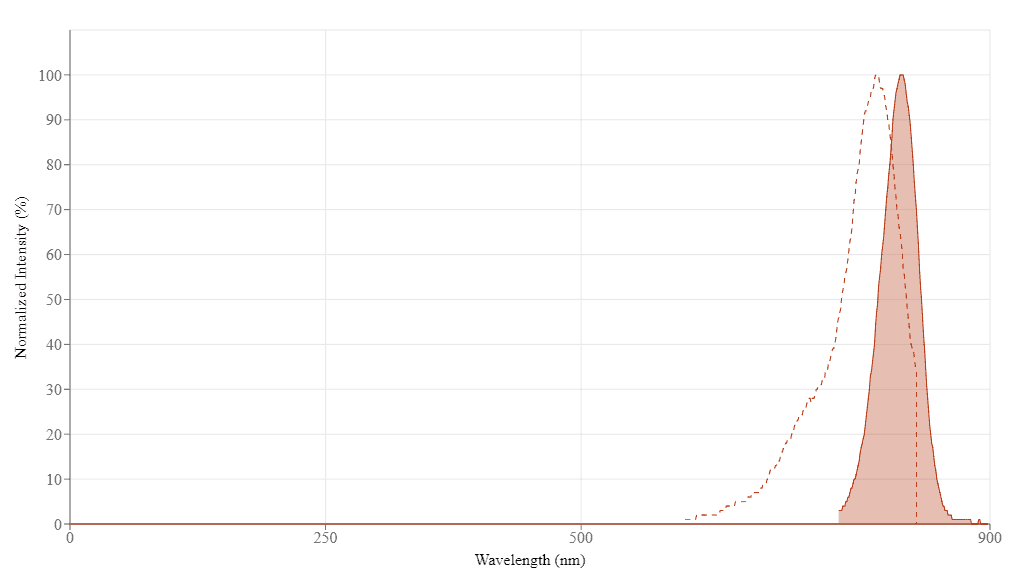 Spectral properties
| | |
| --- | --- |
| Correction Factor (280 nm) | 0.076 |
| Excitation (nm) | 789 |
| Emission (nm) | 814 |
Citations
Bioengineering of injectable encapsulated aggregates of pluripotent stem cells for therapy of myocardial infarction
Authors:
Zhao, Shuting and Xu, Zhaobin and Wang, Hai and Reese, Benjamin E and Gushchina, Liubov V and Jiang, Meng and Agarwal, Pranay and Xu, Jiangsheng and Zhang, Mingjun and Shen, Rulong and others, undefined
Journal:
Nature Communications
(2016)
: 13306
Single-Layer MoS2 Nanosheets with Amplified Photoacoustic Effect for Highly Sensitive Photoacoustic Imaging of Orthotopic Brain Tumors
Authors:
Chen, Jingqin and Liu, Chengbo and Hu, Dehong and Wang, Feng and Wu, Haiwei and Gong, Xiaojing and Liu, Xin and Song, Liang and Sheng, Zonghai and Zheng, Hairong
Journal:
Advanced Functional Materials
(2016)
References
Ultrastaging of colon cancer by sentinel node biopsy using fluorescence navigation with indocyanine green
Authors:
Hirche C, Mohr Z, Kneif S, Doniga S, Murawa D, Strik M, Hunerbein M.
Journal:
Int J Colorectal Dis
(2012)
: 319
Sentinel lymph node biopsy using real-time fluorescence navigation with indocyanine green in cutaneous head and neck/lip mucosa melanomas
Authors:
Hayashi T, Furukawa H, Oyama A, Funayama E, Saito A, Yamao T, Yamamoto Y.
Journal:
Head Neck
(2012)
: 758
Efficacy of indocyanine green videography and real-time evaluation by FLOW 800 in the resection of a spinal cord hemangioblastoma in a child
Authors:
Ueba T, Abe H, Matsumoto J, Higashi T, Inoue T.
Journal:
J Neurosurg Pediatr
(2012)
: 428
Concentration of indocyanine green does not significantly influence lymphatic function as assessed by near-infrared imaging
Authors:
Aldrich MB, Davies-Venn C, Angermiller B, Robinson H, Chan W, Kwon S, Sevick-Muraca EM.
Journal:
Lymphat Res Biol
(2012)
: 20
Comparative Study of the Optical and Heat Generation Properties of IR820 and Indocyanine Green
Authors:
Fern, undefined and ez-Fern, undefined and ez A, Manch and a R, Lei T, Carvajal DA, Tang Y, Zahid Raza Kazmi S, McGoron AJ.
Journal:
Mol Imaging
(2012)
: 99
Sentinel lymph node biopsy using a new indocyanine green fluorescence imaging system with a colour charged couple device camera for oral cancer
Authors:
Iwai T, Maegawa J, Hirota M, Tohnai I.
Journal:
Br J Oral Maxillofac Surg.
(2012)
Usefulness of indocyanine green angiography to depict the distant retinal vascular anomalies associated with branch retinal vein occlusion causing serous macular detachment
Authors:
Ueda T, Gomi F, Suzuki M, Sakaguchi H, Sawa M, Kamei M, Nishida K.
Journal:
Retina
(2012)
: 308
Application of indocyanine green videoangiography in surgery for spinal vascular malformations
Authors:
Misra BK, Pur and are HR., undefined
Journal:
J Clin Neurosci.
(2012)
Indocyanine-Green Angiography Findings in Susac's Syndrome
Authors:
Balaskas K, Guex-Crosier Y, Borruat FX.
Journal:
Klin Monbl Augenheilkd
(2012)
: 426
Gold nanomaterials conjugated with indocyanine green for dual-modality photodynamic and photothermal therapy
Authors:
Kuo WS, Chang YT, Cho KC, Chiu KC, Lien CH, Yeh CS, Chen SJ.
Journal:
Biomaterials
(2012)
: 3270