iFluor® 555-Wheat Germ Agglutinin (WGA) Conjugate
Ordering information
| | |
| --- | --- |
| Price | |
| Catalog Number | |
| Unit Size | |
| Quantity | |
Additional ordering information
| | |
| --- | --- |
| Telephone | 1-800-990-8053 |
| Fax | 1-800-609-2943 |
| Email | sales@aatbio.com |
| International | See distributors |
| Bulk request | Inquire |
| Custom size | Inquire |
| Shipping | Standard overnight for United States, inquire for international |
Spectral properties
| | |
| --- | --- |
| Correction Factor (260 nm) | 0.23 |
| Correction Factor (280 nm) | 0.14 |
| Extinction coefficient (cm -1 M -1) | 1000001 |
| Excitation (nm) | 557 |
| Emission (nm) | 570 |
| Quantum yield | 0.641 |
Storage, safety and handling
| | |
| --- | --- |
| Certificate of Origin | Download PDF |
| H-phrase | H303, H313, H333 |
| Hazard symbol | XN |
| Intended use | Research Use Only (RUO) |
| R-phrase | R20, R21, R22 |
| Storage | Freeze (< -15 °C); Minimize light exposure |
| UNSPSC | 12171501 |
| | | | | | |
| --- | --- | --- | --- | --- | --- |
| Correction Factor (260 nm) | Correction Factor (280 nm) | Extinction coefficient (cm -1 M -1) | | | |
Wheat germ agglutinin (WGA) is a lectin that binds to N-acetyl-D-glucosamine and sialic acid. It is of the most studied and useful lectins for it biological applications. Since WGA binds to glycoconjugates its derivatives and conjugates are widely used to label cell membranes and fibrotic scar tissue for fluorescence imaging and analysis. The carbohydrate-binding specificity of WGA is directed against sequences of β-1,4-GlcNAc-linked residues, the chitodextrins. Each monomer contains two identical, non-interacting binding sites which are complementary to 3 or 4 β-1,4-GlcNAc units. Of the monosaccharides examined, only GlcNAc binds to WGA. ManNAc does not bind and GalNAc binds only weakly. It exhibits the bright, red fluorescence of the iFluor® 555 dye. iFluor®555 WGA conjugate binds to sialic acid and N-acetylglucosaminyl residues as AF555 WGA conjugate does.
Platform
Fluorescence microscope
| | |
| --- | --- |
| Excitation | Cy3/TRITC filter set |
| Emission | Cy3/TRITC filter set |
| Recommended plate | Black wall/clear bottom |
Example protocol
PREPARATION OF STOCK SOLUTIONS
Unless otherwise noted, all unused stock solutions should be divided into single-use aliquots and stored at -20 °C after preparation. Avoid repeated freeze-thaw cycles
iFluor® 555-Wheat Germ Agglutinin (WGA) Conjugate stock solution (200X)
Add 500 µL of ddH2O into the powder form to make a 2 mg/mL stock solution.
Note: The reconstituted conjugate solution can be stored at 2-8 °C for short-term storage or at -20 °C for long-term storage.
PREPARATION OF WORKING SOLUTION
iFluor® 555-Wheat Germ Agglutinin (WGA) Conjugate working solution (1X)
Add 5 µL of 200X WGA conjugate solution to 1 mL HHBS Buffer.
Note: The optimized staining concentration may be different with different cell lines. The recommended starting concentration is 5-10 µg/mL for live cells.
SAMPLE EXPERIMENTAL PROTOCOL
Warm the vial to room temperature centrifuge briefly before opening. Staining protocols vary with applications. Appropriate dilution of conjugates should be determined experimentally.
Live Cells Stain
Wash cells twice with a HHBS buffer.

Add 100 µL iFluor® 555-WGA working solution.

Incubate cells with WGA working solution for 10-30 minutes at 37 °C.
Wash cells twice with HHBS buffer.
Image cells on a fluorescence microscope using Cy3/TRITC filter set.
Fixed Cells Stain
WGA conjugates can be also used to stain fixed cells.
Fix cells with 4% Formaldehyde in PBS.

Note: For fixed cell membrane staining, it is recommended to stain without the permeabilization step. A permeabilization step after fixation can facilitate staining intracellular compartments such as Golgi and Endoplasmic Reticulum (ER) structures.

Add 100 µL iFluor® 555-WGA working solution.

Incubate cells with WGA working solution for 10-30 minutes at room temperature.
Wash cells twice with HHBS buffer.
Image cells on a fluorescence microscope using Cy3/TRITC filter set.
Spectrum
Open in Advanced Spectrum Viewer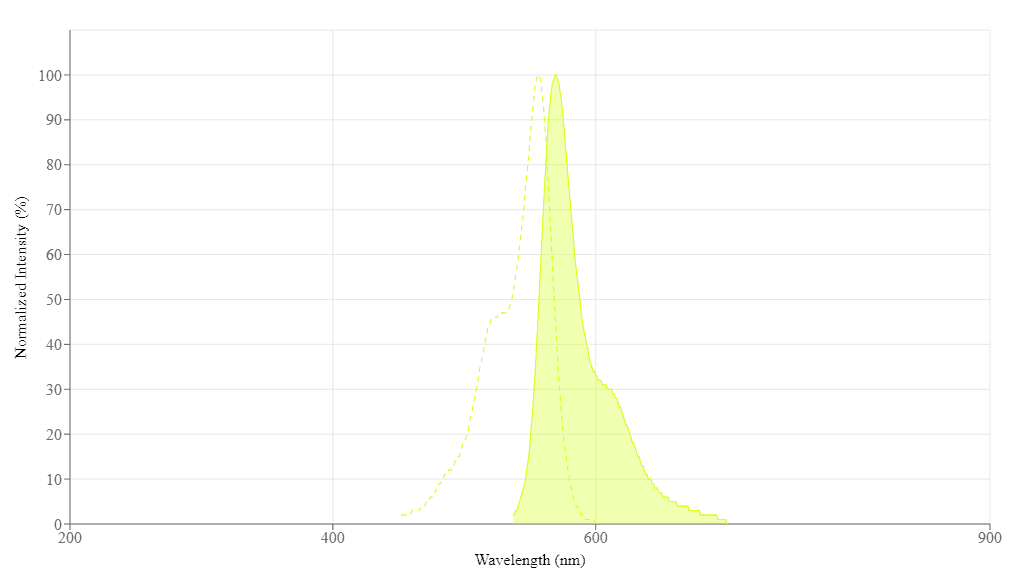 Spectral properties
| | |
| --- | --- |
| Correction Factor (260 nm) | 0.23 |
| Correction Factor (280 nm) | 0.14 |
| Extinction coefficient (cm -1 M -1) | 1000001 |
| Excitation (nm) | 557 |
| Emission (nm) | 570 |
| Quantum yield | 0.641 |
Images
Citations
Transformable nano-antibiotics for mechanotherapy and immune activation against drug-resistant Gram-negative bacteria
Authors:
Li, Rong Sheng and Liu, Jiahui and Wen, Cong and Shi, Yaru and Ling, Jian and Cao, Qiue and Wang, Lei and Shi, Hu and Huang, Cheng Zhi and Li, Na
Journal:
Science Advances
(2023)
: eadg9601
References
Wheat germ agglutinin is involved in the protective action of 24-epibrassinolide on the roots of wheat seedlings under drought conditions.
Authors:
Avalbaev, Azamat and Bezrukova, Marina and Allagulova, Chulpan and Lubyanova, Alsu and Kudoyarova, Guzel and Fedorova, Kristina and Maslennikova, Dilara and Yuldashev, Ruslan and Shakirova, Farida
Journal:
Plant physiology and biochemistry : PPB
(2020)
: 420-427
Membrane-associated gamma-glutamyl transferase and alkaline phosphatase in the context of concanavalin A- and wheat germ agglutinin-reactive glycans mark seminal prostasome populations from normozoospermic and oligozoospermic men.
Authors:
Janković, Tamara and Goč, Sanja and Mitić, Ninoslav and Danilović Luković, Jelena and Janković, Miroslava
Journal:
Upsala journal of medical sciences
(2020)
: 10-18
Succinylated Wheat Germ Agglutinin Colocalizes with the Toxoplasma gondii Cyst Wall Glycoprotein CST1.
Authors:
Guevara, Rebekah B and Fox, Barbara A and Bzik, David J
Journal:
mSphere
(2020)
Wheat germ agglutinin is a biomarker of whole grain content in wheat flour and pasta.
Authors:
Killilea, David W and McQueen, Rebecca and Abegania, Judi R
Journal:
Journal of food science
(2020)
: 808-815
Wheat germ agglutinin liposomes with surface grafted cyclodextrins as bioadhesive dual-drug delivery nanocarriers to treat oral cells.
Authors:
Wijetunge, Sashini S and Wen, Jianchuan and Yeh, Chih-Ko and Sun, Yuyu
Journal:
Colloids and surfaces. B, Biointerfaces
(2020)
: 110572
Wheat germ agglutinin-conjugated fluorescent pH sensors for visualizing proton fluxes.
Authors:
Zhang, Lejie and Zhang, Mei and Bellve, Karl and Fogarty, Kevin E and Castro, Maite A and Brauchi, Sebastian and Kobertz, William R
Journal:
The Journal of general physiology
(2020)
Bacterial expression, purification and biophysical characterization of wheat germ agglutinin and its four hevein-like domains.
Authors:
Leyva, Eduardo and Medrano-Cerano, Jorge L and Cano-Sánchez, Patricia and López-González, Itzel and Gómez-Velasco, Homero and Del Río-Portilla, Federico and García-Hernández, Enrique
Journal:
Biopolymers
(2019)
: e23242
Targeted delivery of etoposide, carmustine and doxorubicin to human glioblastoma cells using methoxy poly(ethylene glycol)‑poly(ε‑caprolactone) nanoparticles conjugated with wheat germ agglutinin and folic acid.
Authors:
Kuo, Yung-Chih and Chang, Yu-Hsuan and Rajesh, Rajendiran
Journal:
Materials science & engineering. C, Materials for biological applications
(2019)
: 114-128
Wheat Germ Agglutinin as a Potential Therapeutic Agent for Leukemia.
Authors:
Ryva, Bradley and Zhang, Keman and Asthana, Abhishek and Wong, Derek and Vicioso, Yorleny and Parameswaran, Reshmi
Journal:
Frontiers in oncology
(2019)
: 100
Enhanced anti-colon cancer efficacy of 5-fluorouracil by epigallocatechin-3- gallate co-loaded in wheat germ agglutinin-conjugated nanoparticles.
Authors:
Wang, Ruoning and Huang, Jinyu and Chen, Jian and Yang, Mengmeng and Wang, Honglan and Qiao, Hongzhi and Chen, Zhipeng and Hu, Lihong and Di, Liuqing and Li, Junsong
Journal:
Nanomedicine : nanotechnology, biology, and medicine
(2019)
: 102068