iFluor® 605 succinimidyl ester
Ordering information
| | |
| --- | --- |
| Price | |
| Catalog Number | |
| Unit Size | |
| Quantity | |
Additional ordering information
| | |
| --- | --- |
| Telephone | 1-800-990-8053 |
| Fax | 1-800-609-2943 |
| Email | sales@aatbio.com |
| International | See distributors |
| Bulk request | Inquire |
| Custom size | Inquire |
| Shipping | Standard overnight for United States, inquire for international |
Physical properties
| | |
| --- | --- |
| Molecular weight | 1004.22 |
| Solvent | DMSO |
Spectral properties
| | |
| --- | --- |
| Excitation (nm) | 603 |
| Emission (nm) | 623 |
Storage, safety and handling
| | |
| --- | --- |
| H-phrase | H303, H313, H333 |
| Hazard symbol | XN |
| Intended use | Research Use Only (RUO) |
| R-phrase | R20, R21, R22 |
| Storage | Freeze (< -15 °C); Minimize light exposure |
iFluor® 605 succinimidyl ester is the most convenient reactive form of iFluor® 605 dyes that can be readily used for labeling proteins such as antibodies. It is particularly useful for preparing PE tandems, a new unique color for multiplex flow cytometric applications. iFluor® 605 is a fluorophore from the iFluor® family, which is known for its bright red fluorescence and compatibility with various fluorescence techniques and instruments. When excited with light in the red range (around 580 to 630 nm), iFluor® 605 emits strong red fluorescence. iFluor® 605 can be conjugated to a variety of biomolecules, including antibodies, proteins, nucleic acids, and small molecules, enabling their visualization and tracking in cells and tissues. It is commonly used in fluorescence microscopy, immunohistochemistry, flow cytometry, and other fluorescence-based assays. The iFluor® dyes, including iFluor® 605, are designed to exhibit high brightness, photostability, and minimal background noise, making them ideal for demanding imaging applications. They are also compatible with multiplexing experiments, allowing for simultaneous visualization of multiple targets using different iFluor® dyes with distinct emission wavelengths.
Example protocol
PREPARATION OF STOCK SOLUTIONS
Unless otherwise noted, all unused stock solutions should be divided into single-use aliquots and stored at -20 °C after preparation. Avoid repeated freeze-thaw cycles
Protein stock solution (Solution A)
Mix 100 µL of a reaction buffer (e.g., 1 M  sodium bicarbonate solution or 1 M phosphate buffer with pH ~8.5 to 9.0) with 900 µL of the target protein solution (e.g., antibody, protein concentration >2 mg/mL if possible) to give 1 mL protein labeling stock solution.

Note: The pH of the protein solution (Solution A) should be 8.5 ± 0.5. If the pH of the protein solution is lower than 8.0, adjust the pH to the range of 8.0-9.0 using 1 M  sodium bicarbonate solution or 1 M pH 9.0 phosphate buffer.

Note: The protein should be dissolved in 1X phosphate buffered saline (PBS), pH 7.2-7.4. If the protein is dissolved in Tris or glycine buffer, it must be dialyzed against 1X PBS, pH 7.2-7.4, to remove free amines or ammonium salts (such as ammonium sulfate and ammonium acetate) that are widely used for protein precipitation.

Note: Impure antibodies or antibodies stabilized with bovine serum albumin (BSA) or gelatin will not be labeled well. The presence of sodium azide or thimerosal might also interfere with the conjugation reaction. Sodium azide or thimerosal can be removed by dialysis or spin column for optimal labeling results.

Note: The conjugation efficiency is significantly reduced if the protein concentration is less than 2 mg/mL. The final protein concentration range of 2-10 mg/mL is recommended for optimal labeling efficiency.
iFluor® 605 SE stock solution (Solution B)
Add anhydrous DMSO into the vial of iFluor® 605 SE to make a 10 mM stock solution. Mix well by pipetting or vortex.

Note: Prepare the dye stock solution (Solution B) before starting the conjugation. Use promptly. Extended storage of the dye stock solution may reduce the dye activity. Solution B can be stored in the freezer for two weeks when kept from light and moisture. Avoid freeze-thaw cycles.
SAMPLE EXPERIMENTAL PROTOCOL
This labeling protocol was developed for the conjugate of Goat anti-mouse IgG with iFluor® 605 SE. You might need further optimization for your particular proteins.
Note: Each protein requires a distinct dye/protein ratio, which also depends on the properties of dyes. Over-labeling of a protein could detrimentally affect its binding affinity, while the protein conjugates of low dye/protein ratio give reduced sensitivity.
Run conjugation reaction
Use a 10:1 molar ratio of Solution B (dye)/Solution A (protein) as the starting point:  Add 5 µL of the dye stock solution (Solution B, assuming the dye stock solution is 10 mM) into the vial of the protein solution (95 µL of Solution A) with effective shaking. The concentration of the protein is ~0.05 mM assuming the protein concentration is 10 mg/mL, and the molecular weight of the protein is ~200KD.

Note: We recommend using a 10:1 molar ratio of Solution B (dye)/Solution A (protein). If it is too less or too high, determine the optimal dye/protein ratio at 5:1, 15:1, and 20:1, respectively.

Continue to rotate or shake the reaction mixture at room temperature for 30-60 minutes.
Purify the conjugation
The following protocol is an example of dye-protein conjugate purification by using a Sephadex G-25 column.
Prepare Sephadex G-25 column according to the manufacture instruction.
Load the reaction mixture (From "Run conjugation reaction") to the top of the Sephadex G-25 column.
Add PBS (pH 7.2-7.4) as soon as the sample runs just below the top resin surface.

Add more PBS (pH 7.2-7.4) to the desired sample to complete the column purification. Combine the fractions that contain the desired dye-protein conjugate.

Note: For immediate use, the dye-protein conjugate must be diluted with staining buffer, and aliquoted for multiple uses.

Note: For longer-term storage, the dye-protein conjugate solution needs to be concentrated or freeze-dried.
Calculators
Common stock solution preparation
Table 1.
Volume of DMSO needed to reconstitute specific mass of iFluor® 605 succinimidyl ester to given concentration. Note that volume is
only
for preparing stock solution. Refer to sample experimental protocol for appropriate experimental/physiological buffers.
| | | | | | |
| --- | --- | --- | --- | --- | --- |
| | 0.1 mg | 0.5 mg | 1 mg | 5 mg | 10 mg |
| 1 mM | 99.58 µL | 497.899 µL | 995.798 µL | 4.979 mL | 9.958 mL |
| 5 mM | 19.916 µL | 99.58 µL | 199.16 µL | 995.798 µL | 1.992 mL |
| 10 mM | 9.958 µL | 49.79 µL | 99.58 µL | 497.899 µL | 995.798 µL |
Molarity calculator
Enter any two values (mass, volume, concentration) to calculate the third.
Mass (

Calculate

)
Molecular weight
Volume (

Calculate

)
Concentration (

Calculate

)
Moles
/
=
x
=
Spectrum
Open in Advanced Spectrum Viewer
Spectral properties
| | |
| --- | --- |
| Excitation (nm) | 603 |
| Emission (nm) | 623 |
Images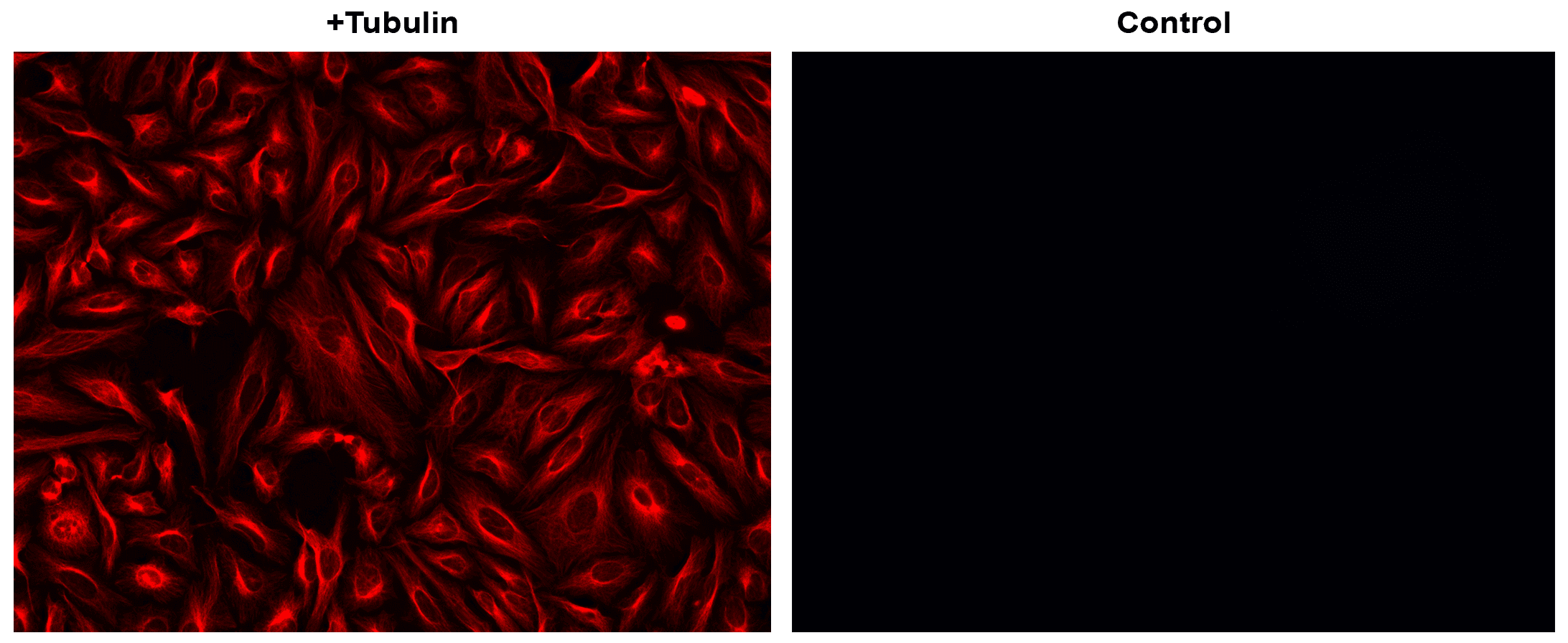 Figure 1.
HeLa cells were incubated with (+Tubulin) or without (control) mouse anti-tubulin followed by iFluor® 605 goat anti-mouse IgG conjugate.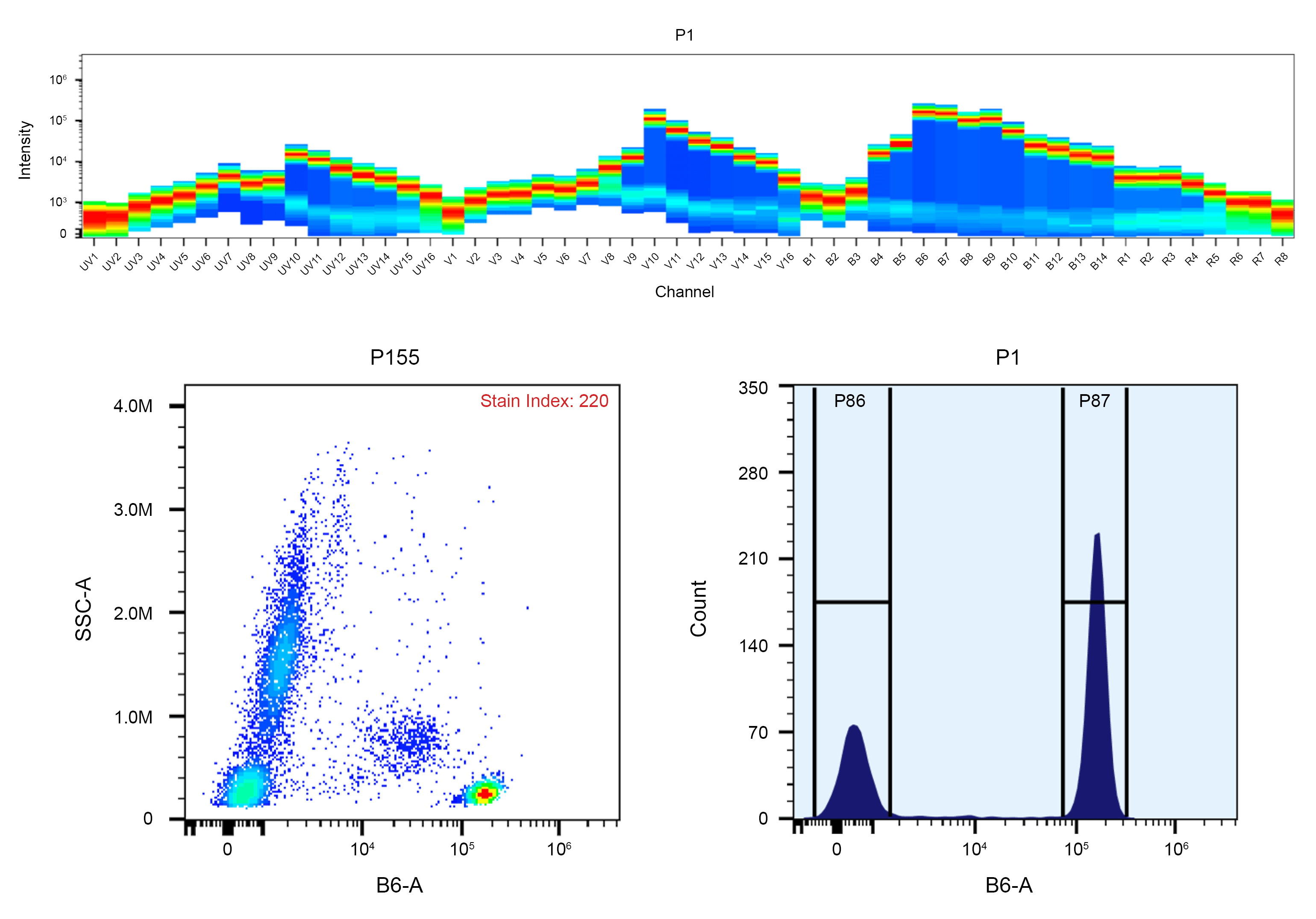 Figure 2.
Top) Spectral pattern was generated using a 4-laser spectral cytometer. Spatially offset lasers (355 nm, 405 nm, 488 nm, and 640 nm) were used to create four distinct emission profiles, then, when combined, yielded the overall spectral signature. Bottom) Flow cytometry analysis of whole blood stained with PE/iFlour® 605 anti-human CD4 *SK3* conjugate. The fluorescence signal was monitored using an Aurora spectral flow cytometer in the B6-A channel.
References
Resolving arteriolar wall structures in mouse brain in vivo with three-photon microscopy.
Authors:
Qin, Mengyuan and Huang, Jie and Zhong, Jincheng and Zhang, Yingxian and Tong, Shen and Cheng, Hui and Deng, Xiangquan and Zheng, Lei and Zhang, Wanjian and Qiu, Ping and Wang, Ke
Journal:
Journal of biophotonics
(2023)
: e202200365
Development and Application of a Cell-Based Assay for LRP4 Antibody Associated With Myasthenia Gravis.
Authors:
Chung, Hye Yoon and Kim, Min Ju and Kim, Seung Woo and Oh, Jeeyoung and Shin, Ha Young
Journal:
Journal of clinical neurology (Seoul, Korea)
(2023)
: 60-66
Retinal Input to the Primate Lateral Geniculate Nucleus Revealed by Injection of a Different Label Into Each Eye.
Authors:
Spahr, Zachary R and Economides, John R and Horton, Jonathan C
Journal:
Journal of neuro-ophthalmology : the official journal of the North American Neuro-Ophthalmology Society
(2022)
: e596-e597
Independent actions by HIV-1 Tat and morphine to increase recruitment of monocyte-derived macrophages into the brain in a region-specific manner.
Authors:
Leibrand, Crystal R and Paris, Jason J and Jones, Austin M and Ohene-Nyako, Michael and Rademeyer, Kara M and Nass, Sara R and Kim, Woong-Ki and Knapp, Pamela E and Hauser, Kurt F and McRae, MaryPeace
Journal:
Neuroscience letters
(2022)
: 136852
Pathogen infection-responsive nanoplatform targeting macrophage endoplasmic reticulum for treating life-threatening systemic infection.
Authors:
Zhao, Yan and Liu, Shuo and Shi, Zhishang and Zhu, Hangqi and Li, Mingchun and Yu, Qilin
Journal:
Nano research
(2022)
: 6243-6255
TRPV1 and GABAB1 in the Cerebrospinal Fluid-Contacting Nucleus are Jointly Involved in Chronic Inflammatory Pain in Rats.
Authors:
Xu, Ling-Ling and Yan, Yao and Yuan, Yu-Min and Li, Ying and Jiang, Jun and Zhang, Li-Cai
Journal:
Journal of pain research
(2022)
: 3931-3939
A modified dentine infection model with fluorescent lipopolysaccharide and lipopolysaccharides sampling technique to compare XP-Endo finisher and passive ultrasonic irrigation.
Authors:
Alfirdous, Rayyan A and Alquiria, Theeb A and Jacinto, Rogerio C and Martinho, Frederico C
Journal:
International endodontic journal
(2022)
: 1081-1090
Targeting the blood-brain barrier disruption in hypertension by ALK5/TGF-Β type I receptor inhibitor SB-431542 and dynamin inhibitor dynasore.
Authors:
Atis, Muge and Akcan, Uğur and Altunsu, Deniz and Ayvaz, Ecem and Uğur Yılmaz, Canan and Sarıkaya, Deniz and Temizyürek, Arzu and Ahıshalı, Bülent and Girouard, Hélène and Kaya, Mehmet
Journal:
Brain research
(2022)
: 148071
Decussating axons segregate within the anterior core of the primate optic chiasm.
Authors:
Horton, Jonathan C and Dilbeck, Mikayla D and Economides, John R
Journal:
The British journal of ophthalmology
(2022)
The procoagulant effects of extracellular vesicles derived from hypoxic endothelial cells can be selectively inhibited by inorganic nitrite.
Authors:
Whelan, Cass and Burnley-Hall, Nicholas and Morris, Keith and Rees, D Aled and James, Philip E
Journal:
Nitric oxide : biology and chemistry
(2022)
: 6-18