iFluor® 780 maleimide
Ordering information
| | |
| --- | --- |
| Price | |
| Catalog Number | |
| Unit Size | |
| Quantity | |
Additional ordering information
| | |
| --- | --- |
| Telephone | 1-800-990-8053 |
| Fax | 1-800-609-2943 |
| Email | sales@aatbio.com |
| International | See distributors |
| Bulk request | Inquire |
| Custom size | Inquire |
| Shipping | Standard overnight for United States, inquire for international |
Physical properties
| | |
| --- | --- |
| Molecular weight | 1439.86 |
| Solvent | DMSO |
Spectral properties
| | |
| --- | --- |
| Absorbance (nm) | 779 |
| Correction Factor (260 nm) | 0.13 |
| Correction Factor (280 nm) | 0.12 |
| Extinction coefficient (cm -1 M -1) | 2500001 |
| Excitation (nm) | 784 |
| Emission (nm) | 808 |
| Quantum yield | 0.161 |
Storage, safety and handling
| | |
| --- | --- |
| H-phrase | H303, H313, H333 |
| Hazard symbol | XN |
| Intended use | Research Use Only (RUO) |
| R-phrase | R20, R21, R22 |
| Storage | Freeze (< -15 °C); Minimize light exposure |
| UNSPSC | 12171501 |
| | | | | | | | |
| --- | --- | --- | --- | --- | --- | --- | --- |
| | | Correction Factor (260 nm) | Correction Factor (280 nm) | Extinction coefficient (cm -1 M -1) | | | |
AAT Bioquest's iFluor® dyes are optimized for labeling proteins, particularly antibodies. These dyes are bright, photostable, and have minimal quenching on proteins. They can be well excited by the major laser lines of fluorescence instruments (e.g., 350, 355, 405, 488, 555, 633, 638, 647, 660, and 802 nm). iFluor® 780 dyes have fluorescence excitation and emission maxima of ~784 nm and ~808 nm respectively. These spectral characteristics make them a unique color for fluorescence imaging and flow cytometry applications. iFluor® 780 is an excellent acceptor dye for preparing tandem colors with APC and PE. These iFluor® 780 tandem colors offer a set of unique color profiles for spectral flow cytometry. iFluor® 780 is one of the brightest NIR dyes, and some of its antibody conjugates are significantly brighter than those prepared with IRDyes of similar wavelengths, such as IRDye 800CW. iFluor® 780 maleimide is a thiol-reactive form used to conjugate with thiol-containing molecules such as reduced antibodies, thiol-modified oligos, and peptides.
Example protocol
PREPARATION OF STOCK SOLUTIONS
Unless otherwise noted, all unused stock solutions should be divided into single-use aliquots and stored at -20 °C after preparation. Avoid repeated freeze-thaw cycles.
1. iFluor™ 780 maleimide stock solution (Solution B)
Add anhydrous DMSO into the vial of iFluor™ 780 maleimide to make a 10 mM stock solution. Mix well by pipetting or vortex. Note: Prepare the dye stock solution (Solution B) before starting the conjugation. Use promptly. Extended storage of the dye stock solution may reduce the dye activity. Solution B can be stored in freezer for upto 4 weeks when kept from light and moisture. Avoid freeze-thaw cycles.
2. Protein stock solution (Solution A)
Mix 100 µL of a reaction buffer (e.g., 100 mM MES buffer with pH ~6.0) with 900 µL of the target protein solution (e.g. antibody, protein concentration >2 mg/mL if possible) to give 1 mL protein labeling stock solution. Note: The pH of the protein solution (Solution A) should be 6.5 ± 0.5. Note: Impure antibodies or antibodies stabilized with bovine serum albumin (BSA) or other proteins will not be labeled well. Note: The conjugation efficiency is significantly reduced if the protein concentration is less than 2 mg/mL. For optimal labeling efficiency the final protein concentration range of 2-10 mg/mL is recommended.
Optional: if your protein does not contain a free cysteine, you must treat your protein with DTT or TCEP to generate a thiol group. DTT or TCEP are used for converting a disulfide bond to two free thiol groups. If DTT is used you must remove free DTT by dialysis or gel filtration before conjugating a dye maleimide to your protein. Following is a sample protocol for generating a free thiol group:
Prepare a fresh solution of 1 M DTT (15.4 mg/100 µL) in distilled water.

Make IgG solution in 20 mM DTT: add 20 µL of DTT stock per ml of IgG solution while mixing. Let stand at room temp for 30 minutes without additional mixing (to minimize reoxidation of cysteines to cystines).

Pass the reduced IgG over a filtration column pre-equilibrated with "Exchange Buffer". Collect 0.25 mL fractions off the column.

Determine the protein concentrations and pool the fractions with the majority of the IgG. This can be done either spectrophotometrically or colorimetrically.

Carry out the conjugation as soon as possible after this step (see Sample Experiment Protocol). Note: IgG solutions should be >4 mg/mL for the best results. The antibody should be concentrated if less than 2 mg/mL. Include an extra 10% for losses on the buffer exchange column. Note: The reduction can be carried out in almost any buffers from pH 7-7.5, e.g., MES, phosphate or TRIS buffers. Note: Steps 3 and 4 can be replaced by dialysis. 
SAMPLE EXPERIMENTAL PROTOCOL
This labeling protocol was developed for the conjugate of Goat anti-mouse IgG with iFluor™ 780 maleimide. You might need further optimization for your particular proteins. Note: Each protein requires distinct dye/protein ratio, which also depends on the properties of dyes. Over labeling of a protein could detrimentally affects its binding affinity while the protein conjugates of low dye/protein ratio gives reduced sensitivity.
Run conjugation reaction
Use 10:1 molar ratio of Solution B (dye)/Solution A (protein) as the starting point:  Add 5 µL of the dye stock solution (Solution B, assuming the dye stock solution is 10 mM) into the vial of the protein solution (95 µL of Solution A) with effective shaking. The concentration of the protein is ~0.05 mM assuming the protein concentration is 10 mg/mL and the molecular weight of the protein is ~200KD. Note: We recommend to use 10:1 molar ratio of Solution B (dye)/Solution A (protein). If it is too less or too high, determine the optimal dye/protein ratio at 5:1, 15:1 and 20:1 respectively.

Continue to rotate or shake the reaction mixture at room temperature for 30-60 minutes. 
Purify the conjugation
The following protocol is an example of dye-protein conjugate purification by using a Sephadex G-25 column.
Prepare Sephadex G-25 column according to the manufacture instruction.

Load the reaction mixture (From "Run conjugation reaction") to the top of the Sephadex G-25 column.

Add PBS (pH 7.2-7.4) as soon as the sample runs just below the top resin surface.

Add more PBS (pH 7.2-7.4) to the desired sample to complete the column purification. Combine the fractions that contain the desired dye-protein conjugate. Note: For immediate use, the dye-protein conjugate need be diluted with staining buffer, and aliquoted for multiple uses. Note: For longer term storage, dye-protein conjugate solution need be concentrated or freeze dried. 
Calculators
Common stock solution preparation
Table 1.
Volume of DMSO needed to reconstitute specific mass of iFluor® 780 maleimide to given concentration. Note that volume is
only
for preparing stock solution. Refer to sample experimental protocol for appropriate experimental/physiological buffers.
| | | | | | |
| --- | --- | --- | --- | --- | --- |
| | 0.1 mg | 0.5 mg | 1 mg | 5 mg | 10 mg |
| 1 mM | 69.451 µL | 347.256 µL | 694.512 µL | 3.473 mL | 6.945 mL |
| 5 mM | 13.89 µL | 69.451 µL | 138.902 µL | 694.512 µL | 1.389 mL |
| 10 mM | 6.945 µL | 34.726 µL | 69.451 µL | 347.256 µL | 694.512 µL |
Molarity calculator
Enter any two values (mass, volume, concentration) to calculate the third.
Mass (

Calculate

)
Molecular weight
Volume (

Calculate

)
Concentration (

Calculate

)
Moles
/
=
x
=
Spectrum
Open in Advanced Spectrum Viewer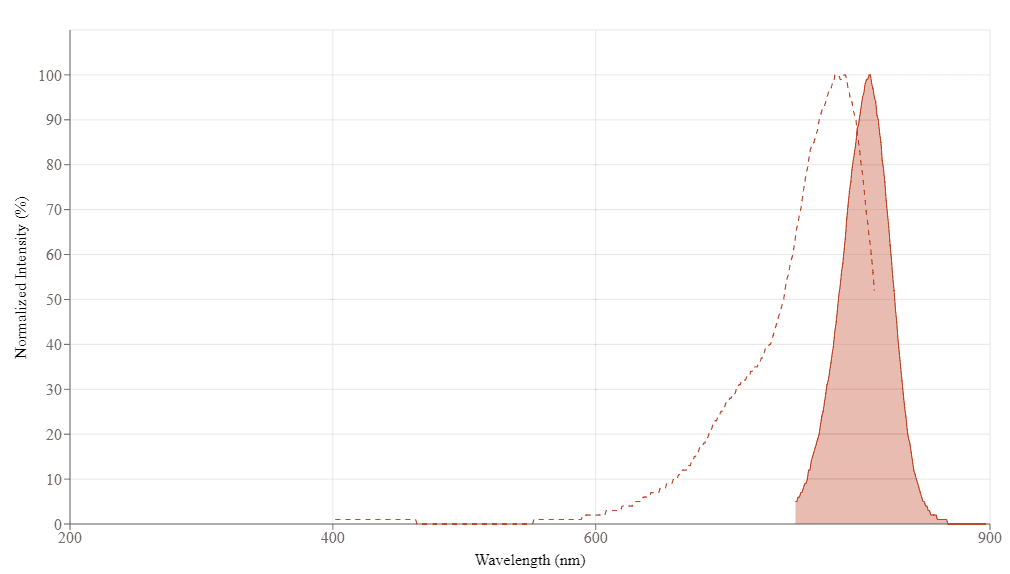 Spectral properties
| | |
| --- | --- |
| Absorbance (nm) | 779 |
| Correction Factor (260 nm) | 0.13 |
| Correction Factor (280 nm) | 0.12 |
| Extinction coefficient (cm -1 M -1) | 2500001 |
| Excitation (nm) | 784 |
| Emission (nm) | 808 |
| Quantum yield | 0.161 |
Images

Figure 1.
Fluorescent dye maleimides are the most popular tool for conjugating dyes to a peptide, protein, antibody, thiol-modified oligonucleotide, or nucleic acid through their SH group. Maleimides react readily with the thiol group of proteins, thiol-modified oligonucleotides, and other thiol-containing molecules under neutral conditions. The resulting dye conjugates are quite stable.
References
Fluorescently Labeled Cetuximab-IRDye800 for Guided Surgical Excision of Ameloblastoma: A Proof of Principle Study.
Authors:
Morlandt, Anthony B and Moore, Lindsay S and Johnson, Aubrey O and Smith, Caris M and Stevens, Todd M and Warram, Jason M and MacDougall, Mary and Rosenthal, Eben L and Amm, Hope M
Journal:
Journal of oral and maxillofacial surgery : official journal of the American Association of Oral and Maxillofacial Surgeons
(2020)
: 1736-1747
Characterization and Predictive Value of Near Infrared 2-Deoxyglucose Optical Imaging in Severe Acute Pancreatitis.
Authors:
de Oliveira, Cristiane and Patel, Krutika and Mishra, Vivek and Trivedi, Ram N and Noel, Pawan and Singh, Abhilasha and Yaron, Jordan R and Singh, Vijay P
Journal:
PloS one
(2016)
: e0149073
Synthesis and biological evaluation of panitumumab-IRDye800 conjugate as a fluorescence imaging probe for EGFR-expressing cancers.
Authors:
Bhattacharyya, Sibaprasad and Patel, Nimit and Wei, Ling and Riffle, Lisa A and Kalen, Joseph D and Hill, G Craig and Jacobs, Paula M and Zinn, Kurt R and Rosenthal, Eben
Journal:
MedChemComm
(2014)
: 1337-1346
Evaluation of near infrared fluorescent labeling of monoclonal antibodies as a tool for tissue distribution.
Authors:
Conner, Kip P and Rock, Brooke M and Kwon, Gayle K and Balthasar, Joseph P and Abuqayyas, Lubna and Wienkers, Larry C and Rock, Dan A
Journal:
Drug metabolism and disposition: the biological fate of chemicals
(2014)
: 1906-13
Identification of forensic samples by using an infrared-based automatic DNA sequencer.
Authors:
Ricci, Ugo and Sani, Ilaria and Klintschar, Michael and Cerri, Nicoletta and De Ferrari, Francesco and Giovannucci Uzielli, Maria Luisa
Journal:
Croatian medical journal
(2003)
: 299-305