iFluor® Ultra 594 succinimidyl ester
Ordering information
| | |
| --- | --- |
| Price | |
| Catalog Number | |
| Unit Size | |
| Quantity | |
Additional ordering information
| | |
| --- | --- |
| Telephone | 1-800-990-8053 |
| Fax | 1-800-609-2943 |
| Email | sales@aatbio.com |
| International | See distributors |
| Bulk request | Inquire |
| Custom size | Inquire |
| Shipping | Standard overnight for United States, inquire for international |
Physical properties
| | |
| --- | --- |
| Molecular weight | 1436.72 |
| Solvent | DMSO |
Spectral properties
| | |
| --- | --- |
| Absorbance (nm) | 585 |
| Correction Factor (260 nm) | 0.07 |
| Correction Factor (280 nm) | 0.05 |
| Extinction coefficient (cm -1 M -1) | 1800001 |
| Excitation (nm) | 586 |
| Emission (nm) | 601 |
| Quantum yield | 0.911 |
Storage, safety and handling
| | |
| --- | --- |
| H-phrase | H303, H313, H333 |
| Hazard symbol | XN |
| Intended use | Research Use Only (RUO) |
| R-phrase | R20, R21, R22 |
| Storage | Freeze (< -15 °C); Minimize light exposure |
| UNSPSC | 12171501 |
| | | | | | | | |
| --- | --- | --- | --- | --- | --- | --- | --- |
| | | Correction Factor (260 nm) | Correction Factor (280 nm) | Extinction coefficient (cm -1 M -1) | | | |
Fluorescent dye-conjugated antibodies provide a tool for identifying proteins in many applications including fluorescent cell imaging, flow cytometry, western blotting, immunohistochemistry and more. The advantages of using a fluorescently labeled antibody include higher sensitivity, multiplexing capabilities, and ease of use. iFluor® Ultra family is a recent upgrade of our popular iFluor® dyes and optimized for labeling antibodies used for fluorescence imaging and flow cytometry applications. Antibody conjugates prepared with iFluor® Ultra 594 are far superior to the conjugates of other existing similar dyes such as Alexa Fluor® 594. iFluor® Ultra 594 conjugates are significantly brighter than the conjugates prepared with Alexa Fluor® 594 under the same conditions. Additionally, the fluorescence of iFluor® Ultra 594 is not affected by pH (4-10). iFluor® Ultra 594 SE dye is reasonably stable and shows good reactivity and selectivity with protein amino groups. iFluor® Ultra 594 has spectral properties and reactivity similar to Alexa Fluor® 594 (Alexa Fluor® is the trademark of ThermoFisher).
Example protocol
PREPARATION OF STOCK SOLUTIONS
Unless otherwise noted, all unused stock solutions should be divided into single-use aliquots and stored at -20 °C after preparation. Avoid repeated freeze-thaw cycles.
1. Protein stock solution (Solution A)
Mix 100 µL of a reaction buffer (e.g., 1 M  sodium carbonate solution or 1 M phosphate buffer with pH ~9.0) with 900 µL of the target protein solution (e.g. antibody, protein concentration >2 mg/mL if possible) to give 1 mL protein labeling stock solution.


Note

     The pH of the protein solution (Solution A) should be 8.5 ± 0.5. If the pH of the protein solution is lower than 8.0, adjust the pH to the range of 8.0-9.0 using 1 M  sodium bicarbonate solution or 1 M pH 9.0 phosphate buffer.


Note

     The protein should be dissolved in 1X phosphate buffered saline (PBS), pH 7.2-7.4. If the protein is dissolved in Tris or glycine buffer, it must be dialyzed against 1X PBS, pH 7.2-7.4, to remove free amines or ammonium salts (such as ammonium sulfate and ammonium acetate) that are widely used for protein precipitation.


Note

     Impure antibodies or antibodies stabilized with bovine serum albumin (BSA) or gelatin will not be labeled well. The presence of sodium azide or thimerosal might also interfere with the conjugation reaction. Sodium azide or thimerosal can be removed by dialysis or spin column for optimal labeling results.


Note

     The conjugation efficiency is significantly reduced if the protein concentration is less than 2 mg/mL. For optimal labeling efficiency the final protein concentration range of 2-10 mg/mL is recommended.
2. iFluor™ Ultra 594 SE stock solution (Solution B)
Add anhydrous DMSO into the vial of iFluor™ Ultra 594 SE to make a 10 mM stock solution. Mix well by pipetting or vortex.


Note

     Prepare the dye stock solution (Solution B) before starting the conjugation. Use promptly. Extended storage of the dye stock solution may reduce the dye activity. Solution B can be stored in freezer for two weeks when kept from light and moisture. Avoid freeze-thaw cycles.
SAMPLE EXPERIMENTAL PROTOCOL
This labeling protocol was developed for the conjugate of Goat anti-mouse IgG with iFluor™ Ultra 594 SE. You might need further optimization for your particular proteins.


Note

     Each protein requires distinct dye/protein ratio, which also depends on the properties of dyes. Over labeling of a protein could detrimentally affects its binding affinity while the protein conjugates of low dye/protein ratio gives reduced sensitivity.
Run conjugation reaction
Use 10:1 molar ratio of Solution B (dye)/Solution A (protein) as the starting point:  Add 5 µL of the dye stock solution (Solution B, assuming the dye stock solution is 10 mM) into the vial of the protein solution (95 µL of Solution A) with effective shaking. The concentration of the protein is ~0.05 mM assuming the protein concentration is 10 mg/mL and the molecular weight of the protein is ~200KD.


Note

     We recommend to use 10:1 molar ratio of Solution B (dye)/Solution A (protein). If it is too less or too high, determine the optimal dye/protein ratio at 5:1, 15:1 and 20:1 respectively.

Continue to rotate or shake the reaction mixture at room temperature for 30-60 minutes. 
Purify the conjugation
The following protocol is an example of dye-protein conjugate purification by using a Sephadex G-25 column.
Prepare Sephadex G-25 column according to the manufacture instruction.

Load the reaction mixture (From "Run conjugation reaction") to the top of the Sephadex G-25 column.

Add PBS (pH 7.2-7.4) as soon as the sample runs just below the top resin surface.

Add more PBS (pH 7.2-7.4) to the desired sample to complete the column purification. Combine the fractions that contain the desired dye-protein conjugate.


Note

     For immediate use, the dye-protein conjugate need be diluted with staining buffer, and aliquoted for multiple uses.


Note

     For longer term storage, dye-protein conjugate solution need be concentrated or freeze dried. 
Calculators
Common stock solution preparation
Table 1.
Volume of DMSO needed to reconstitute specific mass of iFluor® Ultra 594 succinimidyl ester to given concentration. Note that volume is
only
for preparing stock solution. Refer to sample experimental protocol for appropriate experimental/physiological buffers.
| | | | | | |
| --- | --- | --- | --- | --- | --- |
| | 0.1 mg | 0.5 mg | 1 mg | 5 mg | 10 mg |
| 1 mM | 69.603 µL | 348.015 µL | 696.03 µL | 3.48 mL | 6.96 mL |
| 5 mM | 13.921 µL | 69.603 µL | 139.206 µL | 696.03 µL | 1.392 mL |
| 10 mM | 6.96 µL | 34.801 µL | 69.603 µL | 348.015 µL | 696.03 µL |
Molarity calculator
Enter any two values (mass, volume, concentration) to calculate the third.
Mass (

Calculate

)
Molecular weight
Volume (

Calculate

)
Concentration (

Calculate

)
Moles
/
=
x
=
Spectrum
Open in Advanced Spectrum Viewer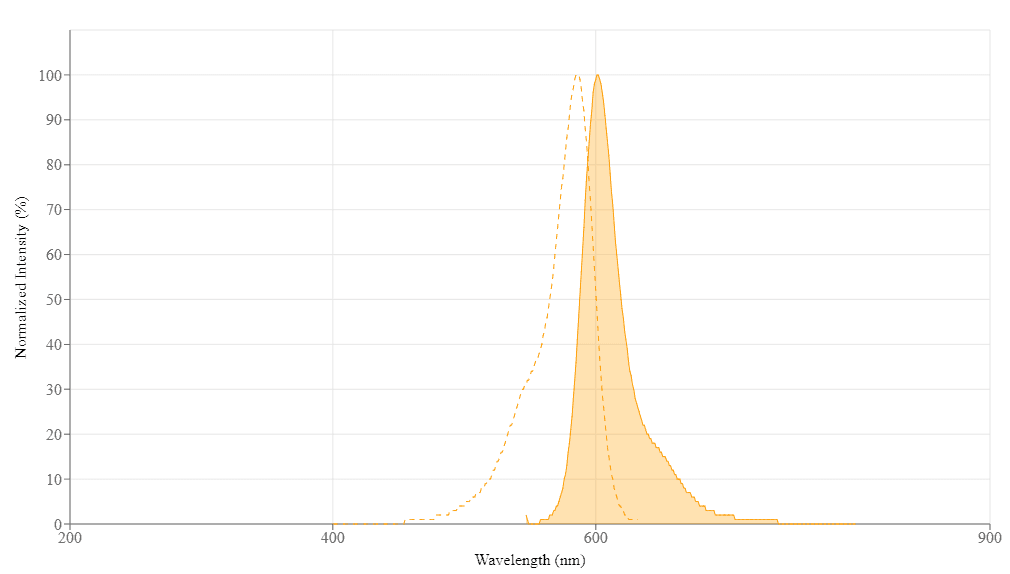 Spectral properties
| | |
| --- | --- |
| Absorbance (nm) | 585 |
| Correction Factor (260 nm) | 0.07 |
| Correction Factor (280 nm) | 0.05 |
| Extinction coefficient (cm -1 M -1) | 1800001 |
| Excitation (nm) | 586 |
| Emission (nm) | 601 |
| Quantum yield | 0.911 |
Images
References
MicroRNA-126 inhibits pathological retinal neovascularization via suppressing vascular endothelial growth factor expression in a rat model of retinopathy of prematurity.
Authors:
Fan, Yuan-Yao and Liu, Chi-Hsien and Wu, An-Lun and Chen, Hung-Chi and Hsueh, Yi-Jen and Chen, Kuan-Jen and Lai, Chi-Chun and Huang, Chung-Ying and Wu, Wei-Chi
Journal:
European journal of pharmacology
(2021)
: 174035
Retinal ganglion cells projecting to superior colliculus and pulvinar in marmoset.
Authors:
Grünert, Ulrike and Lee, Sammy C S and Kwan, William C and Mundinano, Inaki-Carril and Bourne, James A and Martin, Paul R
Journal:
Brain structure & function
(2021)
A fully integrated isotachophoresis with a programmable microfluidic platform.
Authors:
Shebindu, Adam and Somaweera, Himali and Estlack, Zachary and Kim, Jungtae and Kim, Jungkyu
Journal:
Talanta
(2021)
: 122039
Liquid Droplet Formation and Facile Cytosolic Translocation of IgG in the Presence of Attenuated Cationic Amphiphilic Lytic Peptides.
Authors:
Iwata, Takahiro and Hirose, Hisaaki and Sakamoto, Kentarou and Hirai, Yusuke and Arafiles, Jan Vincent V and Akishiba, Misao and Imanishi, Miki and Futaki, Shiroh
Journal:
Angewandte Chemie (International ed. in English)
(2021)
Effect of VIRP1 Protein on Nuclear Import of Citrus Exocortis Viroid (CEVd).
Authors:
Seo, Hyesu and Kim, Kyunghee and Park, Woong June
Journal:
Biomolecules
(2021)
Fluorescently-labeled fremanezumab is distributed to sensory and autonomic ganglia and the dura but not to the brain of rats with uncompromised blood brain barrier.
Authors:
Noseda, Rodrigo and Schain, Aaron J and Melo-Carrillo, Agustin and Tien, Jason and Stratton, Jennifer and Mai, Fanny and Strassman, Andrew M and Burstein, Rami
Journal:
Cephalalgia : an international journal of headache
(2020)
: 229-240
Modeling iontophoretic drug delivery in a microfluidic device.
Authors:
Moarefian, Maryam and Davalos, Rafael V and Tafti, Danesh K and Achenie, Luke E and Jones, Caroline N
Journal:
Lab on a chip
(2020)
: 3310-3321
Cell-based immunofluorescence assay for screening the neurogenesis potential of new drugs in adult hippocampal neural progenitor cells.
Authors:
Zhang, Kun and Li, Bin and Li, Peifang and Yang, Xiaoli and Cui, Huixian and Liu, Xiaoyun
Journal:
Acta neurobiologiae experimentalis
(2019)
: 302-308
Super blinking and biocompatible nanoprobes based on dye doped BSA nanoparticles for super resolution imaging.
Authors:
Zong, Shenfei and Pan, Fengmei and Zhang, Ruohu and Chen, Chen and Wang, Zhuyuan and Cui, Yiping
Journal:
Nanotechnology
(2019)
: 065701
[Sepsis impairs aggregation of nicotinic acetylcholine receptors on murine skeletal muscle cell membranes by inhibiting AKT/GSK3β phosphorylation].
Authors:
Li, Tianmei and Liu, Li and Wang, Xiaobin
Journal:
Nan fang yi ke da xue xue bao = Journal of Southern Medical University
(2019)
: 1337-1343