Indo-1, AM *CAS 112926-02-0*
Ordering information
| | |
| --- | --- |
| Price | |
| Catalog Number | |
| Unit Size | |
| Quantity | |
Additional ordering information
| | |
| --- | --- |
| Telephone | 1-800-990-8053 |
| Fax | 1-800-609-2943 |
| Email | sales@aatbio.com |
| International | See distributors |
| Shipping | Standard overnight for United States, inquire for international |
Physical properties
| | |
| --- | --- |
| Dissociation constant (Kd, nM) | 230 |
| Molecular weight | 1009.91 |
| Solvent | DMSO |
Spectral properties
| | |
| --- | --- |
| Extinction coefficient (cm -1 M -1) | 33000 |
| Excitation (nm) | 330 |
| Emission (nm) | 404 |
Storage, safety and handling
| | |
| --- | --- |
| Certificate of Origin | Download PDF |
| H-phrase | H303, H313, H333 |
| Hazard symbol | XN |
| Intended use | Research Use Only (RUO) |
| R-phrase | R20, R21, R22 |
| Storage | Freeze (< -15 °C); Minimize light exposure |
| UNSPSC | 12352200 |
| | | | | | |
| --- | --- | --- | --- | --- | --- |
| | | Dissociation constant (Kd, nM) | Extinction coefficient (cm -1 M -1) | | |
Calcium measurements are critical for numerous biological investigations. Fluorescent probes that show spectral responses upon binding to Ca2+ have enabled researchers to investigate changes in intracellular free Ca2+ concentrations by using fluorescence microscopy, flow cytometry, fluorescence spectroscopy and fluorescence microplate readers. This cell-permeant Indo-1 AM, is a UV light excitable, emission ratioable Ca2+ indicator. Upon binding to Ca2+, the emission maximum of Indo-1 AM shifts from 480 nm to 400 nm. Indo-1 is preferred for flow cytometry, in which it is more practical to use a single laser for excitation, such as the 351-364 nm spectral lines of the argon-ion laser.
Platform
Fluorescence microscope
| | |
| --- | --- |
| Excitation | Indo-1 filter set |
| Emission | Indo-1 filter set |
| Recommended plate | Black wall/clear bottom |
Fluorescence microplate reader
| | |
| --- | --- |
| Excitation | 340 |
| Emission | 400, 475 |
| Cutoff | Ex/Em = 340/400, no cut off. Ex/Em = 340/475, cut off 455 |
| Recommended plate | Black wall/clear bottom |
| Instrument specification(s) | Bottom read mode/Programmable liquid handling |
Example protocol
PREPARATION OF STOCK SOLUTIONS
Unless otherwise noted, all unused stock solutions should be divided into single-use aliquots and stored at -20 °C after preparation. Avoid repeated freeze-thaw cycles.
Indo-1 AM Stock Solution
Prepare a 2 to 5 mM stock solution of Indo-1 AM in high-quality, anhydrous DMSO.   
PREPARATION OF WORKING SOLUTION
Indo-1 AM Working Solution
On the day of the experiment, either dissolve Indo-1 AM in DMSO or thaw an aliquot of the indicator stock solution to room temperature. Prepare a dye working solution of 2 to 20 µM in a buffer of your choice (e.g., Hanks and Hepes buffer) with 0.04% Pluronic® F-127. For most cell lines, Indo-1 AM at a final concentration of 4-5 μM is recommended. The exact concentration of indicators required for cell loading must be determined empirically.


Note

     The nonionic detergent Pluronic® F-127 is sometimes used to increase the aqueous solubility of Indo-1 AM. A variety of Pluronic® F-127 solutions can be purchased from AAT Bioquest.


Note

     If your cells contain organic anion-transporters, probenecid (1-2 mM) may be added to the dye working solution (final in well concentration will be 0.5-1 mM) to reduce leakage of the de-esterified indicators. A variety of ReadiUse™ probenecid products, including water-soluble, sodium salt, and stabilized solution, can be purchased from AAT Bioquest.
SAMPLE EXPERIMENTAL PROTOCOL
Following is our recommended protocol for loading AM esters into live cells. This protocol only provides a guideline and should be modified according to your specific needs.
Prepare cells in growth medium overnight.

On the next day, add 1X Indo-1 AM working solution into your cell plate.


Note

     If your compound(s) interfere with the serum, replace the growth medium with fresh HHBS buffer before dye-loading.

Incubate the dye-loaded plate in a cell incubator at 37 °C for 30 to 60 minutes.


Note

     Incubating the dye for longer than 1 hour can improve signal intensities in certain cell lines.

Replace the dye working solution with HHBS or buffer of your choice (containing an anion transporter inhibitor, such as 1 mM probenecid, if applicable) to remove any excess probes.

Add the stimulant as desired and simultaneously measure fluorescence using either a fluorescence microscope equipped with an Indo-1 filter set or a fluorescence plate reader containing a programmable liquid handling system such as a FlexStation, at Ex/Em1 = 340/400 nm no cutoff and Ex/Em2 = 340/475 cutoff 455 nm. 
Calculators
Common stock solution preparation
Table 1.
Volume of DMSO needed to reconstitute specific mass of Indo-1, AM *CAS 112926-02-0* to given concentration. Note that volume is
only
for preparing stock solution. Refer to sample experimental protocol for appropriate experimental/physiological buffers.
| | | | | | |
| --- | --- | --- | --- | --- | --- |
| | 0.1 mg | 0.5 mg | 1 mg | 5 mg | 10 mg |
| 1 mM | 99.019 µL | 495.094 µL | 990.187 µL | 4.951 mL | 9.902 mL |
| 5 mM | 19.804 µL | 99.019 µL | 198.037 µL | 990.187 µL | 1.98 mL |
| 10 mM | 9.902 µL | 49.509 µL | 99.019 µL | 495.094 µL | 990.187 µL |
Molarity calculator
Enter any two values (mass, volume, concentration) to calculate the third.
Mass (

Calculate

)
Molecular weight
Volume (

Calculate

)
Concentration (

Calculate

)
Moles
/
=
x
=
Spectrum
Open in Advanced Spectrum Viewer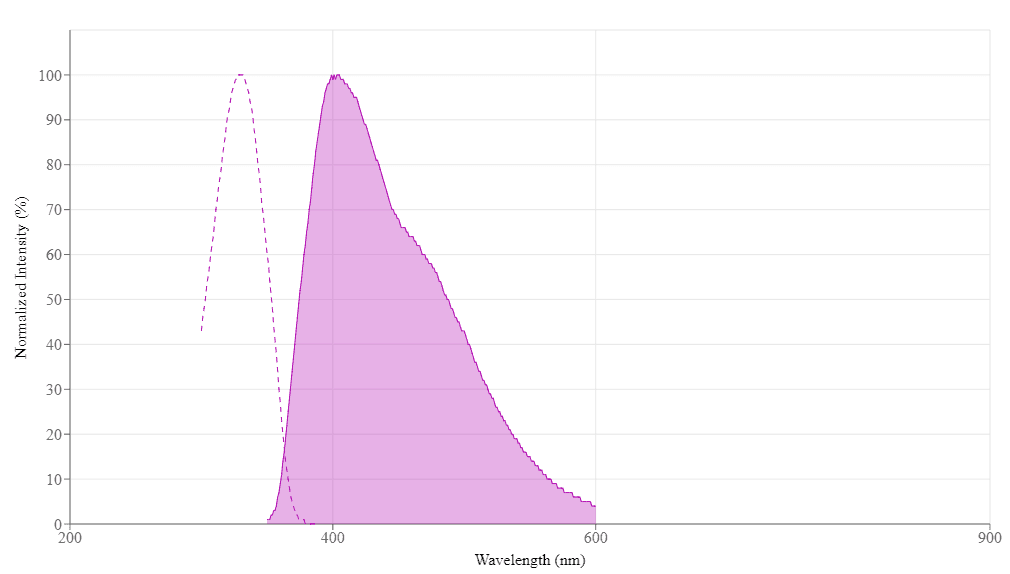 Spectral properties
| | |
| --- | --- |
| Extinction coefficient (cm -1 M -1) | 33000 |
| Excitation (nm) | 330 |
| Emission (nm) | 404 |
Images
Citations
Development of a deep two-photon calcium imaging method for the analysis of cortical processing in the mammalian brain
Authors:
Birkner, Antje
Journal:
(2019)
References
Measurement of [Ca2+] in cell suspensions using indo-1
Authors:
Nelemans A., undefined
Journal:
Methods Mol Biol
(2006)
: 47
A flow cytometric comparison of Indo-1 to fluo-3 and Fura Red excited with low power lasers for detecting Ca(2+) flux
Authors:
Bailey S, Macardle PJ.
Journal:
J Immunol Methods
(2006)
: 220
Ratiometric intracellular calcium imaging in the isolated beating rat heart using indo-1 fluorescence
Authors:
Eerbeek O, Mik EG, Zuurbier CJ, van 't Loo M, Donkersloot C, Ince C.
Journal:
J Appl Physiol
(2004)
: 2042
Negative inotropic effects of angiotensin II, endothelin-1 and phenylephrine in indo-1 loaded adult mouse ventricular myocytes
Authors:
Sakurai K, Norota I, Tanaka H, Kubota I, Tomoike H, Endo M.
Journal:
Life Sci
(2002)
: 1173
Usefulness of the analytic method of intracellular calcium and the problems--aequorin and indo-1 signal
Authors:
Endoh M., undefined
Journal:
Nippon Yakurigaku Zasshi
(2000)
: 361
Comment on "Usefulness of intracellular calcium analysis and the problem--aequorin and indo-1 signal"
Authors:
Imaizumi Y., undefined
Journal:
Nippon Yakurigaku Zasshi
(2000)
: 101
Concentrations of caffeine greater than 20 mM increase the indo-1 fluorescence ratio in a Ca(2+)-independent manner
Authors:
McKemy DD, Welch W, Airey JA, Sutko JL.
Journal:
Cell Calcium
(2000)
: 117
Intracellular calcium signals measured with indo-1 in isolated skeletal muscle fibres from control and mdx mice
Authors:
Collet C, Allard B, Tourneur Y, Jacquemond V.
Journal:
J Physiol
(1999)
: 417
Measurement of [Ca2+]i in cell suspensions using indo-1
Authors:
Nelemans A., undefined
Journal:
Methods Mol Biol
(1999)
: 41
Alpha-stat calibration of indo-1 fluorescence and measurement of intracellular free calcium in rat ventricular cells at different temperatures
Authors:
Wang SQ, Zhou ZQ.
Journal:
Life Sci
(1999)
: 871