ReadiLink™ Cy3 Nick Translation dsDNA Labeling Kit
Ordering information
| | |
| --- | --- |
| Price | |
| Catalog Number | |
| Unit Size | |
| Quantity | |
Additional ordering information
| | |
| --- | --- |
| Telephone | 1-800-990-8053 |
| Fax | 1-800-609-2943 |
| Email | sales@aatbio.com |
| International | See distributors |
| Bulk request | Inquire |
| Custom size | Inquire |
| Shipping | Standard overnight for United States, inquire for international |
Spectral properties
| | |
| --- | --- |
| Correction Factor (260 nm) | 0.07 |
| Correction Factor (280 nm) | 0.073 |
| Extinction coefficient (cm -1 M -1) | 1500001 |
| Excitation (nm) | 555 |
| Emission (nm) | 569 |
| Quantum yield | 0.151 |
Storage, safety and handling
| | |
| --- | --- |
| H-phrase | H303, H313, H333 |
| Hazard symbol | XN |
| Intended use | Research Use Only (RUO) |
| R-phrase | R20, R21, R22 |
| UNSPSC | 12171501 |
| | | | | | |
| --- | --- | --- | --- | --- | --- |
| Correction Factor (260 nm) | Correction Factor (280 nm) | Extinction coefficient (cm -1 M -1) | | | |
ReadiLink™ Cy3 Nick Translation dsDNA Labelling Kit provides a simple and efficient way to label a double stranded DNA sample with the bright and photostable Cy3 dye. The labelling kit provides all necessary reagents for a complete workflow required for DNA labelling. This method utilizes a combination of DNAse and DNA polymerase to nick one strand of the DNA helix, to which Cy3 dye is conjugated. In addition, the kit allows the user to optimize incorporation and product size by adjusting the ratio of Cy3-dUTP conjugate to dTTP. It is compatible with a wide variety of sample materials, including bacterial artificial chromosome (BAC) DNA, human genomic DNA, purified PCR products, supercoiled and linearized plasmid DNA. The resulted Cy3-labeled DNAs can be used in a variety of molecular biology techniques such as fluorescence in situ hybridization (FISH).
Platform
Other instruments
Thermal Cycler
Example protocol
AT A GLANCE
Protocol summary
Prepare DNA samples

Add reagents to tube

Mix and centrifuge briefly

Incubate at 15 °C for 60 minutes

Place the reaction on ice followed by addition of Stop Solution and heating at 65 °C

Place on ice for 5 minutes before using or store at 4 °C

Purify the labelled DNA 
Important
Thaw all the kit components on ice before starting the experiment. Briefly vortex all the reagents to the bottom before starting the labelling process.
SAMPLE EXPERIMENTAL PROTOCOL
The following protocol can be used as a guideline.
Table 1.
Reagents composition per tube for each reaction
| | |
| --- | --- |
| Components | Amount |
| DNA sample | 1 µg DNA diluted in Nuclease-free water to final volume of 34 µL |
| Nick Translation Buffer | 5 µL |
| dNTP mix | 5 µL |
| dTTP | 2 µL |
| Cy3-dUTP working solution  | 2 µL |
| DNA Polymerase I | 1 µL |
| DNase I | 1 µL |
| Total Volume | 50 µL |
The ratio of Cy3-dUTP (Component A): dTTP (Component E) can be optimized to achieve the best labelling conditions.
Incubation time can be optimized for better labelling. Longer incubation time will help with more labelling but may shorten the size of the end product.
To a clean (Nuclease-free) 0.5 mL micro centrifuge tube or 0.2 mL PCR tube, add the reagents in the order indicated in Table 1.

Carefully mix the reagents by a brief vortex followed by brief centrifuge.

Incubate the reaction at 15 °C for 60 minutes.

After incubation, place the reaction on ice.

To terminate the reaction, add 5 µL of Stop Solution and heat the sample at 65 °C.

Place on ice for 5 minutes before using or store at 4 °C.

Purify the labeled DNA. 
Spectrum
Open in Advanced Spectrum Viewer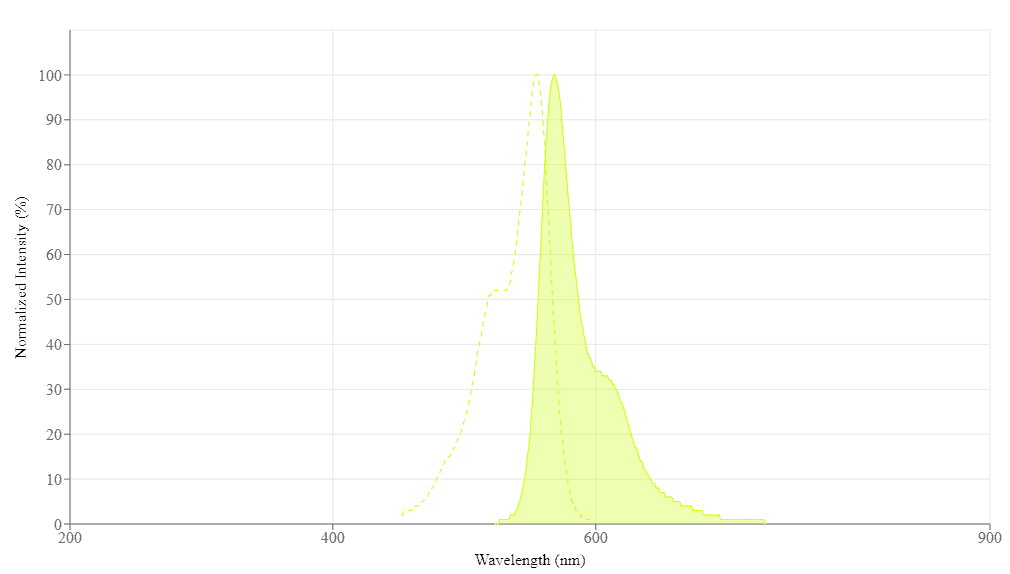 Spectral properties
| | |
| --- | --- |
| Correction Factor (260 nm) | 0.07 |
| Correction Factor (280 nm) | 0.073 |
| Extinction coefficient (cm -1 M -1) | 1500001 |
| Excitation (nm) | 555 |
| Emission (nm) | 569 |
| Quantum yield | 0.151 |
Product Family
| | | | | | | | | |
| --- | --- | --- | --- | --- | --- | --- | --- | --- |
| Name | Excitation (nm) | Emission (nm) | Extinction coefficient (cm -1 M -1) | Quantum yield | Correction Factor (260 nm) | Correction Factor (280 nm) | Correction Factor (482 nm) | Correction Factor (565 nm) |
| ReadiLink™ Cy5 Nick Translation dsDNA Labeling Kit | 651 | 670 | 2500001 | 0.271, 0.42 | 0.02 | 0.03 | 0.009 | 0.09 |
Images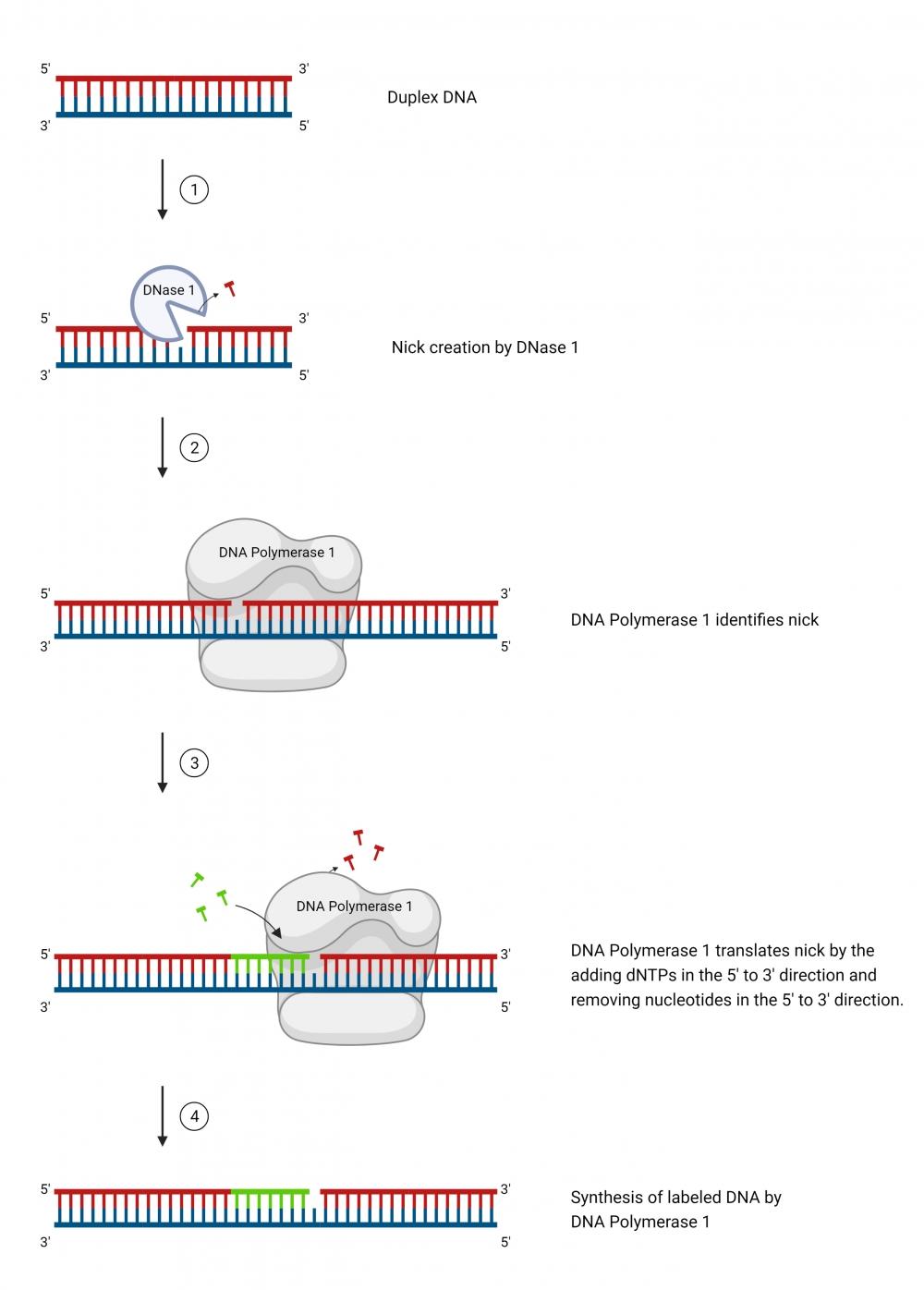 Figure 1.
Nick translation labeling of DNA starts with the creation of defects within the sequence of existing DNA double-helix molecules by cleavage of phosphodiester bonds with DNase along the backbone of one strand. Polymerase then repairs these nicks beginning with the removal of the adjacent nucleotide and the immediate filling back in of those gaps with new nucleotides from the added dNTP pool. As each new nucleotide is added, the polymerase leaves the 3′ OH group open, thus translating the nick toward the 5′ end. As the reaction sequence is repeated, the polymerase enzyme continues to remove existing nucleotides and replace them with new ones at the site of the new nick. The result of these reactions is numerous labeled and unlabeled nucleotides being incorporated as a complementary sequence along the length of each DNA strand, starting at the site of the original nick.
References
Selective functionalization at N2-position of guanine in oligonucleotides via reductive amination.
Authors:
Bhoge, Bapurao A and Mala, Purnima and Kurian, Jo S and Srinivasan, Varadharajan and Saraogi, Ishu
Journal:
Chemical communications (Cambridge, England)
(2020)
: 13832-13835
Patterning protein complexes on DNA nanostructures using a GFP nanobody.
Authors:
Sommese, R F and Hariadi, R F and Kim, K and Liu, M and Tyska, M J and Sivaramakrishnan, S
Journal:
Protein science : a publication of the Protein Society
(2016)
: 2089-2094
Lighting up individual DNA damage sites by in vitro repair synthesis.
Authors:
Zirkin, Shahar and Fishman, Sivan and Sharim, Hila and Michaeli, Yael and Don, Jeremy and Ebenstein, Yuval
Journal:
Journal of the American Chemical Society
(2014)
: 7771-6
PCR synthesis of double stranded DNA labeled with 5-bromouridine. A step towards finding a bromonucleoside for clinical trials.
Authors:
Michalska, Barbara and Sobolewski, Ireneusz and Polska, Katarzyna and Zielonka, Justyna and Zylicz-Stachula, Agnieszka and Skowron, Piotr and Rak, Janusz
Journal:
Journal of pharmaceutical and biomedical analysis
(2011)
: 671-7
Terminal deoxynucleotidyl transferase: the story of a misguided DNA polymerase.
Authors:
Motea, Edward A and Berdis, Anthony J
Journal:
Biochimica et biophysica acta
(2010)
: 1151-66
An infrared fluorescent dATP for labeling DNA.
Authors:
Steffens, D L and Jang, G Y and Sutter, S L and Brumbaugh, J A and Middendorf, L R and Mühlegger, K and Mardis, E R and Weinstock, L A and Wilson, R K
Journal:
Genome research
(1995)
: 393-9
Enzymatic shot-gun 5'-phosphorylation and 3'-sister phosphate exchange: a two-dimensional thin-layer chromatographic technique to measure DNA deoxynucleotide modification.
Authors:
Steinberg, J J and Cajigas, A and Brownlee, M
Journal:
Journal of chromatography
(1992)
: 41-55