ReadiLink™ Cy5 Nick Translation dsDNA Labeling Kit
Ordering information
| | |
| --- | --- |
| Price | |
| Catalog Number | |
| Unit Size | |
| Quantity | |
Additional ordering information
| | |
| --- | --- |
| Telephone | 1-800-990-8053 |
| Fax | 1-800-609-2943 |
| Email | sales@aatbio.com |
| International | See distributors |
| Bulk request | Inquire |
| Custom size | Inquire |
| Shipping | Standard overnight for United States, inquire for international |
Spectral properties
| | |
| --- | --- |
| Correction Factor (260 nm) | 0.02 |
| Correction Factor (280 nm) | 0.03 |
| Correction Factor (482 nm) | 0.009 |
| Correction Factor (565 nm) | 0.09 |
| Extinction coefficient (cm -1 M -1) | 2500001 |
| Excitation (nm) | 651 |
| Emission (nm) | 670 |
| Quantum yield | 0.271, 0.42 |
Storage, safety and handling
| | |
| --- | --- |
| H-phrase | H303, H313, H333 |
| Hazard symbol | XN |
| Intended use | Research Use Only (RUO) |
| R-phrase | R20, R21, R22 |
| UNSPSC | 12171501 |
| | | | | | | | |
| --- | --- | --- | --- | --- | --- | --- | --- |
| Correction Factor (260 nm) | Correction Factor (280 nm) | Correction Factor (482 nm) | Correction Factor (565 nm) | Extinction coefficient (cm -1 M -1) | | | |
ReadiLink™ Cy5 Nick Translation dsDNA Labelling Kit provides a simple and efficient way to label a double stranded DNA sample with the bright and photostable Cy5 dye. The labelling kit provides all necessary reagents for a complete workflow required for DNA labelling. This method utilizes a combination of DNAse and DNA polymerase to nick one strand of the DNA helix, to which Cy5 dye is conjugated. In addition, the kit allows the user to optimize incorporation and product size by adjusting the ratio of Cy5-dUTP conjugate to dTTP. It is compatible with a wide variety of sample materials, including bacterial artificial chromosome (BAC) DNA, human genomic DNA, purified PCR products, supercoiled and linearized plasmid DNA. The resulted Cy5-labeled DNAs can be used in a variety of molecular biology techniques such as fluorescence in situ hybridization (FISH).
Platform
Other instruments
Thermal Cycler
Example protocol
AT A GLANCE
Protocol summary
Prepare DNA samples

Add reagents to tube

Mix and centrifuge briefly

Incubate at 15 °C for 60 minutes

Place the reaction on ice followed by addition of Stop Solution and heating at 65 °C

Place on ice for 5 minutes before using or store at 4 °C

Purify the labelled DNA 
Important
Thaw all the kit components on ice before starting the experiment. Briefly vortex all the reagents to the bottom before starting the labelling process.
SAMPLE EXPERIMENTAL PROTOCOL
The following protocol can be used as a guideline.
Table 1.
Reagents composition per tube for each reaction
| | |
| --- | --- |
| Components | Amount |
| DNA sample | 1 µg DNA diluted in Nuclease-free water to final volume of 34 µL |
| Nick Translation Buffer | 5 µL |
| dNTP mix | 5 µL |
| dTTP | 2 µL |
| Cy5-dUTP working solution  | 2 µL |
| DNA Polymerase I | 1 µL |
| DNase I | 1 µL |
| Total Volume | 50 µL |
The ratio of Cy5-dUTP (Component A): dTTP (Component E) can be optimized to achieve the best labelling conditions.
Incubation time can be optimized for better labelling. Longer incubation time will help with more labelling but may shorten the size of the end product.
To a clean (Nuclease-free) 0.5 mL micro centrifuge tube or 0.2 mL PCR tube, add the reagents in the order indicated in Table 1.

Carefully mix the reagents by a brief vortex followed by brief centrifuge.

Incubate the reaction at 15 °C for 60 minutes.

After incubation, place the reaction on ice.

To terminate the reaction, add 5 µL of Stop Solution and heat the sample at 65 °C.

Place on ice for 5 minutes before using or store at 4 °C.

Purify the labeled DNA. 
Spectrum
Open in Advanced Spectrum Viewer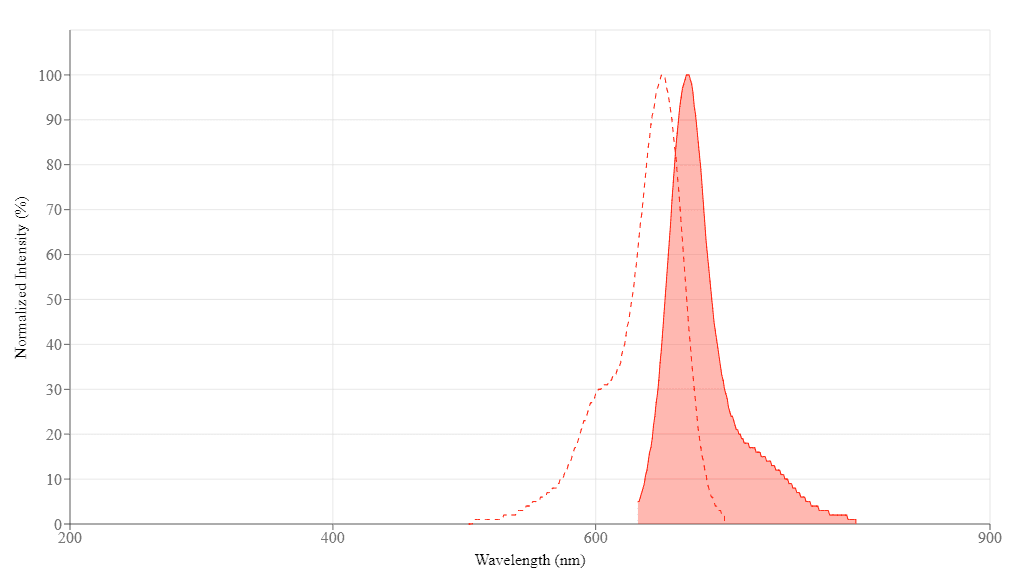 Spectral properties
| | |
| --- | --- |
| Correction Factor (260 nm) | 0.02 |
| Correction Factor (280 nm) | 0.03 |
| Correction Factor (482 nm) | 0.009 |
| Correction Factor (565 nm) | 0.09 |
| Extinction coefficient (cm -1 M -1) | 2500001 |
| Excitation (nm) | 651 |
| Emission (nm) | 670 |
| Quantum yield | 0.271, 0.42 |
Images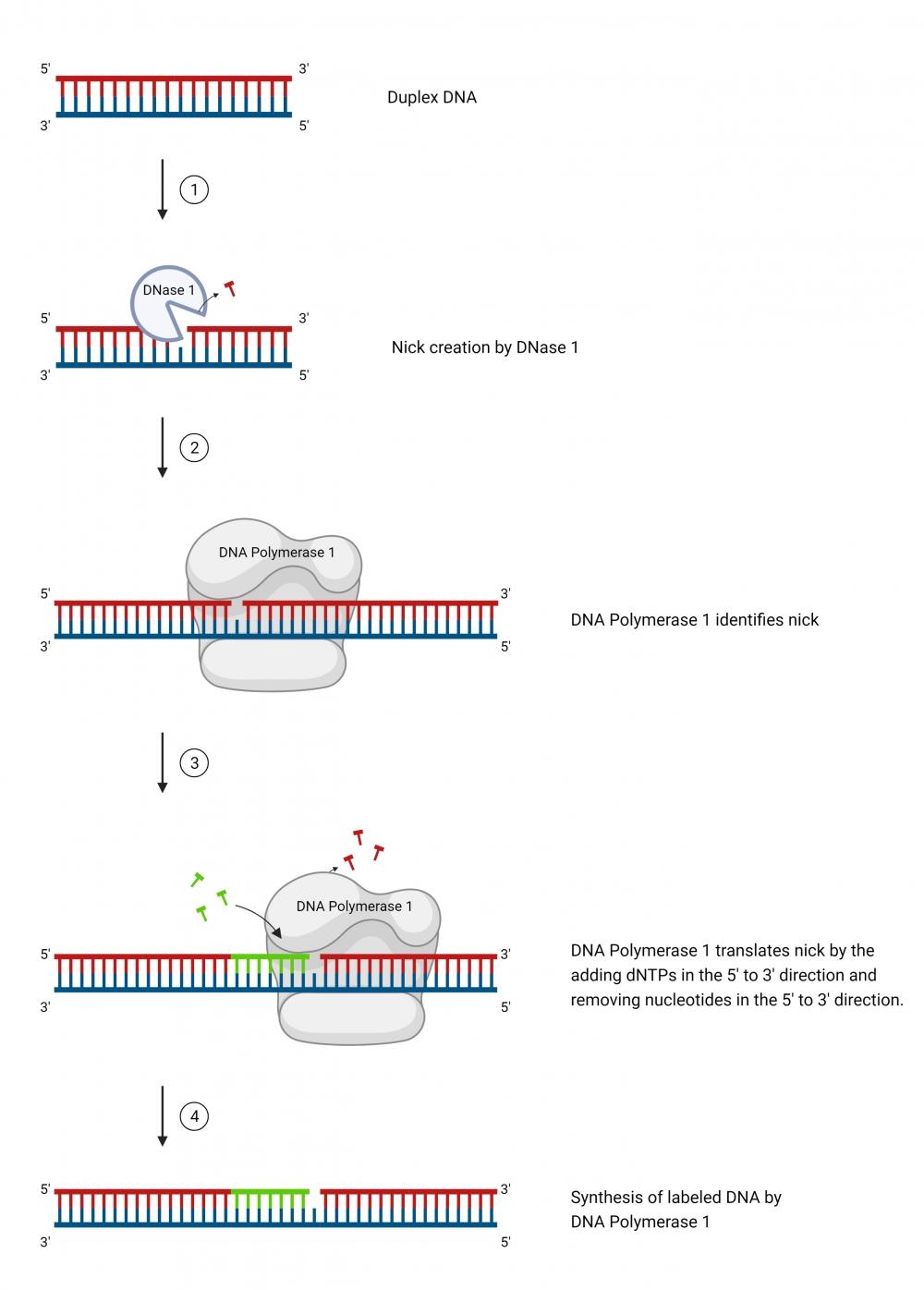 Figure 1.
Nick translation labeling of DNA starts with the creation of defects within the sequence of existing DNA double-helix molecules by cleavage of phosphodiester bonds with DNase along the backbone of one strand. Polymerase then repairs these nicks beginning with the removal of the adjacent nucleotide and the immediate filling back in of those gaps with new nucleotides from the added dNTP pool. As each new nucleotide is added, the polymerase leaves the 3′ OH group open, thus translating the nick toward the 5′ end. As the reaction sequence is repeated, the polymerase enzyme continues to remove existing nucleotides and replace them with new ones at the site of the new nick. The result of these reactions is numerous labeled and unlabeled nucleotides being incorporated as a complementary sequence along the length of each DNA strand, starting at the site of the original nick.
References
Assessment of Global DNA Double-Strand End Resection using BrdU-DNA Labeling coupled with Cell Cycle Discrimination Imaging.
Authors:
O'Sullivan, Julia and Mersaoui, Sofiane Y and Poirier, Guy and Masson, Jean-Yves
Journal:
Journal of visualized experiments : JoVE
(2021)
Customized optical mapping by CRISPR-Cas9 mediated DNA labeling with multiple sgRNAs.
Authors:
Abid, Heba Z and Young, Eleanor and McCaffrey, Jennifer and Raseley, Kaitlin and Varapula, Dharma and Wang, Hung-Yi and Piazza, Danielle and Mell, Joshua and Xiao, Ming
Journal:
Nucleic acids research
(2021)
: e8
Coupled DNA-labeling and sequencing approach enables the detection of viable-but-non-culturable Vibrio spp. in irrigation water sources in the Chesapeake Bay watershed.
Authors:
Malayil, Leena and Chattopadhyay, Suhana and Mongodin, Emmanuel F and Sapkota, Amy R
Journal:
Environmental microbiome
(2021)
: 13
Fast and Efficient Postsynthetic DNA Labeling in Cells by Means of Strain-Promoted Sydnone-Alkyne Cycloadditions.
Authors:
Krell, Katja and Pfeuffer, Bastian and Rönicke, Franziska and Chinoy, Zoeisha S and Favre, Camille and Friscourt, Frédéric and Wagenknecht, Hans-Achim
Journal:
Chemistry (Weinheim an der Bergstrasse, Germany)
(2021)
Metabolically-active bacteria in reclaimed water and ponds revealed using bromodeoxyuridine DNA labeling coupled with 16S rRNA and shotgun sequencing.
Authors:
Malayil, Leena and Ramachandran, Padmini and Chattopadhyay, Suhana and Cagle, Robin and Hittle, Lauren and Ottesen, Andrea and Mongodin, Emmanuel F and Sapkota, Amy R
Journal:
Water research
(2020)
: 116185
Tracing Baculovirus AcMNPV Infection Using a Real-Time Method Based on ANCHORTM DNA Labeling Technology.
Authors:
Hinsberger, Aurélie and Graillot, Benoît and Blachère Lopez, Christine and Juliant, Sylvie and Cerutti, Martine and King, Linda A and Possee, Robert D and Gallardo, Franck and Lopez Ferber, Miguel
Journal:
Viruses
(2020)
Fluorescent SAM analogues for methyltransferase based DNA labeling.
Authors:
Goyvaerts, Vince and Van Snick, Sven and D'Huys, Laurens and Vitale, Raffaele and Helmer Lauer, Milena and Wang, Su and Leen, Volker and Dehaen, Wim and Hofkens, Johan
Journal:
Chemical communications (Cambridge, England)
(2020)
: 3317-3320
Multiplexed sgRNA Expression Allows Versatile Single Nonrepetitive DNA Labeling and Endogenous Gene Regulation.
Authors:
Shao, Shipeng and Chang, Lei and Sun, Yuao and Hou, Yingping and Fan, Xiaoying and Sun, Yujie
Journal:
ACS synthetic biology
(2018)
: 176-186
Click Chemistry-Based DNA Labeling of Cells for Barcoding Applications.
Authors:
Gentile, Stefan D and Griebel, Megan E and Anderson, Erik W and Underhill, Gregory H
Journal:
Bioconjugate chemistry
(2018)
: 2846-2854
Real-Time Visualization and Quantification of Human Cytomegalovirus Replication in Living Cells Using the ANCHOR DNA Labeling Technology.
Authors:
Mariamé, Bernard and Kappler-Gratias, Sandrine and Kappler, Martin and Balor, Stéphanie and Gallardo, Franck and Bystricky, Kerstin
Journal:
Journal of virology
(2018)