ReadiLink™ iFluor® 555 FISH Fluorescence Imaging Kit
Ordering information
| | |
| --- | --- |
| Price | |
| Catalog Number | |
| Unit Size | |
| Quantity | |
Additional ordering information
| | |
| --- | --- |
| Telephone | 1-800-990-8053 |
| Fax | 1-800-609-2943 |
| Email | sales@aatbio.com |
| International | See distributors |
| Bulk request | Inquire |
| Custom size | Inquire |
| Shipping | Standard overnight for United States, inquire for international |
Spectral properties
| | |
| --- | --- |
| Correction Factor (260 nm) | 0.23 |
| Correction Factor (280 nm) | 0.14 |
| Extinction coefficient (cm -1 M -1) | 1000001 |
| Excitation (nm) | 557 |
| Emission (nm) | 570 |
| Quantum yield | 0.641 |
Storage, safety and handling
| | |
| --- | --- |
| H-phrase | H303, H313, H333 |
| Hazard symbol | XN |
| Intended use | Research Use Only (RUO) |
| R-phrase | R20, R21, R22 |
| Storage | Freeze (< -15 °C); Minimize light exposure |
| | | | | | |
| --- | --- | --- | --- | --- | --- |
| Correction Factor (260 nm) | Correction Factor (280 nm) | Extinction coefficient (cm -1 M -1) | | | |
Fluorescence in situ hybridization (FISH) technology is an effective tool for detecting specific nucleic acid targets in a biological specimen. Detection of a nucleic acid target in situ is achieved through the hybridization of a fluorescent dye-labeled nucleic acid probe of complementary sequence to the specimen. The Readilink™ iFluor® 555 FISH fluorescence imaging kit is a convenient tool for labeling a target DNA using an iFluor® 555 labeled FISH probe via in situ hybridization. The kit provides Taq DNA polymerase enzyme which incorporates iFluor® 555-dUTPs in the target DNA through Polymerase Chain Reaction (PCR). Our proprietary iFluor® dyes are brighter and more photostable than traditional fluorescent labels, providing the desired resolution and signal.
Platform
Thermal Cycler
| | |
| --- | --- |
| Recommended plate | PCR Microplate |
Example protocol
SAMPLE EXPERIMENTAL PROTOCOL
Before using, thaw all components to room temperature and mix thoroughly by vortexing.
Note: The following protocol can be used as a general guideline to standard DNA FISH. Optimization may be necessary for your experimental system.
Prepare the following reaction mixes as indicated in Table 1.

Table 1. Reagents composition per well for each reaction.

| | | |
| --- | --- | --- |
| Components | Volume (25 µL/reaction) | Final Conc. |
| FISH Reaction mix (2X) | 12.5 µL | 1X |
| Upstream primer, 10 µM | 0.25-2.5 µL | 0.1-1.0 µM |
| Downstream primer, 10 µM | 0.25-2.5 µL | 0.1-1.0 µM |
| DNA template | 1-5 µL | Optimized conc. |
| iFluor® 555-dUTP | 2.5 µL |   |
| dNTP mix | 1 µL |   |
| Water, nuclease-free | 25 µL |   |

Carefully mix the reagents by gentle vortexing followed by a brief centrifuge.

Set up the plate in the qPCR instrument and run as indicated in Table 2.

Table 2. Thermal cycling parameters.

Parameter

Polymerase Activation

PCR (30-40 cycles)

 

Hold

Denature

Anneal

Extend

Temperature

95 °C

95 °C

55-65 °C

68-72 °C

Time (m:ss)

0:20

0:30

1:00

1:00
Spectrum
Open in Advanced Spectrum Viewer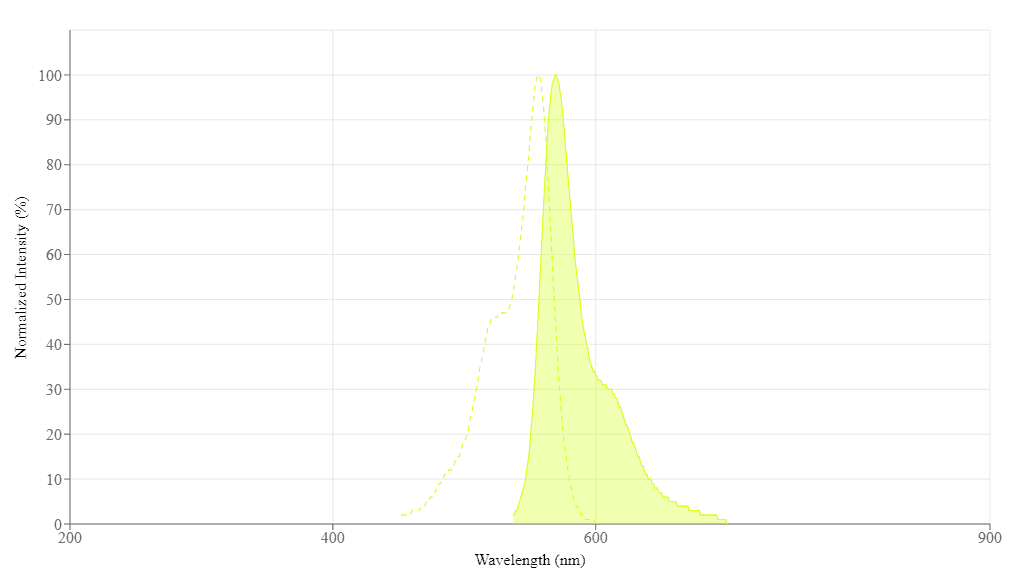 Spectral properties
| | |
| --- | --- |
| Correction Factor (260 nm) | 0.23 |
| Correction Factor (280 nm) | 0.14 |
| Extinction coefficient (cm -1 M -1) | 1000001 |
| Excitation (nm) | 557 |
| Emission (nm) | 570 |
| Quantum yield | 0.641 |
Images
References
Evaluation of a fluorescence in situ hybridization (FISH)-based method for detection of SARS-CoV-2 in saliva.
Authors:
Tamminga, Gerrit G and Jansen, Gijsbert J and Wiersma, Marit
Journal:
PloS one
(2022)
: e0277367
In Situ Super-Resolution Imaging of Telomeres with DNA-PAINT.
Authors:
Liu, Yuanyuan and Ye, Xiangyu and Wang, Zhuyuan and Zong, Shenfei and Cui, Yiping
Journal:
ACS omega
(2022)
: 40512-40519
Detection of hydrocarbon-degrading bacteria on deepwater corals of the northeast Atlantic using CARD-FISH.
Authors:
Thompson, Haydn Frank and Gutierrez, Tony
Journal:
Journal of microbiological methods
(2021)
: 106277
Ammonium and organic carbon co-removal under feammox-coupled-with-heterotrophy condition as an efficient approach for nitrogen treatment.
Authors:
Le, Chung Phuong and Nguyen, Hai Thi and Nguyen, Toi Duy and Nguyen, Quyen Huynh Minh and Pham, Hai The and Dinh, Hang Thuy
Journal:
Scientific reports
(2021)
: 784
Development of a Fluorescence in Situ Hybridization Probe for Detecting IKZF1 Deletion Mutations in Patients with Acute Lymphoblastic Leukemia.
Authors:
Hashiguchi, Junichi and Onozawa, Masahiro and Oguri, Satoshi and Fujisawa, Shinichi and Tsuji, Masahisa and Okada, Kohei and Nakagawa, Masao and Hashimoto, Daigo and Kahata, Kaoru and Kondo, Takeshi and Shimizu, Chikara and Teshima, Takanori
Journal:
The Journal of molecular diagnostics : JMD
(2018)
: 446-454
Dual-probe RNA FRET-FISH in Yeast.
Authors:
Wadsworth, Gable M and Parikh, Rasesh Y and Kim, Harold D
Journal:
Bio-protocol
(2018)
: e2867
Evaluation of telomere length in human cardiac tissues using cardiac quantitative FISH.
Authors:
Sharifi-Sanjani, Maryam and Meeker, Alan K and Mourkioti, Foteini
Journal:
Nature protocols
(2017)
: 1855-1870
A molecular pathology method for sequential fluorescence in situ hybridization for multi-gene analysis at the single-cell level.
Authors:
Hu, Linping and Yin, Xiuxiu and Sun, Jiangman and Zetterberg, Anders and Miao, Weimin and Cheng, Tao
Journal:
Oncotarget
(2017)
: 50534-50541
A stem-less probe using spontaneous pairing between Cy3 and quencher for RNA detection.
Authors:
Kashida, Hiromu and Morimoto, Kazuhiro and Asanuma, Hiroyuki
Journal:
Science and technology of advanced materials
(2016)
: 267-273
Fluorescence In Vivo Hybridization (FIVH) for Detection of Helicobacter pylori Infection in a C57BL/6 Mouse Model.
Authors:
Fontenete, Sílvia and Leite, Marina and Cappoen, Davie and Santos, Rita and Ginneken, Chris Van and Figueiredo, Céu and Wengel, Jesper and Cos, Paul and Azevedo, Nuno Filipe
Journal:
PloS one
(2016)
: e0148353