ReadiLink™ iFluor® 555 Nick Translation dsDNA Labeling Kit
Ordering information
| | |
| --- | --- |
| Price | |
| Catalog Number | |
| Unit Size | |
| Quantity | |
Additional ordering information
| | |
| --- | --- |
| Telephone | 1-800-990-8053 |
| Fax | 1-800-609-2943 |
| Email | sales@aatbio.com |
| International | See distributors |
| Bulk request | Inquire |
| Custom size | Inquire |
| Shipping | Standard overnight for United States, inquire for international |
Spectral properties
| | |
| --- | --- |
| Correction Factor (260 nm) | 0.23 |
| Correction Factor (280 nm) | 0.14 |
| Extinction coefficient (cm -1 M -1) | 1000001 |
| Excitation (nm) | 557 |
| Emission (nm) | 570 |
| Quantum yield | 0.641 |
Storage, safety and handling
| | |
| --- | --- |
| H-phrase | H303, H313, H333 |
| Hazard symbol | XN |
| Intended use | Research Use Only (RUO) |
| R-phrase | R20, R21, R22 |
| UNSPSC | 12171501 |
| | | | | | |
| --- | --- | --- | --- | --- | --- |
| Correction Factor (260 nm) | Correction Factor (280 nm) | Extinction coefficient (cm -1 M -1) | | | |
ReadiLink™ iFluor® 555 Nick Translation dsDNA Labelling Kit provides a simple and efficient way to label a double stranded DNA sample with the bright and photostable iFluor® 555 dye. The labelling kit provides all necessary reagents for a complete workflow required for DNA labelling. This method utilizes a combination of DNAse and DNA polymerase to nick one strand of the DNA helix, to which iFluor 555 dye is conjugated. In addition, the kit allows the user to optimize incorporation and product size by adjusting the ratio of iFluor 555-dUTP conjugate to dTTP. It is compatible with a wide variety of sample materials, including bacterial artificial chromosome (BAC) DNA, human genomic DNA, purified PCR products, supercoiled and linearized plasmid DNA. The resulted iFluor® 555-labeled DNAs can be used in a variety of molecular biology techniques such as fluorescence in situ hybridization (FISH).
Platform
Other instruments
Thermal Cycler
Example protocol
AT A GLANCE
Protocol summary
Prepare DNA samples

Add reagents to tube

Mix and centrifuge briefly

Incubate at 15 °C for 60 minutes

Place the reaction on ice followed by addition of Stop Solution and heating at 65 °C

Place on ice for 5 minutes before using or store at 4 °C

Purify the labelled DNA 
Important
Thaw all the kit components on ice before starting the experiment. Briefly vortex all the reagents to the bottom before starting the labelling process.
SAMPLE EXPERIMENTAL PROTOCOL
The following protocol can be used as a guideline.
Table 1.
Reagents composition per tube for each reaction
| | |
| --- | --- |
| Components | Amount |
| DNA sample | 1 µg DNA diluted in Nuclease-free water to final volume of 34 µL |
| Nick Translation Buffer | 5 µL |
| dNTP mix | 5 µL |
| dTTP | 2 µL |
| iFluor™555-dUTP working solution  | 2 µL |
| DNA Polymerase I | 1 µL |
| DNase I | 1 µL |
| Total Volume | 50 µL |
The ratio of iFluor™555-dUTP (Component A): dTTP (Component E) can be optimized to achieve the best labelling conditions.
Incubation time can be optimized for better labelling. Longer incubation time will help with more labelling but may shorten the size of the end product.
To a clean (Nuclease-free) 0.5 mL micro centrifuge tube or 0.2 mL PCR tube, add the reagents in the order indicated in Table 1.

Carefully mix the reagents by a brief vortex followed by brief centrifuge.

Incubate the reaction at 15 °C for 60 minutes.

After incubation, place the reaction on ice.

To terminate the reaction, add 5 µL of Stop Solution and heat the sample at 65 °C.

Place on ice for 5 minutes before using or store at 4 °C.

Purify the labeled DNA. 
Spectrum
Open in Advanced Spectrum Viewer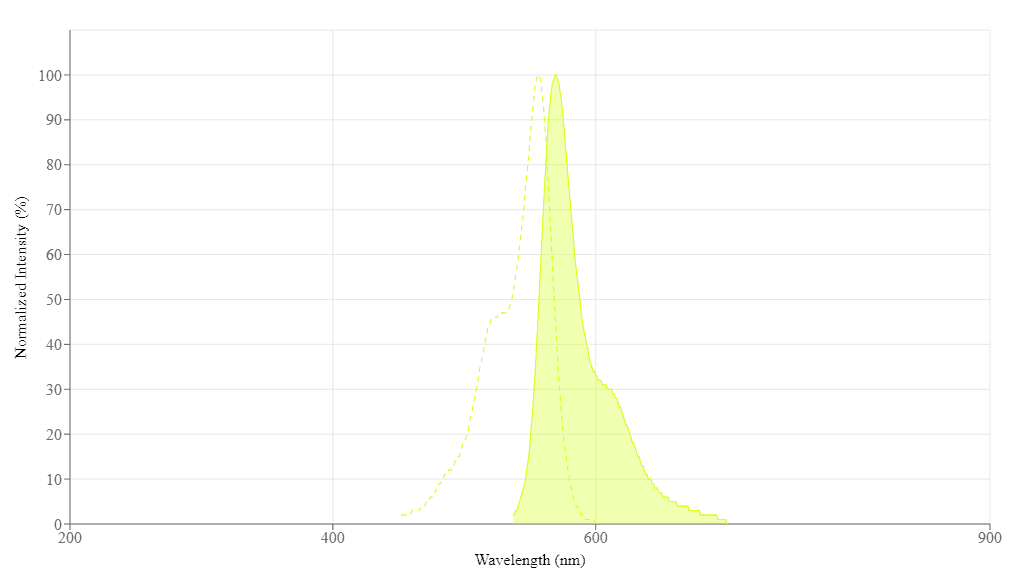 Spectral properties
| | |
| --- | --- |
| Correction Factor (260 nm) | 0.23 |
| Correction Factor (280 nm) | 0.14 |
| Extinction coefficient (cm -1 M -1) | 1000001 |
| Excitation (nm) | 557 |
| Emission (nm) | 570 |
| Quantum yield | 0.641 |
Images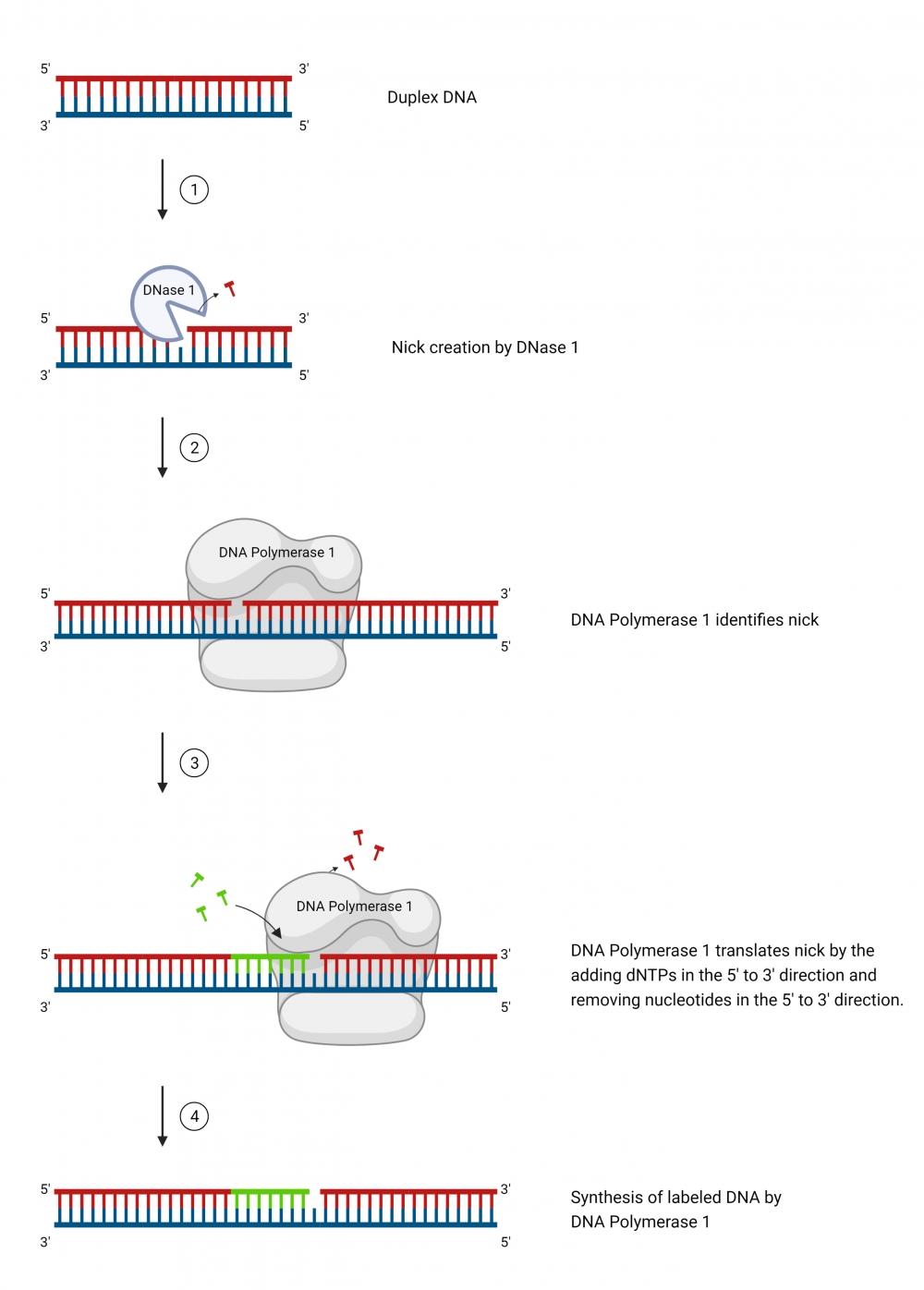 Figure 1.
Nick translation labeling of DNA starts with the creation of defects within the sequence of existing DNA double-helix molecules by cleavage of phosphodiester bonds with DNase along the backbone of one strand. Polymerase then repairs these nicks beginning with the removal of the adjacent nucleotide and the immediate filling back in of those gaps with new nucleotides from the added dNTP pool. As each new nucleotide is added, the polymerase leaves the 3′ OH group open, thus translating the nick toward the 5′ end. As the reaction sequence is repeated, the polymerase enzyme continues to remove existing nucleotides and replace them with new ones at the site of the new nick. The result of these reactions is numerous labeled and unlabeled nucleotides being incorporated as a complementary sequence along the length of each DNA strand, starting at the site of the original nick.
References
Engineering nicking enzymes that preferentially nick 5-methylcytosine-modified DNA.
Authors:
Gutjahr, Alice and Xu, Shuang-yong
Journal:
Nucleic acids research
(2014)
: e77
Pro-apoptotic gene knockdown mediated by nanocomplexed siRNA reduces radiation damage in primary salivary gland cultures.
Authors:
Arany, Szilvia and Xu, Qingfu and Hernady, Eric and Benoit, Danielle S W and Dewhurst, Steve and Ovitt, Catherine E
Journal:
Journal of cellular biochemistry
(2012)
: 1955-65
Identification of bacterial cells by chromosomal painting.
Authors:
Lanoil, B D and Giovannoni, S J
Journal:
Applied and environmental microbiology
(1997)
: 1118-23
An evaluation of a new series of fluorescent dUTPs for fluorescence in situ hybridization.
Authors:
Wiegant, J and Verwoerd, N and Mascheretti, S and Bolk, M and Tanke, H J and Raap, A K
Journal:
The journal of histochemistry and cytochemistry : official journal of the Histochemistry Society
(1996)
: 525-9
Cyanine dye dUTP analogs for enzymatic labeling of DNA probes.
Authors:
Yu, H and Chao, J and Patek, D and Mujumdar, R and Mujumdar, S and Waggoner, A S
Journal:
Nucleic acids research
(1994)
: 3226-32
Directly labeled DNA probes using fluorescent nucleotides with different length linkers.
Authors:
Zhu, Z and Chao, J and Yu, H and Waggoner, A S
Journal:
Nucleic acids research
(1994)
: 3418-22