ReadiLink™ iFluor® 555 Oligo and ssDNA Labeling Kit
Ordering information
| | |
| --- | --- |
| Price | |
| Catalog Number | |
| Unit Size | |
| Quantity | |
Additional ordering information
| | |
| --- | --- |
| Telephone | 1-800-990-8053 |
| Fax | 1-800-609-2943 |
| Email | sales@aatbio.com |
| International | See distributors |
| Bulk request | Inquire |
| Custom size | Inquire |
| Shipping | Standard overnight for United States, inquire for international |
Spectral properties
| | |
| --- | --- |
| Correction Factor (260 nm) | 0.23 |
| Correction Factor (280 nm) | 0.14 |
| Extinction coefficient (cm -1 M -1) | 1000001 |
| Excitation (nm) | 557 |
| Emission (nm) | 570 |
| Quantum yield | 0.641 |
Storage, safety and handling
| | |
| --- | --- |
| H-phrase | H303, H313, H333 |
| Hazard symbol | XN |
| Intended use | Research Use Only (RUO) |
| R-phrase | R20, R21, R22 |
| UNSPSC | 12171501 |
| | | | | | |
| --- | --- | --- | --- | --- | --- |
| Correction Factor (260 nm) | Correction Factor (280 nm) | Extinction coefficient (cm -1 M -1) | | | |
ReadiLink™ iFluor® 555 Oligo and ssDNA Labelling Kit enables simple and uniform tagging of single-stranded DNA or oligos with iFluor® 555, our bright, photostable and green-fluorescent fluorophore. The labelling kit uses our proprietary TAQuest™ terminal deoxynucleotidyl transferase (TdT) to catalyze non-template directed nucleotide incorporation onto the 3'- end of single-stranded DNAs or oligos. The kit is optimized for efficient labelling and contains all the essential reagents required for efficient labelling of ssDNA or oligos. The resulting iFluor® 555-labelled DNA probes are ideally suited for biological applications, e.g., electrophoretic mobility shift assays (EMSA), Northern and Southern blots, colony or in situ hybridizations.
Platform
Thermal Cycler
| | |
| --- | --- |
| Instrument specification(s) | 0.5 mL microcentrifuge or 0.2 mL PCR tube |
Example protocol
AT A GLANCE
Protocol summary
Prepare oligo or ssDNA samples

Add reagents to tube

Mix and centrifuge briefly

Incubate at 37 °C for 60 minutes

Place on ice for 5 minutes

Purify the labeled DNA 
Note: Thaw all the kit components on ice before starting the experiment. Briefly centrifuge all the reagents to the bottom before starting the labeling process.
SAMPLE EXPERIMENTAL PROTOCOL
The following protocol can be used as a guideline.
To a clean (Nuclease-free) 0.5 mL microcentrifuge tube or 0.2 mL PCR tube, prepare a reaction mix by adding the reagents in the order indicated in Table 1.

Carefully mix the reagents by a brief vortex, followed by a brief centrifuge.

Incubate the reaction at 37 °C for 60 minutes.

After incubation, place the reaction on ice for 5 minutes.

Purify the labeled DNA. 
Table 1.
Reagents composition per tube for each reaction
| | |
| --- | --- |
| Components | Amount |
| Oligo or ssDNA sample | 1 µg DNA diluted in Nuclease-free water to a final volume of 5 µL |
| TdT Reaction Buffer | 40 µL |
| iFluor™ 555-dUTP | 1-2 µL |
| CoCl2 | 5 µL |
| TdT enzyme | 0.5 µL |
| Total Volume | 52 µL (Approx.) |
Note: The amount of iFluor™ 555-dUTP can be optimized to achieve the best labeling conditions.
Spectrum
Open in Advanced Spectrum Viewer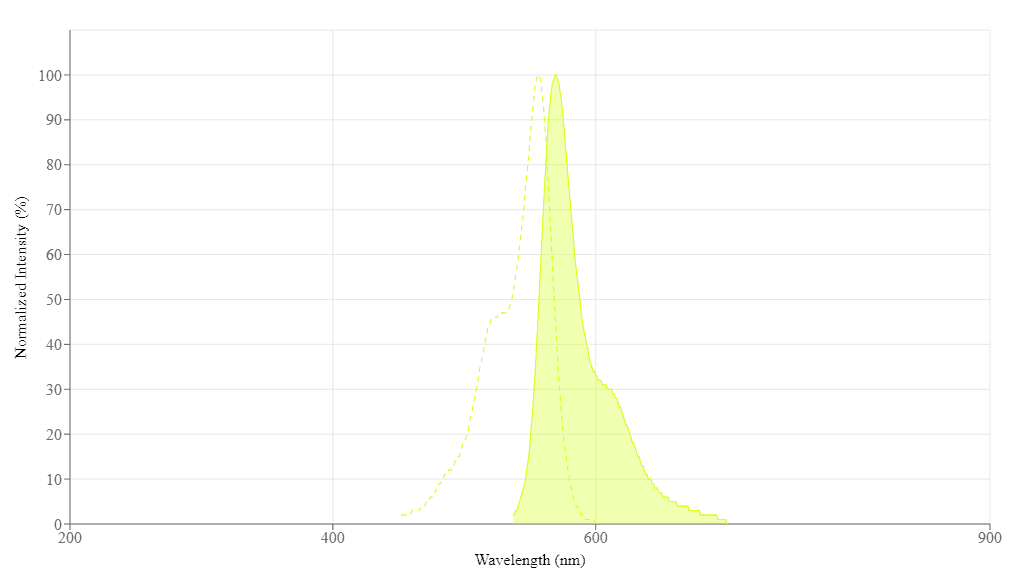 Spectral properties
| | |
| --- | --- |
| Correction Factor (260 nm) | 0.23 |
| Correction Factor (280 nm) | 0.14 |
| Extinction coefficient (cm -1 M -1) | 1000001 |
| Excitation (nm) | 557 |
| Emission (nm) | 570 |
| Quantum yield | 0.641 |
References
Time-Gated Luminescent In Situ Hybridization (LISH): Highly Sensitive Detection of Pathogenic Staphylococcus aureus.
Authors:
Sayyadi, Nima and Connally, Russell E and Lawson, Thomas S and Yuan, Jingli and Packer, Nicolle H and Piper, James A
Journal:
Molecules (Basel, Switzerland)
(2019)
Movement of a Quantum Dot Covered with Cytocompatible and pH-Responsible Phospholipid Polymer Chains under a Cellular Environment.
Authors:
Liu, Yihua and Oda, Haruka and Inoue, Yuuki and Ishihara, Kazuhiko
Journal:
Biomacromolecules
(2016)
: 3986-3994
Photosensitizer and polycationic peptide-labeled streptavidin as a nano-carrier for light-controlled protein transduction.
Authors:
Minamihata, Kosuke and Maeda, Yasukazu and Yamaguchi, Satoshi and Ishihara, Wataru and Ishiwatari, Akira and Takamori, Satoshi and Yamahira, Shinya and Nagamune, Teruyuki
Journal:
Journal of bioscience and bioengineering
(2015)
: 630-6
Multifunctional surface modification of gold-stabilized nanoparticles by bioorthogonal reactions.
Authors:
Li, Xiuru and Guo, Jun and Asong, Jinkeng and Wolfert, Margreet A and Boons, Geert-Jan
Journal:
Journal of the American Chemical Society
(2011)
: 11147-53
Fabrication of reversible poly(dimethylsiloxane) surfaces via host-guest chemistry and their repeated utilization in cardiac biomarker analysis.
Authors:
Zhang, Yanrong and Ren, Li and Tu, Qin and Wang, Xueqin and Liu, Rui and Li, Li and Wang, Jian-Chun and Liu, Wenming and Xu, Juan and Wang, Jinyi
Journal:
Analytical chemistry
(2011)
: 9651-9
COMBO-FISH enables high precision localization microscopy as a prerequisite for nanostructure analysis of genome loci.
Authors:
Müller, Patrick and Schmitt, Eberhard and Jacob, Anette and Hoheisel, Jörg and Kaufmann, Rainer and Cremer, Christoph and Hausmann, Michael
Journal:
International journal of molecular sciences
(2010)
: 4094-105
Analysis of hollow-core photonic bandgap fibers for evanescent wave biosensing.
Authors:
Sun, Jian and Chan, Chi-Chiu and Zhang, Yi-Fan and Shum, Ping
Journal:
Journal of biomedical optics
: 054048