ReadiLink™ iFluor® 647 FISH Fluorescence Imaging Kit
Ordering information
| | |
| --- | --- |
| Price | |
| Catalog Number | |
| Unit Size | |
| Quantity | |
Additional ordering information
| | |
| --- | --- |
| Telephone | 1-800-990-8053 |
| Fax | 1-800-609-2943 |
| Email | sales@aatbio.com |
| International | See distributors |
| Bulk request | Inquire |
| Custom size | Inquire |
| Shipping | Standard overnight for United States, inquire for international |
Spectral properties
| | |
| --- | --- |
| Correction Factor (260 nm) | 0.03 |
| Correction Factor (280 nm) | 0.03 |
| Correction Factor (656 nm) | 0.0793 |
| Extinction coefficient (cm -1 M -1) | 2500001 |
| Excitation (nm) | 656 |
| Emission (nm) | 670 |
| Quantum yield | 0.251 |
Storage, safety and handling
| | |
| --- | --- |
| H-phrase | H303, H313, H333 |
| Hazard symbol | XN |
| Intended use | Research Use Only (RUO) |
| R-phrase | R20, R21, R22 |
| Storage | Freeze (< -15 °C); Minimize light exposure |
| | | | | | | |
| --- | --- | --- | --- | --- | --- | --- |
| Correction Factor (260 nm) | Correction Factor (280 nm) | Correction Factor (656 nm) | Extinction coefficient (cm -1 M -1) | | | |
Fluorescence in situ hybridization (FISH) technology is an effective tool for detecting specific nucleic acid targets in a biological specimen. Detection of a nucleic acid target in situ is achieved through the hybridization of a fluorescent dye-labeled nucleic acid probe of complementary sequence to the specimen. The Readilink™ iFluor® 647 FISH fluorescence imaging kit is a convenient tool for labeling a target DNA using an iFluor® 647 labeled FISH probe via in situ hybridization. The kit provides Taq DNA polymerase enzyme which incorporates iFluor® 647-dUTPs in the target DNA through Polymerase Chain Reaction (PCR). Our proprietary iFluor® dyes are brighter and more photostable than traditional fluorescent labels, providing the desired resolution and signal.
Platform
Thermal Cycler
| | |
| --- | --- |
| Recommended plate | PCR Microplate |
Example protocol
SAMPLE EXPERIMENTAL PROTOCOL
Before using, thaw all components to room temperature and mix thoroughly by vortexing.
Note: The following protocol can be used as a general guideline to standard DNA FISH. Optimization may be necessary for your experimental system.
Prepare the following reaction mixes as indicated in Table 1.

Table 1. Reagents composition per well for each reaction.

| | | |
| --- | --- | --- |
| Components | Volume (25 µL/reaction) | Final Conc. |
| FISH Reaction mix (2X) | 12.5 µL | 1X |
| Upstream primer, 10 µM | 0.25-2.5 µL | 0.1-1.0 µM |
| Downstream primer, 10 µM | 0.25-2.5 µL | 0.1-1.0 µM |
| DNA template | 1-5 µL | Optimized conc. |
| iFluor® 647-dUTP | 2.5 µL |   |
| dNTP mix | 1 µL |   |
| Water, nuclease-free | 25 µL |   |

Carefully mix the reagents by gentle vortexing followed by a brief centrifuge.

Set up the plate in the qPCR instrument and run as indicated in Table 2.

Table 2. Thermal cycling parameters.

Parameter

Polymerase Activation

PCR (30-40 cycles)

 

Hold

Denature

Anneal

Extend

Temperature

95 °C

95 °C

55-65 °C

68-72 °C

Time (m:ss)

0:20

0:30

1:00

1:00
Spectrum
Open in Advanced Spectrum Viewer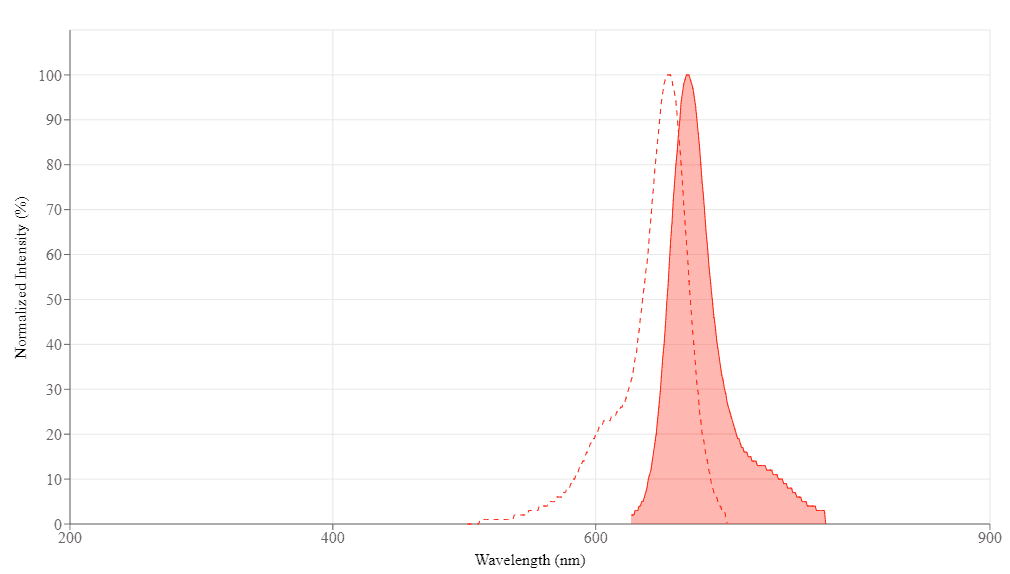 Spectral properties
| | |
| --- | --- |
| Correction Factor (260 nm) | 0.03 |
| Correction Factor (280 nm) | 0.03 |
| Correction Factor (656 nm) | 0.0793 |
| Extinction coefficient (cm -1 M -1) | 2500001 |
| Excitation (nm) | 656 |
| Emission (nm) | 670 |
| Quantum yield | 0.251 |
Images
References
Quantitative intracellular retention of delivered RNAs through optimized cell fixation and immunostaining.
Authors:
Paramasivam, Prasath and Stöter, Martin and Corradi, Eloina and Dalla Costa, Irene and Höijer, Andreas and Bartesaghi, Stefano and Sabirsh, Alan and Lindfors, Lennart and Yanez Arteta, Marianna and Nordberg, Peter and Andersson, Shalini and Baudet, Marie-Laure and Bickle, Marc and Zerial, Marino
Journal:
RNA (New York, N.Y.)
(2022)
: 433-446
In Situ Super-Resolution Imaging of Telomeres with DNA-PAINT.
Authors:
Liu, Yuanyuan and Ye, Xiangyu and Wang, Zhuyuan and Zong, Shenfei and Cui, Yiping
Journal:
ACS omega
(2022)
: 40512-40519
A Janus 3D DNA nanomachine for simultaneous and sensitive fluorescence detection and imaging of dual microRNAs in cancer cells.
Authors:
Yang, Zezhou and Peng, Xin and Yang, Peng and Zhuo, Ying and Chai, Ya-Qin and Liang, Wenbin and Yuan, Ruo
Journal:
Chemical science
(2020)
: 8482-8488
Dual-probe RNA FRET-FISH in Yeast.
Authors:
Wadsworth, Gable M and Parikh, Rasesh Y and Kim, Harold D
Journal:
Bio-protocol
(2018)
: e2867
A molecular pathology method for sequential fluorescence in situ hybridization for multi-gene analysis at the single-cell level.
Authors:
Hu, Linping and Yin, Xiuxiu and Sun, Jiangman and Zetterberg, Anders and Miao, Weimin and Cheng, Tao
Journal:
Oncotarget
(2017)
: 50534-50541
mRNA detection in budding yeast with single fluorophores.
Authors:
Wadsworth, Gable M and Parikh, Rasesh Y and Choy, John S and Kim, Harold D
Journal:
Nucleic acids research
(2017)
: e141
Chondroitin sulfate-polyethylenimine copolymer-coated superparamagnetic iron oxide nanoparticles as an efficient magneto-gene carrier for microRNA-encoding plasmid DNA delivery.
Authors:
Lo, Yu-Lun and Chou, Han-Lin and Liao, Zi-Xian and Huang, Shih-Jer and Ke, Jyun-Han and Liu, Yu-Sheng and Chiu, Chien-Chih and Wang, Li-Fang
Journal:
Nanoscale
(2015)
: 8554-65
Quantitation and localization of pospiviroids in aphids.
Authors:
Van Bogaert, N and De Jonghe, K and Van Damme, E J M and Maes, M and Smagghe, G
Journal:
Journal of virological methods
(2015)
: 51-4
CASFISH: CRISPR/Cas9-mediated in situ labeling of genomic loci in fixed cells.
Authors:
Deng, Wulan and Shi, Xinghua and Tjian, Robert and Lionnet, Timothée and Singer, Robert H
Journal:
Proceedings of the National Academy of Sciences of the United States of America
(2015)
: 11870-5
Comparison of the sequence-dependent fluorescence of the cyanine dyes Cy3, Cy5, DyLight DY547 and DyLight DY647 on single-stranded DNA.
Authors:
Kretschy, Nicole and Somoza, Mark M
Journal:
PloS one
(2014)
: e85605