ReadiLink™ Rapid Cy3 Antibody Labeling Kit *Microscale Optimized for Labeling 50 μg Antibody Per Reaction*
| | | | | | |
| --- | --- | --- | --- | --- | --- |
| Correction Factor (260 nm) | Correction Factor (280 nm) | Extinction coefficient (cm -1 M -1) | | | |
Cy3 is one of the most popular fluorescent labeling dyes for preparing orange-red fluorescent bioconjugates. However, most of the commercial Cy3 labeling kits require intensive hands-on time. This Cy3 ReadiLink™ labeling kit is one of the most robust protein labeling kits for preparing Cy3-labeled antibody conjugates or other protein conjugates. It essentially only requires 2 simple mixing steps without a column purification required. The kit provides all the essential components for labeling ~2x50 ug antibody. Each of the two vials of Cy3 dye provided in the kit is optimized for labeling ~50 µg antibody. This Cy3 protein labeling kit provides a convenient method to label monoclonal, polyclonal antibodies or other proteins (>10 kDa).
Figure 1. Overview of the ReadiLink™ Rapid Antibody Labeling protocol. In just two simple steps, and with no purification necessary, covalently label microgram amounts of antibodies in under an hour.
Example protocol
AT A GLANCE
Important
Warm all the components and centrifuge the vials briefly before opening, and immediately prepare the required solutions before starting your conjugation. The following protocol is for recommendation.
PREPARATION OF WORKING SOLUTION
Protein working solution (Solution A)
For labeling 50 µg of protein (assuming the target protein concentration is 1 mg/mL), mix 5 µL (10% of the total reaction volume) of Reaction Buffer (Component B) with 50 µL of the target protein solution.


Note

     If you have a different protein concentration, adjust the protein volume accordingly to make ~50 µg of protein available for your labeling reaction.


Note

     For labeling 100 µg of protein (assuming the target protein concentration is 1 mg/mL), mix 10 µL (10% of the total reaction volume) of Reaction Buffer (Component B) with 100 µL of the target protein solution.


Note

     The protein should be dissolved in 1X phosphate buffered saline (PBS), pH 7.2 - 7.4; if the protein is dissolved in glycine buffer, it must be dialyzed against 1X PBS, pH 7.2 - 7.4, or use Amicon Ultra-0.5, Ultracel-10 Membrane, 10 kDa (cat# UFC501008 from Millipore) to remove free amines or ammonium salts (such as ammonium sulfate and ammonium acetate) that are widely used for protein precipitation.


Note

     Impure antibodies or antibodies stabilized with bovine serum albumin (BSA) or gelatin will not be labeled well.


Note

     For optimal labeling efficiency, a final protein concentration range of 1 - 2 mg/mL is recommended, with a significantly reduced conjugation efficiency at less than 1 mg/mL.
SAMPLE EXPERIMENTAL PROTOCOL
Run conjugation reaction
Add the protein working solution (Solution A) to ONE vial of labeling dye (Component A), and mix them well by repeatedly pipetting for a few times or vortex the vial for a few seconds.


Note

     If labeling 100 µg of protein, use both vials (Component A) of labeling dye by dividing the 100 µg of protein into 2 x 50 µg of protein and reacting each 50 µg of protein with one vial of labeling dye. Then combine both vials for the next step.

Keep the conjugation reaction mixture at room temperature for 30 - 60 minutes.


Note

     The conjugation reaction mixture can be rotated or shaken for longer time if desired. 
Stop Conjugation reaction
Add 5 µL (for 50 µg protein) or 10 µL (for 100 µg protein) which is 10% of the total reaction volume of TQ™-Dyed Quench Buffer (Component C) into the conjugation reaction mixture; mix well.

Incubate at room temperature for 10 minutes. The labeled protein (antibody) is now ready to use. 
Storage of Protein Conjugate
The protein conjugate should be stored at > 0.5 mg/mL in the presence of a carrier protein (e.g., 0.1% bovine serum albumin). For longer storage, the protein conjugates could be lyophilized or divided into single-used aliquots and stored at ≤ –20°C.
Spectrum
Open in Advanced Spectrum Viewer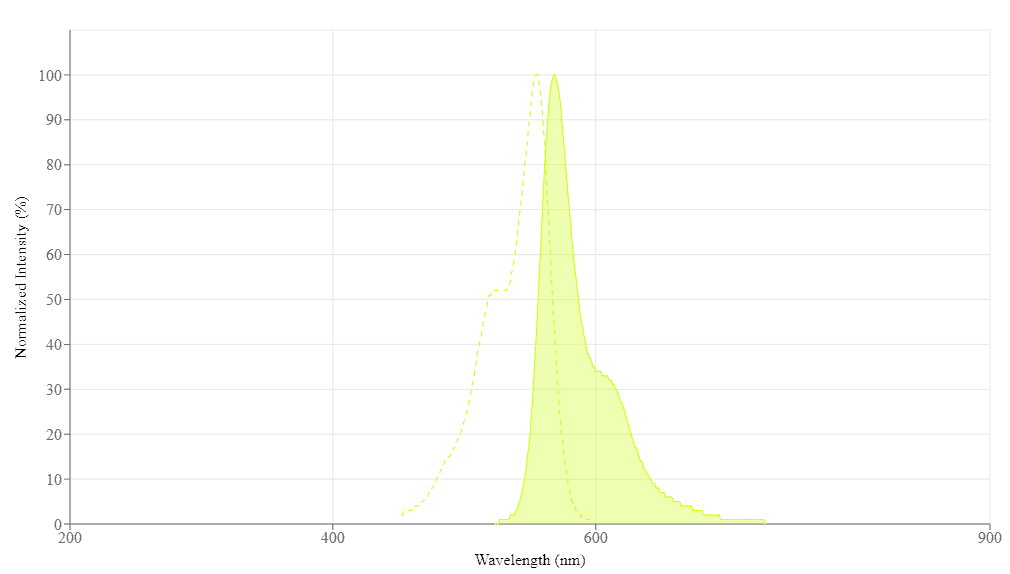 Spectral properties
| | |
| --- | --- |
| Correction Factor (260 nm) | 0.07 |
| Correction Factor (280 nm) | 0.073 |
| Extinction coefficient (cm -1 M -1) | 1500001 |
| Excitation (nm) | 555 |
| Emission (nm) | 569 |
| Quantum yield | 0.151 |
Images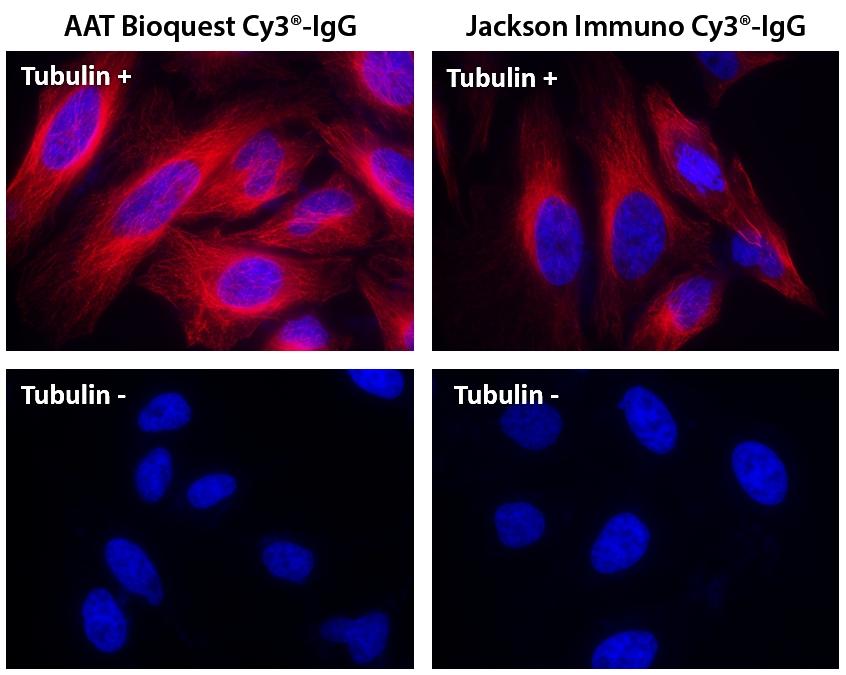 Figure 1.
HeLa cells were incubated with (Tubulin+) or without (Tubulin-) mouse anti-tubulin followed by AAT's Cy3® goat anti-mouse IgG conjugate (Red, Left) or Jackson's goat anti-mouse IgG conjugated with Cy3®  (Red, Right), respectively. Cell nuclei were stained with Hoechst 33342 (Blue, Cat# 17530).
Citations
Antibody-antibiotic conjugate targeted therapy for orthopedic implant-associated intracellular S. aureus infections
Authors:
Hu, Ning and Zhang, Yanhao and Yang, Jianye and Zhao, Liqun and Zhang, Xiaokai and Yang, Yun and Zhang, Jinyong and Zou, Yinshuang and Wei, Keyu and Zhao, Chen and others,
Journal:
(2023)
Light/magnetic hyperthermia triggered drug released from multi-functional thermo-sensitive magnetoliposomes for precise cancer synergetic theranostics
Authors:
Guo, Yuxin and Zhang, Yang and Ma, Jinyuan and Li, Qi and Li, Yang and Zhou, Xinyi and Zhao, Dan and Song, Hua and Chen, Qing and Zhu, Xuan
Journal:
Journal of Controlled Release
(2017)
Affinity-Controlled Protein Encapsulation into Sub-30 nm Telodendrimer Nanocarriers by Multivalent and Synergistic Interactions
Authors:
Wang, Xu and Shi, Changying and Zhang, Li and Bodman, Alexa and Guo, D and an , undefined and Wang, Lili and Hall, Walter A and Wilkens, Stephan and Luo, Juntao
Journal:
Biomaterials
(2016)
Carboxymethyl Dextran-Stabilized Polyethylenimine-Poly (epsilon-caprolactone) Nanoparticles-Mediated Modulation of MicroRNA-34a Expression via Small-Molecule Modulator for Hepatocellular Carcinoma Therapy
Authors:
Deng, Xiongwei and Yin, Zhaoxia and Zhou, Zhixiang and Wang, Yihui and Zhang, Fang and Hu, Qin and Yang, Yishu and Lu, Jianqing and Wu, Yan and Sheng, Wang and others, undefined
Journal:
ACS applied materials & interfaces
(2016)
: 17068--17079
References
Excitation of Cy5 in self-assembled lipid bilayers using optical microresonators
Authors:
Freeman LM, Li S, Dayani Y, Choi HS, Malmstadt N, Armani AM.
Journal:
Appl Phys Lett
(2011)
: 143703
Theranostic cRGD-BioShuttle Constructs Containing Temozolomide- and Cy7 For NIR-Imaging and Therapy
Authors:
Wiessler M, Hennrich U, Pipkorn R, Waldeck W, Cao L, Peter J, Ehemann V, Semmler W, Lammers T, Braun K.
Journal:
Theranostics
(2011)
: 381
Rational approach to select small peptide molecular probes labeled with fluorescent cyanine dyes for in vivo optical imaging
Authors:
Berezin MY, Guo K, Akers W, Livingston J, Solomon M, Lee H, Liang K, Agee A, Achilefu S.
Journal:
Biochemistry
(2011)
: 2691
In vivo detection of embryonic stem cell-derived cardiovascular progenitor cells using Cy3-labeled Gadofluorine M in murine myocardium
Authors:
Adler ED, Bystrup A, Briley-Saebo KC, Mani V, Young W, Giovanonne S, Altman P, Kattman SJ, Frank JA, Weinmann HJ, Keller GM, Fayad ZA.
Journal:
JACC Cardiovasc Imaging
(2009)
: 1114
Quantitative proteomics by fluorescent labeling of cysteine residues using a set of two cyanine-based or three rhodamine-based dyes
Authors:
Volke D, Hoffmann R.
Journal:
Electrophoresis
(2008)
: 4516
Surface plasmon resonance-enhanced fluorescence implementation of a single-step competition assay: demonstration of fatty acid measurement using an anti-fatty acid monoclonal antibody and a Cy5-labeled fatty acid
Authors:
Vareiro MM, Tranchant I, Maplin S, Zak K, Gani MM, Slevin CJ, Hailes HC, Tabor AB, Cameron PJ, Jenkins AT, Williams DE.
Journal:
Anal Biochem
(2008)
: 243
Thiazole orange and Cy3: improvement of fluorescent DNA probes with use of short range electron transfer
Authors:
Menacher F, Rubner M, Berndl S, Wagenknecht HA.
Journal:
J Org Chem
(2008)
: 4263
Near-infrared fluorescence imaging of tumor integrin alpha v beta 3 expression with Cy7-labeled RGD multimers
Authors:
Wu Y, Cai W, Chen X.
Journal:
Mol Imaging Biol
(2006)
: 226
Cy7-Bis-dipicolylamine-zinc
Authors:
Leung K., undefined
Journal:
In: Molecular Imaging and Contrast Agent Database (MICAD), Bethesda (MD).
(2004)
Cy7-Tetrameric arginine-glycine-aspartic acid peptide
Authors:
Cheng KT., undefined
Journal:
In: Molecular Imaging and Contrast Agent Database (MICAD), Bethesda (MD).
(2004)