ReadiLink™ xtra Rapid iFluor® 647 Antibody Labeling Kit *BSA-Compatible*
Ordering information
| | |
| --- | --- |
| Price | |
| Catalog Number | |
| Unit Size | |
| Quantity | |
Additional ordering information
| | |
| --- | --- |
| Telephone | 1-800-990-8053 |
| Fax | 1-800-609-2943 |
| Email | sales@aatbio.com |
| International | See distributors |
| Bulk request | Inquire |
| Custom size | Inquire |
| Shipping | Standard overnight for United States, inquire for international |
Spectral properties
| | |
| --- | --- |
| Correction Factor (260 nm) | 0.03 |
| Correction Factor (280 nm) | 0.03 |
| Correction Factor (656 nm) | 0.0793 |
| Extinction coefficient (cm -1 M -1) | 2500001 |
| Excitation (nm) | 656 |
| Emission (nm) | 670 |
| Quantum yield | 0.251 |
Storage, safety and handling
| | |
| --- | --- |
| H-phrase | H303, H313, H333 |
| Hazard symbol | XN |
| Intended use | Research Use Only (RUO) |
| R-phrase | R20, R21, R22 |
| UNSPSC | 12171501 |
| | | | | | | |
| --- | --- | --- | --- | --- | --- | --- |
| Correction Factor (260 nm) | Correction Factor (280 nm) | Correction Factor (656 nm) | Extinction coefficient (cm -1 M -1) | | | |
ReadiLink™ xtra rapid antibody labeling kits require essentially only 2 simple mixing steps without a column purification needed. Preactivated iFluor® 647 used in this ReadiLink™ kit is quite stable and shows good reactivity and selectivity with antibodies. The kit has all the essential components for labeling ~2x50 ug antibody. Each of the two vials of preactivated iFluor® 647 dye provided in the kit is optimized for labeling ~50 µg antibody. ReadiLink™ xtra iFluor® 647 rapid antibody labeling kit provides a convenient and robust method to label monoclonal and polyclonal antibodies with the bright red fluorescent iFluor® 647 fluorophore. AAT Bioquest's iFluor® dyes are optimized for labeling proteins, in particular, antibodies. These dyes are bright, photostable and have minimal quenching on proteins. They can be well excited by the major laser lines of fluorescence instruments (e.g., 350, 405, 488, 555 and 633 nm).
Figure 1. Overview of the ReadiLink™ xtra Rapid Antibody Labeling protocol. In just two simple steps, and with no purification necessary, covalently label microgram amounts of antibodies in under an hour.
Example protocol
AT A GLANCE
Important
Warm all the components and centrifuge the vials briefly before opening, and immediately prepare the required solutions before starting your conjugation. The following protocol is for recommendation.
PREPARATION OF WORKING SOLUTION
Protein working solution (Solution A)
For labeling 50 µg of protein (assuming the target protein concentration is 1 mg/mL), mix 5 µL (10% of the total reaction volume) of Reaction Buffer (Component B) with 50 µL of the target protein solution.


Note

     If you have a different protein concentration, adjust the protein volume accordingly to make ~50 µg of protein available for your labeling reaction.


Note

     For labeling 100 µg of protein (assuming the target protein concentration is 1 mg/mL), mix 10 µL (10% of the total reaction volume) of Reaction Buffer (Component B) with 100 µL of the target protein solution.


Note

     The protein should be dissolved in 1X phosphate buffered saline (PBS), pH 7.2 - 7.4; if the protein is dissolved in glycine buffer, it must be dialyzed against 1X PBS, pH 7.2 - 7.4, or use Amicon Ultra-0.5, Ultracel-10 Membrane, 10 kDa (cat# UFC501008 from Millipore) to remove free amines or ammonium salts (such as ammonium sulfate and ammonium acetate) that are widely used for protein precipitation.


Note

     Impure antibodies or antibodies stabilized with bovine serum albumin (BSA) with 0.1 to 0.5 % will be labeled well.


Note

     For optimal labeling efficiency, a final protein concentration range of 1 - 2 mg/mL is recommended, with a significantly reduced conjugation efficiency at less than 1 mg/mL.
SAMPLE EXPERIMENTAL PROTOCOL
Run conjugation reaction
Add the protein working solution (Solution A) to ONE vial of labeling dye (Component A), and mix them well by repeatedly pipetting for a few times or vortex the vial for a few seconds.


Note

     If labeling 100 µg of protein, use both vials (Component A) of labeling dye by dividing the 100 µg of protein into 2 x 50 µg of protein and reacting each 50 µg of protein with one vial of labeling dye. Then combine both vials for the next step.

Keep the conjugation reaction mixture at room temperature for 30 - 60 minutes.


Note

     The conjugation reaction mixture can be rotated or shaken for longer time if desired. 
Stop Conjugation reaction
Add 5 µL (for 50 µg protein) or 10 µL (for 100 µg protein) which is 10% of the total reaction volume of TQ™-Dyed Quench Buffer (Component C) into the conjugation reaction mixture; mix well.

Incubate at room temperature for 10 minutes. The labeled protein (antibody) is now ready to use. 
Storage of Protein Conjugate
The protein conjugate should be stored at > 0.5 mg/mL in the presence of a carrier protein (e.g., 0.1% bovine serum albumin). For longer storage, the protein conjugates could be lyophilized or divided into single-used aliquots and stored at ≤ –20 °C.
Spectrum
Open in Advanced Spectrum Viewer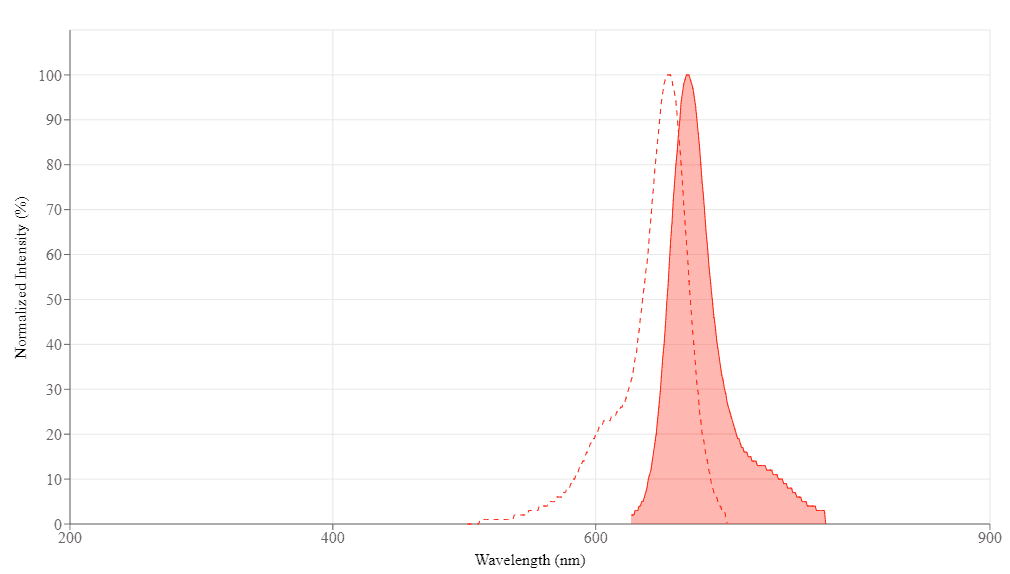 Spectral properties
| | |
| --- | --- |
| Correction Factor (260 nm) | 0.03 |
| Correction Factor (280 nm) | 0.03 |
| Correction Factor (656 nm) | 0.0793 |
| Extinction coefficient (cm -1 M -1) | 2500001 |
| Excitation (nm) | 656 |
| Emission (nm) | 670 |
| Quantum yield | 0.251 |
Images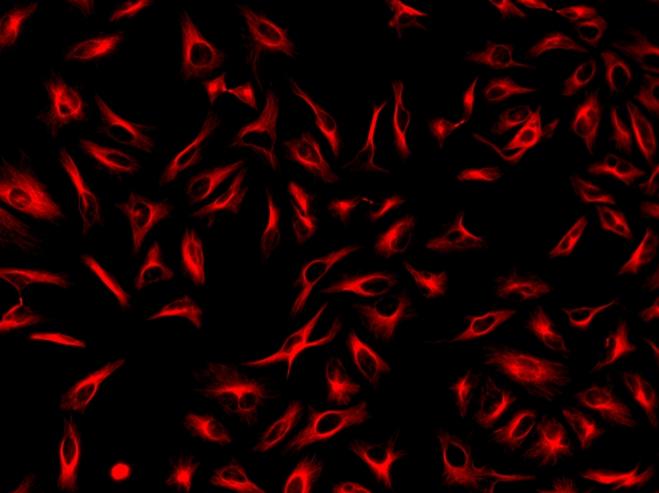 Figure 1.
Immunofluorescence staining of tubulin in HeLa cells. HeLa cells were fixed with 4% PFA, permeabilized with 0.1% Triton X-100 and blocked. Cells were then incubated with mouse anti-tubulin monoclonal antibody and stained with a goat anti-mouse IgG labeled using the ReadiLink™ xtra Rapid iFluor® 647 Antibody Labeling Kit (Cat No. 1963).
References
Spatial Distribution of Motor Endplates and its Adaptive Change in Skeletal Muscle.
Authors:
Yin, Xiaofeng and Yu, Tingting and Chen, Bo and Xu, Jianyi and Chen, Wentao and Qi, Yisong and Zhang, Peixun and Li, Yusha and Kou, Yuhui and Ma, Yilin and Han, Na and Wan, Peng and Luo, Qingming and Zhu, Dan and Jiang, Baoguo
Journal:
Theranostics
(2019)
: 734-746
A Platform To Enhance Quantitative Single Molecule Localization Microscopy.
Authors:
Golfetto, Ottavia and Wakefield, Devin L and Cacao, Eliedonna E and Avery, Kendra N and Kenyon, Victor and Jorand, Raphael and Tobin, Steven J and Biswas, Sunetra and Gutierrez, Jennifer and Clinton, Ronald and Ma, Yuelong and Horne, David A and Williams, John C and Jovanović-Talisman, Tijana
Journal:
Journal of the American Chemical Society
(2018)
: 12785-12797
Time-Lapse Imaging of Cell Death.
Authors:
Wallberg, Fredrik and Tenev, Tencho and Meier, Pascal
Journal:
Cold Spring Harbor protocols
(2016)
: pdb.prot087395
FC-TRIPLEX Chagas/Leish IgG1: a multiplexed flow cytometry method for differential serological diagnosis of chagas disease and leishmaniasis.
Authors:
Teixeira-Carvalho, Andréa and Campos, Fernanda Magalhães Freire and Geiger, Stefan Michael and Rocha, Roberta Dias Rodrigues and de Araújo, Fernanda Fortes and Vitelli-Avelar, Danielle Marquete and Andrade, Mariléia Chaves and Araújo, Márcio Sobreira Silva and Lemos, Elenice Moreira and de Freitas Carneiro Proietti, Anna Bárbara and Sabino, Ester Cerdeira and Caldas, Rafaella Gaiotti and Freitas, Carolina Renata Camargos and Campi-Azevedo, Ana Carolina and Elói-Santos, Silvana Maria and Martins-Filho, Olindo Assis
Journal:
PloS one
(2015)
: e0122938
RESOLFT nanoscopy with photoswitchable organic fluorophores.
Authors:
Kwon, Jiwoong and Hwang, Jihee and Park, Jaewan and Han, Gi Rim and Han, Kyu Young and Kim, Seong Keun
Journal:
Scientific reports
(2015)
: 17804
The covalent trimethoprim chemical tag facilitates single molecule imaging with organic fluorophores.
Authors:
Wang, Tracy Y and Friedman, Larry J and Gelles, Jeff and Min, Wei and Hoskins, Aaron A and Cornish, Virginia W
Journal:
Biophysical journal
(2014)
: 272-8
Continuously manufactured magnetic polymersomes--a versatile tool (not only) for targeted cancer therapy.
Authors:
Bleul, Regina and Thiermann, Raphael and Marten, Gernot U and House, Michael J and St Pierre, Timothy G and Häfeli, Urs O and Maskos, Michael
Journal:
Nanoscale
(2013)
: 11385-93
Analysis of immunoarrays using a gold grating-based dual mode surface plasmon-coupled emission (SPCE) sensor chip.
Authors:
Yuk, Jong Seol and Gibson, George N and Rice, James M and Guignon, Ernest F and Lynes, Michael A
Journal:
The Analyst
(2012)
: 2574-81
Single-cell fluorescence imaging using metal plasmon-coupled probe 2: single-molecule counting on lifetime image.
Authors:
Zhang, Jian and Fu, Yi and Liang, Dong and Nowaczyk, Kazik and Zhao, Richard Y and Lakowicz, Joseph R
Journal:
Nano letters
(2008)
: 1179-86
Competitive binding assay for glucose based on glycodendrimer-fluorophore conjugates.
Authors:
Ibey, Bennett L and Beier, Hope T and Rounds, Rebecca M and Coté, Gerard L and Yadavalli, Vamsi K and Pishko, Michael V
Journal:
Analytical chemistry
(2005)
: 7039-46