ReadiUse™ TCA Deproteinization Sample Preparation Kit
Ordering information
| | |
| --- | --- |
| Price | |
| Catalog Number | |
| Unit Size | |
| Quantity | |
Additional ordering information
| | |
| --- | --- |
| Telephone | 1-800-990-8053 |
| Fax | 1-800-609-2943 |
| Email | sales@aatbio.com |
| International | See distributors |
| Bulk request | Inquire |
| Custom size | Inquire |
| Shipping | Standard overnight for United States, inquire for international |
Storage, safety and handling
| | |
| --- | --- |
| H-phrase | H303, H313, H340 |
| Hazard symbol | T |
| Intended use | Research Use Only (RUO) |
| R-phrase | R20, R21, R68 |
| UNSPSC | 41116134 |
The analysis of amino acids, ions, metabolites and other small molecules is frequently hindered by the interference of lipids, protein and enzymes present in biofluids, cell and tissue lysates. Therefore, deproteinization is a necessary step in many procedures prior to analysis of biological samples. AAT Bioquest's Deproteinization Sample Preparation Kit offers a rapid method for removing proteins in biological samples. Proteins are precipitated by applying trichloroacetic acid (TCA). After removal of precipitated proteins, the pH of the sample is neutralized with neutralization solution. TCA based deproteinization has been successfully and widely used in sample preparation prior to quantitation of small molecules, such as glycogen, ATP, cAMP, glutathione and antioxidants. The TCA method provided in this kit can also be used for removing protein in large scale. Biological samples prepared using this kit can be directly used in various biochemical analysis.
Example protocol
AT A GLANCE
Important notes
Place kit components on ice before use. 
SAMPLE EXPERIMENTAL PROTOCOL
Protein Precipitation:
Prepare a clear solution sample with protein concentration less than 50 mg/mL after homogenization and centrifugation. Keep protein samples on ice. Note: High protein concentration samples might need to be diluted.


Add 10 µL of cold TCA (Component A) into 100 µL of protein sample and vortex briefly to mix well.


Keep the sample on ice for 10 minutes. Centrifuge at 12,000 rpm for 5 minutes. Transfer supernatant (deproteinized sample) to another tube. Note: It is recommended to neutralize samples in TCA and use for relevant assays immediately. However, deproteinized samples in TCA may be stored at -70°C for up to one month.
TCA Neutralization:
To neutralize excess TCA, add 10 µL of cold Neutralization Solution (Component B) into the collected supernatant and vortex briefly to mix well.


Keep the samples on ice for 5 minutes. Samples are now deproteinized and neutralized.


(Optional) Read absorbance at 280 nm (OD) to check if the samples are deproteinized.
Images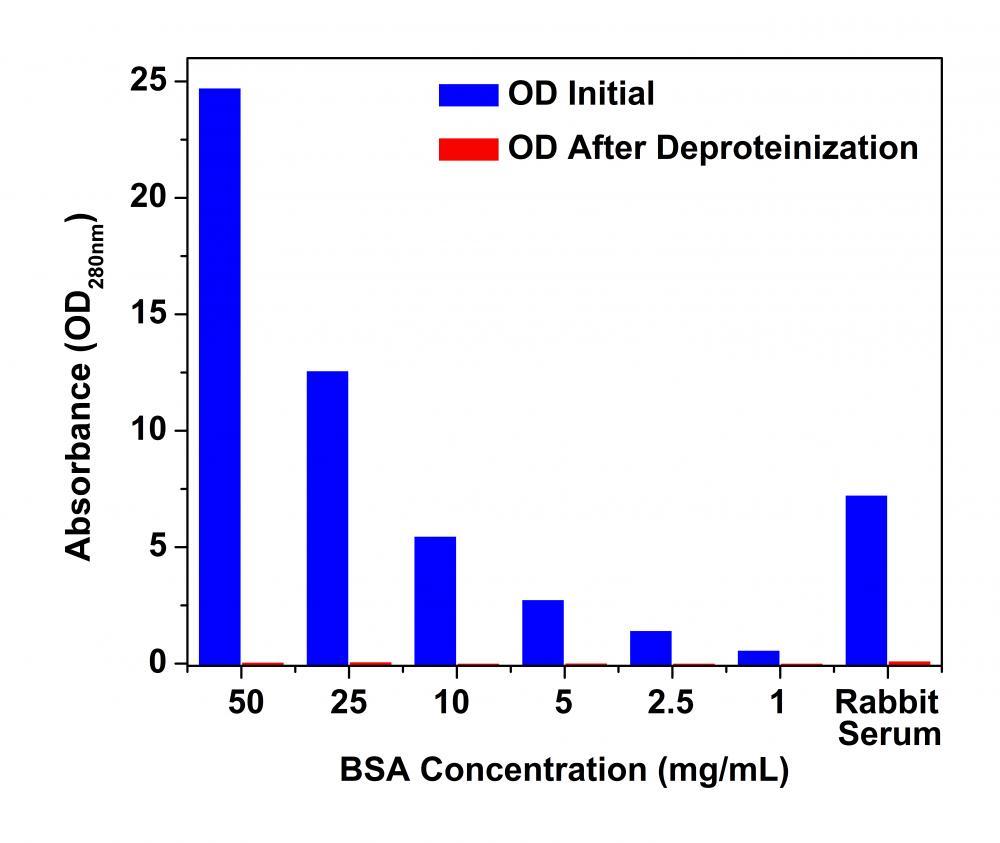 Figure 1.
TCA-based deproteinization of protein samples. Bovine serum albumin (BSA) samples with protein concentration less than 50 mg/mL and a rabbit serum sample at the concentration about 14.2 mg/mL were deproteinized using ReadiUse™ TCA Deproteinization Test Sample Preparation Kit (Cat#19501). More than 98% of protein in all samples was removed with TCA method.
References
Electrochemical determination of glutathione in plasma at carbon nanotubes based screen printed electrodes
Authors:
Turunc E, Karadeniz H, Armagan G, Erdem A, Yalcin A.
Journal:
Comb Chem High Throughput Screen
(2013)
: 695
Preparation procedures of anti-complementary polysaccharides from Houttuynia cordata
Authors:
Zhang J, Lu Y, Chen D.
Journal:
Zhongguo Zhong Yao Za Zhi
(2012)
: 2071
Study on methods of deproteinization from Phellinus baumii polysaccharide
Authors:
Xie LY, Zhang Y, Peng WH, Gan BC.
Journal:
Zhong Yao Cai
(2011)
: 293
Extraction and deproteinization of pumpkin polysaccharide
Authors:
Huang G, Chen Y, Wang X.
Journal:
Int J Food Sci Nutr
(2011)
: 568
Diazotization of kynurenine by acidified nitrite secreted from indoleamine 2,3-dioxygenase-expressing myeloid dendritic cells
Authors:
Hara T, Yamakura F, Takikawa O, Hiramatsu R, Kawabe T, Isobe K, Nagase F.
Journal:
J Immunol Methods
(2008)
: 162
Study on deproteinization and decoloration in extraction of polysaccharides from Rabdosia rubescens
Authors:
Liu F, Zhu XH, Liu M, Zhou J, Che XP, Han RF.
Journal:
Zhong Yao Cai
(2008)
: 751
Development and validation of an HPLC confirmatory method for the determination of seven tetracycline antibiotics residues in milk according to the European Union Decision 2002/657/EC
Authors:
Samanidou VF, Nikolaidou KI, Papadoyannis IN.
Journal:
J Sep Sci
(2007)
: 2430
Discriminative determination of alkyl methylphosphonates and methylphosphonate in blood plasma and urine by gas chromatography-mass spectrometry after tert.-butyldimethylsilylation
Authors:
Kataoka M, Seto Y.
Journal:
J Chromatogr B Analyt Technol Biomed Life Sci
(2003)
: 123
A comparison of analytic procedures for measurement of fractional dextran clearances
Authors:
Hemmelder MH, de Jong PE, de Zeeuw D.
Journal:
J Lab Clin Med
(1998)
: 390
Determination of paraquat in tissue using ion-pair chromatography in conjunction with spectrophotometry
Authors:
Kuo TL., undefined
Journal:
Forensic Sci Int
(1987)
: 177