Screen Quest™ 10X cell staining buffer with Phenol Red Plus™
Ordering information
| | |
| --- | --- |
| Price | |
| Catalog Number | |
| Unit Size | |
| Quantity | |
Additional ordering information
| | |
| --- | --- |
| Telephone | 1-800-990-8053 |
| Fax | 1-800-609-2943 |
| Email | sales@aatbio.com |
| International | See distributors |
| Bulk request | Inquire |
| Custom size | Inquire |
| Shipping | Standard overnight for United States, inquire for international |
Storage, safety and handling
| | |
| --- | --- |
| H-phrase | H303, H313, H333 |
| Hazard symbol | XN |
| Intended use | Research Use Only (RUO) |
| R-phrase | R20, R21, R22 |
| Storage | Freeze (< -15 °C); Minimize light exposure |
| UNSPSC | 12352200 |
Screen Quest™ 10X cell staining buffer with Phenol Red Plus™ is a ready-to-use buffer optimized for fluorescence cell imaging. In some cases, this buffer significantly enhances the imaging signal. Screen Quest™ 10X cell staining buffer with Phenol Red Plus™ is 10X concentrated and should be diluted to 1X with PBS before use.
Example protocol
SAMPLE EXPERIMENTAL PROTOCOL
Typical Assay Protocol (for one 96-well plate)
Thaw Screen Quest™ 10X Cell Staining Buffer with Phenol Red Plus™ to room temperature before use.

Note: It is OK to use if the buffer has precipitates.

Prepare a 1X Screen Quest™ Cell Staining Buffer by adding 1 mL of Screen Quest™ 10X Cell Staining Buffer with Phenol Red Plus™ to 9 mL of HHBS (1X Hank's with 20 mM Hepes buffer, pH 7.0, cat#20001) or a buffer of your choice, and mix well. 

Note: 10 mL of 1X staining buffer is enough for one plate. The buffer is stable at room temperature. It is recommended to aliquot and store any unused 10X assay buffer at ≤ -20 °C. Protect from light. Avoid repeated freeze-thaw cycles.

Add the cell staining dye stock solution (generally, a concentrated DMSO solution) into 1X Screen Quest™ Cell Staining Buffer (from Step 2) to make the final well concentration 2X of the desired concentration.

Add the 2X Assay Solution (from Step 3) to the microplate well, making sure it's the same volume as the cell culture medium (e.g., 100 µL/well/96-well or 25 μL/well/384-well).

Incubate the cells in a 37 °C, 5% CO2 incubator, or as desired.

Note: The staining dye has the potential to disrupt the effectiveness of the 1X Screen Quest™ Cell Staining Buffer. If this occurs, it is advisable to utilize a preferred cell staining method and swap out the cell staining solution with either the cell growth medium or HHBS. Following this, add 100 µL/well/96-well (25 μL/well/ 384-well) of 1X Screen Quest™ Cell Staining Buffer into each respective well. 

Observe the cells with a fluorescence microscope or a plate reader as required. 
Images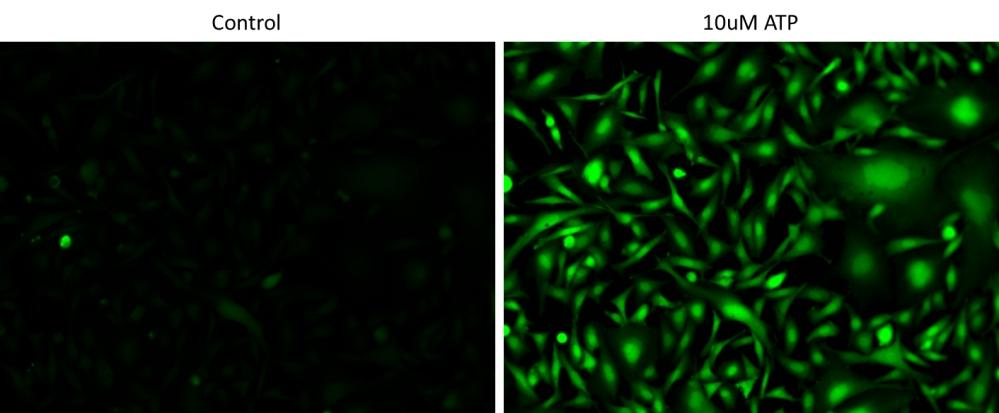 Figure 1.
ATP dose response was measured in CHO-M1 cells with Cal-520 ™AM. CHO-M1 cells were seeded overnight at 50,000 cells/100 µL/well in a 96-well black wall/clear bottom costar plate. 100 µL of 10ug/ml Cal-520 ™AM in HH Buffer with  1X Phenol Red Plus™ cell staining buffer was added and incubated for 60 min at 37oC. ATP (50µL/well) was added to achieve  the final indicated concentrations.
References
Novel fluo-4 analogs for fluorescent calcium measurements
Authors:
Martin VV, Beierlein M, Morgan JL, Rothe A, Gee KR.
Journal:
Cell Calcium
(2004)
: 509
Kinetic characterization of novel NR2B antagonists using fluorescence detection of calcium flux
Authors:
Bednar B, Cunningham ME, Kiss L, Cheng G, McCauley JA, Liverton NJ, Koblan KS.
Journal:
J Neurosci Methods
(2004)
: 247
Flow cytometric kinetic assay of calcium mobilization in whole blood platelets using Fluo-3 and CD41
Authors:
do Ceu Monteiro M, Sansonetty F, Goncalves MJ, O'Connor JE.
Journal:
Cytometry
(1999)
: 302
Amplitude distribution of calcium sparks in confocal images: theory and studies with an automatic detection method
Authors:
Cheng H, Song LS, Shirokova N, Gonzalez A, Lakatta EG, Rios E, Stern MD.
Journal:
Biophys J
(1999)
: 606
A simple numerical model of calcium spark formation and detection in cardiac myocytes
Authors:
Smith GD, Keizer JE, Stern MD, Lederer WJ, Cheng H.
Journal:
Biophys J
(1998)
: 15
Monitoring calcium in outer hair cells with confocal microscopy and fluorescence ratios of fluo-3 and fura-red
Authors:
Su ZL, Li N, Sun YR, Yang J, Wang IM, Jiang SC.
Journal:
Shi Yan Sheng Wu Xue Bao
(1998)
: 323
Loading and localization of Fluo-3 and Fluo-3/AM calcium indicators in sinapis alba root tissue
Authors:
Tretyn A, Kado RT, Kendrick RE.
Journal:
Folia Histochem Cytobiol
(1997)
: 41
Nucleoplasmic and cytoplasmic differences in the fluorescence properties of the calcium indicator Fluo-3
Authors:
Perez-Terzic C, Stehno-Bittel L, Clapham DE.
Journal:
Cell Calcium
(1997)
: 275
Detection of a trigger zone of bradykinin-induced fast calcium waves in PC12 neurites
Authors:
Reber BF, Schindelholz B.
Journal:
Pflugers Arch
(1996)
: 893
Improved four-color flow cytometry method using fluo-3 and triple immunofluorescence for analysis of intracellular calcium ion ([Ca2+]i) fluxes among mouse lymph node B- and T-lymphocyte subsets
Authors:
Greimers R, Trebak M, Moutschen M, Jacobs N, Boniver J.
Journal:
Cytometry
(1996)
: 205