Screen Quest™ CHO-Gqo Chimera Cell line
Ordering information
| | |
| --- | --- |
| Price | |
| Catalog Number | |
| Unit Size | |
| Quantity | |
Additional ordering information
| | |
| --- | --- |
| Telephone | 1-800-990-8053 |
| Fax | 1-800-609-2943 |
| Email | sales@aatbio.com |
| International | See distributors |
| Bulk request | Inquire |
| Custom size | Inquire |
| Shipping | Standard overnight for United States, inquire for international |
Storage, safety and handling
| | |
| --- | --- |
| H-phrase | H303, H313, H333 |
| Hazard symbol | XN |
| Intended use | Research Use Only (RUO) |
| R-phrase | R20, R21, R22 |
| Storage | Liquid nitrogen |
| UNSPSC | 12352200 |
Screen Quest™ cell lines are a series of cells that have been successfully used in drug discovery and screening environments for studying G-protein-coupled receptors (GPCR) that do not conventionally couple through intracellular calcium. It has been effectively used with the FLIPR, FDSS Systems in conjunction with non-Gq coupled members of many receptors such as chemokine, serotonin, glutamate, dopamine, opioid, vasopressin and α- and β-adrenergic receptor families. Over 60% of the known GPCR signal through pathways other than Gq which lead to an increase in intracellular calcium, and as genomics reveals more G-protein-coupled receptor targets this trend continues to increase. Screen Quest™ cell lines are used for investigating G-protein-coupled receptors (GPCR) that do not conventionally couple through intracellular calcium. Screen Quest™ cell lines are based on a series of G-protein chimeras, including the promiscuous G-protein, Gα16. The chimeras consist of the alpha subunit of a Gq-protein complex whose 5 carboxy-terminal amino acids have been replaced with those from one of the other G-proteins (either Gαs, Gαi, Gαo, or Gαz). These amino acids are responsible for the coupling of the receptor to its G-protein. Co-expression of these chimeras with specific non-Gq-coupled receptors which normally act through the cAMP pathway may result in the generation of an intracellular calcium signal upon receptor stimulation. Screen Quest™ CHO-Gqo cell line is CHO-K1 cells stably transfected with the chimeric Gqo alpha subunit protein. When used as a host cell for transfection expression of Gi-coupled receptors, the constitutively expressed Gqo protein in the cells allows the transfected receptor which normally act through the cAMP pathway, to couple to Gq signal transduction and mobilized intracellular calcium. Activation of the specific non-Gq-coupled receptors in these cells by specific ligands can be detected using calcium sensitive dyes such as Calbryte 520 AM, Cal-520 AM, Fluo-8 AM, or Fluo-4 AM and no wash calcium kits.
Platform
Other instruments
ArrayScan, FDSS, FLIPR, FlexStation, IN Cell Analyzer, NOVOStar, ViewLux
Images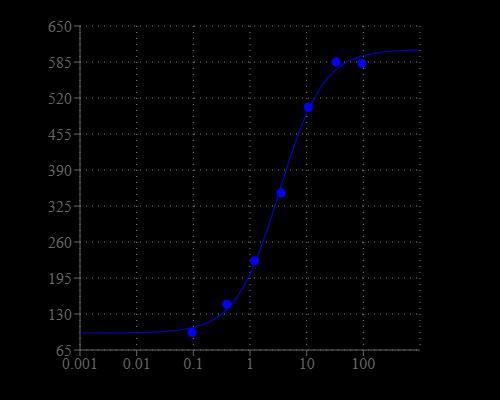 Figure 1.
Nociceptin-stimulated calcium response was measured in CHO-Ga16-NOP cells with Cal-520®, AM (Cat#21130). CHO-Ga16-NOP cells were seeded overnight at 60,000 cells/100 µL/well in a Costar black wall/clear bottom 96-well plate. The cells were incubated with equal volume (100 µL) of 10 µM Cal-520® AM with 2 mM probenecid in Hanks with 20 mM Hepes buffer (HHBS) at 37 °C for 1 hour. The Cal-520® AM loading solution were replaced with HHBS with 1 mM probenecid. Nociceptin was added by FlexStation (Molecular Devices) to achieve the final indicated concentrations.
Citations
Activation of P2X7 and P2Y11 purinergic receptors inhibits migration and normalizes tumor-derived endothelial cells via cAMP signaling
Authors:
Avanzato, D and Genova, T and Pla, A Fiorio and Bernardini, M and Bianco, S and Bussolati, B and Mancardi, D and Giraudo, E and Maione, F and Cassoni, P and others, undefined
Journal:
Scientific Reports
(2016)
References
cAMP-Induced Histones H3 Dephosphorylation Is Independent of PKA and MAP Kinase Activations and Correlates With mTOR Inactivation
Authors:
Rodriguez P, Rojas J.
Journal:
J Cell Biochem
(2016)
: 741
Changes in the Arabidopsis thaliana Proteome Implicate cAMP in Biotic and Abiotic Stress Responses and Changes in Energy Metabolism
Authors:
Alqurashi M, Gehring C, Marondedze C.
Journal:
Int J Mol Sci
(2016)
: 852
Role of the cAMP Pathway in Glucose and Lipid Metabolism
Authors:
Ravnskjaer K, Madiraju A, Montminy M.
Journal:
Handb Exp Pharmacol
(2016)
: 29
Odor-induced cAMP production in Drosophila melanogaster olfactory sensory neurons
Authors:
Miazzi F, Hansson BS, Wicher D.
Journal:
J Exp Biol
(2016)
: 1798
A cardiac mitochondrial cAMP signaling pathway regulates calcium accumulation, permeability transition and cell death
Authors:
Wang Z, Liu D, Varin A, Nicolas V, Courilleau D, Mateo P, Caubere C, Rouet P, Gomez AM, V and ecasteele G, Fischmeister R, Brenner C.
Journal:
Cell Death Dis
(2016)
: e2198
The pleiotropic role of exchange protein directly activated by cAMP 1 (EPAC1) in cancer: implications for therapeutic intervention
Authors:
Almahariq M, Mei FC, Cheng X.
Journal:
Acta Biochim Biophys Sin (Shanghai)
(2016)
: 75
A cAMP Biosensor-Based High-Throughput Screening Assay for Identification of Gs-Coupled GPCR Ligands and Phosphodiesterase Inhibitors
Authors:
Vedel L, Brauner-Osborne H, Mathiesen JM.
Journal:
J Biomol Screen
(2015)
: 849
Imaging alterations of cardiomyocyte cAMP microdomains in disease
Authors:
Froese A, Nikolaev VO.
Journal:
Front Pharmacol
(2015)
: 172
Cardiac Hypertrophy Is Inhibited by a Local Pool of cAMP Regulated by Phosphodiesterase 2
Authors:
Zoccarato A, Surdo NC, Aronsen JM, Fields LA, Mancuso L, Dodoni G, Stangherlin A, Livie C, Jiang H, Sin YY, Gesellchen F, Terrin A, Baillie GS, Nicklin SA, Graham D, Szabo-Fresnais N, Krall J, V and eput F, Movsesian M, Furlan L, Corsetti V, Hamilton G, Lefkimmiatis K, Sjaastad I, Zaccolo M.
Journal:
Circ Res
(2015)
: 707
cAMP controls the balance of the propulsive forces generated by the two flagella of Chlamydomonas
Authors:
Saegusa Y, Yoshimura K.
Journal:
Cytoskeleton (Hoboken)
(2015)
: 412