Screen Quest™ Fluorimetric Fatty Acid Uptake Assay Kit
Ordering information
| | |
| --- | --- |
| Price | |
| Catalog Number | |
| Unit Size | |
| Quantity | |
Additional ordering information
| | |
| --- | --- |
| Telephone | 1-800-990-8053 |
| Fax | 1-800-609-2943 |
| Email | sales@aatbio.com |
| International | See distributors |
| Bulk request | Inquire |
| Custom size | Inquire |
| Shipping | Standard overnight for United States, inquire for international |
Storage, safety and handling
| | |
| --- | --- |
| H-phrase | H303, H313, H333 |
| Hazard symbol | XN |
| Intended use | Research Use Only (RUO) |
| R-phrase | R20, R21, R22 |
| UNSPSC | 12352200 |
Fatty acid uptake is an important therapeutic target for the treatment of many human diseases such as obesity, type 2 diabete and hepatic steatosis. The Screen Quest™ Fluorimetric Fatty Acid Uptake Assay Kit provides a simple and sensitive method for the measurement of fatty acid uptake in cells containing fatty acid transporters. The kit uses a proprietary dodecanoic acid fluorescent fatty acid substrate. This fatty acid uptake assay kit can be performed on any fluorescence microplate reader with a bottom-read mode or FITC channel. The assay can be performed in 96-well or 384-well microtiter plates in a simple mix-and-read procedure, and easily adapted for high throughput screening applications.
Platform
Fluorescence microplate reader
| | |
| --- | --- |
| Excitation | 485 nm |
| Emission | 515 nm |
| Cutoff | 495 nm |
| Recommended plate | Black wall/clear bottom |
| Instrument specification(s) | Bottom read mode |
Example protocol
AT A GLANCE
Protocol summary
Plate cells in growth medium for 4-6 hours
Transfer the cells into serum free medium for 1 hour and treat cells as desired
Add 100 µL/well of the Fatty Acid dye-loading solution
Monitor fluoroscence increase at Ex/Em = 485/515 nm immediately for kinetics or after 60 minutes incubation for endpoint reading (bottom read mode)
Important notes
Thaw all the kit components at room temperature before starting the experiment.
PREPARATION OF STOCK SOLUTION
Unless otherwise noted, all unused stock solutions should be divided into single-use aliquots and stored at -20 °C after preparation. Avoid repeated freeze-thaw cycles.
TF2-C12 Fatty Acid stock solution:
Add 20 µL of DMSO (Component C) to the vial of TF2-C12 Fatty Acid (Component A) and mix them well. Note:  20 µL of the fluorescent fatty acid substrate stock solution is enough for one plate. The unused fluorescent fatty acid substrate stock solution can be aliquoted and stored at < -20 oC for up to two months if the tubes are sealed tightly and kept from light. Avoid repeated freeze-thaw cycles.
PREPARATION OF WORKING SOLUTION
Fatty Acid dye-loading solution:
Add 20 µL of the TF2-C12 Fatty Acid stock solution to 10 mL of Assay Buffer (Component B) and mix them well. Note: 10 mL of Fatty Acid dye-loading solution is enough for one plate; prepare fresh for each plate and experiment.
SAMPLE EXPERIMENTAL PROTOCOL
Cells preparation:
Prepare cells as desired. The following protocols are guidelines to prepare 3T3-L1adipocytes.
Prepare differentiated 3T3-L1 adipocytes (see Ref 1): 3T3-L1 fibroblasts were grown 2 days in a 75 cm flask post-confluence in DMEM/FBS, and then for 2 days in DMEM/FBS supplemented with 0.83 µM insulin, 0.25 µM dexamethasone, and 0.25 mM isobutylmethylxanthine. The medium is changed to maintain the insulin concentration with dexamethasone and IBMX absent for another 2 days. The medium was then changed to DMEM/FBS alone for another 3-5 days. Differentiated cells (at least 95% of which showed an adipocyte phenotype by accumulation of lipid droplets) were used on day 8 to 12 after induction of differentiation.


Plate 3T3-L1 adipocytes in growth medium at 50,000-80,000 cells/well/100 µL/96-well or 12,500-20,000 cells/well/25 µL/384-well black wall/clear bottom cell culture Poly-D lysine plate for 4-6 hours before experiment. Centrifuge the plate at 800 rpm for 2 minutes with brake off. Note: It is recommended to plate 3 wells with growth medium only (without cells) as blank wells for data normalization. Note: We find that adipocytes plated at the same day (4-6 hours, and then serum deprived for 1 hour) give better results than that plated for overnight.
Remove the cell plate from the incubator, aspirate the medium from the wells, and deprive the cells with 90 µL/well/ 96 well-plate or 20 µL/well/384 well-plate serum free medium. Incubate the cells at 37 ºC, 5% CO2 incubator for 1 hr.


Treat the cells by adding 10 µL/well/96-well plate (5 µL/well/384-well plate) of the test compounds or 1X Hanks and 20 mM Hepes buffer (1X HBSS, pH 7.4) or buffer of your choice as the compound diluent.  For blank wells, add the compound diluents. Incubate the cells at 37 ºC, 5% CO2 incubator for a desired period of time (30 minutes for 3T3-L1 cells treated with Insulin).
Sample protocol:
Treat cells with test compounds as desired.


Remove compound-treated cell plates from the incubator, add 100 µL/well (96-well plate) or 25 µL/well (384-well plate) (including blank wells) of the Fatty Acid dye-loading solution.


Measure the fluorescence signal with a fluorescence microplate reader at Ex/Em = 485/515 nm (cut off at 495 nm) using a bottom read mode. Note: For kinetic reading:  Read the fluorescence intensity immediately at 20 seconds interval for 30-60 minutes. Note: For endpoint reading: Read the fluorescence intensity at the end of the 30-60 minutes incubation.
Images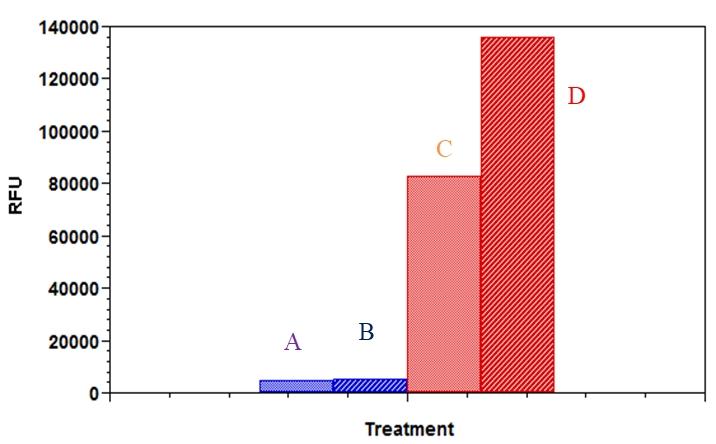 Figure 1.
Comparison of fatty acid uptake by 3T3-L1 adipocytes and fibroblast.  Cells were plated at 50,000 cells/100 mL/well in a 96 well black wall/clear bottom poly-D lysine plate for 5 hours, and then serum deprived for 1 hour. Cells were treated without (control) or with insulin (150 nM), and incubated at 37 ºC, 5% CO2 incubator for 30 min. At the end of the incubation time, 100 µl of fatty acid mixture was added into the well, and incubated for another 60 min, the fluorescence signal was measured with a FlexStation plate reader using bottom read mode. A – fibroblasts (Control); B – fibroblasts (Insulin); C – adipocytes (Control); D– adipocytes (Insulin).
Citations
PRP19 Enhances Esophageal Squamous Cell Carcinoma Progression by Reprogramming SREBF1-Dependent Fatty Acid Metabolism
Authors:
Zhang, Guang-Cong and Yu, Xiang-Nan and Guo, Hong-Ying and Sun, Jia-Lei and Liu, Zhi-Yong and Zhu, Ji-Min and Liu, Tao-Tao and Dong, Ling and Shen, Xi-Zhong and Yin, Jie
Journal:
Cancer Research
(2023)
: OF1--OF17
Andrographolide ameliorates hepatic steatosis by suppressing FATP2-mediated fatty acid uptake in mice with nonalcoholic fatty liver disease
Authors:
Ran, Li-Sha and Wu, Ya-Zeng and Gan, Yi-Wen and Wang, Hong-Lian and Wu, Li-Juan and Zheng, Chun-Mei and Ming, Yao and Xiong, Ran and Li, Yong-Lin and Lei, Shi-Hang and others,
Journal:
Journal of Natural Medicines
(2022)
: 1--14
References
Estradiol enhances effects of fructose rich diet on cardiac fatty acid transporter CD36 and triglycerides accumulation
Authors:
Koricanac G, Tepavcevic S, Romic S, Zivkovic M, Stojiljkovic M, Milosavljevic T, Stankovic A, Petkovic M, Kamceva T, Zakula Z.
Journal:
Eur J Pharmacol
(2012)
: 127
Poultry fat decreased fatty acid transporter protein mRNA expression and affected fatty acid composition in chickens
Authors:
Yuan J, Zhang B, Guo Y.
Journal:
J Anim Sci Biotechnol
(2012)
: 17
Significance of short chain fatty acid transport by members of the monocarboxylate transporter family (MCT)
Authors:
Moschen I, Broer A, Galic S, Lang F, Broer S.
Journal:
Neurochem Res
(2012)
: 2562
Emerging risk factors for postpartum depression: serotonin transporter genotype and omega-3 fatty acid status
Authors:
Shapiro GD, Fraser WD, Seguin JR.
Journal:
Can J Psychiatry
(2012)
: 704
Munc18c provides stimulus-selective regulation of GLUT4 but not fatty acid transporter trafficking in skeletal muscle
Authors:
Jain SS, Snook LA, Glatz JF, Luiken JJ, Holloway GP, Thurmond DC, Bonen A.
Journal:
FEBS Lett
(2012)
: 2428
Improved working memory but no effect on striatal vesicular monoamine transporter type 2 after omega-3 polyunsaturated fatty acid supplementation
Authors:
Narendran R, Frankle WG, Mason NS, Muldoon MF, Moghaddam B.
Journal:
PLoS One
(2012)
: e46832
A mixed polyunsaturated fatty acid diet normalizes hippocampal neurogenesis and reduces anxiety in serotonin transporter knockout rats
Authors:
Schipper P, Kiliaan AJ, Homberg JR.
Journal:
Behav Pharmacol
(2011)
: 324
Absence of fatty acid transporter CD36 protects against Western-type diet-related cardiac dysfunction following pressure overload in mice
Authors:
Steinbusch LK, Luiken JJ, Vlasblom R, Chabowski A, Hoebers NT, Coumans WA, Vroegrijk IO, Voshol PJ, Ouwens DM, Glatz JF, Diamant M.
Journal:
Am J Physiol Endocrinol Metab
(2011)
: E618
Melittin stimulates fatty acid release through non-phospholipase-mediated mechanisms and interacts with the dopamine transporter and other membrane-spanning proteins
Authors:
Keith DJ, Eshleman AJ, Janowsky A.
Journal:
Eur J Pharmacol
(2011)
: 501
Fatty acid- and cholesterol transporter protein expression along the human intestinal tract
Authors:
Masson CJ, Plat J, Mensink RP, Namiot A, Kisielewski W, Namiot Z, Fullekrug J, Ehehalt R, Glatz JF, Pelsers MM.
Journal:
PLoS One
(2010)
: e10380