SunRed™ SE
Ordering information
| | |
| --- | --- |
| Price | |
| Catalog Number | |
| Unit Size | |
| Quantity | |
Additional ordering information
| | |
| --- | --- |
| Telephone | 1-800-990-8053 |
| Fax | 1-800-609-2943 |
| Email | sales@aatbio.com |
| Quotation | Request |
| International | See distributors |
| Shipping | Standard overnight for United States, inquire for international |
Physical properties
| | |
| --- | --- |
| Molecular weight | 1123.34 |
| Solvent | DMSO |
Spectral properties
| | |
| --- | --- |
| Correction Factor (280 nm) | 0.366 |
| Excitation (nm) | 592 |
| Emission (nm) | 609 |
Storage, safety and handling
| | |
| --- | --- |
| Certificate of Origin | Download PDF |
| H-phrase | H303, H313, H333 |
| Hazard symbol | XN |
| Intended use | Research Use Only (RUO) |
| R-phrase | R20, R21, R22 |
| Storage | Freeze (< -15 °C); Minimize light exposure |
| UNSPSC | 12171501 |
| | | | |
| --- | --- | --- | --- |
| | Correction Factor (280 nm) | | |
Although sulforhodamine 101 acid chloride (also called Texas Red®) is the most popular labeling reagent of sulfonyl chloride, it is quite unstable in water, especially at the higher pH required for reaction with aliphatic amines. Texas Red (TR) reacts with both aliphatic amines and aromatic amines indiscriminatingly. In addition, the labeling efficiency of Texas Red is extremely low compared to dye succinimidyl esters. SunRed™ SE is a succinimidyl ester. It is an excellent replacement for Texas Red. SunRed reacts with amine compounds such as amino acids, peptides and proteins to give bright red fluorescent conjugates that are extremely stable. Compared to Texas Red, SunRed has much higher labeling efficiency, and more importantly the resulted conjugate is more fluorescent and water soluble than the corresponding Texas Red conjugate. The conjugates of SunRed have the identical excitation and emission wavelengths to those of Texas Red. Our in-house studies indicated that SunRed is more stable than Texas Red under the same labeling conditions. It is extremely useful for labeling hydrophobic peptides, giving the fluorescent conjugates that are much easier to be purified and more water soluble to use.
Calculators
Common stock solution preparation
Table 1.
Volume of DMSO needed to reconstitute specific mass of SunRed™ SE to given concentration. Note that volume is
only
for preparing stock solution. Refer to sample experimental protocol for appropriate experimental/physiological buffers.
| | | | | | |
| --- | --- | --- | --- | --- | --- |
| | 0.1 mg | 0.5 mg | 1 mg | 5 mg | 10 mg |
| 1 mM | 89.02 µL | 445.101 µL | 890.202 µL | 4.451 mL | 8.902 mL |
| 5 mM | 17.804 µL | 89.02 µL | 178.04 µL | 890.202 µL | 1.78 mL |
| 10 mM | 8.902 µL | 44.51 µL | 89.02 µL | 445.101 µL | 890.202 µL |
Molarity calculator
Enter any two values (mass, volume, concentration) to calculate the third.
Mass (

Calculate

)
Molecular weight
Volume (

Calculate

)
Concentration (

Calculate

)
Moles
/
=
x
=
Spectrum
Open in Advanced Spectrum Viewer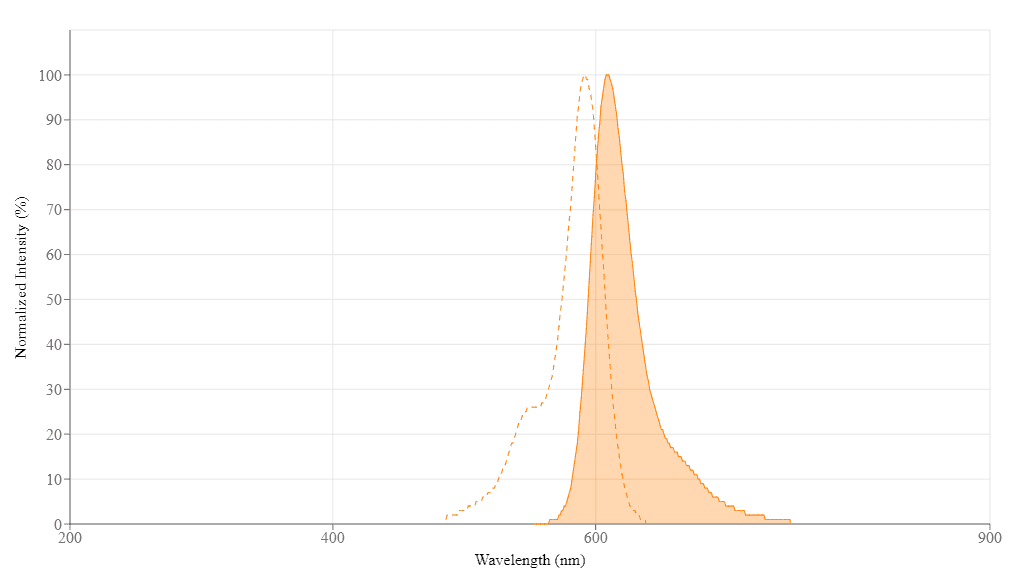 Spectral properties
| | |
| --- | --- |
| Correction Factor (280 nm) | 0.366 |
| Excitation (nm) | 592 |
| Emission (nm) | 609 |
Images
References
Fluorescence properties of fluorescein, tetramethylrhodamine and Texas Red linked to a DNA aptamer
Authors:
Unruh JR, Gokulrangan G, Wilson GS, Johnson CK.
Journal:
Photochem Photobiol
(2005)
: 682
A comparative study of the potential of solid triglyceride nanostructures coated with chitosan or poly(ethylene glycol) as carriers for oral calcitonin delivery
Authors:
Garcia-Fuentes M, Prego C, Torres D, Alonso MJ.
Journal:
Eur J Pharm Sci
(2005)
: 133
Bead-based cellular analysis, sorting and multiplexing
Authors:
Sanchez-Martin RM, Muzerelle M, Chitkul N, How SE, Mittoo S, Bradley M.
Journal:
Chembiochem
(2005)
: 1341
Transepithelial transport of fluorescent p-glycoprotein and MRP2 substrates by insect Malpighian tubules: confocal microscopic analysis of secreted fluid droplets
Authors:
Leader JP, O'Donnell MJ.
Journal:
J Exp Biol
(2005)
: 4363
Purification and fluorescent labeling of the human serotonin transporter
Authors:
Rasmussen SG, Gether U.
Journal:
Biochemistry
(2005)
: 3494
Budding dynamics of multicomponent tubular vesicles
Authors:
Li L, Liang X, Lin M, Qiu F, Yang Y.
Journal:
J Am Chem Soc
(2005)
: 17996
Emission characteristics of fluorescent labels with respect to temperature changes and subsequent effects on DNA microchip studies
Authors:
Liu WT, Wu JH, Li ES, Selamat ES.
Journal:
Appl Environ Microbiol
(2005)
: 6453
Orientational dynamics and dye-DNA interactions in a dye-labeled DNA aptamer
Authors:
Unruh JR, Gokulrangan G, Lushington GH, Johnson CK, Wilson GS.
Journal:
Biophys J
(2005)
: 3455
Measurement of normal and anomalous diffusion of dyes within protein structures fabricated via multiphoton excited cross-linking
Authors:
Basu S, Wolgemuth CW, Campagnola PJ.
Journal:
Biomacromolecules
(2004)
: 2347
Suppression of protein kinase Calpha triggers apoptosis through down-regulation of Bcl-xL in a rat hepatic epithelial cell line
Authors:
Hsieh YC, Jao HC, Yang RC, Hsu HK, Hsu C.
Journal:
Shock
(2003)
: 582