(Z-DEVD)2-R110
Ordering information
| | |
| --- | --- |
| Price | |
| Catalog Number | |
| Unit Size | |
| Quantity | |
Additional ordering information
| | |
| --- | --- |
| Telephone | 1-800-990-8053 |
| Fax | 1-800-609-2943 |
| Email | sales@aatbio.com |
| International | See distributors |
| Bulk request | Inquire |
| Custom size | Inquire |
| Shipping | Standard overnight for United States, inquire for international |
Physical properties
| | |
| --- | --- |
| Molecular weight | 1515.44 |
| Solvent | DMSO |
Spectral properties
| | |
| --- | --- |
| Extinction coefficient (cm -1 M -1) | 80000 |
| Excitation (nm) | 500 |
| Emission (nm) | 522 |
Storage, safety and handling
| | |
| --- | --- |
| H-phrase | H303, H313, H333 |
| Hazard symbol | XN |
| Intended use | Research Use Only (RUO) |
| R-phrase | R20, R21, R22 |
| Storage | Freeze (< -15 °C) |
| UNSPSC | 12352200 |
| | | | |
| --- | --- | --- | --- |
| | Extinction coefficient (cm -1 M -1) | | |
Since highly purified rhodamine 110 (R110)-derived substrates are locked in the lactone configuration they are colorless and non-fluorescent. Cleavage of R110 peptides by caspases generates strongly fluorescent R110 that can be monitored fluorimetrically at 510-530 nm with excitation of 488 nm, the most common excitation light source used in fluorescence instruments. R110-derived caspase substrates are probably the most sensitive indicators widely used for the fluorimetric detection of various caspase activities. This R110 substrate is specific for caspases 3 and 7. Our R110-based substrates are highly purified to eliminate the trace amount of free R110 that is not detectable by HPLC, but causes significant assay background.
Example protocol
AT A GLANCE
Important notes
It is important to store at <-15 °C and should be stored in cool, dark place.
It can be used within 12 months from the date of receipt. 
PREPARATION OF STOCK SOLUTION
Unless otherwise noted, all unused stock solutions should be divided into single-use aliquots and stored at -20 °C after preparation. Avoid repeated freeze-thaw cycles.
1. (Z-DEVD)2-R110 stock solution (10 mM):
Add 65 µL of DMSO into the vial of 1 mg (Z-DEVD)2-R110 to make 10 mM stock solution.
PREPARATION OF WORKING SOLUTION
Caspase 3/7 assay solution (2X):
Mix 50 µL (Z-DEVD)2-R110 stock solution (10 mM), 100 µL DTT (1M), 400 µL EDTA (100 mM) and 10 mL Tris Buffer (20 mM), pH =7.4.
SAMPLE EXPERIMENTAL PROTOCOL
Mix equal volume of the caspase 3/7 standards or samples with 2X caspase 3/7 assay reaction solution and incubate at room temperature for at least 1 hour.


Monitor the fluorescence increase at Ex/Em = 490/525 nm.
Calculators
Common stock solution preparation
Table 1.
Volume of DMSO needed to reconstitute specific mass of (Z-DEVD)2-R110 to given concentration. Note that volume is
only
for preparing stock solution. Refer to sample experimental protocol for appropriate experimental/physiological buffers.
| | | | | | |
| --- | --- | --- | --- | --- | --- |
| | 0.1 mg | 0.5 mg | 1 mg | 5 mg | 10 mg |
| 1 mM | 65.987 µL | 329.937 µL | 659.874 µL | 3.299 mL | 6.599 mL |
| 5 mM | 13.197 µL | 65.987 µL | 131.975 µL | 659.874 µL | 1.32 mL |
| 10 mM | 6.599 µL | 32.994 µL | 65.987 µL | 329.937 µL | 659.874 µL |
Molarity calculator
Enter any two values (mass, volume, concentration) to calculate the third.
Mass (

Calculate

)
Molecular weight
Volume (

Calculate

)
Concentration (

Calculate

)
Moles
/
=
x
=
Spectrum
Open in Advanced Spectrum Viewer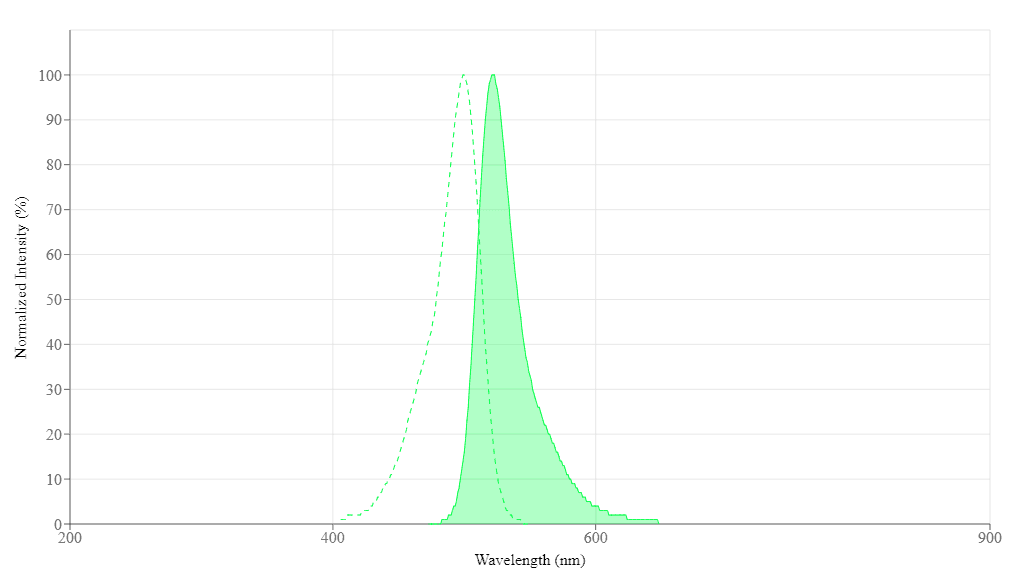 Spectral properties
| | |
| --- | --- |
| Extinction coefficient (cm -1 M -1) | 80000 |
| Excitation (nm) | 500 |
| Emission (nm) | 522 |
References
In vivo and in vitro sensitization of leukemic cells to adriamycin-induced apoptosis by pentoxifylline. Involvement of caspase cascades and IkappaBalpha phosphorylation
Authors:
Lerma-Diaz JM, Hern and ez-Flores G, Dominguez-Rodriguez JR, Ortiz-Lazareno PC, Gomez-Contreras P, Cervantes-Munguia R, Scott-Algara D, Aguilar-Lemarroy A, Jave-Suarez LF, Bravo-Cuellar A.
Journal:
Immunol Lett
(2006)
: 149
Measurement of two caspase activities simultaneously in living cells by a novel dual FRET fluorescent indicator probe
Authors:
Wu X, Simone J, Hewgill D, Siegel R, Lipsky PE, He L.
Journal:
Cytometry A
(2006)
: 477
Quantitative measurement of caspase-3 activity in a living starfish egg
Authors:
Sakaue M, Motoyama Y, Yamamoto K, Shiba T, Teshima T, Chiba K.
Journal:
Biochem Biophys Res Commun
(2006)
: 878
Photoreceptor cell apoptosis induced by the 2-nitroimidazole radiosensitizer, CI-1010, is mediated by p53-linked activation of caspase-3
Authors:
Miller TJ, Schneider RJ, Miller JA, Martin BP, Al-Ubaidi MR, Agarwal N, Dethloff LA, Philbert MA.
Journal:
Neurotoxicology
(2006)
: 44
Diallyl Trisulfide Induces Apoptosis of Human Gastric Cancer Cell Line MGC803 Through Caspase-3 Pathway.
Authors:
Xiao XL, Peng J, Su Q, Xiang SL, Tang GH, Huang YS, Zhou XT.
Journal:
Ai Zheng
(2006)
: 1247
Asymmetric dimethylarginine induces apoptosis via p38 MAPK/caspase-3-dependent signaling pathway in endothelial cells
Authors:
Jiang DJ, Jia SJ, Dai Z, Li YJ.
Journal:
J Mol Cell Cardiol
(2006)
: 529
Multiparameter measurement of caspase 3 activation and apoptotic cell death in NT2 neuronal precursor cells using high-content analysis
Authors:
Fennell M, Chan H, Wood A.
Journal:
J Biomol Screen
(2006)
: 296
Serofendic acid, a neuroprotective substance derived from fetal calf serum, inhibits mitochondrial membrane depolarization and caspase-3 activation
Authors:
Kume T, Taguchi R, Katsuki H, Akao M, Sugimoto H, Kaneko S, Akaike A.
Journal:
Eur J Pharmacol
(2006)
: 69
Homogeneous, bioluminescent protease assays: caspase-3 as a model
Authors:
O'Brien MA, Daily WJ, Hesselberth PE, Moravec RA, Scurria MA, Klaubert DH, Bulleit RF, Wood KV.
Journal:
J Biomol Screen
(2005)
: 137
Caspase-3 activation and induction of PARP cleavage by cyclic dipeptide cyclo(Phe-Pro) in HT-29 cells
Authors:
Brauns SC, Dealtry G, Milne P, Naude R, Van de Venter M.
Journal:
Anticancer Res
(2005)
: 4197