Z-DEVD-ProRed™ 620
Ordering information
| | |
| --- | --- |
| Price | |
| Catalog Number | |
| Unit Size | |
| Quantity | |
Additional ordering information
| | |
| --- | --- |
| Telephone | 1-800-990-8053 |
| Fax | 1-800-609-2943 |
| Email | sales@aatbio.com |
| International | See distributors |
| Bulk request | Inquire |
| Custom size | Inquire |
| Shipping | Standard overnight for United States, inquire for international |
Physical properties
| | |
| --- | --- |
| Molecular weight | 1565.50 |
| Solvent | DMSO |
Spectral properties
| | |
| --- | --- |
| Excitation (nm) | 532 |
| Emission (nm) | 619 |
Storage, safety and handling
| | |
| --- | --- |
| H-phrase | H303, H313, H333 |
| Hazard symbol | XN |
| Intended use | Research Use Only (RUO) |
| R-phrase | R20, R21, R22 |
| Storage | Freeze (< -15 °C); Minimize light exposure |
| UNSPSC | 12352200 |
ProRed™-derived protease substrates are colorless and non-fluorescent. Cleavage of blocking protease-cleavable peptide residue by caspases generates the strongly red fluorescent ProRed™ that can be monitored fluorimetrically at ~620 nm with excitation of ~530 nm. ProRed™-derived caspase substrates are the most sensitive red indicators for the fluorimetric detection of various caspase activities. This DEVD-ProRed™ substrate is specific for detecting caspases 3 and 7.
Example protocol
AT A GLANCE
Important notes
It is important to store at <-15 °C and should be stored in cool, dark place.
It can be used within 12 months from the date of receipt. 
PREPARATION OF STOCK SOLUTION
Unless otherwise noted, all unused stock solutions should be divided into single-use aliquots and stored at -20 °C after preparation. Avoid repeated freeze-thaw cycles.
1. Z-DEVD-ProredTM 620 stock solution (10 mM):
Add 65 µL of DMSO into the vial of 1 mg Z-DEVD-ProredTM 620 to make 10 mM stock solution.
PREPARATION OF WORKING SOLUTION
Caspase 3/7 assay solution (2X):
Mix 50 µL Z-DEVD-ProRed™ 620 stock solution (10 mM), 100 µL DTT (1M), 400 µL EDTA (100 mM) and 10 mL Tris Buffer (20 mM), pH =7.4.
SAMPLE EXPERIMENTAL PROTOCOL
Mix equal volume of the caspase 3/7 standards or samples with 2X caspase 3/7 assay reaction solution and incubate at room temperature for at least 1 hour.


Monitor the fluorescence increase at Ex/Em = 535/620 nm.
Calculators
Common stock solution preparation
Table 1.
Volume of DMSO needed to reconstitute specific mass of Z-DEVD-ProRed™ 620 to given concentration. Note that volume is
only
for preparing stock solution. Refer to sample experimental protocol for appropriate experimental/physiological buffers.
| | | | | | |
| --- | --- | --- | --- | --- | --- |
| | 0.1 mg | 0.5 mg | 1 mg | 5 mg | 10 mg |
| 1 mM | 63.877 µL | 319.387 µL | 638.774 µL | 3.194 mL | 6.388 mL |
| 5 mM | 12.775 µL | 63.877 µL | 127.755 µL | 638.774 µL | 1.278 mL |
| 10 mM | 6.388 µL | 31.939 µL | 63.877 µL | 319.387 µL | 638.774 µL |
Molarity calculator
Enter any two values (mass, volume, concentration) to calculate the third.
Mass (

Calculate

)
Molecular weight
Volume (

Calculate

)
Concentration (

Calculate

)
Moles
/
=
x
=
Spectrum
Open in Advanced Spectrum Viewer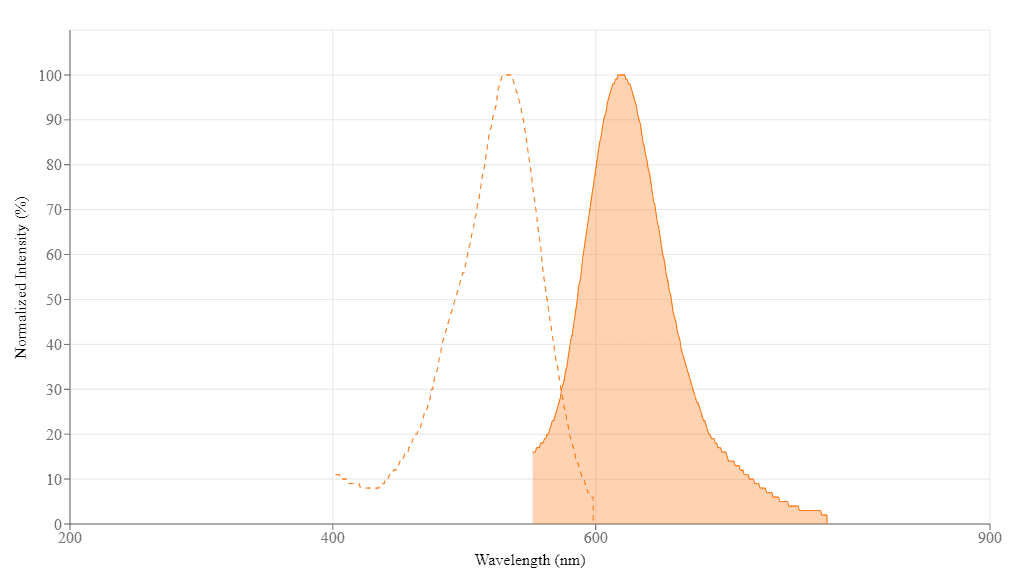 Spectral properties
| | |
| --- | --- |
| Excitation (nm) | 532 |
| Emission (nm) | 619 |
Images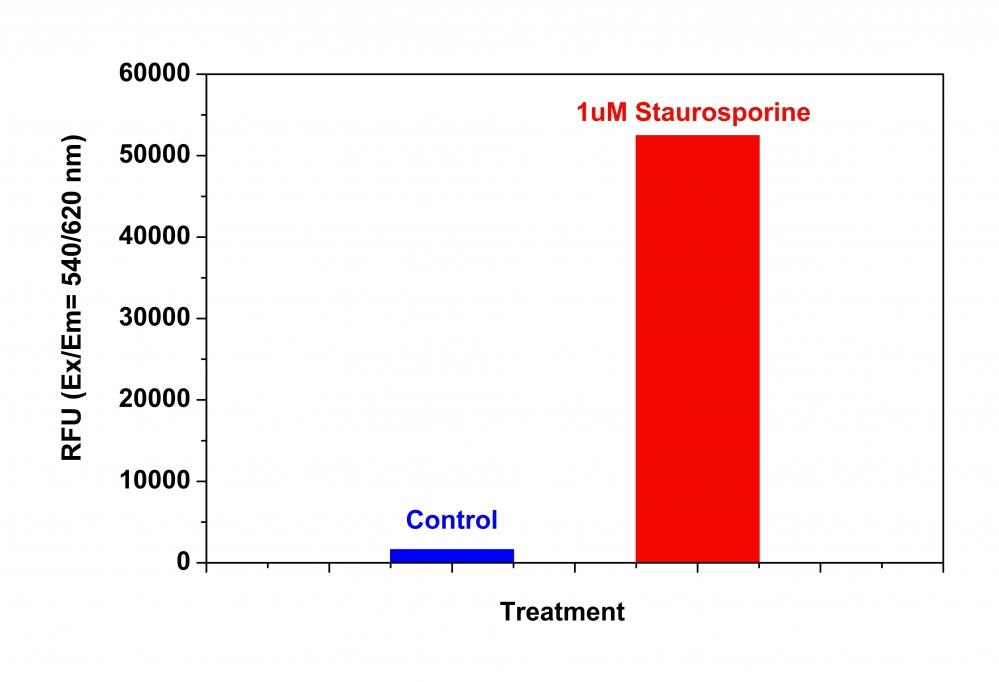 Figure 1.
Detection of Caspase 3/7 Activities in Jurkat cells.
Jurkat cells were seeded on the same day at 200,000 cells/90 uL/well in a Costar black wall/clear bottom 96-well plate. The cells were treated with staurosporine at the final concentration of 1 uM for 5 hours while the untreated cells were used as control. The Z-DEVD-ProRed™ 620 assay solution (100 uL/well) was added and incubated at room temperature for 1 hour. The fluorescence intensity was measured at Ex/Em = 540/620 nm with FlexStation fluorescence microplate reader (Molecular Devices).
Citations
Degenerin channel activation causes caspase-mediated protein degradation and mitochondrial dysfunction in adult C. elegans muscle
Authors:
Gaffney, Christopher J and Shephard, Freya and Chu, Jeff and Baillie, David L and Rose, Ann and Constantin-Teodosiu, Dumitru and Greenhaff, Paul L and Szewczyk, Nathaniel J
Journal:
Journal of cachexia, sarcopenia and muscle
(2016)
: 181--192
References
3,5-dibenzyloxy-4'-hydroxystilbene induces early caspase-9 activation during apoptosis in human K562 chronic myelogenous leukemia cells
Authors:
Roslie H, Chan KM, Rajab NF, Velu SS, Kadir SA, Bunyamin I, Weber JF, Thomas NF, Majeed AB, Myatt G, Inayat-Hussain SH.
Journal:
J Toxicol Sci
(2012)
: 13
Dopaminochrome induces caspase-independent apoptosis in the mesencephalic cell line, MN9D
Authors:
Linsenbardt AJ, Breckenridge JM, Wilken GH, Macarthur H.
Journal:
J Neurochem.
(2012)
Acacetin induces apoptosis in human T cell leukemia Jurkat cells via activation of a caspase cascade
Authors:
Watanabe K, Kanno S, Tomizawa A, Yomogida S, Ishikawa M.
Journal:
Oncol Rep
(2012)
: 204
5-Phenylselenyl- and 5-methylselenyl-methyl-2'-deoxyuridine induce oxidative stress, DNA damage, and caspase-2-dependent apoptosis in cancer cells
Authors:
Kim BM, Rode AB, Han EJ, Hong IS, Hong SH.
Journal:
Apoptosis
(2012)
: 200
High cytosolic free calcium level signals apoptosis through mitochondria-caspase mediated pathway in rat eggs cultured in vitro
Authors:
Tripathi A, Chaube SK.
Journal:
Apoptosis
(2012)
: 439
The effect of low-level laser to apoptosis of chondrocyte and caspases expression, including caspase-8 and caspase-3 in rabbit surgery-induced model of knee osteoarthritis
Authors:
Lin HD, He CQ, Luo QL, Zhang JL, Zeng DX.
Journal:
Rheumatol Int
(2012)
: 759
A caspase 8-based suicide switch induces apoptosis in nanobody-directed chimeric receptor expressing T cells
Authors:
Khaleghi S, Rahbarizadeh F, Ahmadv and D, Rasaee MJ, Pognonec P.
Journal:
Int J Hematol
(2012)
: 434
Taurine protects rat testes against doxorubicin-induced oxidative stress as well as p53, Fas and caspase 12-mediated apoptosis
Authors:
Das J, Ghosh J, Manna P, Sil PC.
Journal:
Amino Acids
(2012)
: 1839
Low-Dose Spironolactone Prevents Apoptosis Repressor With Caspase Recruitment Domain Degradation During Myocardial Infarction
Authors:
Loan Le TY, Mardini M, Howell VM, Funder JW, Ashton AW, Mihailidou AS.
Journal:
Hypertension.
(2012)
Steroid Receptor Coactivator-interacting Protein (SIP) Inhibits Caspase-independent Apoptosis by Preventing Apoptosis-inducing Factor (AIF) from Being Released from Mitochondria
Authors:
Wang D, Liang J, Zhang Y, Gui B, Wang F, Yi X, Sun L, Yao Z, Shang Y.
Journal:
J Biol Chem
(2012)
: 12612