AzoDye-2 PEG10 Alkyne
Ordering information
| | |
| --- | --- |
| Price | |
| Catalog Number | |
| Unit Size | |
| Quantity | |
Additional ordering information
| | |
| --- | --- |
| Telephone | 1-800-990-8053 |
| Fax | 1-800-609-2943 |
| Email | sales@aatbio.com |
| International | See distributors |
| Bulk request | Inquire |
| Custom size | Inquire |
| Shipping | Standard overnight for United States, inquire for international |
Physical properties
| | |
| --- | --- |
| Molecular weight | 984.11 |
| Solvent | DMSO |
Storage, safety and handling
| | |
| --- | --- |
| H-phrase | H303, H313, H333 |
| Hazard symbol | XN |
| Intended use | Research Use Only (RUO) |
| R-phrase | R20, R21, R22 |
| Storage | Freeze (< -15 °C); Minimize light exposure |
| UNSPSC | 12171501 |
AzoDye-2 PEG10 alkyne is an excellent building block for labeling azide-containing molecules. It contains a PEG10 spacer that significantly improves its water solubility compared to AzoDye-2 alkyne (#2434) although both AzoDye-2 alkyne (#2434) and AzoDye-2 PEG10 alkyne (#2435) bear the same extremely hydrophobic BHQ-2 chromophore. AzoDye-2 dyes are nearly non-fluorescent with moderate extinction coefficients. These dark quenchers are most typically used in Molecular Beacon probes in which FRET has minimal contribution to their fluorescence quenching, thus dependence on donor-acceptor spectral overlap is not significant as to other FRET probes such as FRET peptides. AzoDye-2 dyes can quench a variety of fluorophores, in particular, fluorescein derivatives such as FAM, HEX, TET, NED and JOE. This may reflect the AzoDye-2's ability to form stable, non-fluorescent complexes with a fluorophore.
Calculators
Common stock solution preparation
Table 1.
Volume of DMSO needed to reconstitute specific mass of AzoDye-2 PEG10 Alkyne to given concentration. Note that volume is
only
for preparing stock solution. Refer to sample experimental protocol for appropriate experimental/physiological buffers.
| | | | | | |
| --- | --- | --- | --- | --- | --- |
| | 0.1 mg | 0.5 mg | 1 mg | 5 mg | 10 mg |
| 1 mM | 101.615 µL | 508.073 µL | 1.016 mL | 5.081 mL | 10.161 mL |
| 5 mM | 20.323 µL | 101.615 µL | 203.229 µL | 1.016 mL | 2.032 mL |
| 10 mM | 10.161 µL | 50.807 µL | 101.615 µL | 508.073 µL | 1.016 mL |
Molarity calculator
Enter any two values (mass, volume, concentration) to calculate the third.
Mass (

Calculate

)
Molecular weight
Volume (

Calculate

)
Concentration (

Calculate

)
Moles
/
=
x
=
Spectrum
Open in Advanced Spectrum Viewer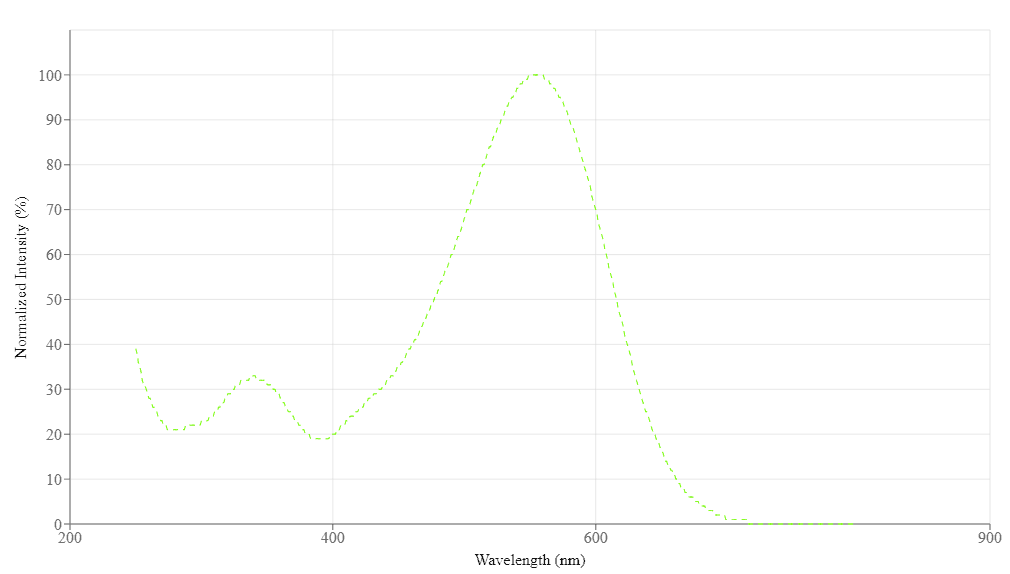 Spectral properties
References
Antibody-powered DNA switches to initiate the hybridization chain reaction for the amplified fluorescence immunoassay.
Authors:
He, Jia-Yang and Chen, Ze-Hui and Deng, Hui-Lin and Yuan, Ruo and Xu, Wen-Ju
Journal:
The Analyst
(2021)
: 5067-5073
Anticancer Activity Assessment and DNA Binding Properties of Two Binuclear Platinum (II) Complexes using Spectroscopic and Molecular Simulation Approaches.
Authors:
Alavianmehr, Mohammad M and Ashrafi, Abolfazl and Yousefi, Reza and Haghighi, Mohsen G and Abolmaali, Samira S and Moosavi-Movahedi, Ali A and Rad, Mohammad N S
Journal:
Anti-cancer agents in medicinal chemistry
(2020)
: 2066-2073
Heck- and Suzuki-coupling approaches to novel hydroquinone inhibitors of calcium ATPase.
Authors:
Kempton, Robert J and Kidd-Kautz, Taylor A and Laurenceau, Soizic and Paula, Stefan
Journal:
Beilstein journal of organic chemistry
(2019)
: 971-975
Förster Resonance Energy Transfer-Based Soft Nanoballs for Specific and Amplified Detection of MicroRNAs.
Authors:
Cheng, Yun Ying and Xie, Yi Fen and Li, Chun Mei and Li, Yuan Fang and Huang, Cheng Zhi
Journal:
Analytical chemistry
(2019)
: 11023-11029
Influence of the Diphosphine Coordination Mode on the Structural and Optical Properties of Cyclometalated Platinum(II) Complexes: An Experimental and Theoretical Study on Intramolecular Pt···Pt and π···π Interactions.
Authors:
Barzegar-Kiadehi, S Reza and Golbon Haghighi, Mohsen and Jamshidi, Mahboubeh and Notash, Behrouz
Journal:
Inorganic chemistry
(2018)
: 5060-5073
Efficient Synthesis of a Wide-Range Absorbing Azaphthalocyanine Dark Quencher and Its Application to Dual-Labeled Oligonucleotide Probes for Quantitative Real-Time Polymerase Chain Reactions.
Authors:
Demuth, Jiri and Kucera, Radim and Kopecky, Kamil and Havlínová, Zuzana and Libra, Antonín and Novakova, Veronika and Miletin, Miroslav and Zimcik, Petr
Journal:
Chemistry (Weinheim an der Bergstrasse, Germany)
(2018)
: 9658-9666
Synthesis, structural characterization and biological properties of phosphorescent iridium(III) complexes.
Authors:
Bhat, Satish S and Shivalingegowda, Naveen and Revankar, Vidyanand K and Lokanath, N K and Kugaji, Manohar S and Kumbar, Vijay and Bhat, Kishore
Journal:
Journal of inorganic biochemistry
(2017)
: 127-137
The G-BHQ synergistic effect: Improved double quenching molecular beacons based on guanine and Black Hole Quencher for sensitive simultaneous detection of two DNAs.
Authors:
Xiang, Dongshan and Li, Fengquan and Wu, Chenyi and Shi, Boan and Zhai, Kun
Journal:
Talanta
(2017)
: 289-294
Silver enhanced ratiometric nanosensor based on two adjustable Fluorescence Resonance Energy Transfer modes for quantitative protein sensing.
Authors:
Li, Hui and Zhao, Yaju and Chen, Zhu and Xu, Danke
Journal:
Biosensors & bioelectronics
(2017)
: 428-432
Target-triggered signal turn-on detection of prostate specific antigen based on metal-enhanced fluorescence of Ag@SiO2@SiO2-RuBpy composite nanoparticles.
Authors:
Deng, Yun-Liang and Xu, Dang-Dang and Pang, Dai-Wen and Tang, Hong-Wu
Journal:
Nanotechnology
(2017)
: 065501