FITC-xtra
Ordering information
| | |
| --- | --- |
| Price | |
| Catalog Number | |
| Unit Size | |
| Quantity | |
Additional ordering information
| | |
| --- | --- |
| Telephone | 1-800-990-8053 |
| Fax | 1-800-609-2943 |
| Email | sales@aatbio.com |
| International | See distributors |
| Bulk request | Inquire |
| Custom size | Inquire |
| Shipping | Standard overnight for United States, inquire for international |
Physical properties
| | |
| --- | --- |
| Molecular weight | 620.52 |
| Solvent | DMSO |
Spectral properties
| | |
| --- | --- |
| Excitation (nm) | 498 |
| Emission (nm) | 526 |
Storage, safety and handling
| | |
| --- | --- |
| H-phrase | H303, H313, H333 |
| Hazard symbol | XN |
| Intended use | Research Use Only (RUO) |
| R-phrase | R20, R21, R22 |
| Storage | Freeze (< -15 °C); Minimize light exposure |
| UNSPSC | 12171501 |
Although FITC is still the most popular fluorescent labeling dye for preparing green fluorescent bioconjugates, there are certain limitations with FITC, such as severe photobleaching for microscope imaging and pH-sensitive fluorescence. Protein conjugates prepared with FITC-xtra are far superior compared to the corresponding FITC conjugates. FITC-xtra conjugates are significantly brighter than FITC conjugates and are much more photostable. Additionally, the fluorescence of FITC-xtra is not affected by pH (4-10). This pH insensitivity is a major improvement over FITC, which emits its maximum fluorescence only at pH above 9. FITC-xtra has spectral properties almost identical FITC. In addition, FITC-xtra give much higher conjugation yield under mild conjugation conditions than FITC. Like 5-FITC, FITC-xtra antibody conjugates have excitation ideally suited to the 488 nm laser line, making them alternatives to the corresponding FITC-labeled antibody conjugates. Under the same conditions tested, FITC-xtra antibody conjugates give much higher signal/background ratios than the corresponding FITC-labeled conjugates.
Calculators
Common stock solution preparation
Table 1.
Volume of DMSO needed to reconstitute specific mass of FITC-xtra to given concentration. Note that volume is
only
for preparing stock solution. Refer to sample experimental protocol for appropriate experimental/physiological buffers.
| | | | | | |
| --- | --- | --- | --- | --- | --- |
| | 0.1 mg | 0.5 mg | 1 mg | 5 mg | 10 mg |
| 1 mM | 161.155 µL | 805.776 µL | 1.612 mL | 8.058 mL | 16.116 mL |
| 5 mM | 32.231 µL | 161.155 µL | 322.31 µL | 1.612 mL | 3.223 mL |
| 10 mM | 16.116 µL | 80.578 µL | 161.155 µL | 805.776 µL | 1.612 mL |
Molarity calculator
Enter any two values (mass, volume, concentration) to calculate the third.
Mass (

Calculate

)
Molecular weight
Volume (

Calculate

)
Concentration (

Calculate

)
Moles
/
=
x
=
Spectrum
Open in Advanced Spectrum Viewer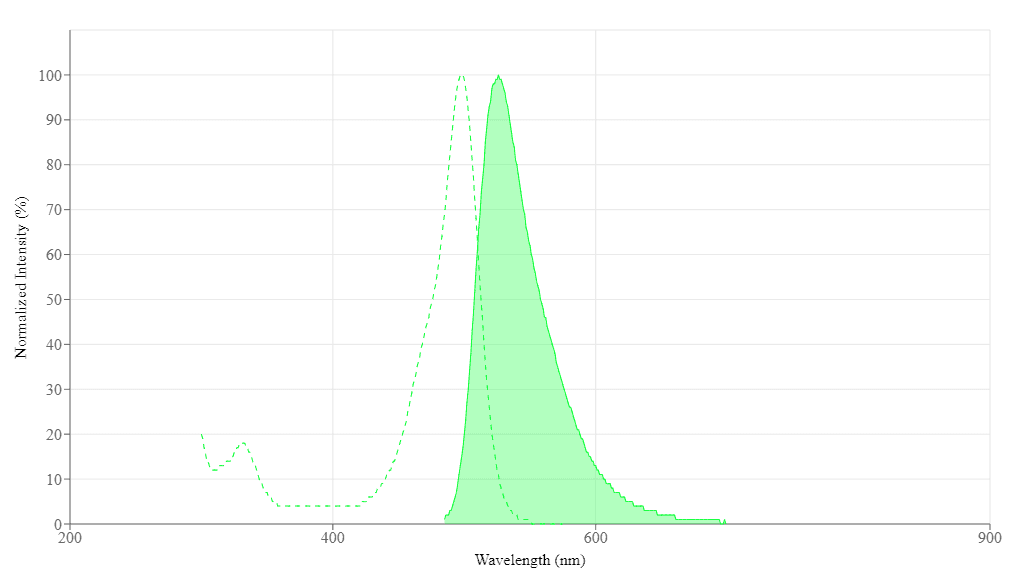 Spectral properties
| | |
| --- | --- |
| Excitation (nm) | 498 |
| Emission (nm) | 526 |
Images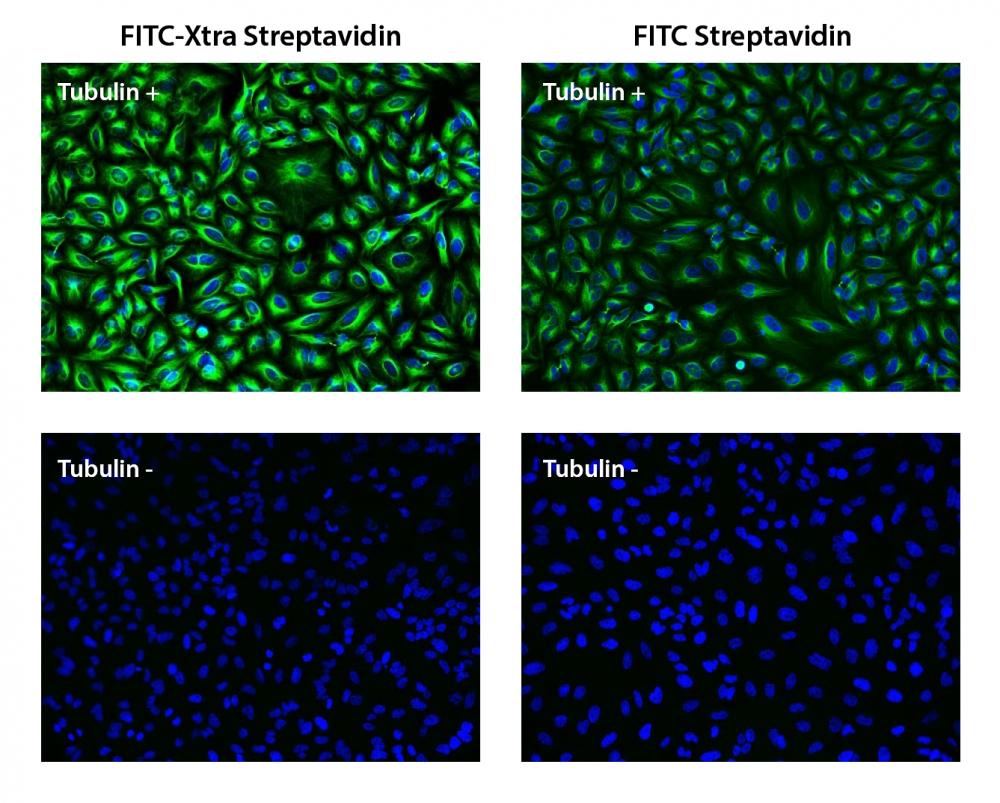 Figure 1.
HeLa cells were incubated with (Tubulin+) or without (Tubulin-) mouse anti-tubulin and biotin goat anti-mouse IgG followed by FITC-Xtra streptavidin conjugate (Green, Left) or FITC-streptavidin conjugate (Green, Right), respectively. Cell nuclei were stained with Hoechst 33342 (Blue, Cat#17530).
Citations
Complexes containing cationic and anionic pH-sensitive liposomes: comparative study of factors influencing plasmid DNA gene delivery to tumors
Authors:
Chen, Yan and Sun, Ji and Lu, Ying and Tao, Chun and Huang, Jingbin and Zhang, He and Yu, Yuan and Zou, Hao and Gao, Jing and Zhong, Yanqiang
Journal:
International journal of nanomedicine
(2013)
: 1573
References
Isothiocyanato Boron Dipyrromethenes - The First BODIPY Analogues of Fluorescein Isothiocyanate (FITC)
Authors:
Malatesti N, Hudson R, Smith K, Savoie H, Rix K, Welham K, Boyle RW.
Journal:
Photochem Photobiol.
(2006)
Detection of FITC-cortisol via modulated supraparticle lighthouses
Authors:
Petkus MM, McLauchlin M, Vuppu AK, Rios L, Garcia AA, Hayes MA.
Journal:
Anal Chem
(2006)
: 1405
Clathrin-mediated endocytosis of FITC-albumin in alveolar type II epithelial cell line RLE-6TN
Authors:
Yumoto R, Nishikawa H, Okamoto M, Katayama H, Nagai J, Takano M.
Journal:
Am J Physiol Lung Cell Mol Physiol
(2006)
: L946
Fluorescein isothiocyanate labelled bovine serum albumin (FITC-BSA) as a model protein drug: opportunities and drawbacks
Authors:
Wischke C, Borchert HH.
Journal:
Pharmazie
(2006)
: 770
Increased FITC fluorescence on LPS stimulated neutrophils cultured in whole blood
Authors:
Wilkins RC, Bellier PV, Kutzner BC, McNamee JP.
Journal:
Cell Biol Int
(2006)
: 394
Effects of pretreatment of needle puncture and sandpaper abrasion on the in vitro skin permeation of fluorescein isothiocyanate (FITC)-dextran
Authors:
Wu XM, Todo H, Sugibayashi K.
Journal:
Int J Pharm
(2006)
: 102
Uptake of dextran-FITC by epithelial cells of the chorioallantoic placentome and the omphalopleure of the placentotrophic lizard, Pseudemoia entrecasteauxii
Authors:
Stewart JR, Thompson MB, Attaway MB, Herbert JF, Murphy CR.
Journal:
J Exp Zoolog A Comp Exp Biol
(2006)
: 883
Intracellular FITC-derivatization with PEG
Authors:
Chen F, Zhi D, Xia G.
Journal:
Electrophoresis
(2005)
: 4204
Potential determination of aminated pesticides and metabolites by cyclodextrin capillary electrophoresis-laser-induced fluorescence using FITC as labelling
Authors:
Navarrete-Casas M, Segura-Carretero A, Cruces-Blanco C, Fern and ez-Gutierrez A., undefined
Journal:
Pest Manag Sci
(2005)
: 197
Preparation and characterization of a directly labeled mouse anti-human CD14 monoclonal antibody ZCH-2F9-FITC.
Authors:
Ning BT, Tang YM, Shen HQ, Yang SL, Chen YH, Song H, Shi SW, Qian BQ, Xu WQ.
Journal:
Zhejiang Da Xue Xue Bao Yi Xue Ban
(2005)
: 167