FluoroQuest™ Anti-fading Mounting Medium with DAPI
Ordering information
| | |
| --- | --- |
| Price | |
| Catalog Number | |
| Unit Size | |
| Quantity | |
Additional ordering information
| | |
| --- | --- |
| Telephone | 1-800-990-8053 |
| Fax | 1-800-609-2943 |
| Email | sales@aatbio.com |
| International | See distributors |
| Bulk request | Inquire |
| Custom size | Inquire |
| Shipping | Standard overnight for United States, inquire for international |
Spectral properties
| | |
| --- | --- |
| Extinction coefficient (cm -1 M -1) | 27000 |
| Excitation (nm) | 359 |
| Emission (nm) | 457 |
Storage, safety and handling
| | |
| --- | --- |
| H-phrase | H303, H313, H340 |
| Hazard symbol | T |
| Intended use | Research Use Only (RUO) |
| R-phrase | R20, R21, R68 |
| Storage | Refrigerated (2-8 °C); Minimize light exposure |
| UNSPSC | 12352200 |
| | | |
| --- | --- | --- |
| Extinction coefficient (cm -1 M -1) | | |
FluoroQuest™ with DAPI is an aqueous mounting medium for preserving fluorescence of tissue and cell smears. This mounting medium contains anti-fading agents to reduce the dye photobleaching rate, and is fortified with DAPI which is a counterstain for DNA. For use in in situ hybridization techniques or other methods where fluorescence of DNA staining is required. DAPI excites at 360 nm and emits at 460 nm, producing a blue fluorescence. RNA is also stained with DAPI.
Example protocol
AT A GLANCE
Important
Expiration date is 6 months from the date of receipt.
SAMPLE EXPERIMENTAL PROTOCOL
Following is our recommended protocol that only provides a guideline. It should be modified according to your specific needs.
Warm up the mounting solution: Remove the mounting solution from refrigerator. Warm the bottle to room temperature, protected from light.

Apply the mounting solution: Remove any excess liquid from your specimen. Add a small drop of the mounting solution to the specimen. If the sample is on a slide or tissue culture dish, carefully place a coverslip on the drop, avoiding air bubbles. If the sample is on a coverslip, invert the coverslip on a clean glass slide. Remove any excess anti-fading component.

Prepare samples for imaging: The mounting solution should be incubated for 2 hours to overnight. For long-term storage, seal the coverslip to the slide with nail polish or a plastic sealant. Mounted slides should be stored at 4 °C in the dark for optimum sample longevity. The fluorescence imaging would remain stable for many weeks. Samples can be imaged immediately after mounting. 
Spectrum
Open in Advanced Spectrum Viewer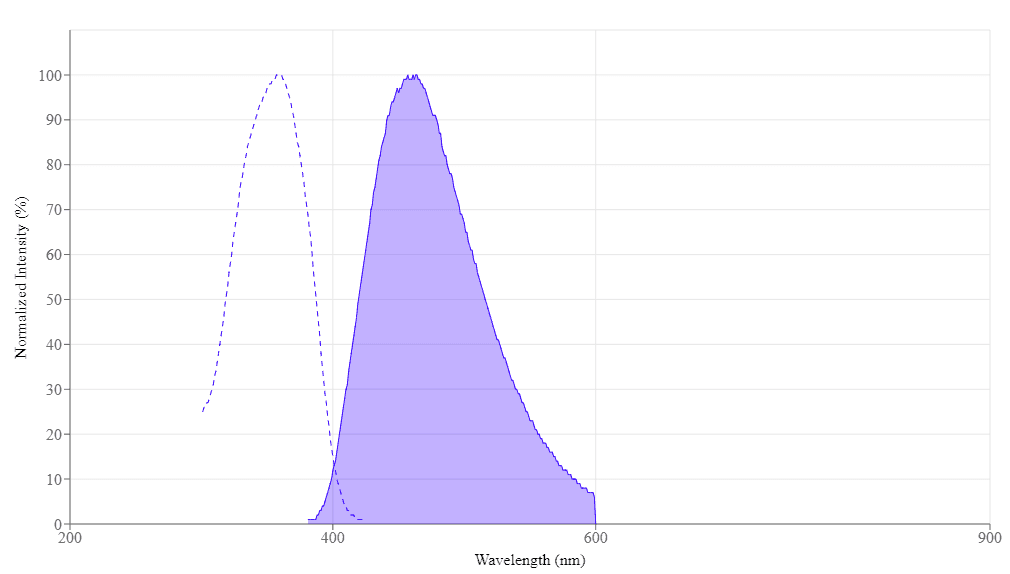 Spectral properties
| | |
| --- | --- |
| Extinction coefficient (cm -1 M -1) | 27000 |
| Excitation (nm) | 359 |
| Emission (nm) | 457 |
Images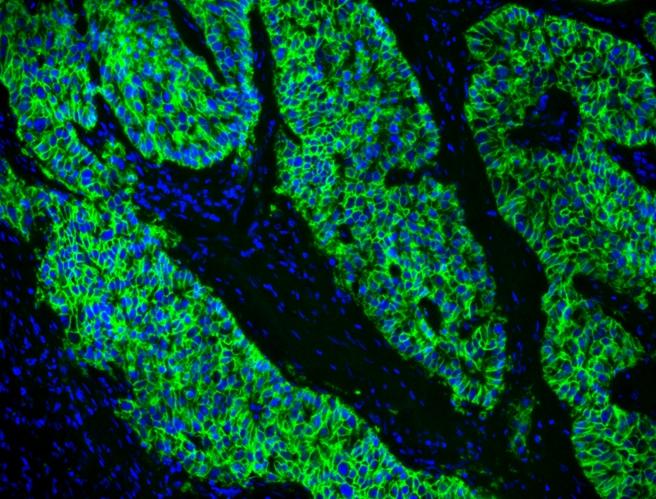 Figure 1.
Fluorescence IHC of formaldehyde-fixed, paraffin-embedded Human lung adenocarcinoma positive tissue. Human lung adenocarcinoma positive tissue sections were stained with rabbit anti-EpCam antibody and then incubated with polyHRP-labeled Goat anti-Rabbit IgG secondary antibody followed by iFluor® 488 Styramide™ (Cat#45020) stain respectively. The tissue was mounted in FluoroQuest™ Anti-fading Mounting Medium with DAPI (cat#20005). 
References
Photobleaching of organic fluorophores: quantitative characterization, mechanisms, protection.
Authors:
Demchenko, Alexander P
Journal:
Methods and applications in fluorescence
(2020)
: 022001
The Relationship between Residual Amount of Sr and Morphology of Eutectic Si Phase in A356 Alloy.
Authors:
Zhang, Wenda and Ma, Shixuan and Wei, Zhenhua and Bai, Peikang
Journal:
Materials (Basel, Switzerland)
(2019)
[Multi-color immunofluorescence microscopy in cultured cells].
Authors:
Matsuzaki, Toshiyuki
Journal:
Nihon yakurigaku zasshi. Folia pharmacologica Japonica
(2019)
: 165-170
Using Phospho-Peptides Immobilized on Magnetic Beads for Absorption Control in Immunohistochemistry.
Authors:
Schwartz, David and Grahek, Michael and He, Yingwei and Wang, Wei and Nguyen, Jennifer and Kalyuzhny, Alexander E
Journal:
Methods in molecular biology (Clifton, N.J.)
(2017)
: 219-227
FAD-I, a Fusobacterium nucleatum Cell Wall-Associated Diacylated Lipoprotein That Mediates Human Beta Defensin 2 Induction through Toll-Like Receptor-1/2 (TLR-1/2) and TLR-2/6.
Authors:
Bhattacharyya, Sanghamitra and Ghosh, Santosh K and Shokeen, Bhumika and Eapan, Betty and Lux, Renate and Kiselar, Janna and Nithianantham, Stanley and Young, Andrew and Pandiyan, Pushpa and McCormick, Thomas S and Weinberg, Aaron
Journal:
Infection and immunity
(2016)
: 1446-1456
A Power-Efficient Clustering Protocol for Coal Mine Face Monitoring with Wireless Sensor Networks Under Channel Fading Conditions.
Authors:
Ren, Peng and Qian, Jiansheng
Journal:
Sensors (Basel, Switzerland)
(2016)
Production of colourful pigments consisting of amorphous arrays of silica particles.
Authors:
Yoshioka, Shinya and Takeoka, Yukikazu
Journal:
Chemphyschem : a European journal of chemical physics and physical chemistry
(2014)
: 2209-15
A dendritic single-molecule fluorescent probe that is monovalent, photostable and minimally blinking.
Authors:
Yang, Si Kyung and Shi, Xinghua and Park, Seongjin and Ha, Taekjip and Zimmerman, Steven C
Journal:
Nature chemistry
(2013)
: 692-7
Anti-fading media for live cell GFP imaging.
Authors:
Bogdanov, Alexey M and Kudryavtseva, Elena I and Lukyanov, Konstantin A
Journal:
PloS one
(2012)
: e53004
A comparison of fluorescent stains for the assessment of viability and metabolic activity of lactic acid bacteria.
Authors:
Zotta, T and Guidone, A and Tremonte, P and Parente, E and Ricciardi, A
Journal:
World journal of microbiology & biotechnology
(2012)
: 919-27